De Novo Analysis Reveals Transcriptomic Responses in
Eriobotrya japonica

Fruits during Postharvest Cold Storage

1

Key Laboratory of Loquat Germplasm Innovation and Utilization (Putian University), Fujian Province University, Putian 351100, China

2

Fujian Provincial Key Laboratory of Ecology-toxicological Effects & Control for Emerging Contaminants, Putian University, Putian 351100, China

3

Faculty of Agriculture, Dalhousie University, Truro, NS B2N 5E3, Canada

4

Overseas Education College, Fujian Agriculture and Forestry University, Fuzhou 350002, China

5

College of Life Science, Fujian Agriculture and Forestry University, Fuzhou 350002, China

*

Author to whom correspondence should be addressed.

Received: 21 October 2018 / Revised: 14 November 2018 / Accepted: 11 December 2018 / Published: 17 December 2018
Abstract
Cold storage is the primary preservation method of postharvest loquat fruits. However, cold storage also results in many chilling injury physiological disorders called lignification, which decreases the quality and economic value of the fruits. Few studies to date have focused on the transcriptomic responses associated with lignification except lignin synthesis pathways. This study aimed to explore the changes of loquat transcriptome during long-term cold storage. Our results showed that the gene expression patterns were differed among the five stages. The differentially expressed genes (DEGs) in response to cold storage were more intense and complex in earlier stage. The membrane-related genes preferentially responded to low temperature and were followed by intracellular-located genes. The cold-induced pathways were mainly concerned with signal transduction and secondary metabolism (i.e., lignin, pectin, cellulose, terpenoid, carotenoid, steroid) in the first three stages and were chiefly related to primary metabolism in the later two stages, especially energy metabolism. Further investigation suggested that 503 protein kinases, 106 protein phosphatases, and 40 Ca
2+
signal components were involved in the cold signal transduction of postharvest loquat fruits. We predicted a pathway including 649 encoding genes of 49 enzymes, which displayed the metabolisms of major sugars and polysaccharides in cold-stored loquat fruits. The coordinated expression patterns of these genes might contribute to the changes of saccharides in the pathway. These results provide new insight into the transcriptomic changes of postharvest loquat fruits in response to cold storage environment, which may be helpful for improving the postharvest life of loquat in the future.
View Full-Text
►

▼

Figures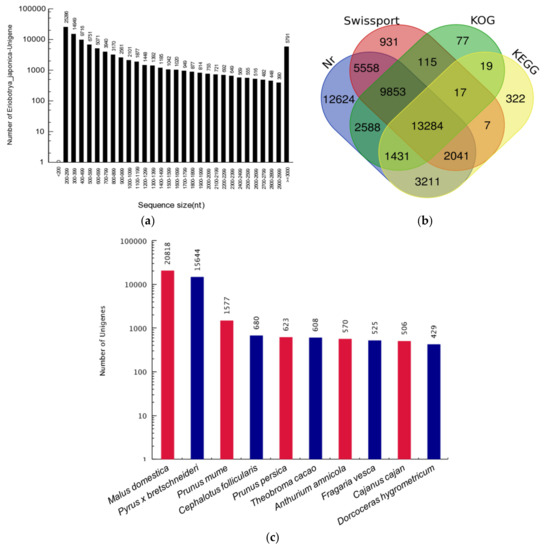 Figure 1
This is an open access article distributed under the
Creative Commons Attribution License
which permits unrestricted use, distribution, and reproduction in any medium, provided the original work is properly cited (CC BY 4.0).

Share & Cite This Article
MDPI and ACS Style
Lin, S.; Wu, T.; Lin, H.; Zhang, Y.; Xu, S.; Wang, J.; Wu, B.; Chen, Y.; Lin, S.; Lin, D.; Wang, X.; Zhao, X.; Wu, J. De Novo Analysis Reveals Transcriptomic Responses in Eriobotrya japonica Fruits during Postharvest Cold Storage. Genes 2018, 9, 639.
Note that from the first issue of 2016, MDPI journals use article numbers instead of page numbers. See further details here.
Related Articles
Comments
[Return to top]