Towards a Central Role of
ISL1

in the Bladder Exstrophy–Epispadias Complex (BEEC): Computational Characterization of Genetic Variants and Structural Modelling

1

Department of Neurology, University Clinic Bonn, 53105, Bonn, Germany

2

Department of Ophthalmology, University Hospital Bonn, 53127 Bonn, Germany

3

Department of Biotechnology, Mohanlal Sukhadia University Udaipur, 313001, Rajasthan, India

4

Department of Clinical Chemistry and Clinical Pharmacology, University Hospital of Bonn, 53105 Bonn, Germany

5

Bonn-Aachen International Center for IT, University of Bonn, 53115 Bonn, Germany

6

Department of Biosciences, Manipal University Jaipur, 303007 Jaipur, Rajasthan, India

7

Institute of Human Genetics, University Hospital of Bonn, 53127 Bonn, Germany

8

Department of Genomics, Life & Brain Center, 53127 Bonn, Germany

9

Department of Neonatology and Pediatric Intensive Care, Children's Hospital, University of Bonn, 53113 Bonn, Germany

*

Author to whom correspondence should be addressed.

†

These authors contributed equally to this work.

Received: 26 November 2018 / Accepted: 28 November 2018 / Published: 5 December 2018
Abstract
Genetic factors play a critical role in the development of human diseases. Recently, several molecular genetic studies have provided multiple lines of evidence for a critical role of genetic factors in the expression of human bladder exstrophy-epispadias complex (BEEC). At this point,
ISL1
(ISL LIM homeobox 1) has emerged as the major susceptibility gene for classic bladder exstrophy (CBE), in a multifactorial disease model. Here, GWAS (Genome wide association studies) discovery and replication studies, as well as the re-sequencing of
ISL1
, identified sequence variants (rs9291768, rs6874700, c.137C > G (p.Ala46Gly)) associated with CBE. Here, we aimed to determine the molecular and functional consequences of these sequence variants and estimate the dependence of ISL1 protein on other predicted candidates. We used: (i) computational analysis of conserved sequence motifs to perform an evolutionary conservation analysis, based on a Bayesian algorithm, and (ii) computational 3D structural modeling. Furthermore, we looked into long non-coding RNAs (lncRNAs) residing within the
ISL1
region, aiming to predict their targets. Our analysis suggests that the ISL1 protein specific N-terminal LIM domain (which harbors the variant c.137C > G), limits its transcriptional ability, and might interfere with ISL1-estrogen receptor α interactions. In conclusion, our analysis provides further useful insights about the
ISL1
gene, which is involved in the formation of the BEEC, and in the development of the urinary bladder.
View Full-Text
►

▼

Figures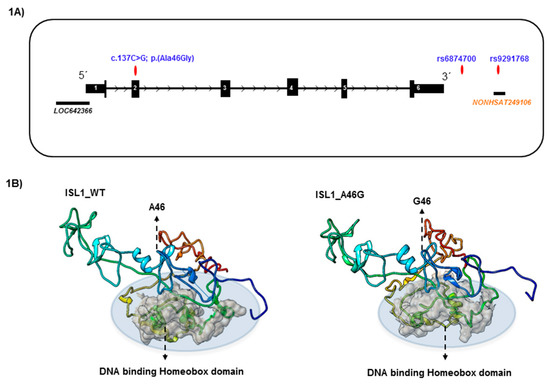 Figure 1
This is an open access article distributed under the
Creative Commons Attribution License
which permits unrestricted use, distribution, and reproduction in any medium, provided the original work is properly cited (CC BY 4.0).

Share & Cite This Article
MDPI and ACS Style
Sharma, A.; Dakal, T.C.; Ludwig, M.; Fröhlich, H.; Mathur, R.; Reutter, H. Towards a Central Role of ISL1 in the Bladder Exstrophy–Epispadias Complex (BEEC): Computational Characterization of Genetic Variants and Structural Modelling. Genes 2018, 9, 609.
Note that from the first issue of 2016, MDPI journals use article numbers instead of page numbers. See further details here.
Related Articles
Comments
[Return to top]