Open Access This article is
freely available
re-usable
Article
Population Genomic Analysis of North American Eastern Wolves (
Canis lycaon
) Supports Their Conservation Priority Status
1
Department of Ecology & Evolutionary Biology, Princeton University, Princeton, NJ 08544, USA
2
Center for Tropical Research, Institute of the Environment and Sustainability, University of California, Los Angeles, CA 90095, USA
3
Biology Department, Trent University, Peterborough, ON K9L 1Z8, Canada
4
Center for Species Survival, Smithsonian Conservation Biology Institute, National Zoological Park, Washington, DC 20008, USA
5
Theodosius Dobzhansky Center for Genome Bioinformatics, Saint Petersburg State University, 199034 Saint Petersburg, Russia
6
School of Forest Resources and Environmental Science, Michigan Technological University, Houghton, MI 49931, USA
7
School of Natural Resources, University of Nebraska, Lincoln, NE 68583, USA
8
Environmental & Life Sciences, Trent University, Peterborough, ON K9L 0G2, Canada
9
Ontario Ministry of Natural Resources and Forestry, Trent University, Peterborough, ON K9L 0G2, Canada
10
North Carolina Museum of Natural Sciences and Department of Forestry and Environmental Resources, North Carolina State University, Raleigh, NC 27601, USA
11
Department of Biological Sciences, University of Idaho, Moscow, ID 83844, USA
†
These authors contributed equally.

Received: 15 October 2018 / Accepted: 30 November 2018 / Published: 4 December 2018
Abstract
:
The threatened eastern wolf is found predominantly in protected areas of central Ontario and has an evolutionary history obscured by interbreeding with coyotes and gray wolves, which challenges its conservation status and subsequent management. Here, we used a population genomics approach to uncover spatial patterns of variation in 281 canids in central Ontario and the Great Lakes region. This represents the first genome-wide single nucleotide polymorphism (SNP) dataset with substantial sample sizes of representative populations. Although they comprise their own genetic cluster, we found evidence of eastern wolf dispersal outside of the boundaries of protected areas, in that the frequency of eastern wolf genetic variation decreases with increasing distance from provincial parks. We detected eastern wolf alleles in admixed coyotes along the northeastern regions of Lake Huron and Lake Ontario. Our analyses confirm the unique genomic composition of eastern wolves, which are mostly restricted to small fragmented patches of protected habitat in central Ontario. We hope this work will encourage an innovative discussion regarding a plan for managed introgression, which could conserve eastern wolf genetic material in any genome regardless of their potential mosaic ancestry composition and the habitats that promote them.
Keywords:
canine; geographic isolation; spatial structure; restriction-site associated DNA; conservation genomics
2. Materials and Methods
2.1. Sample Collection and DNA Extraction
We obtained blood, tissue, and DNA samples from 304 canids across the northeastern U.S. and central Ontario (
Figure 1
) that specifically included 127 eastern coyotes and 96 Great Lakes type gray wolves, which differ from their western counterparts in that they both have been impacted by hybridization [
30
,
32
,
34
,
44
,
45
,
46
]. Great Lakes type gray wolves are distributed throughout much of the Great Lakes states, Manitoba, Ontario, and Quebec [
29
]. Eastern coyotes are now widely distributed throughout much of Ontario, Quebec, the eastern provinces in Canada, and across the northeastern United States [
32
]. For this study, we hereafter refer to these
Canis
types as gray wolves and coyotes, respectively. We also obtained samples from 30 eastern wolves and included tissue samples from 51 canids of unknown taxonomic affiliation from central Ontario to increase sampling density around the focal geographic region surrounding APP. Samples were collected through state management programs, government/state organizations (e.g., US Department of Agriculture, Department of Natural Resources, Ontario Ministry of Natural Resources and Forestry, furbearers), or museum archives (New York State Museum). In all cases, sample origin was known at the state or provincial level and was associated with either a specific GPS location from the exact collection location or the township nearest the collection site. We extracted high molecular weight genomic DNA with the DNeasy Blood and Tissue Kit (Qiagen, Maryland, USA) or the BioSprint 96 DNA Blood Kit in conjunction with a KingFisher Flex Purification platform (Thermo Fisher Scientific, Waltham, MA, USA) following manufacturers' protocols. We identified high-quality DNA as a high molecular weight band (>1 Kb) on a 2% agarose gel with a 2-log DNA ladder (New England Biolabs, Ipswich, MA, USA), quantified using either PicoGreen or Qubit 2.0 fluorometry (Thermo Fisher Scientific, Waltham, MA, USA), and standardized to a concentration of 5 ng/µL.
2.2. Reduced Representation Sequencing and Data Processing
We followed the modified restriction site associated DNA sequencing (RADseq) protocol [
47
] to prepare genomic libraries for 30 eastern wolves, 96 gray wolves, 127 coyotes, and 51 canids of unknown taxonomic affiliation from central Ontario (
Figure 1
,
Table S1
). Further, we constructed a second dataset of 317 canids, which included the original 304 wild canids with the addition of 13 domestic dogs to ensure that genetic structuring is not driven largely by admixture or hybridization with domestic dogs (for all details pertaining to this dataset, see
Appendix
).
Genomic DNA samples were digested with
sbfI
followed by ligation of a unique 8 bp-barcoded biotinylated adapter. We pooled 96–153 samples, which were then randomly sheared to 400 bp on a Covaris LE220. We enriched for adapter ligated fragments using a Dynabeads M-280 streptavidin bead binding assay (Thermo Fisher Scientific). We then prepared these final genomic libraries using either the NEBnext Ultra DNA Library Prep Kit or the NEBnext UltraII DNA Library Prep Kit as per the manufacturer's instructions (New England Biolabs, Ipswich, MA, USA). We selected for genomic fragments between 300–400 bp in size using Agencourt AMPure XP magnetic beads. We then standardized libraries to 10nM, which were then paired-end sequenced (2 × 150 nt) on two lanes of the Illumina HiSeq 2500 at Princeton University's Lewis-Sigler Institute for Integrative Genomics core facility. Using a custom perl script, we aligned both the forward and reverse raw sequencing reads to retain the read that contained the
sbfI
cut site along with a barcode and discarded all other reads.
We demultiplexed reads using the
process_radtags
function and a 2 bp mismatch in
STACKS
v1.42 [
48
]. With a sliding window approach (with a step size of 15% of the read length), we discarded reads that contained either uncalled bases or had low-quality scores (
Q
< 10). We subsequently removed PCR duplicates using the paired end filtering option with the
clone
_
filter
function. Samples with a minimum of 500,000 reads were retained and mapped using
STAMPY
v1.0.20 [
49
] with default parameters to the reference dog genome (CanFam3.1) [
50
]. Sites with low mapping quality (MAPQ < 96) were removed. We used
Samtools
V. 0.1.18 [
51
] to convert files to BAM format and discovered single nucleotide polymorphism (SNP) variants in
STACKS
following the recommended pipeline for data mapped to a reference genome (i.e.,
pstacks
→
cstacks
→
sstacks
→
populations
), with the –m 3 flag to identify stacks that had a minimum of 3-fold coverage. A repeated analysis with a 10-fold coverage filter resulted in identical findings (data not shown). We executed the
populations
module twice to optimize the final sample selection, which works to reduce both missing data and biases resulting from uneven sampling across geographic locations and genetic groups. We reported only the first SNP per locus (--write_single_snp) and did not apply any missing data thresholds. We used
PLINK
[
52
] to calculate the total missingness per individual and removed individuals with >85% missing data. In the second execution of
populations
, we only reported loci that were genotyped in 90% of individuals (-r 0.9) and again restricted our analysis to only the first SNP per locus.
We estimated observed (H
o
) and expected (H
e
) heterozygosity, genetic differentiation (F
ST
), and the number of private alleles per evolutionary lineage within and between each evolutionary lineage and sampling location using
populations
in
STACKS
. We estimated private allelic richness in
ADZE
v. 1.0 with missing data tolerance set to 25% [
53
].
2.3. Clustering and Genetic Structure Analysis
2.4. Spatially Explicit Bayesian Clustering
We implemented two spatially explicit models in
Geneland
within the R framework [
67
]. We applied a stricter minor allele frequency filter of 3% to the neutral SNP dataset and retained a total of 985 SNPs for this analysis. For all runs, we converted latitude and longitude of sample locations (recorded in decimal degrees) to a planar coordinate system (UTM, Zone 17N) using the R package
PBSmapping
[
68
] to avoid distortion resulting from spherical coordinates, which is magnified as one approaches the poles. For each run, we used default settings in
Geneland
, except for the following: number of populations tested (Min = 1, Max = 8), maximum number of nucleotides (n = 985), number of iterations (1,000,000), and thinning (100). We ran multiple independent runs for each dataset and checked for convergence.
For each dataset used as input for
Geneland
(see below), we ran both an uncorrelated and a correlated allele [
69
] frequency model, to build spatially-explicit demographic structure maps that incorporate genomic structure, geography, and potential admixture. The uncorrelated allele frequency model assumes each population's allele frequencies are completely independent of other population allele frequencies, and as such likely estimates a conservative probabilistic assignment of populations. The correlated allele frequency model assumes that allele frequencies in populations tend to be similar across populations, and may therefore detect more subtle differences between them (for example, small frequency differences in a rare allele in two populations will affect probability assignments greater using a correlated model). These models are typically seen as more speculative than the uncorrelated models [
67
].
We ran each of these models on two datasets: (1) all 281 canids and (2) a subset of 122 samples that included 36 coyotes, 30 eastern wolves, 13 gray wolves, and 43 canids of unknown taxonomic affiliation from geographic locations adjacent to and surrounding APP (
Table S1
). We processed and visualized the results of these models in
QGIS
[
70
] as follows. For each group
Ki
identified from the total
Kt
(selected by choosing the one with the highest estimated density of all clusters tested), we selected a color representing that group and calculated the mean probability of membership of
Ki
. For all pixels identified as below the mean probability of membership for
Ki
, we visualized these pixels as transparent (no color). For all pixels identified as above the mean probability of membership for
Ki
, we assigned these pixels the corresponding color, with an intensity weighted by the actual probability score. In the final map, all pixels with values above the mean probability of membership for any
Ki
will be colored with some color value, and all the pixels that did not score at least the mean probability of membership for any
Ki
will not be colored.
4. Discussion
We find that eastern wolves represent a unique genomic cluster that is geographically isolated to patchy regions of central Ontario and possibly southern Quebec, with a general increase in admixture outside of protected areas. Their unique genetics provides a solid foundation to identify them as a conservation priority, especially given their low effective population size and degree of isolation. Further genomic assessment of canids in southern Quebec would help clarify the extent of the eastern wolf range outside of Ontario. Moving forward, conservation of the eastern wolf genome would benefit from the connection of current protective zones across the Ontario landscape.
Supplementary Materials
The following are available online at
https://www.mdpi.com/2073-4425/9/12/606/s1
,
Table S1:
Information for all samples including IDs, Species, Province/State, Location number for
Figure 1
, location abbreviation, specific location name if any, sample owner, latitude, and longitude,
Table S2:
Observed and expected heterozygosity (H
O
and H
E
, respectively) across variant positions genotyped in 114 coyotes, 86 gray wolves, and 30 eastern wolves.,
Table S3:
Private alleles estimated in each canid species across 5,665 SNPs genotyped across
A)
253 canids from North America and
B)
186 reference canids with high assignments at
K
= 3 to their respective clusters (
Q
> 0.9),
Table S4:
Individual Bayesian posterior probability (
Prob
) individual-level assignments at
K
= 3 for the 51 canids of unknown taxonomic affiliation from central Ontario as inferred from analysis of 3067 neutral SNPs and 186 reference canids (see Table S1).,
Table S5:
Likelihood values for migration event inferred from
TreeMix
,
Figure S1:
Allelic richness across 5665 SNPs genotyped in (
A
) 253 canids from North America (30 eastern wolves, 96 gray wolves, and 127 coyotes) and (
B
) 186 reference canids with high assignments at
K
= 3 to their respective clusters (
Q
> 0.9 n: coyote = 99, eastern wolf = 25, gray wolf = 62).,
Figure S2:
Box-and-whisker plot for the top 10 principal components (PC) representing 5665 SNP set genotyped in 281 canids (30 eastern wolves, 86 gray wolves, 114 coyotes, and 51 canids of unknown taxonomic affiliation from central Ontario).,
Figure S3:
Histogram of the differences in cross-validation (cv) values across 10 partitions from the analysis of genetic structure of 3067 neutral SNPs.,
Figure S4:
The average
Q
value at
K
=3 per sampling site for the geographic region proximal to the provincial parks that contain eastern wolves (sites 1 and 2),
Figure S5:
Unrooted neighbor-joining cladogram based on pairwise genetic distances of 3,067 neutral SNPs showing clustering of 281 North American canids (species are indicated by branch colors,
Figure S6:
Details for the discriminant analysis of principal components (DAPC),
Figure S7:
Cluster assignments of 281 canids (30 eastern wolves, 86 gray wolves, 114 coyotes, and 51 canids of unknown taxonomic affiliation) from a discriminant analysis of principal components (DAPC) across 3,067 neutral SNPs.,
Figure S8:
Tree topologies displaying from no admixture events (top left) to 10 migration events (lower right), indicated by colored arrows from 3,067 neutral SNP loci and 281 canids (n coyote = 114, eastern wolf = 30, gray wolf = 86, unknown canids = 51).
Author Contributions
B.M.v.H. conceived of the project; samples were generously contributed by B.M.v.H., R.K., J.F.B., T.W., B.R.P., L.Y.R. and B.N.W.; E.H., K.E.B. and L.Y.R. conducted the laboratory work; E.H. assisted with genotype data collection; E.H., R.J.H., K.-P.K., A.L.D., P.A.H. and B.M.v.H. provided analytical assistance. All authors contributed to the analytical interpretations and manuscript preparation.
Funding
A.L.D. was supported by the National Science Foundation Graduate Research Fellowship under grant DGE1656466. R.J.H. was supported by NSF grant PD-08-1269. K.-P.K. was partially supported by funding from St. Petersburg State University, Russia (Genome Russia Grant No. 1.52.1647.2016). L.Y.R. was supported by a grant from the Ontario Ministry of Natural Resources and Forestry and a Natural Sciences and Engineering Research Council of Canada grant awarded to Bradley White.
Acknowledgments
We would like to thank M. Dummold, B. Kot, M. McKnight, and K. Van Why for their generous donations of canid samples. We also want to thank Bradley White for his long-standing contributions to wolf research in Ontario that helped build the foundation for the current manuscript. This work was conducted under the approved Princeton University IACUC protocol #1961A-13.
Conflicts of Interest
The authors declare no conflict of interest. The founding sponsors had no role in the design of the study; in the collection, analyses, or interpretation of data; in the writing of the manuscript, and in the decision to publish the results.
Appendix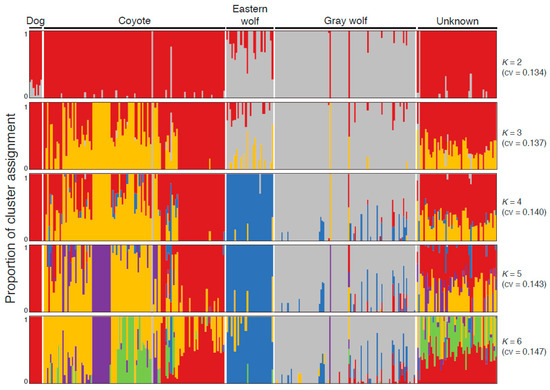 Figure A1. Genetic analysis of the 1157 neutral SNPs with a minor allele threshold of 1% and genotyped across 295 canids (n coyote = 116, eastern wolf = 30, gray wolf = 90, unknown canids = 51, and dogs = 8) using a maximum-likelihood method. The first six genetic partitions are displayed, each with their cross-validation (cv) values provided in parenthesis.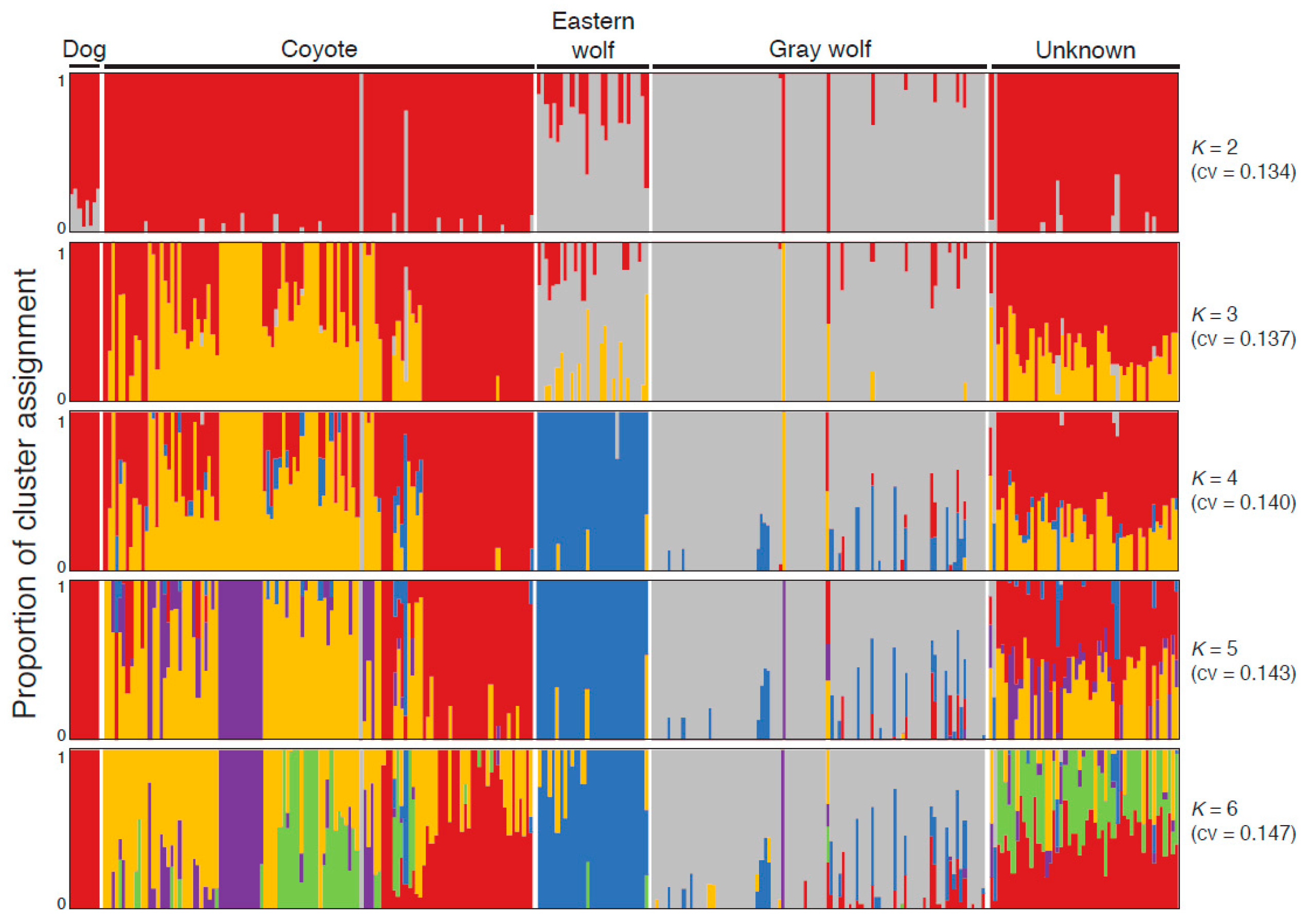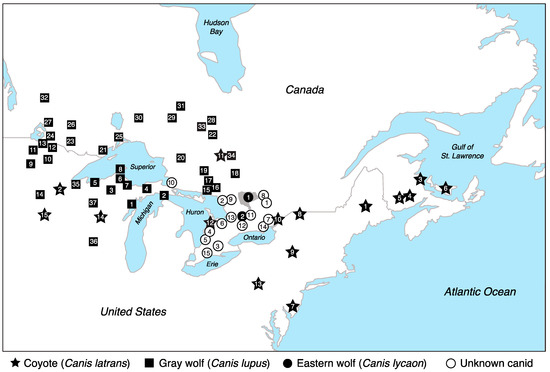 Figure 1.
Map of the Great Lakes and central Ontario regions of North America with sample locations of three
Canis
species (site number indicated in symbol) for 30 eastern wolves, 96 gray wolves, 127 coyotes, and 51 unknown canids. Eastern wolf site 1 is Algonquin Provincial Park (gray shaded region); eastern wolf site 2 is Queen Elizabeth II Wildlands Provincial Park. See
Table S1
for details on each sample's geographic location.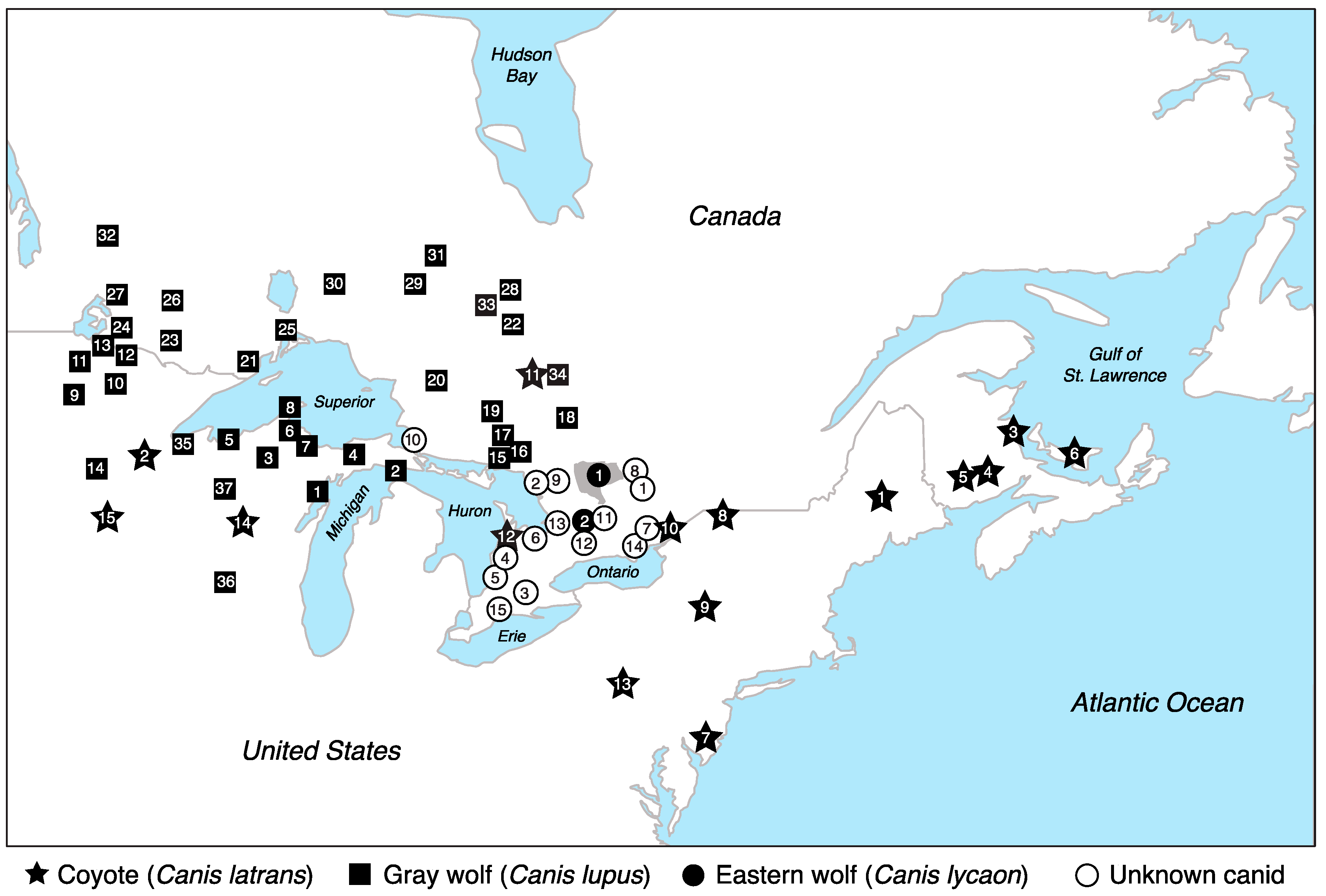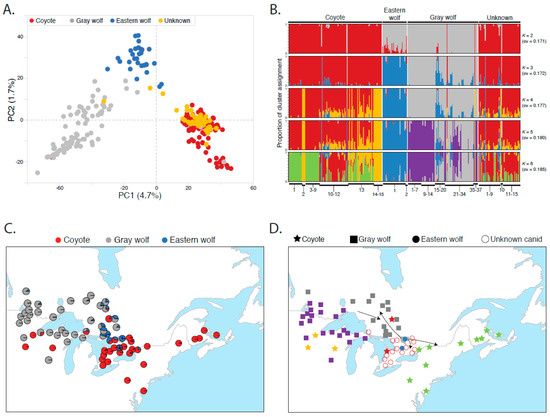 Figure 2.
Genetic analysis of the 3067 neutral single nucleotide polymorphism (SNPs) genotyped in 281 canids (30 eastern wolves, 86 gray wolves, 114 coyotes, and 51 canids of unknown taxonomic affiliation) using (
A
) principal components analysis for clustering and (
B
) maximum-likelihood cluster membership with cross-validation (
cv
) values and site numbers from
Figure 1
provided along the X-axis. (
C
) Visualization of per-site average cluster membership to each genetic group at
K
= 3 (site details, see
Table S1
). (
D
) A summary of the migration events that explicitly involve eastern wolves, as inferred by
TreeMix
from 3067 neutral SNPs genotyped in 281 canids. Arrows indicate the direction of inferred migration events. Color of symbols are consistent with genetic cluster membership from
K
= 6 in part (
B
), designating coyotes from the Great Lakes (yellow), Northeastern U.S. (green), and Ontario (red); eastern wolves (blue), gray wolves predominantly from the Great Lakes (purple) and Ontario (gray), and the unknown canids from central Ontario (red outline).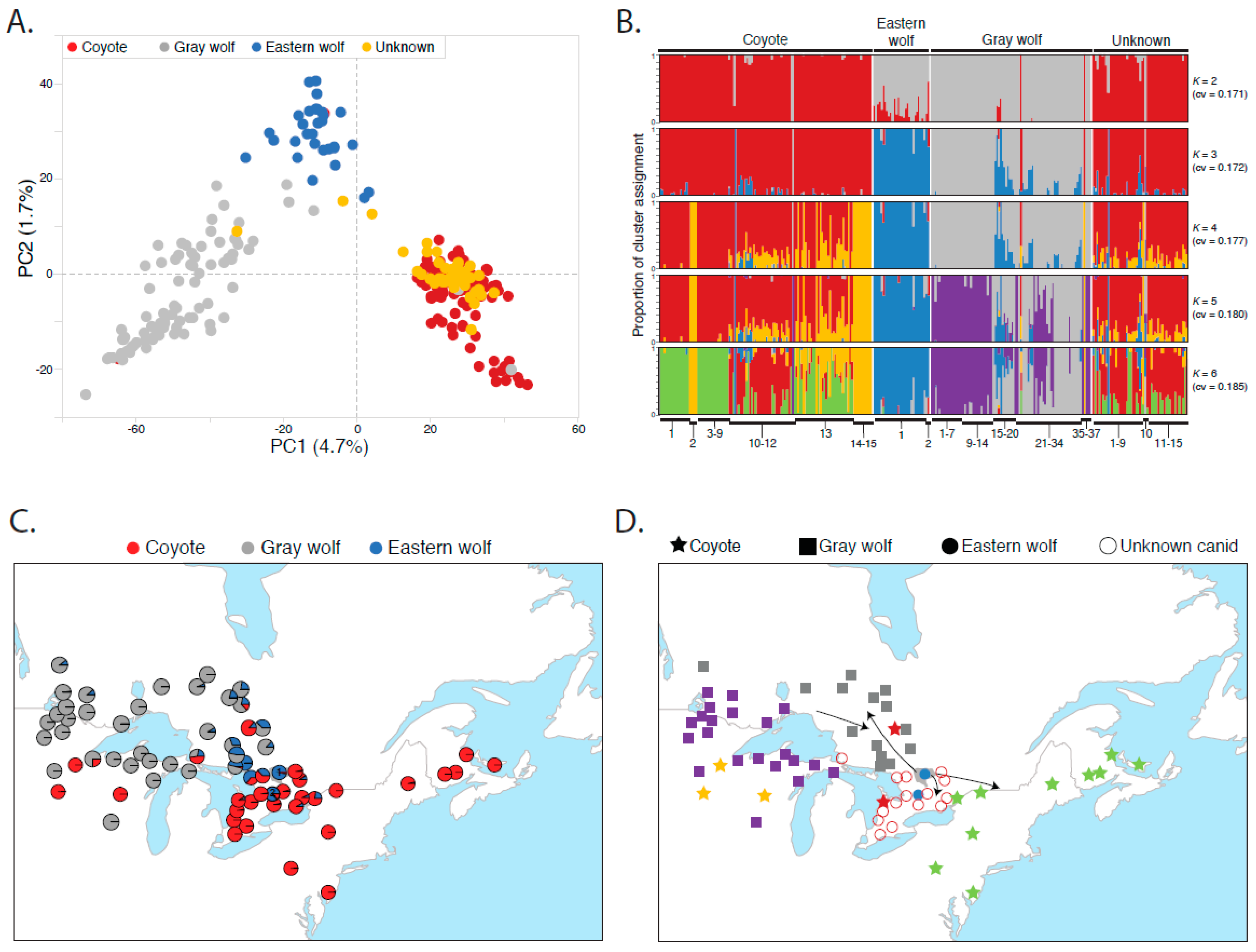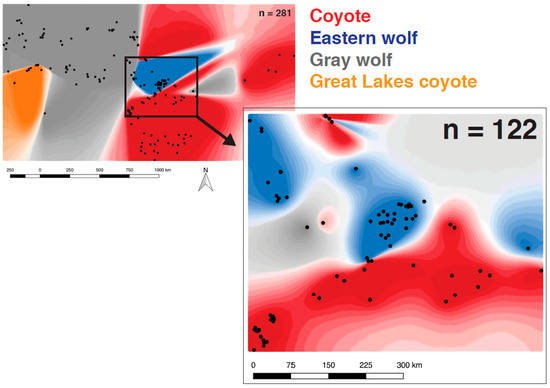 Figure 3.
A spatially explicit analysis of the best supported partitions with a correlated-allele model using genotypes from 985 SNPs across 281 canids (upper left panel: red, eastern coyotes; blue, eastern wolves; gray, gray wolves; orange, Great Lakes coyotes). A geographically restricted analysis of 122 canids (lower right panel) identified three spatial and genetic groups as the most supported (see
Table S1
for individual population assignment probabilities).

© 2018 by the authors. Licensee MDPI, Basel, Switzerland. This article is an open access article distributed under the terms and conditions of the Creative Commons Attribution (CC BY) license (http://creativecommons.org/licenses/by/4.0/).