Open Access This article is
freely available
re-usable
Review
N
6
-methyladenosine (m
6
A): Revisiting the Old with Focus on New, an
Arabidopsis thaliana
Centered Review
Department of Gene Expression, Institute of Molecular Biology and Biotechnology, Faculty of Biology, Adam Mickiewicz University, Umultowska 89, 61-614 Poznan, Poland
*
Authors to whom correspondence should be addressed.
Received: 25 October 2018 / Accepted: 28 November 2018 / Published: 30 November 2018
Abstract
:
N
6
-methyladenosine (m
6
A) is known to occur in plant and animal messenger RNAs (mRNAs) since the 1970s. However, the scope and function of this modification remained un-explored till very recently. Since the beginning of this decade, owing to major technological breakthroughs, the interest in m
6
A has peaked again. Similar to animal mRNAs, plant mRNAs are also m
6
A methylated, within a specific sequence motif which is conserved across these kingdoms. m
6
A has been found to be pivotal for plant development and necessary for processes ranging from seed germination to floral development. A wide range of proteins involved in methylation of adenosine have been identified alongside proteins that remove or identify m
6
A. This review aims to put together the current knowledge regarding m
6
A in
Arabidopsis thaliana
.
Keywords:
N
6
-methyladenosine; mRNA m
6
A methyltransferase (MTA), MTB; FIP37; ALKBH; YTDHF;
Arabidopsis
1. Introduction
Methylation of internal adenosine at nitrogen-6 position (m
6
A) is a RNA modification abundant across Eukaryota, and is found in messenger RNAs (mRNAs), transfer RNAs (tRNAs) [
1
], ribosomal RNAs (rRNAs) [
2
] and other non-coding RNAs (ncRNAs) [
3
,
4
] (
Figure 1
). m
6
A was first found in mammalian mRNAs in the 1970s [
5
,
6
,
7
] followed by plants [
8
,
9
] and viruses [
10
,
11
]; later in yeast [
12
] and much more recently in bacteria [
13
]. With its discovery, m
6
A was added to a pool of other RNA modifications [
14
,
15
] but its role remained largely obscured till the late 1990s. m
6
A was challenging to study, as it does not cause any changes in Watson–Crick base pairing and thus could not be detected by traditional reverse transcription methods [
16
]. With the technological advances surrounding scientific techniques and new methods being developed for functional analysis of such RNA modifications, m
6
A became relevant again, surprisingly, with the discovery that this modification is reversible [
17
] and has an influence on a variety of essential processes in cells [
18
].
First reports of m
6
A in plant mRNAs date back to 1979, when it was first found in wheat (
Triticum aestivum
) and maize (
Zea mays
) [
8
,
9
]. Soon after, m
6
A mark in mRNA was reported in oat (
Avena sativa
) [
19
]. Interestingly, shortly after the first discovery of m
6
A in mRNAs of plants, scientists were able to identify the sequence motif RR
A
CH (where R = G/A, H = A/C/U, bold letter stands for adenosine being modified to m
6
A) which was in consensus with the animal sequence motif [
20
]. After these initial discoveries, the interest in plant m
6
A gradually decreased and was regained after its discovery in
Arabidopsis thaliana
which was reported much later in 2008 by Zhong and colleagues [
21
]. It was also found, that although the sequence motif in animals and plants is conserved, the sites of m
6
A enrichment show some differences between them: While m
6
A in animals is highly enriched near the 3′UTRs and stop codons [
3
,
22
],
Arabidopsis
m
6
A mRNA methylome also shows enrichment near the start codon [
23
] besides 3′UTRs and stop codons.
2. m6A: The Methyltransferase Complex
3. m6A: Readers and Erasers
4. m6A: Physiological Roles
5. Conclusions and Future Perspectives
While the field of m
6
A in plants is still evolving, it is clear that m
6
A methylation plays a definitive role in plant development. In animal systems, m
6
A has been shown to play a role in processes ranging from mRNA stability, splicing, maturation to cell differentiation and stress response (for a review: Reference [
14
]). In close agreement, m
6
A in plant systems also plays roles similar to animal counterparts, as discussed in this review. While we know that m
6
A alters mRNA stability in
Arabidopsis
, it appears that these changes are not universal. As discussed earlier, Anderson and colleagues [
53
] prove that m
6
A methylation provides stability to mRNAs while Shen and colleagues [
34
] demonstrate that it promotes transcript degradation. Contradictory results were also reported regarding the extent of m
6
A methylation between organs, case in point: Two studies by Zhong and colleagues [
21
], and Wan and colleagues [
59
]. Zhong and colleagues used TLC to detect m
6
A and report that flower buds contain the most amount of m
6
A, while based on m
6
A sequencing, Wan and colleagues report that m
6
A methylation is highest in leaves. While highest methylation levels in flowers would be rational, considering that MTA is highly expressed in actively dividing tissue, higher m
6
A levels in leaves was explained by Wan and colleagues as a consequence of higher photosynthetic and metabolic importance of leaves. Accordingly, we should keep in mind that this could be a matter of different sensitivities of the two different techniques used in the two studies and as the field is still incorporating new tools for analysis, such discrepancies might arise from time to time. On the other hand, the data generated so far clearly suggests that m
6
A might influence cell metabolism in very complex patterns. Recent data also points to some possible differences between the animal and plant sequence motif within which m
6
A is deposited. As discussed earlier, UGAU has been reported as a possible m
6
A methylation motif in
Arabidopsis
by two different groups [
51
,
53
]. Furthermore, data shows that m
6
A methylation is enriched in some organs of plants than others, and apart from the information that the methylation of transcripts correspond to their function and importance in the organs, a lot needs to be known about the underlying mechanisms regarding such regulation. This is also the case of difference in m
6
A enrichment across
Arabidopsis
strains and could point that m
6
A is also affected by the environmental cues that are not necessarily stress related. Lastly, a possibility that m
6
A levels in a particular organ in one plant could also vary with time (day or night) cannot be overlooked. As mentioned earlier, m
6
A also plays a role in miRNA biogenesis in mammals. miRNAs are known to be important players in plant stress responses [
63
,
64
,
65
] and many stress responsive gene transcripts have been found to be m
6
A methylated. Keeping that in mind, it would be interesting to see whether miRNA biogenesis influenced by m
6
A works in conjunction with m
6
A methylation of mRNAs to modulate stress responses. Characterization of more downstream proteins i.e., the "readers" and "erasers", will further our understanding of the numerous ways m
6
A may affect plant development.
For an epigenetic modification that has been known since the 1970s, relevant techniques and instruments necessary to study m6A did not develop at the same pace, thus m6A remained relatively unexplored by researchers. Knowing that m6A modification is essential for life and thanks to the rapid advancement of technology and gradual increments in our understanding of this abundant and reversible modification, the future for m6A is filled with many more important questions that need to be answered.
Funding
This review was funded by KNOW Poznan RNA Centre (grant no. 01/KNOW2/2014) and Polish National Science Centre (grants no. UMO-2017/27/N/NZ1/00202, UMO-2016/23/B/NZ9/00862, UMO-2013/10/A/NZ1/00557)
Conflicts of Interest
The authors declare no conflict of interest.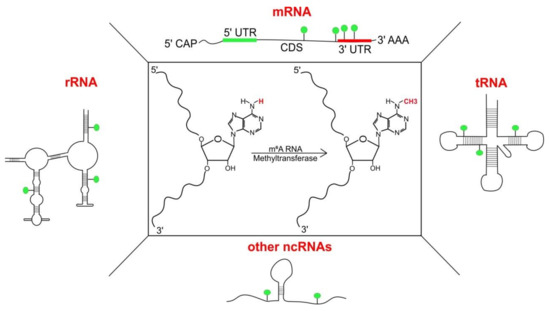 Figure 1.
Structure and presence of adenosine methylation at nitrogen-6 position (m
6
A): Substitution of 'H' at N6 with 'CH3' (central panel, marked in red) in adenosine results in the formation of
N
6
-methyladenosine. m
6
A has been detected indifferent classes of RNA including messenger RNAs (mRNAs), transfer RNAs (tRNAs) [
1
], ribosomal RNAs (rRNAs) [
2
] and other non-coding RNAs (ncRNAs) like small nucleolar RNAs (snoRNAs), long non-coding RNAs (lncRNAs) and primary micro-RNAs (pri-miRNAs).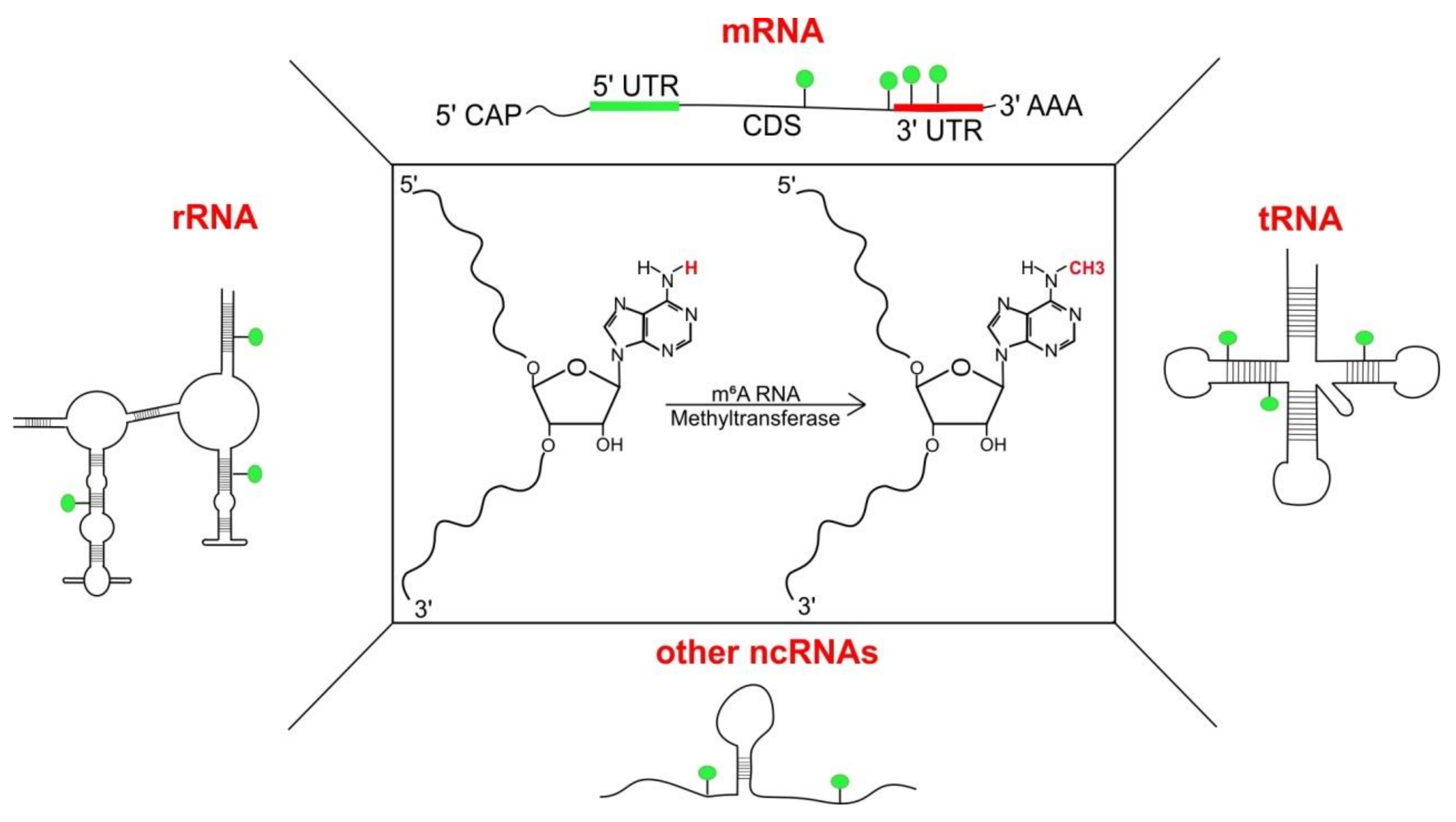 Figure 2.
m
6
A methyltransferase complex: (
a
) PlantsMTA-MTB-FIP37 form the core components of the
Arabidopsis
m
6
A methyltransferase complexof which VIR and HAKAI are also a part.VIR and HAKAI interact with MTB and FIP37 but no interaction with MTA has been shown yet. Similarly, direct interactions between MTB and FIP37 have not been shown yet. Whether homologs of animal ZC3H13 and RBM15 are a part of plant methyltransferase complex still needs to be shown. The components of methyltransferase complex here are shown on the basis of data from studies on
Arabidopsis
. (
b
) Animal interactions between all three core components METTL3-WTAP-METTL14 has been shown. VIRMA (KIAA1429) (VIR homolog) and HAKAI have been shown to be part of the complex via interactions with WTAP and their interaction with METTL14 is yet to be elucidated. Most recent data suggests that WTAP along with RBM15/ZC3H13/HAKAI/VIRMA provides a scaffold for METTL3/METTL14 for methylation [
39
,
40
,
41
,
42
]. The animal model is based on data from mammals and
Drosophila
. Question marks depict possible but not yet identified interactions.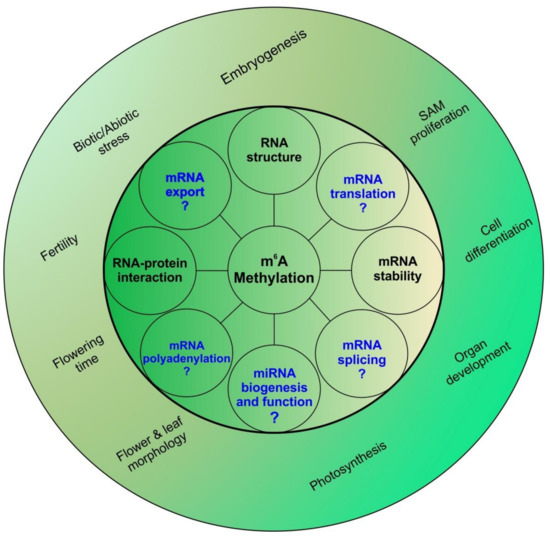 Figure 3. m6A and its many roles: m6A methylation has been known to alter mRNA stability and structure along with altering RNA-protein interactions at the molecular level. These changes in molecular levels are translated to a large array of physiological changes ranging from photosynthesis to stress response. In animal systems, m6A has also been shown to affect mRNA splicing, export, polyadenylation and translation; whether these also play a role in plants remains to be understood. m6A has been shown to be vital for proper shoot apical meristem (SAM) proliferation and organ development. Flower growth, morphology and fertility are also affected by m6A. In animals m6A has also been associated with microRNA (miRNA) biogenesis; whether this is true for plants is still unknown.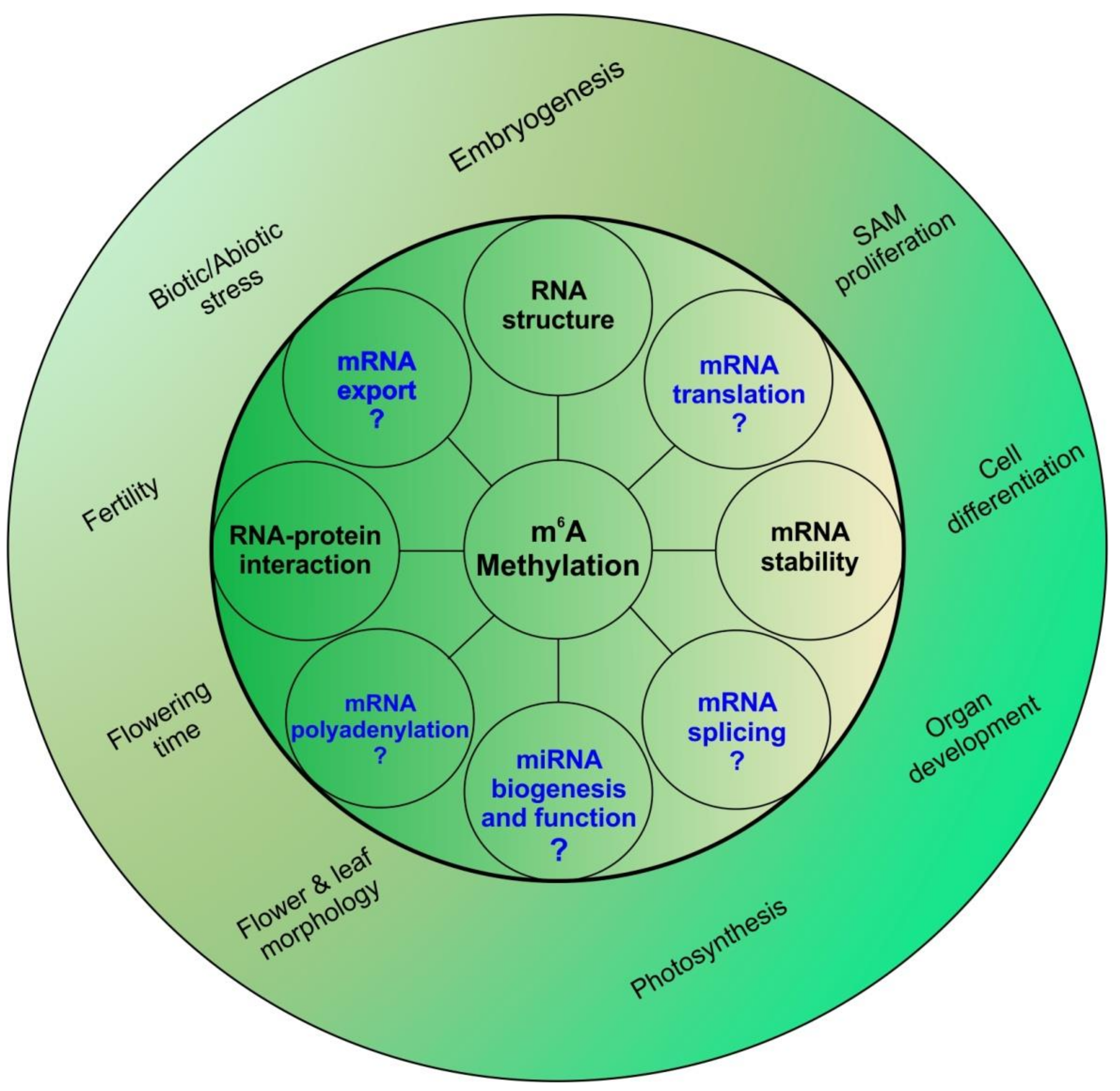 © 2018 by the authors. Licensee MDPI, Basel, Switzerland. This article is an open access article distributed under the terms and conditions of the Creative Commons Attribution (CC BY) license (http://creativecommons.org/licenses/by/4.0/).