Open Access This article is
freely available
re-usable
Review
Genes Contributing to Domestication of Rice Seed Traits and Its Global Expansion
1
National Key Laboratory of Crop Genetic Improvement and National Center of Plant Gene Research (Wuhan), Huazhong Agricultural University, Wuhan 430070, China
2
Wuhan Life Origin Biotech Joint Stock Co., Ltd., Wuhan 430206, China
†
These authors contributed to work equally to this work.

Received: 10 September 2018 / Accepted: 3 October 2018 / Published: 10 October 2018
Abstract
:
Asian rice (
Oryza sativa
) and African rice (
Oryza glaberrima
) are separately domesticated from their wild ancestors
Oryza rufipogon
and
Oryza barthii
, which are very sensitive to daylength. In the process of domestication, some traits that are favorable for the natural survival of wild rice such as seed dormancy and shattering have become favorable ones for human consumption due to the loss-of-function mutations in the genes that are underlying these traits. As a consequence, many genes that are related to these kinds of traits have been fixed with favorable alleles in modern cultivars by artificial selection. After domestication,
Oryza sativa
cultivars gradually spread to temperate and cool regions from the tropics and subtropics due to the loss of their photoperiod sensitivity. In this paper, we review the characteristics of domestication-related seed traits and heading dates in rice, including the key genes controlling these traits, the differences in allelic diversity between wild rice and cultivars, the geographic distribution of alleles, and the regulatory pathways of these traits. A comprehensive comparison shows that these genes contributed to rice domestication and its global expansion. In addition, these traits have also experienced parallel evolution by artificial selection on the homologues of key genes in other cereals.
Keywords:
domestication; seed shattering; seed dormancy; flowering time; global expansion; parallel evolution
Funding
This work was supported by grants from the National Special Program for Research of Transgenic Plant of China (2011ZX08009-001-002), National Key Research and Development Program of China (2016YFD0100301), and National Natural Science Foundation of China (31601283) and the Natural Science Foundation of Hubei province China (2015CFA006).
Conflicts of Interest
The authors declare no conflict of interest.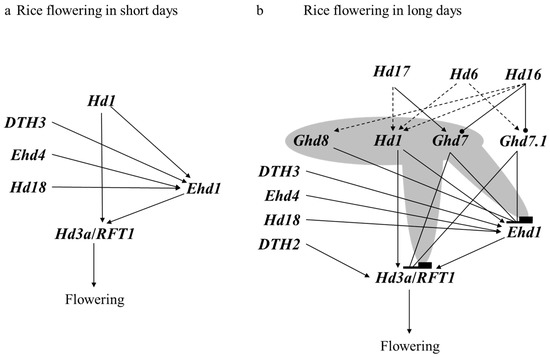 Figure 1.
The regulatory network of rice flowering. Lines with a triangle indicate active transcriptional regulation; lines with a cap indicate a repression of transcriptional regulation; lines with a dot indicate phosphorylation; dotted lines indicate genetic interaction; and the dark background indicates that
Hd1
interacts with
Ghd8
and
Ghd7
to largely repress
Ehd1
and
Hd3a
/
RFT1
expression.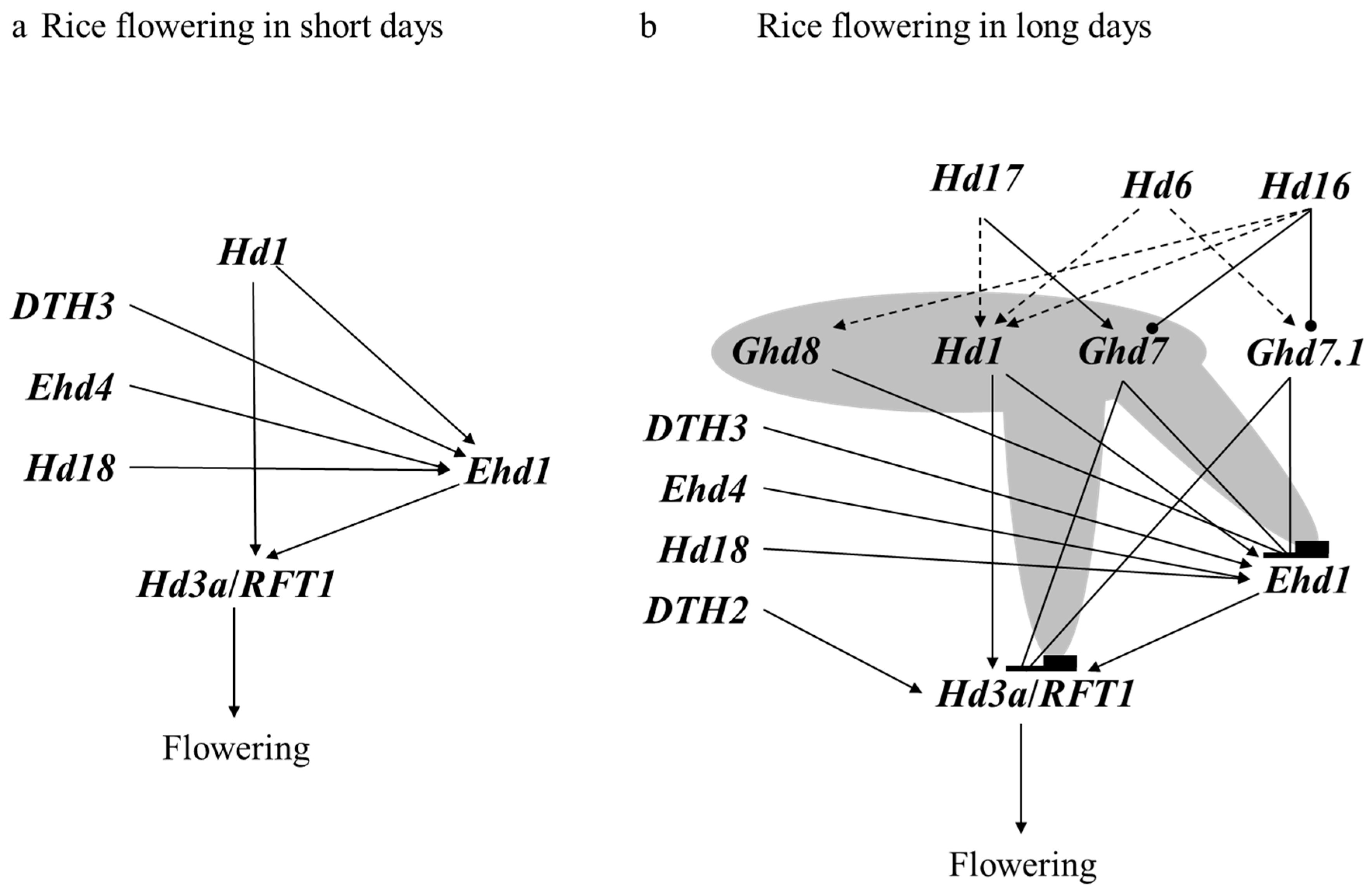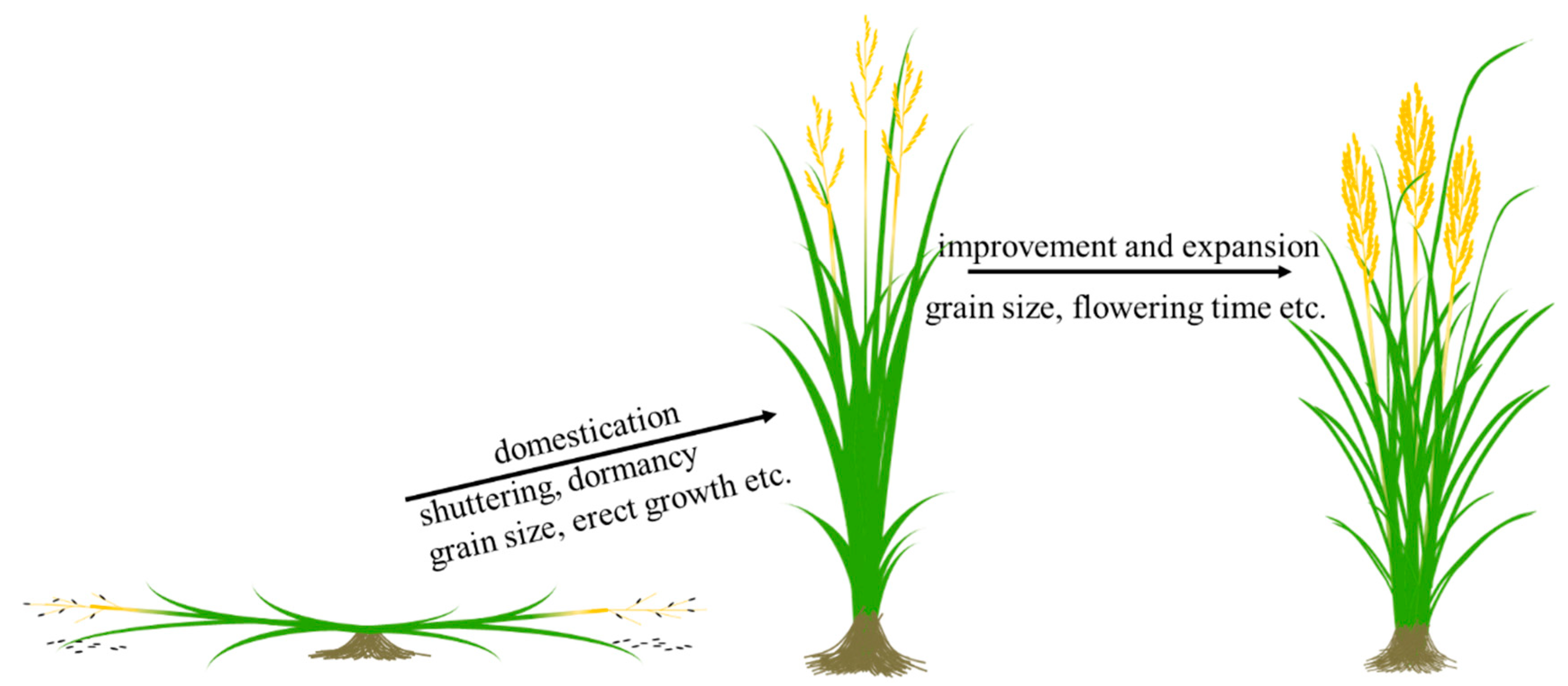 Table 1. Reported genes of domestication traits including seed shattering, seed dormancy, and grain size.
Gene
MSU_LOC
RAP_LOC
Protein Category
Causative Mutation
References

SH4

LOC_Os04g57530
Os04g0670900
Myb-like transcription factor
G/T substitution in exon
[4,5]

qSH1

LOC_Os01g62920
Os01g0848400
BEL1-type transcription factor
G/T substitution in the 5′ UTR
[6]

Sdr4

LOC_Os07g39700
Os07g0585700
Novel protein
18-bp direct repeat
[8]

qSD7-1/qPC7

LOC_Os07g11020
Os07g0211500
bHLH transcription factor
14-bp deletion in exon
[9]

qSD1-2

LOC_Os01g66100
Os01g0883800
Gibberellin-20 oxidase
382-bp deletion
[10]

GS3

Os03g0407400
G protein γ subunit
C/A substitution in exon
[11,12]

qLGY3/OsLG3b

LOC_Os03g11614
Os03g0215400
MADS transcription factor
Six SNPs in exon
[13,14]

GW5

/

qSW5

LOC_Os05g09520
Os05g0187500
Plasma membrane
1212-bp or 950-bp deletion in the promoter
[15,16,17,18]
Bp: Base pair, SNP: Single nucleotide polymorphism; G/T: G substitutes for T; C/A: C substitutes for A; Myb-like:

My

elo

b

lastosis like; bHLH: Basic

h

elix-

l

oop-

h

elix; MADS:

M

CM1,

A

GAMOUS,

D

EFICIENS,

S

RF.
Gene Name
MSU_LOC
RAP_LOC
Cultivars
Wild Rice

DTH2

LOC_Os02g49230
Os02g0724000
F/N
F [117]

Ehd4

LOC_Os03g02160
Os03g0112700
F/W
F/W [118]

DTH3/OsMADS50

LOC_Os03g03070
Os03g0122600
F/N
F [116]

Hd6

LOC_Os03g55389
Os03g0762000
F/N
F/N [140]

Hd16/EL1

LOC_Os03g57940
Os03g0793500
F/W
F/W [114]

ELF3/Hd17/EF7

LOC_Os06g05060
Os06g0142600
F/W
F/W [104]

RFT1

LOC_Os06g06300
Os06g0157500
F/N
F/N [133]

Hd3a

LOC_Os06g06320
Os06g0157700
F/N
F/W a

Hd1

LOC_Os06g16370
Os06g0275000
F/N
F/N [126]

Ghd7/Hd4

LOC_Os07g15770
Os07g0261200
F/N
F [126]

Ghd7.1/Hd2

/

OsPRR37

/

DTH7

LOC_Os07g49460
Os07g0695100
F/N
F [100]

Ghd8/Hd5/DTH8

LOC_Os08g07740
Os08g0174500
F/N
F [126]

Ehd1

LOC_Os10g32600
Os10g0463400
F/N
Unknown

Hd18

LOC_Os08g04780
Os08g0143300
F/W
Unknown
a. the wild rice data query from http://ecogems.ncpgr.cn/ with 602942292 and 602942293 sites; MSU_LOC: LOC number from MSU; RAP_LOC: LOC number from RAP; F: Functional; N: Non-functional; W: Weak functional.

© 2018 by the authors. Licensee MDPI, Basel, Switzerland. This article is an open access article distributed under the terms and conditions of the Creative Commons Attribution (CC BY) license (http://creativecommons.org/licenses/by/4.0/).