Open Access This article is
freely available
re-usable
Review
PGC1α: Friend or Foe in Cancer?
1
Department of Oncology-Pathology, Karolinska Institute, 171 76 Stockholm, Sweden
2
Department of Medical and Surgical Sciences (DIMEC), Unit of Medical Genetics, University of Bologna, 40138 Bologna, Italy
*
Author to whom correspondence should be addressed.
Received: 20 November 2017 / Accepted: 16 January 2018 / Published: 22 January 2018
Abstract
:
The PGC1 family (Peroxisome proliferator-activated receptor γ (PPARγ) coactivators) of transcriptional coactivators are considered master regulators of mitochondrial biogenesis and function. The PGC1α isoform is expressed especially in metabolically active tissues, such as the liver, kidneys and brain, and responds to energy-demanding situations. Given the altered and highly adaptable metabolism of tumor cells, it is of interest to investigate PGC1α in cancer. Both high and low levels of PGC1α expression have been reported to be associated with cancer and worse prognosis, and PGC1α has been attributed with oncogenic as well as tumor suppressive features. Early in carcinogenesis PGC1α may be downregulated due to a protective anticancer role, and low levels likely reflect a glycolytic phenotype. We suggest mechanisms of PGC1α downregulation and how these might be connected to the increased cancer risk that obesity is now known to entail. Later in tumor progression PGC1α is often upregulated and is reported to contribute to increased lipid and fatty acid metabolism and/or a tumor cell phenotype with an overall metabolic plasticity that likely supports drug resistance as well as metastasis. We conclude that in cancer PGC1α is neither friend nor foe, but rather the obedient servant reacting to metabolic and environmental cues to benefit the tumor cell.
Keywords:
PGC1α;
PPARGC1A
; tumor progression; tumor cell metabolism
Acknowledgments
We are grateful to Nicole Bezuidenhout for valuable feedback. Giulia Girolimetti was supported by a triennial AIRC (Associazione Italiana Ricerco sul Cancro) fellowship "Livia Perotti". The Swedish Cancer Society, the Radiumhemmet Research Funds and the Cancer&Allergy Foundation are gratefully acknowledged for financial research support.
Conflicts of Interest
The authors declare no conflict of interest.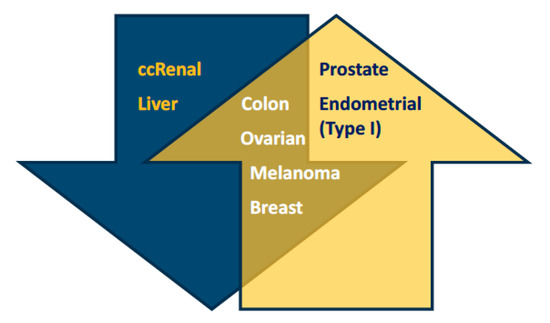 Figure 1.
Peroxisome proliferator-activated receptor γ isoform α (PGC1α) levels are not dependent on cancer type. Studies have reported different levels of PGC1α in the same cancer type, and to the best of our knowledge, PGC1α high or low expression is not a characteristic of a certain type of cancer from a specific organ or tissues. The blue arrow lists cancers reported to express low levels of PGC1α: renal (clear-cell) [
29
], liver [
30
,
31
]. The yellow arrow lists cancers reported to express high levels of PGC1α: prostate [
32
], endometrial [
33
]. The intersection of the two arrows lists cancer biopsies or cell lines for which both low and high levels of PGC1α have been reported: colon [
34
,
35
,
36
], ovarian [
37
,
38
], melanoma [
39
,
40
,
41
], breast [
42
,
43
,
44
,
45
,
46
].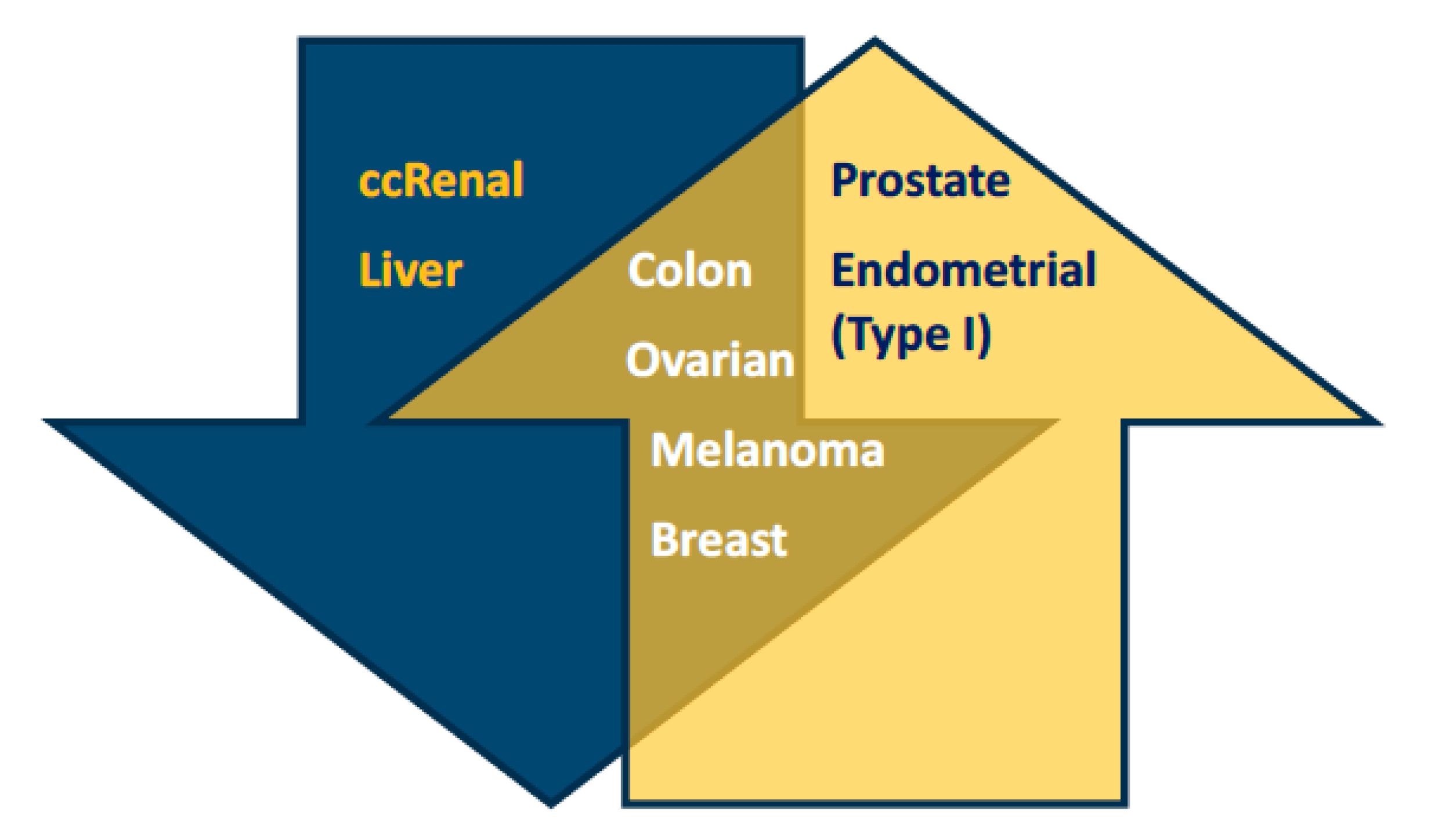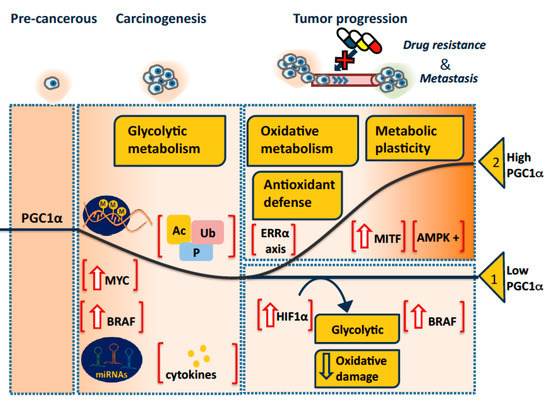 Figure 2.
Schematic overview of PGC1α levels in cancer during carcinogenesis, metastasis and acquisition of chemoresistance. This model proposes that carcinogenesis may in some tissues entail loss of a tumor-suppressive function of PGC1α, and in many tissues also a switch to a glycolytic cell metabolism. PGC1α downregulation may be due to promoter methylation or ubiquitinylation of the PGC1α protein; both mechanisms are seen also in non-cancer cells [
25
,
70
]. Transcriptional repression may occur via high levels of MYC [
60
,
61
], active BRAF [
39
], or hypoxia-induced factor 1α (HIF1α) [
29
], miRNA regulation [
82
,
83
,
84
,
85
], or cytokine effects [
75
,
76
,
77
,
78
,
79
]. Inactivation of the PGC1α protein is also possible, notably by acetylation and phosphorylation [
1
,
86
]. Tumor progression, i.e., chemoresistance and metastasis, is proposed to proceed either in a PGC1α-low ("option 1" in the figure), or in a PGC1α-high context ("option 2"). Tumors can maintain low PGC1α expression due to the mechanisms outlined above, while in "option 2" PGC1α levels may be high due to regulators such as ERRα, the main autoregulatory transactivation partner of PGC1α [
67
], melanoma lineage factor (MITF) [
39
] or activated AMP-activated protein kinase (AMPK) [
66
]. Tumor progression is supported by development of a metabolic plasticity that allows rapid adaptation to the microenvironment and nutrient availability. PGC1α is often associated with such plasticity.
Abbreviations
: M: methylation; Ac: acetylation; Ub: ubiquitinylation; P: phosphorylation.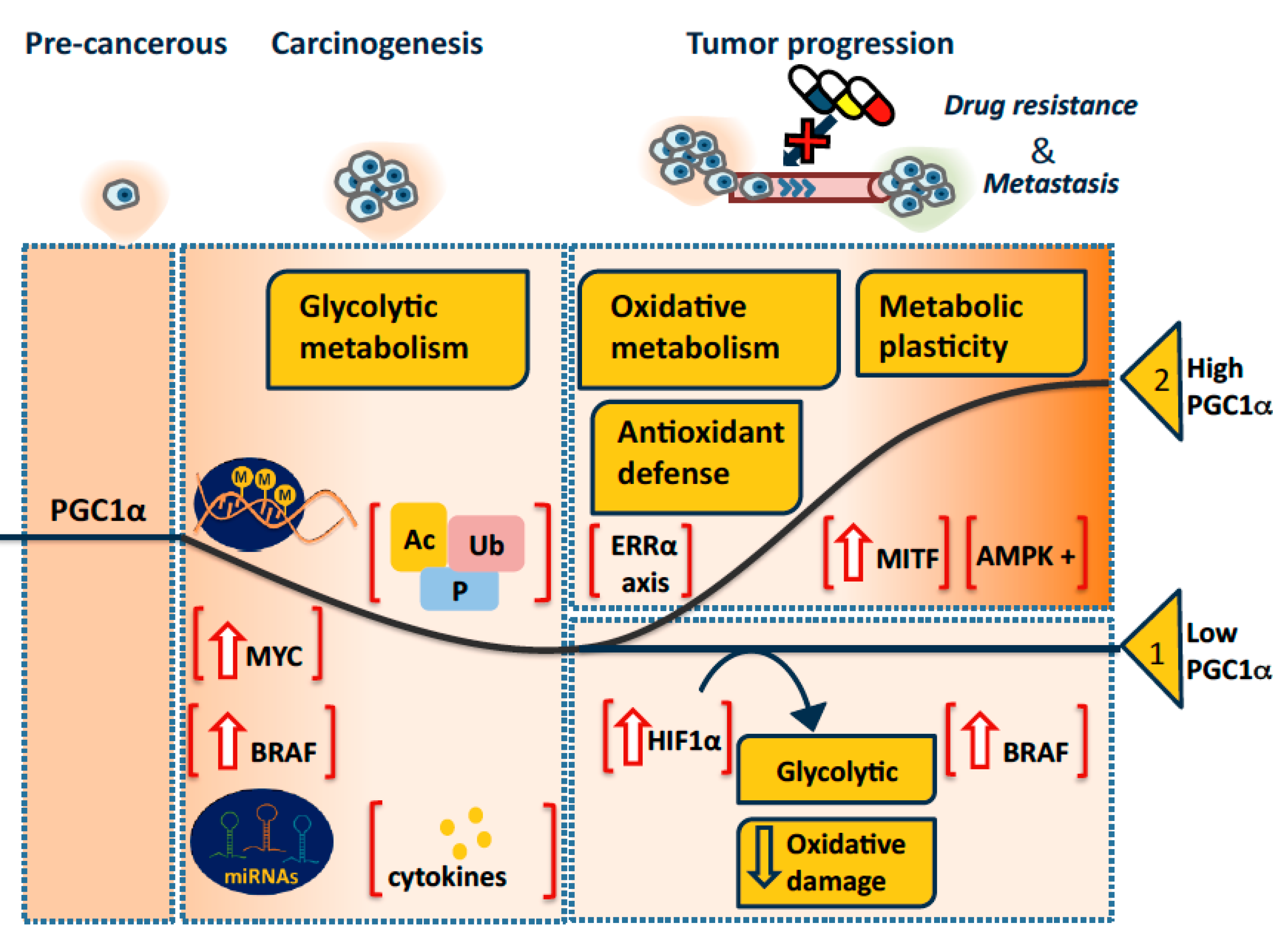 © 2018 by the authors. Licensee MDPI, Basel, Switzerland. This article is an open access article distributed under the terms and conditions of the Creative Commons Attribution (CC BY) license (http://creativecommons.org/licenses/by/4.0/).