Open Access This article is
freely available
re-usable
Article
Molecular Network-Based Identification of Competing Endogenous RNAs in Thyroid Carcinoma
1
College of Life Sciences, Zhejiang Sci-Tech University, Hangzhou 310018, China
2
School of Mathematics and Statistics, Hainan Normal University, Haikou 570100, China
3
Institute of Basic Medical Sciences, Wannan Medical College, Hefei 241000, China
4
Department of Genetics and Genomic Sciences, Icahn School of Medicine at Mount Sinai, New York City, NY 10029, USA
†
These authors contributed equally to this study.

Received: 12 December 2017 / Accepted: 11 January 2018 / Published: 19 January 2018
Abstract
:
RNAs may act as competing endogenous RNAs (ceRNAs), a critical mechanism in determining gene expression regulations in many cancers. However, the roles of ceRNAs in thyroid carcinoma remains elusive. In this study, we have developed a novel pipeline called Molecular Network-based Identification of ceRNA (MNIceRNA) to identify ceRNAs in thyroid carcinoma. MNIceRNA first constructs micro RNA (miRNA)–messenger RNA (mRNA)long non-coding RNA (lncRNA) networks from miRcode database and weighted correlation network analysis (WGCNA), based on which to identify key drivers of differentially expressed RNAs between normal and tumor samples. It then infers ceRNAs of the identified key drivers using the long non-coding competing endogenous database (lnCeDB). We applied the pipeline into The Cancer Genome Atlas (TCGA) thyroid carcinoma data. As a result, 598 lncRNAs, 1025 mRNAs, and 90 microRNA (miRNAs) were inferred to be differentially expressed between normal and thyroid cancer samples. We then obtained eight key driver miRNAs, among which hsa-mir-221 and hsa-mir-222 were key driver RNAs identified by both miRNA–mRNA–lncRNA and WGCNA network. In addition, hsa-mir-375 was inferred to be significant for patients' survival with 34 associated ceRNAs, among which
RUNX2
,
DUSP6
and
SEMA3D
are known oncogenes regulating cellular proliferation and differentiation in thyroid cancer. These ceRNAs are critical in revealing the secrets behind thyroid cancer progression and may serve as future therapeutic biomarkers.
Keywords:
competing endogenous RNA; long non-coding RNA; regulatory network; WGCNA; differentially expressed RNAs; thyroid carcinoma
2. Materials and Methods
2.1. Data Collection and Pre-Processing
We downloaded RNA expression profiles of thyroid cancer and control samples from the Genomic Data Commons (GDC) data portal [
39
,
40
] and patient's clinical information (see
Table 1
) from The Cancer Genome Atlas (TCGA) database [
39
,
40
]. Specifically, there are 559 samples used in this study, including 501 primary tumor samples and 58 solid tissue normal samples. The Genome research project of ENCyclopedia of DNA Elements (GENCODE) (GRCh38) (v25) catalogue (
http://www.gencodegenes.org/
) was used as a reference to quantify lncRNAs and mRNAs. In summary, 15,540 lncRNAs and 19,848 mRNAs from RNA-Sequencing (RNA-Seq) and 1881 miRNAs from miRNA-Seq were retrieved.
2.2. Differential Gene Expression Analysis
We applied edgeR to identify differentially expressed RNAs [
37
]. Specifically, the gene read counts were first processed with one scaling normalized factor from Trimmed Mean of M values (TMM) [
41
]. The negative binomial (NB) model was then applied to calculate the significance of RNAs, followed by an adjustment of
p
-values using the Benjamini–Hochberg method [
42
]. The cut-off values for significantly expressed RNAs were: (1) the false discovery rate (FDR, the adjusted
p
value) < 0.001; and (2) |log
2
fold change (FC)| > 2 [
5
].
2.3. Construction of Gene Regulatory Network
We reconstructed the regulatory network using data combining lncRNAs, mRNAs, and miRNAs. The lncRNA–miRNA interactions and miRNA–mRNA interactions were downloaded from miRcode [
27
]. We then adopted a software called key driver analysis (KDA) [
43
] to identity key drivers in the regulatory network. Specifically, KDA takes a set of genes G and a directed gene network N as inputs. In our study, G is the differentially expressed RNAs and N is the regulatory network [
44
].
2.4. Construction of Gene Co-Expression Network
2.5. Survival Analysis
Survival analysis was performed using Cox proportional hazards regression models, with RNA expression in samples established as a binary variable. Because patient's age and tumor stage have been interpreted to deeply influence molecular traits and clinical effect in thyroid cancer, we limited our initial cohort to primary tumor >Stage I patients. Specifically, we performed survival analyses for 9 (8 miRNA from miRcode, and 1 miRNA from WGCNA) miRNA, 80 lncRNA, and 190 mRNA (
Table S1
).
p
-values generated under this model were corrected for multiple-hypothesis testing using the Benjamini–Hochberg correction, with a significance threshold of FDR < 0.05 [
47
].
2.6. Function Enrichment
For clustering analysis of the significantly expressed RNAs, a pairwise complete-linkage hierarchical clustering method was employed to calculate the Euclidean distance. The results were shown using a heat map generated from the software packages cluster 3.0 [
48
] and TreeView [
49
]. In addition, differentially expressed genes (DEGs) were annotated by the Database for Annotation, Visualization and Integrated Discovery (DAVID) tool (V6.8) [
50
,
51
], and Kyoto Encyclopedia of Genes and Genomes (KEGG) analysis was also used to discover the potential pathways involved [
12
].
4. Discussion
Taking together, our study identified many literature-validated RNAs critical to thyroid cancer progression and proposed a few novel RNAs to function as competing endogenous RNAs for thyroid cancer. However, we are fully aware that the limited sample size and information on miRNA–lncRNA–mRNA interactions might restrict the power of our conclusions. More experimental validations are suggested to confirm the contribution of our proposed RNAs in thyroid cancer.
5. Conclusions
In summary, we proposed a more multifaceted approach to construct ceRNAs network, and identified a set of crucial genes that could be used as biomarkers for thyroid carcinoma therapy, such as hsa-mir-375, AC012668.2, and
SEMA3D
. In the future, more attention should be paid to the construction of ceRNA networks and the validation of biomarkers or RNA competing endogenous interactions.
Supplementary Materials
The following are available online at
www.mdpi.com/2073-4425/9/1/44/s1
. Table S1: Survival analysis of key driver RNAs, Table S2: Up- and down-regulated differential RNAs, Table S3: Function enrichment of differential expressed RNAs on Gene ontology biological processes, Table S4: Function enrichment of differential expressed RNAs on KEGG pathways.
Acknowledgments
This work was supported by the National Natural Science Foundation of China (61762035 to Y.Y.), and research grants (LY18F020027 to Y.Y.) from the Zhejiang Provincial Natural Science Foundation of China.
Author Contributions
J.Y. and Y.Y. conceived the concept of the work. M.L. and X.X. performed the analysis. M.L., J.Y. and Y.Y. wrote the manuscript. All authors helped to discuss and improve the work.
Conflicts of Interest
The authors declare no conflict of interest.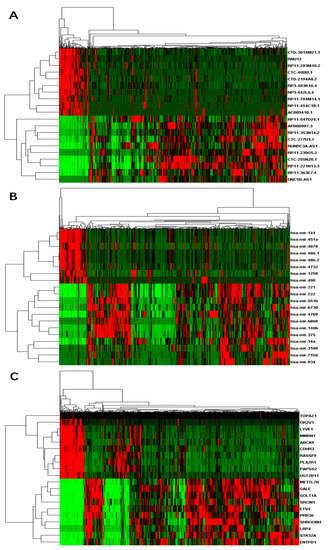 Figure 1.
Heat-maps on expressions of top differential RNAs for thyroid cancer: (
A
) differential long non-coding RNAs (lncRNAs); (
B
) differential micro RNAs (miRNAs); and (
C
) differential messenger RNAs (mRNAs).
X
-axis represents samples, while
Y
-axis represents the biological elements studied.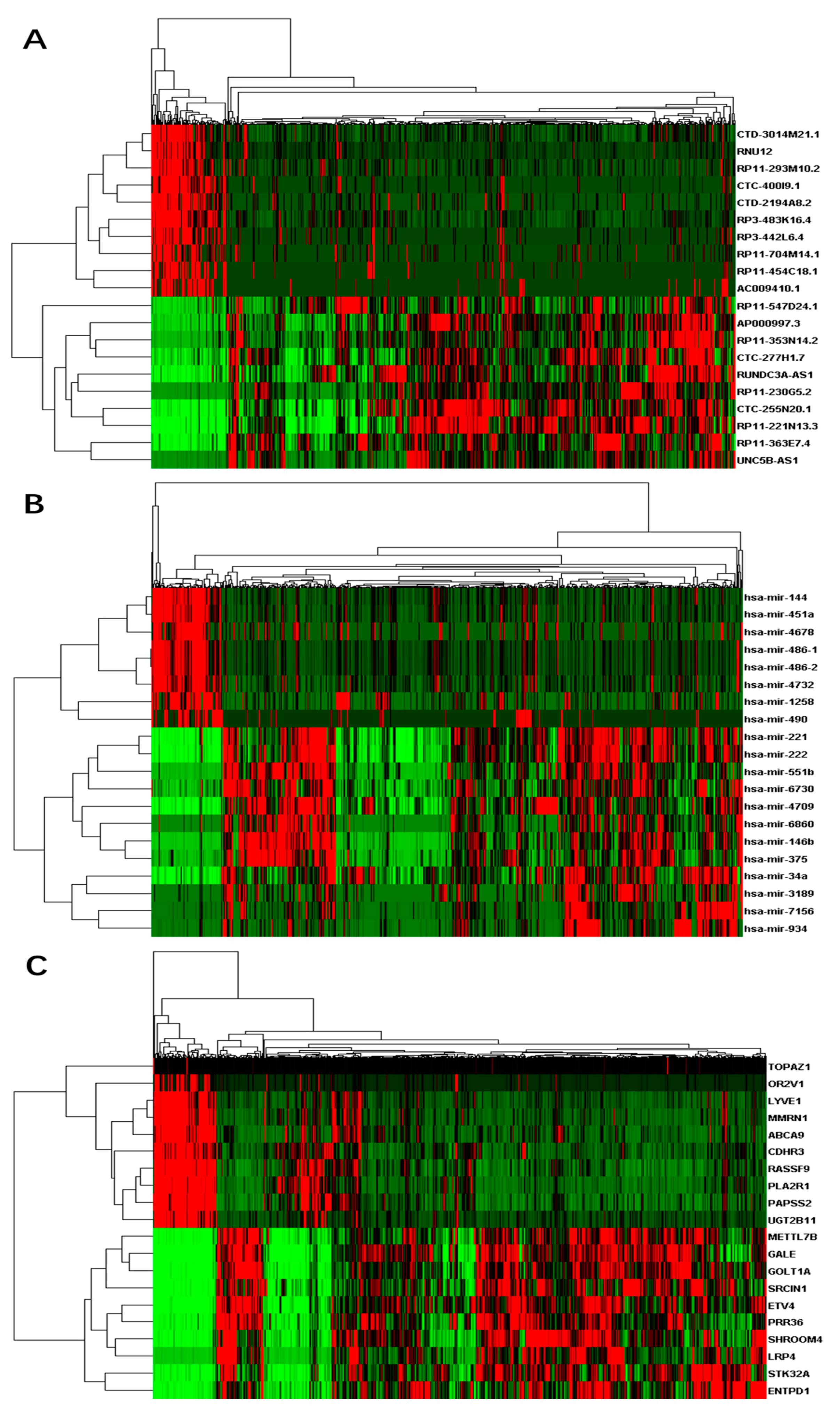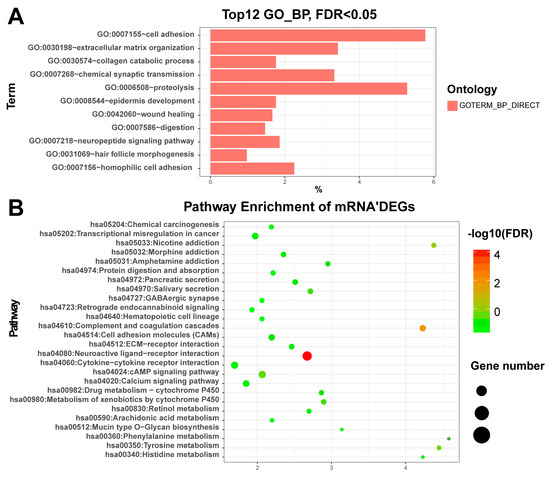 Figure 2.
Plot of the differentially expressed genes enriched GO and KEGG: (
A
) The plot of the enriched GO (biological process) with DEGs of the mRNAs.
X
-axis represents the percentage of enriched genes. (
B
) The plot of the enriched KEGG with DEGs of the mRNAs. GO: Gene Ontology; KEGG: Kyoto Encyclopedia of Genes and Genomes; DEGs: Differentially expressed genes; FDR: False discovery rate. miRNAs: The differentially expressed miRNAs were significantly enriched in miRNAs in cancer (hsa05206, FDR = ), which include hsa-mir-221, hsa-mir-222, hsa-mir-31, hsa-mir-34a, hsa-mir-373, hsa-mir-375, hsa-mir-451a, hsa-mir-483, hsa-mir-520a, hsa-mir-520c, hsa-mir-520g, and hsa-mir-520h. Among them, Wu et al. [
54
] found that miR-31 was significantly down-regulated in papillary thyroid carcinoma patients. Furthermore, down regulation of miR-31 increased the proliferation, migration, and invasion of ovarian carcinoma cells. In addition, they revealed that the human antigen R (HuR) was a target for miR-31 and knock down of HuR resulted in enhanced cell viability and decreased cell migration rate.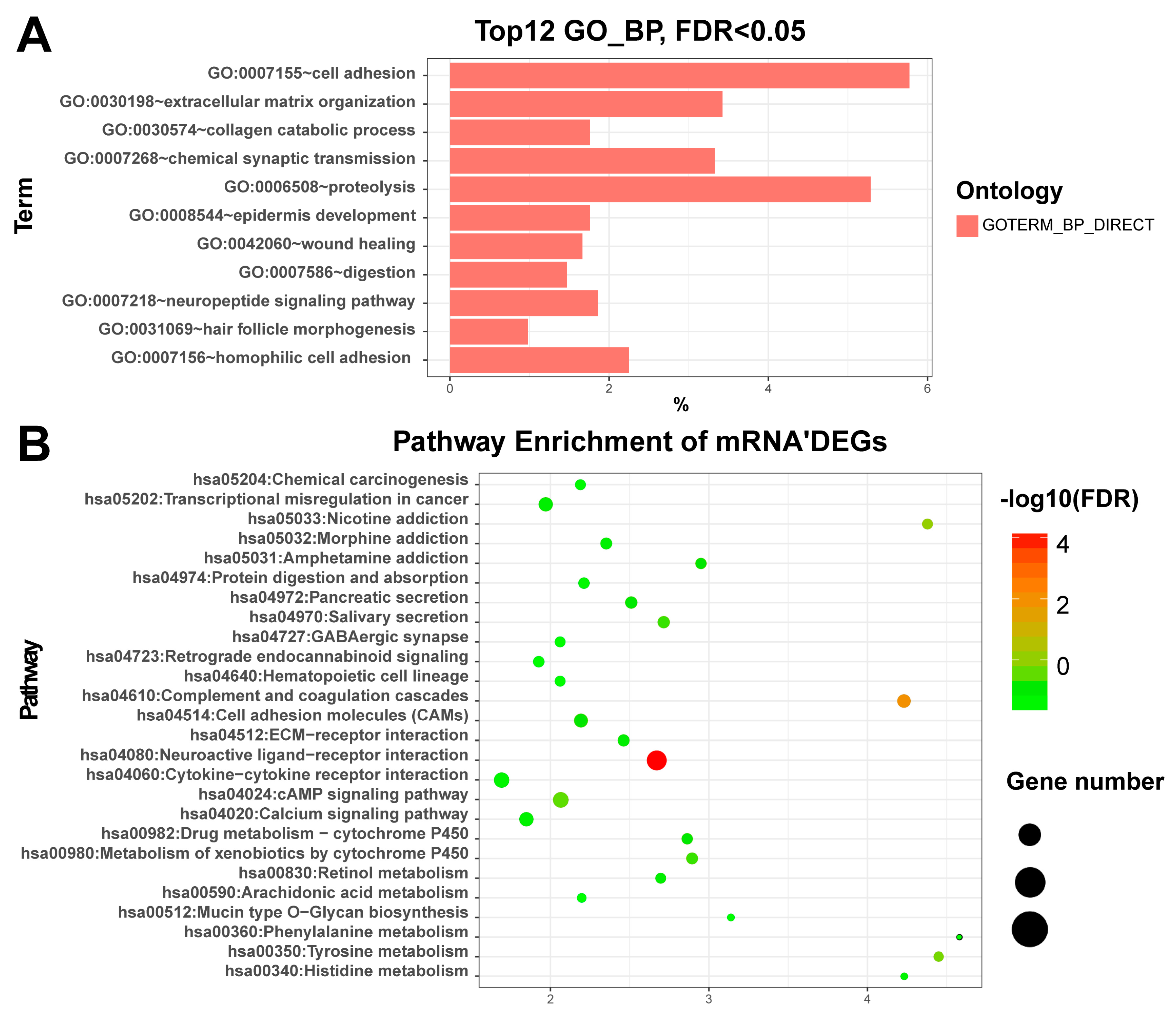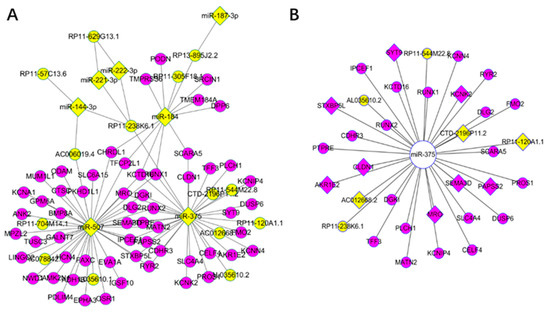 Figure 3. Key drivers for Thyroid carcinoma in the long non-coding competing endogenous database (lnCeDB): (A) yellow nodes represent miRNAs (diamond) and lncRNAs (ellipse), while the purple represent mRNAs; and (B) yellow nodes represent lncRNAs, purple represent mRNAs, and diamond represent significant RNAs in the survival analysis from key driver analysis (KDA) of the weighted correlation network analysis (WGCNA). The above relationship are competing endogenous (ceRNAs) from the lnCeDB database.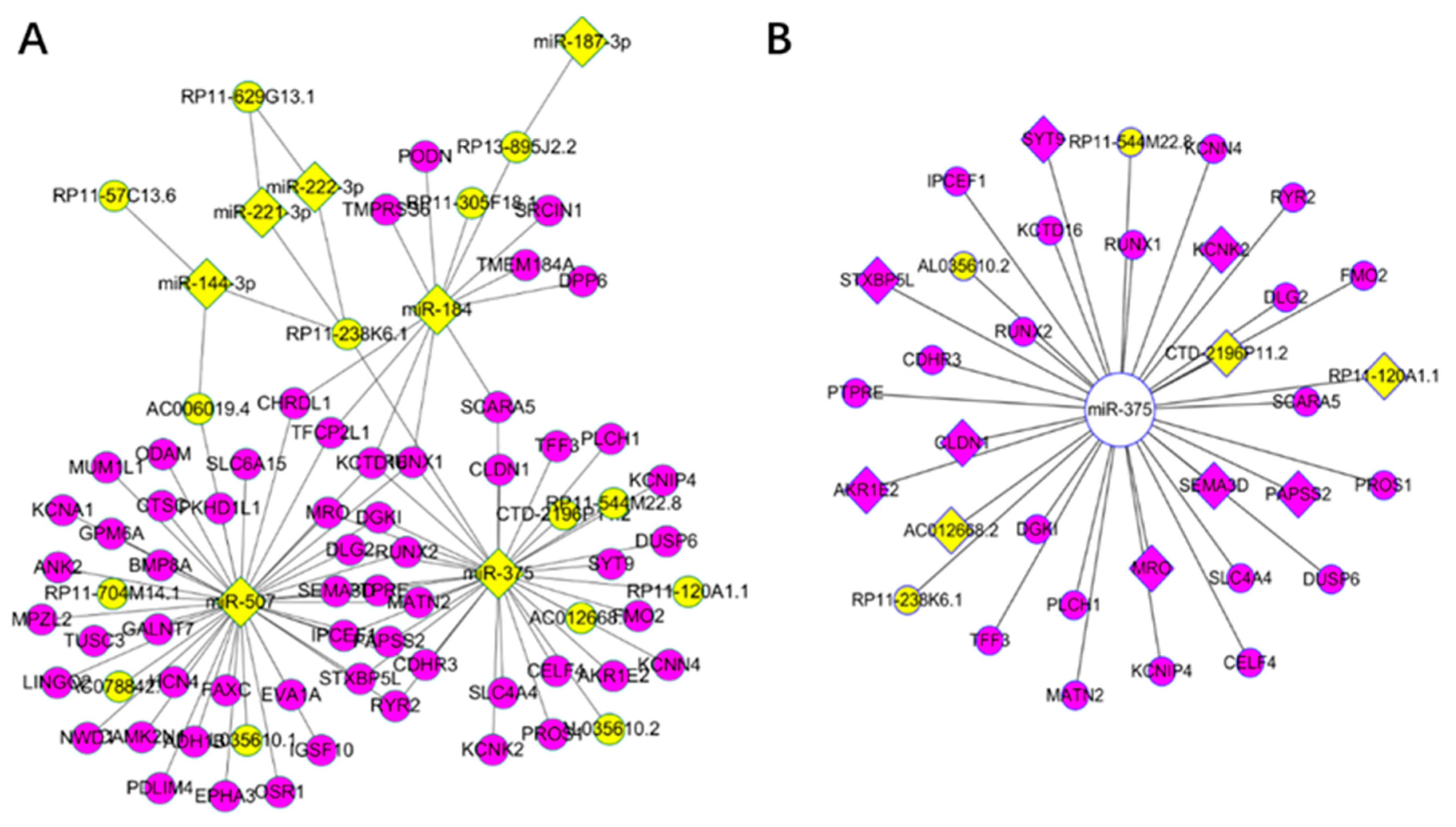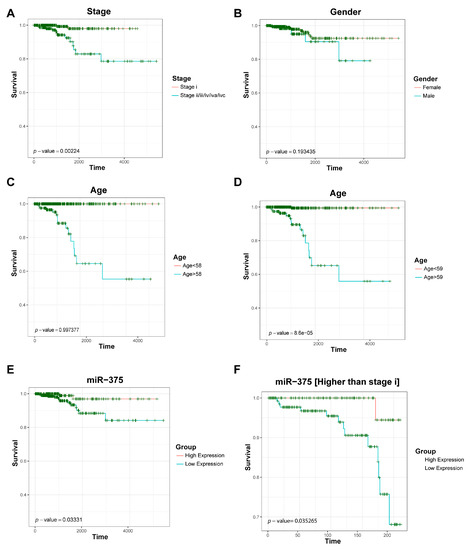 Figure 4. Thyroid patients' survival analyses on miR-375 and a few clinical traits: (A,B) survival outcomes of different stages and gender; (C,D) different age groups have different effects on over-all survival; and (E,F) survival outcomes according to relatively high and low expression, of which (E) represents survival outcomes of has-mir-375 in all samples, and (F) represents survival outcomes of has-mir-375 in higher than stage I tumor.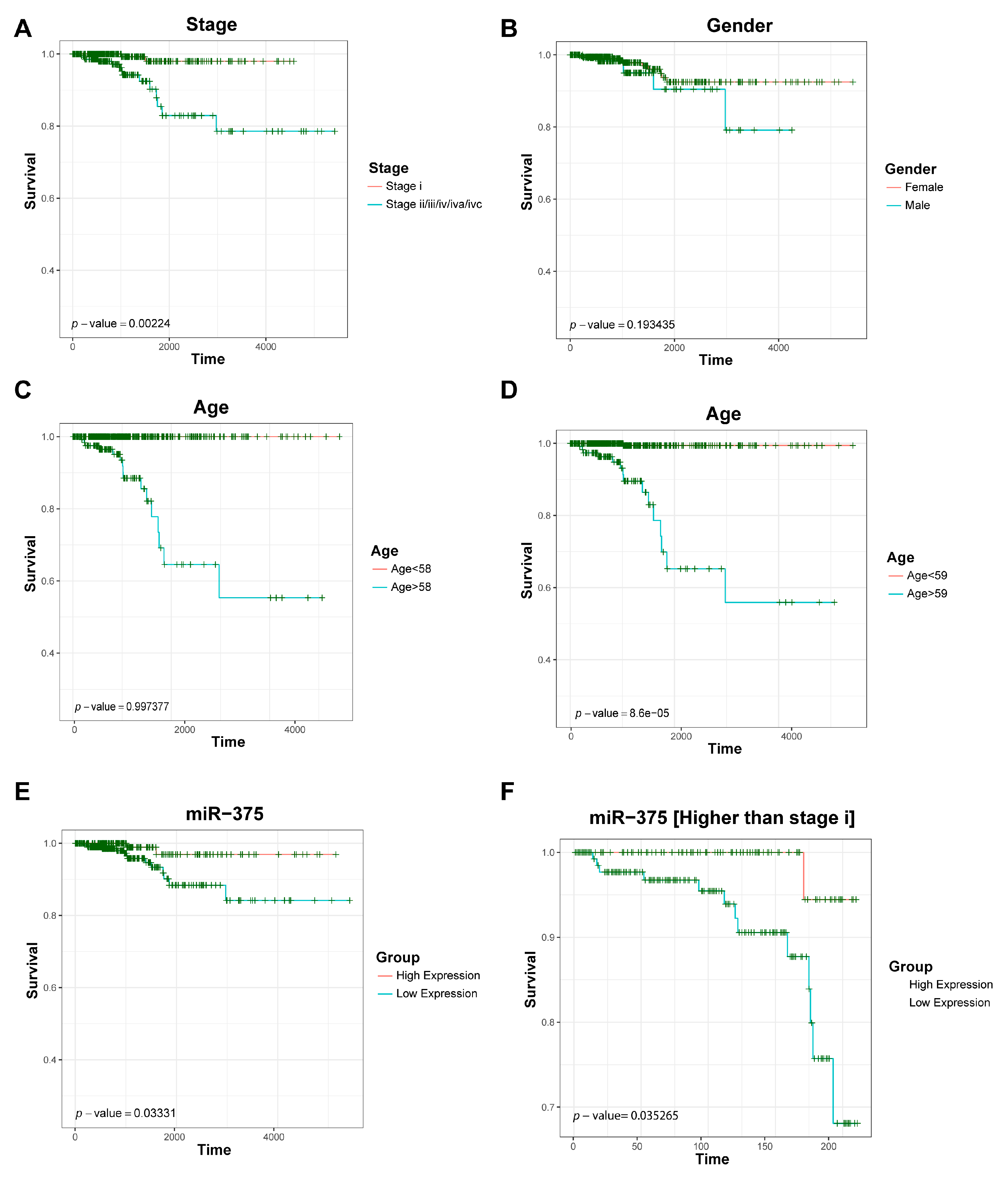 Characteristic
Numbers
Sample type
Primary tumor
501
Solid tissue normal
58
Age
Median
47
Range [years]
15~89
Sex
Male
152
Female
407
Vital status
Alive
539
Dead
20
Stage
I
315
II
59
III
124
IV
2

© 2018 by the authors. Licensee MDPI, Basel, Switzerland. This article is an open access article distributed under the terms and conditions of the Creative Commons Attribution (CC BY) license (http://creativecommons.org/licenses/by/4.0/).