Open Access This article is
freely available
re-usable
Review
Time to Spread Your Wings: A Review of the Avian Ancient DNA Field
1
Trace and Environmental DNA (TrEnD) Laboratory, Department of Environment and Agriculture, Curtin University, Bentley, Perth, WA 6102, Australia
2
Otago Palaeogenetics Laboratory, Department of Zoology, University of Otago, Dunedin 9010, New Zealand
*
Author to whom correspondence should be addressed.
Academic Editor: Michael Hofreiter
Received: 31 May 2017 / Accepted: 10 July 2017 / Published: 18 July 2017
Abstract
:
Ancient DNA (aDNA) has the ability to inform the evolutionary history of both extant and extinct taxa; however, the use of aDNA in the study of avian evolution is lacking in comparison to other vertebrates, despite birds being one of the most species-rich vertebrate classes. Here, we review the field of "avian ancient DNA" by summarising the past three decades of literature on this topic. Most studies over this time have used avian aDNA to reconstruct phylogenetic relationships and clarify taxonomy based on the sequencing of a few mitochondrial loci, but recent studies are moving toward using a comparative genomics approach to address developmental and functional questions. Applying aDNA analysis with more practical outcomes in mind (such as managing conservation) is another increasingly popular trend among studies that utilise avian aDNA, but the majority of these have yet to influence management policy. We find that while there have been advances in extracting aDNA from a variety of avian substrates including eggshell, feathers, and coprolites, there is a bias in the temporal focus; the majority of the ca. 150 studies reviewed here obtained aDNA from late Holocene (100–1000 yBP) material, with few studies investigating Pleistocene-aged material. In addition, we identify and discuss several other issues within the field that require future attention. With more than one quarter of Holocene bird extinctions occurring in the last several hundred years, it is more important than ever to understand the mechanisms driving the evolution and extinction of bird species through the use of aDNA.
Keywords:
aDNA; ancient DNA; archaeology; aves; avian; bird; conservation; ornithology; palaeontology
1. Introduction
As the only living descendants of dinosaurs and with almost ten thousand extant species, the evolution of birds (class: Aves) is a topic that has captured the interest of scientists for hundreds of years. Birds offer excellent cases for the study of evolution and speciation, particularly in island ecosystems—the most famous example being that of Darwin's Galápagos finches, which were instrumental in the development of his theory of evolution by natural selection. Birds are also of significant cultural and economic importance to people worldwide; their remains have been found in archaeological assemblages throughout history [
1
]. While birds are the most biodiverse group of terrestrial vertebrates [
2
], it is estimated that, according to the International Union for Conservation of Nature (IUCN) Red List of Threatened Species, some 147 species of bird have become extinct in recent times, and a further 362 species are currently endangered. Locations such as Hawai'i have lost approximately half of the endemic avifauna that was present before human arrival to these islands 1600 yBP, with an additional 20% disappearing in historic times [
3
]. Birds are particularly vulnerable to extinction because they are typically large and have highly specialised diet and habitat preferences; thus, birds (particularly flightless birds, of which there are about 60 extant species) are targeted for food, feathers, eggs, etc., and are sensitive to disturbances to their environment [
4
]. As avian conservation becomes increasingly important (and as the available funding for it becomes increasingly stretched), understanding the mechanisms, both natural and anthropogenic, that have shaped avian evolution and extinction remains key. The analysis of avian ancient DNA (aDNA; defined here as DNA extracted from fossils, artifacts, and sediment, as well as tissue from extinct birds) is one approach that can be used to achieve this.
Over the past 30 years, palaeogenetics has grown into a valuable, if not vital, complementary approach to the traditional disciplines of palaeontology, systematics, and phylogenetics for understanding the evolutionary history of both extant and extinct organisms. Ancient DNA can provide direct evidence of the past genetic diversity within species and populations, help assess biodiversity change across time and space to elucidate the causes, and estimate time-of-divergence through molecular dating. While the number of studies utilising aDNA over the past few decades has increased (
Figure 1
), the proportion of these that examine aDNA from birds is relatively small. Although these figures are likely to be an underestimation of the total number of aDNA studies, they illustrate the trend that, with time, bird aDNA studies represent an increasingly smaller proportion of the total aDNA investigations (
Figure 1
).
Here, we review the literature on avian aDNA, highlighting recent advances in the field, and discuss future avenues of research alongside current issues. First, we briefly address the key applications for avian aDNA. Next, we use a meta-analysis of avian aDNA studies to characterise the current landscape of the field, including areas where there is space to expand or initiate research. Finally, we explore the direction in which the field is heading.
2. Avian Ancient DNA Applications
Avian aDNA has been used to investigate diverse topics from phylogenetics to behavior.
Table S1
summarises 163 studies that utilise avian ancient DNA in a variety of contexts, some of which are discussed below with reference to the seminal and most recent studies conducted in each area. We focus our attention on studies where DNA has been obtained from Pleistocene and Holocene fossils (both of extant and extinct taxa), or museum specimens of extinct taxa only (note that many studies have been conducted using museum tissue from historic populations of extant species to examine how genetic diversity has changed over time, or for phylogenetics (e.g., [
5
,
6
,
7
,
8
,
9
,
10
]). Some such studies are summarised by Leonard [
11
], but these have not been included in our meta-analyses). These studies were found by: firstly, using the terms mentioned in the legend of
Figure 1
to search the Web of Science database for aDNA studies and manually filtering those that were of an ornithological nature; secondly, manually gathering relevant articles among those referenced by the studies found above, as well as articles that cite the studies found above; and finally, searching NCBI's GenBank genetic database for sequences of birds that became extinct during the Holocene or Pleistocene and subsequently sourcing the accompanying publication.
3. The Scope of the Field
Despite the many applications for avian aDNA, we have identified biases in the literature with regard to the types of substrates from which avian aDNA is retrieved, the age of specimens from which aDNA is retrieved, the species and locations studied, the molecular techniques employed, and the genetic loci targeted for sequencing.
3.1. Substrates and Species
For the majority of birds, their ability to fly means that their bodies are small and their bones are hollow; this makes them fragile and less likely to be preserved in the fossil record compared with other animals or flightless birds [
66
]. In addition, volant species are underrepresented in typical pit-fall deposits because they can fly out [
67
,
68
]. As such, most aDNA studies are conducted on large or flightless birds (or both). In fact, over half of the avian aDNA studies conducted in New Zealand are on moa (
Figure 3
). Large and flightless birds are also more prone to extinction than small, volant birds because, among other things, they have long generation times (and therefore are slower to adapt to selection pressures) [
69
], are susceptible to predators because they cannot fly away, or suffer from "predator naïvety" [
70
]. For this reason, the distribution of avian aDNA studies is skewed towards island species (
Figure 4
). Although island ecosystems offer an opportunity to tease-apart the effects of anthropogenic impacts and climate change, in absolute terms, the diversity of their avifauna is lower than in continental ecosystems: for instance, few studies have been conducted in South America, despite Colombia, Peru, and Brazil being the top-three most bird-rich countries in the world, with over 1800 species each [
2
]. In contrast, New Zealand has approximately 200 bird species [
71
], fewer than Australia (with over 800 [
72
]), yet almost 50% of the avian aDNA studies are on New Zealand species (
Figure 4
).
These figures are parallel to the over-representation of Holocene-aged specimens (96.3%). Discounting museum specimens, most bone material also hails from the islands of the South Pacific, Indian, and South Atlantic oceans, and represents species that underwent a relatively "recent" extinction. This is most likely because the majority of avian extinctions have occurred since the human occupation of islands in the past several hundred years. In fact, most Pleistocene-aged avian aDNA comes from species that are not extinct but are from cold climates (e.g., 44,000 yBP Adélie penguin bone; [
78
,
79
]). Surprisingly, fewer avian aDNA studies have been conducted in the Northern Hemisphere where the cooler climate typically preserves aDNA better than in the Southern Hemisphere (
Figure 4
).
These biases may be overcome if we use different, perhaps more robust, substrates to retrieve avian aDNA. Advances in extraction protocols have allowed DNA to be recovered from a variety of novel substrates; for example, DNA has been extracted from eggshell [
60
,
80
,
81
,
82
], feathers [
83
], sediment [
42
,
55
,
84
], and avian coprolites [
43
,
45
,
50
]. However, of the 156 studies examined that extracted avian aDNA (
Table S1
), almost half (48.1%) retrieved aDNA from museum skins, with 50% retrieving aDNA from single-source bone, and 13.5% retrieved aDNA from eggshell, coprolites, feathers, sediment, or bulk bone (note that some studies retrieved DNA from more than one source). In many cases, the DNA recovered from these novel substrates displayed a marked improvement in quality and quantity over traditional substrates such as bone and tissue. For instance, Oskam et al. [
81
] recovered both nuclear and mitochondrial aDNA from moa eggshell, showing that eggshell is conducive to DNA preservation. Furthermore, it was found that DNA retrieved from eggshell has a bacterial load approximately 125 times less than bone of the same age: this may be because eggshell is water resistant and is therefore more protected from microbial decay and hydrolytic damage than bone [
81
]. Furthermore, Pleistocene-aged aDNA from warm-climate ecosystems has only been retrieved from these "unconventional" substrates [
46
,
48
,
55
].
3.2. Molecular Techniques
The advent of next-generation sequencing (NGS) has been instrumental in being able to sequence shorter DNA fragments (i.e., from older or more degraded samples), as well as complex mixtures of aDNA from environmental samples, such as sediment and coprolites. For instance, Murray et al. [
46
] used an NGS metabarcoding approach to simultaneously identify ten families of Australian birds—including
Phylidonyris
sp. (Australian honeyeater) and
Dasyornis
sp. (bristlebird)—in a Pleistocene fossil assemblage consisting of mixed bone fragments. In the past, such results could only be achieved using the labor-intensive process of cloning polymerase chain reaction (PCR,
Table 1
) products into a bacterial vector and isolating them again prior to separate Sanger sequencing [
45
,
55
]. Furthermore, the high-throughput of NGS allows us to evaluate error and, through shotgun sequencing, assess damage patterns, which serve to authenticate aDNA through characteristic damage profiles. Despite this, there is still a heavy reliance on Sanger ("first-generation" sequencing among avian palaeogeneticists: approximately 78.9% of studies that sequenced avian aDNA utilised a combination of PCR and Sanger sequencing from single-source samples, with only 15.4% employing a NGS approach (either amplicon or shotgun). Even after NGS became widely accessible in the late-00s, since 2010, only 24% of avian aDNA studies have used NGS, with almost 65% still opting for a traditional approach. These figures are somewhat surprising considering the significant advantages that NGS technology brings to the field. However, NGS is becoming more popular, with about 50% of avian aDNA studies utilising NGS in the past two years.
3.3. Target Loci
Because aDNA is degraded, studies using it have typically been limited to the analysis of short barcoding regions within mitochondrial genes such as
12S rRNA
,
CO1
,
Cytb
, or the control region/D-loop. This is because mitochondria have a higher copy number per cell than nuclear DNA and thus loci located on this genome have a higher likelihood of being amplified by PCR. However, evolutionary relationships inferred from only one or a few genes in the mitochondrial genome are now considered questionable, as advances in sequencing technology have opened up a new field: palaeogenomics, the study of ancient genomes. It has been possible to sequence complete (or near-complete) mitochondrial genomes of many extinct birds, including moa (Dinornithiformes) [
24
,
74
], the elephant bird (Aepyornithidae) [
25
,
26
,
27
], and the Dodo (
Raphus cucullatus
) [
16
] (
Table S1
). Mitogenomes provide a larger dataset on which to base phylogenies, and a single run on an Illumina platform generating 15–20 Gb could theoretically sequence over 50 ancient bird mitochondrial genomes with a coverage of 30× at a cost of less than $50 US dollars per genome. (Based on: a 75-cycle single-end mid-output run with an output of 130 million reads, where 85% of those over Q30 are kept; and a mitochondrial genome size of 16,000 bp in a library with 0.5% endogenous mitochondrial sequences that have an average fragment-length of 50 bp.) For instance, Anmarkrud and Lifjeld [
85
] recovered mitogenomes from 11 extinct bird species in parallel, including the Great Auk (
Pinguinis impennis
), using NGS. High-throughput approaches such as this have the potential to rapidly expand the pool of reference genomes for extinct birds, which is important because many phylogenies are susceptible to taxon sampling bias, where the topology changes depending on which taxa are included in the dataset (
Figure 2
). Despite this, only around 10% of avian aDNA studies have reconstructed complete mitochondrial genomes from extinct birds.
However, whole mitochondrial genomes still only represent one genetic locus, and therefore do not necessarily reflect the evolution of avian species [
86
,
87
]. Mitochondria evolve approximately 5–10 times faster than nuclear loci [
88
], and over time, this leads to mutational saturation and rate heterogeneity differences across lineages, making it difficult to accurately resolve deep phylogenetic relationships and estimate divergence times based solely on one locus [
89
]. Indeed, many phylogenetic relationships and divergence estimates differ depending on the genome from which they are inferred [
90
]. Accurately determining phylogenetic topology and the timing of divergence is important because, for instance, testing biogeographical hypotheses hinges upon knowing when diversification occurred; as such, many studies opt for a combined approach that integrates both mitochondrial and nuclear loci from protein-coding genes (e.g., [
91
]), introns (e.g., [
92
,
93
]), or transposable elements (e.g., [
94
]).
Nuclear markers also have a greater resolution to detect population-level changes than mitochondrial markers. For instance, genotyping nuclear microsatellites in individuals offers a rapid method of detecting small differences in genetic diversity between populations, which is essential for fine-scale studies of phylogeography and microevolution [
95
]. Nuclear microsatellite markers have been developed for extinct organisms, such as the moa [
75
,
76
], that were then used to gauge population size and genetic diversity prior to the human colonisation of New Zealand. In addition, the retrieval of nuclear aDNA has allowed unfossilisable phenotypes to be investigated for the first time, as many phenotypes are encoded by nuclear genes. These phenotypes include sexual dimorphism [
32
], plumage (reconstructed from aDNA extracted from feathers; [
83
]), and vision [
96
]. Behaviour can also be inferred from the analysis of nuclear DNA: for example, sex-typing of DNA collected from the surface of moa eggshells suggests that males likely incubated eggs rather than females [
80
]. Despite the myriad of questions that can be addressed using avian nuclear DNA, only about a quarter of studies have adopted a nuclear perspective, as it remains challenging to obtain.
4. Future Research Trajectories
5. Conclusions
The field of avian ancient DNA has, to date, been heavily focused on Sanger sequencing to select mitochondrial genes from museum specimens of island birds to reconstruct phylogenies, clarify the taxonomy of species, and test biogeographical hypotheses. While this tactic remains robust and valid, avian aDNA is lagging behind the rest of the field, which is rapidly integrating genomic approaches including metagenomics, functional genomics, transcriptomics, and epigenomics. As technology continues to improve exponentially, the field of ancient DNA becomes less about how to obtain sequences, and more about deciphering the function of those sequences, assessing how they have changed, and reconstructing the role that they may have played in evolution across time and space. The challenge that remains now is meeting the immense computational and bioinformatic demands of sequence data; to do this, it will become essential to have well-designed experiments to test a priori hypotheses. Extinct birds are inherently interesting because they are mysterious and unattainable, but sometimes they garner more attention than their extant counterparts. As the list of extinct birds is long and getting longer, we must use what we learn from aDNA to assist in the conservation of today's endangered birds in a more practical manner.
Conflicts of Interest
The authors declare no competing interests.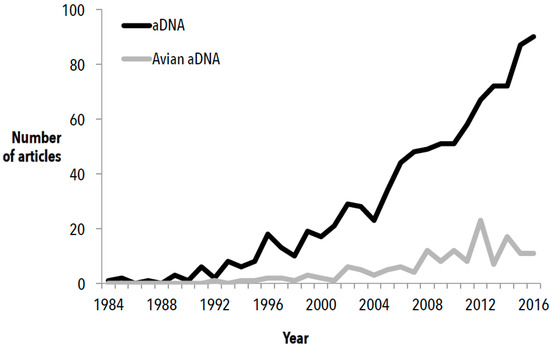 Figure 1.
The number of Web of Science articles found containing the terms "(palaeo* DNA) or (paleo* DNA) or (archaeol* DNA) or (archeol* DNA) or (ancient DNA) or aDNA or (extinct* DNA) or (historic* DNA) or palaeogenom* or paleogenom* or archaeogenom* or archeogenom*" in the title (Black), alongside aDNA studies that were ornithological in nature (
Table S1
) (Grey), each year since the inception of the field (audit accurate as of June 2017). Studies in both categories were manually examined for relevance.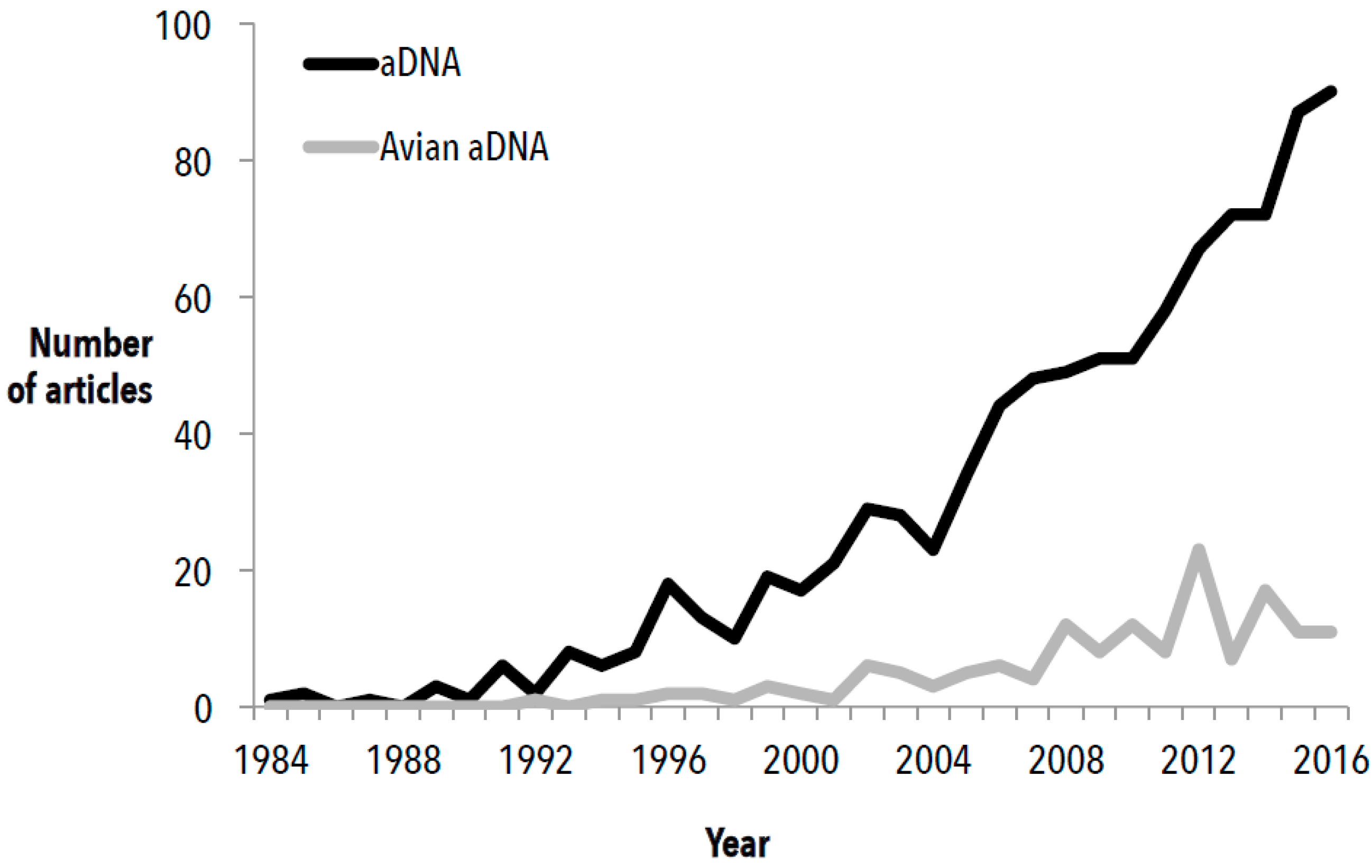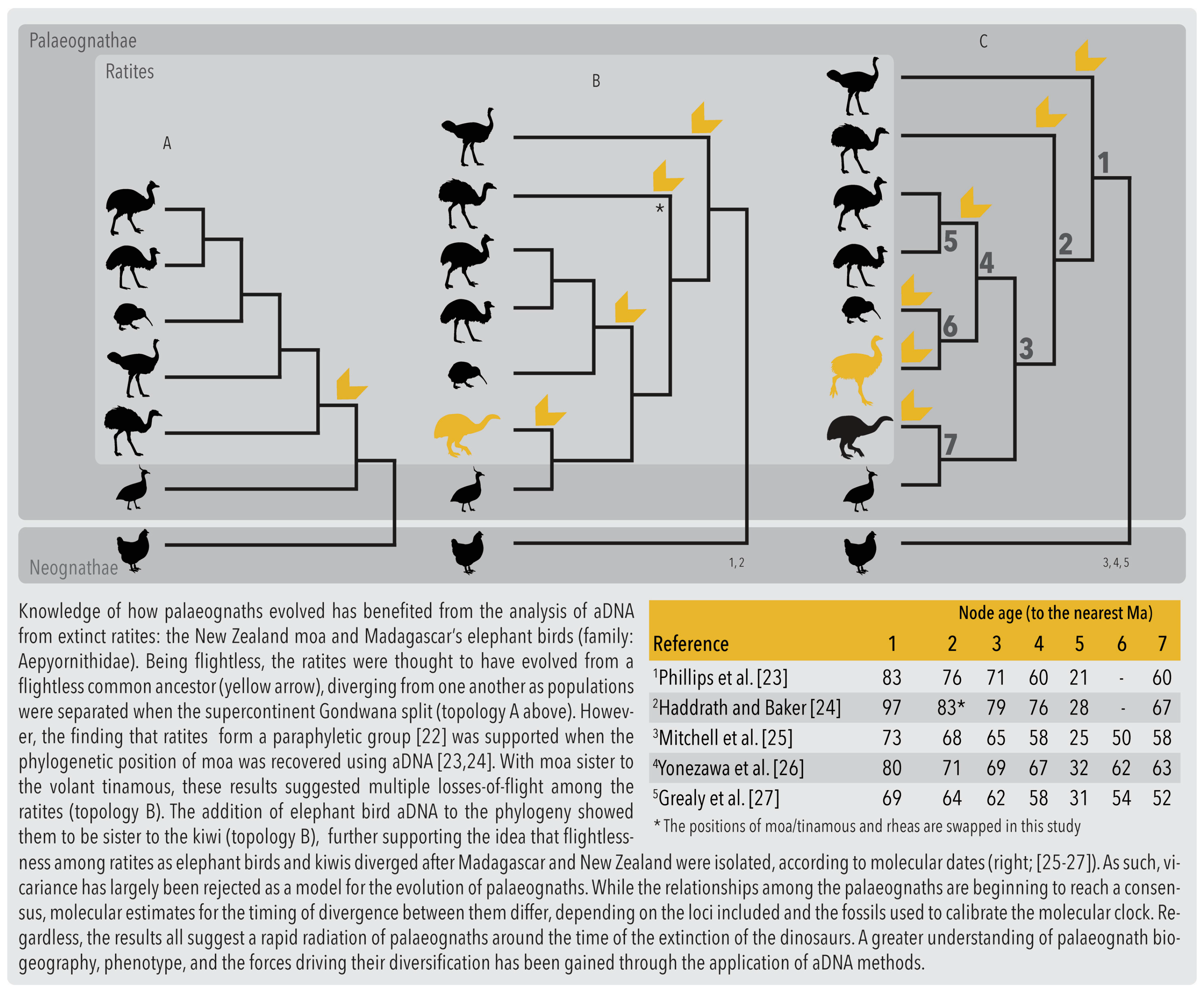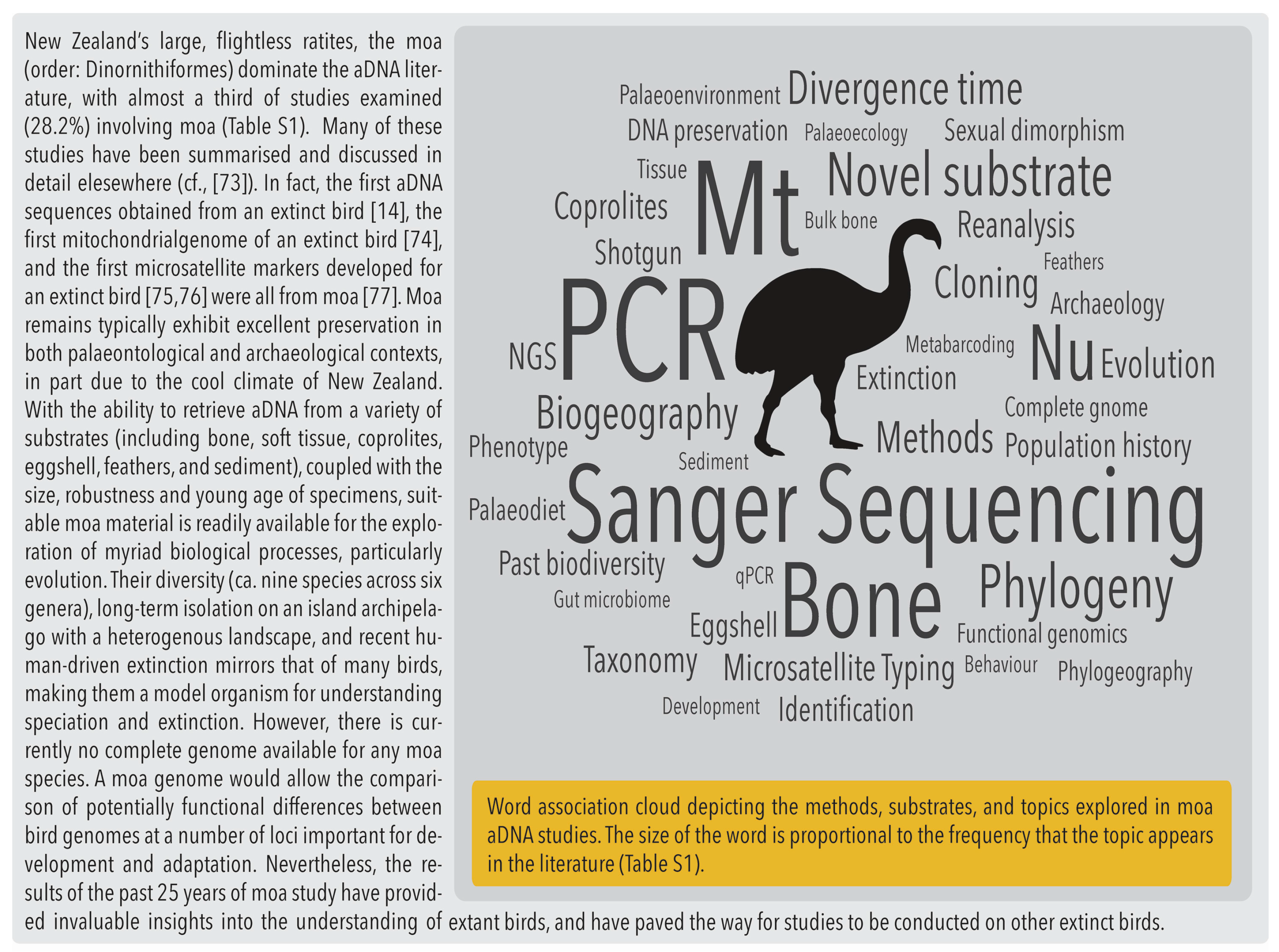 Figure 4.
The distribution of the avian ancient DNA studies described in
Table S1
. The area of the circle is proportional to the number of studies undertaken using samples from that location. The central grey band represents the latitudes that are considered tropical.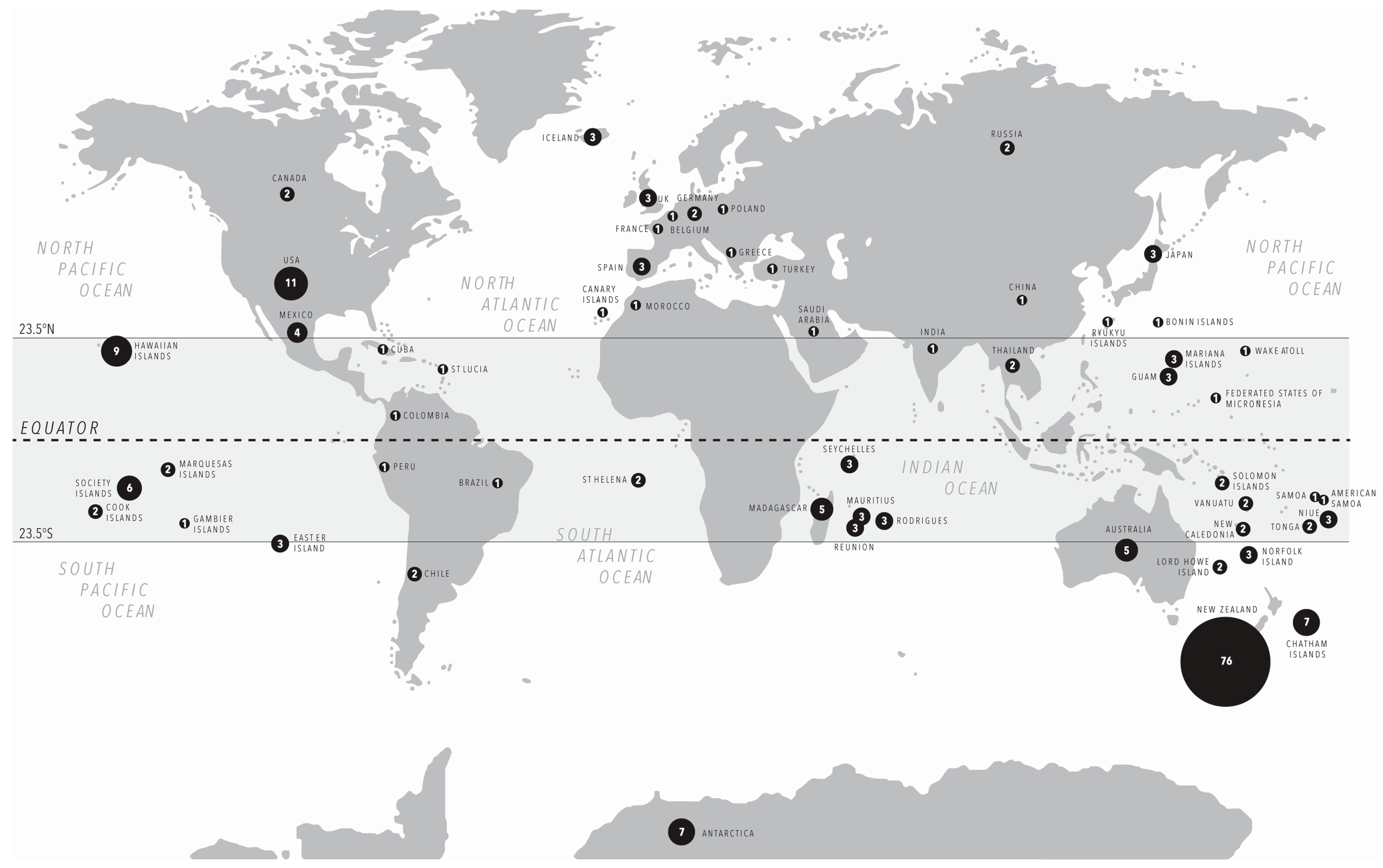 Table 1. Glossary [12,13].

| Term | Definition |
| --- | --- |
| Palaeognath | A clade of extant birds, sister to Neognaths; retain a "primitive" palate. |
| Neognath | A clade of extant birds, sister to Palaeognaths; differ from Palaeognathae in the structure of their palate. |
| Vicariance | The process by which new species are generated through the formation of a geographical barrier to gene flow between populations. |
| Sexual dimorphism | Disparity in the morphology (typically size) between the males and females of a species. |
| Coprolite | Fossil faeces. |
| Palynology | The study of pollen. |
| Midden | A refuse heap. |
| Anthropocene | "The period of time during which human activities have had an environmental impact on the Earth regarded as constituting a distinct geological age" [12]. |
| Volant | Possessing the ability to fly. |
| Predator naïvety | The indifference of island species to potential predators making them vulnerable to predation and extinction. |
| Next-generation sequencing | NGS; also known as "high-throughput" and "second-generation" sequencing. Short fragments of DNA (typically 50–500 bp) can be sequenced in parallel. |
| Metabarcoding | Involves the use of highly conserved primers that are able to bind to DNA from multiple different species in a mixed sample, yet amplify a region (a DNA "barcode") that is variable enough to distinguish between species within the sample based on its sequence [13]. |
| PCR | Polymerase chain reaction; the method by which specific target regions of DNA are amplified. |
| Sanger sequencing | Also known as "first-generation" sequencing; employs a "chain-termination" chemistry to sequence typically long fragments (400 bp +) with high accuracy, one-at-a-time. |
| Shotgun sequencing | All DNA fragments within an extract are built into a sequencing library through the ligation of sequences adapters to either end; sequence reads are then overlapped to a continuous sequence. For aDNA, both endogenous and contaminating DNA is sequenced. |
| Transposable elements | "Jumping genes"; gene sequences that can copy, excise, and reinsert themselves throughout the genome. |
| Microsatellites | Sequences consisting of short tandem repeats; different alleles are characterised by the number of repeats at a locus. |
| Hybridisation capture | A method by which to enrich target DNA prior to sequencing through the use of probes from a modern species to "bait" DNA from it's extinct relative, leaving contaminating DNA behind. |
| Data mining | "The practice of searching through large amounts of computerised data to find useful patterns or trends" [12]. |
| Front-end analysis | Analysis that occurs prior to the out-set of project in order to plan the most effective way to meet the project's end-goals. |
© 2017 by the authors. Licensee MDPI, Basel, Switzerland. This article is an open access article distributed under the terms and conditions of the Creative Commons Attribution (CC BY) license (http://creativecommons.org/licenses/by/4.0/).