The Role of Replication-Associated Repair Factors on R-Loops
Andalusian Center for Molecular Biology and Regenerative Medicine-CABIMER, Universidad de Sevilla-CSIC-Universidad Pablo de Olavide, Av. Américo Vespucio 24, 41092 Seville, Spain
*
Author to whom correspondence should be addressed.
Academic Editor: Frédéric Chedin
Received: 4 May 2017 / Revised: 19 June 2017 / Accepted: 20 June 2017 / Published: 27 June 2017
Abstract
The nascent RNA can reinvade the DNA double helix to form a structure termed the R-loop, where a single-stranded DNA (ssDNA) is accompanied by a DNA-RNA hybrid. Unresolved R-loops can impede transcription and replication processes and lead to genomic instability by a mechanism still not fully understood. In this sense, a connection between R-loops and certain chromatin markers has been reported that might play a key role in R-loop homeostasis and genome instability. To counteract the potential harmful effect of R-loops, different conserved messenger ribonucleoprotein (mRNP) biogenesis and nuclear export factors prevent R-loop formation, while ubiquitously-expressed specific ribonucleases and DNA-RNA helicases resolve DNA-RNA hybrids. However, the molecular events associated with R-loop sensing and processing are not yet known. Given that R-loops hinder replication progression, it is plausible that some DNA replication-associated factors contribute to dissolve R-loops or prevent R-loop mediated genome instability. In support of this, R-loops accumulate in cells depleted of the BRCA1, BRCA2 or the Fanconi anemia (FA) DNA repair factors, indicating that they play an active role in R-loop dissolution. In light of these results, we review our current view of the role of replication-associated DNA repair pathways in preventing the harmful consequences of R-loops.
View Full-Text
►

▼

Figures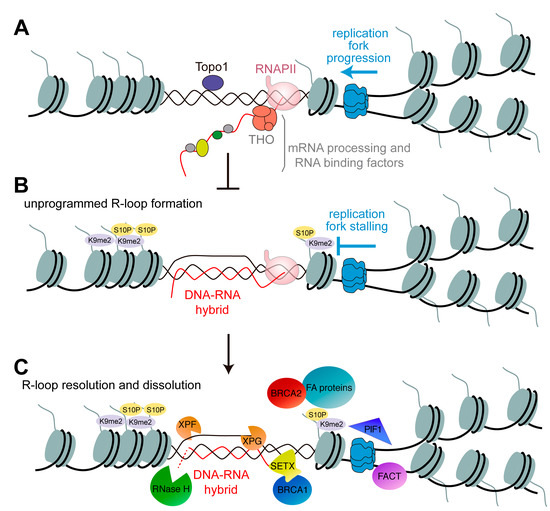 Figure 1
This is an open access article distributed under the
Creative Commons Attribution License
which permits unrestricted use, distribution, and reproduction in any medium, provided the original work is properly cited (CC BY 4.0).

Share & Cite This Article
MDPI and ACS Style
Bhatia, V.; Herrera-Moyano, E.; Aguilera, A.; Gómez-González, B. The Role of Replication-Associated Repair Factors on R-Loops. Genes 2017, 8, 171.
Note that from the first issue of 2016, MDPI journals use article numbers instead of page numbers. See further details here.
Related Articles
Comments
[Return to top]