Open Access This article is
freely available
re-usable
Review
CpG and Non-CpG Methylation in Epigenetic Gene Regulation and Brain Function
Department of Stem Cell and Regenerative Biotechnology, KU Institute of Science and Technology, Konkuk University, Seoul 143-701, Korea
*
Author to whom correspondence should be addressed.
Academic Editor: Dennis R. Grayson
Received: 16 February 2017 / Accepted: 19 May 2017 / Published: 23 May 2017
Abstract
:
DNA methylation is a major epigenetic mark with important roles in genetic regulation. Methylated cytosines are found primarily at CpG dinucleotides, but are also found at non-CpG sites (CpA, CpT, and CpC). The general functions of CpG and non-CpG methylation include gene silencing or activation depending on the methylated regions. CpG and non-CpG methylation are found throughout the whole genome, including repetitive sequences, enhancers, promoters, and gene bodies. Interestingly, however, non-CpG methylation is restricted to specific cell types, such as pluripotent stem cells, oocytes, neurons, and glial cells. Thus, accumulation of methylation at non-CpG sites and CpG sites in neurons seems to be involved in development and disease etiology. Here, we provide an overview of CpG and non-CpG methylation and their roles in neurological diseases.
Keywords:
epigenetics; CpG methylation; non-CpG methylation
Acknowledgments
This research was supported by the Basic Science Research Program through the National Research Foundation of Korea (NRF) funded by the Ministry of Science, ICT and Future Planning (grant Nos. 2016M3A9B6946835, 2015R1A2A2A01003604, and 2015R15A1009701), and the Next-Generation BioGreen 21 Program funded by the Rural Development Administration (grant no. PJ01133802) in the Republic of Korea.
Author Contributions
Hyun Sik Jang, Woo Jung Shin, Jeong Eon Lee, and Jeong Tae Do wrote the paper.
Conflicts of Interest
The authors declare no conflict of interest.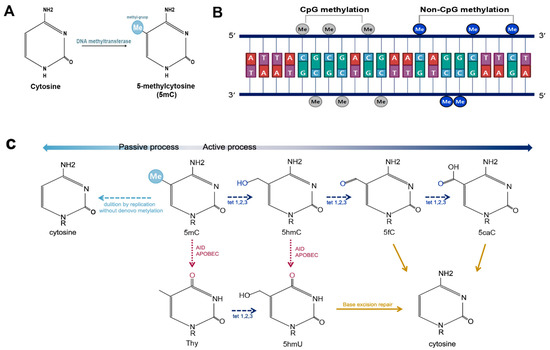 Figure 1. DNA methylation and demethylation. (A) DNA methylation occurs at the fifth carbon of cytosine and leads to the formation of 5-methylcytosine (5mC); (B) DNA methylation is predominantly found at CpG sites, and is much less commonly observed at non-CpG sites, such as CpA, CpT, and CpC; and (C) 5mC can be demethylated by passive or active processes. Active DNA demethylation can occur either via oxidation or deamination. The oxidation process is carried out by Ten-Eleven-Translocation (TET) proteins, including TET1, TET2, and TET3. TETs convert 5mC into 5-hydroxymethylcytosine (5hmC), which is further changed into 5-formylcytosine (5fC) and 5-carboxylcytosine (5caC). 5caC is excised and replaced via base excision repair. 5mC and 5hmC can also be demethylated via deamination by activation induced cytidine deaminase (AID)/apolipoprotein B mRNA editing enzyme, catalytic polypeptide (APOBEC).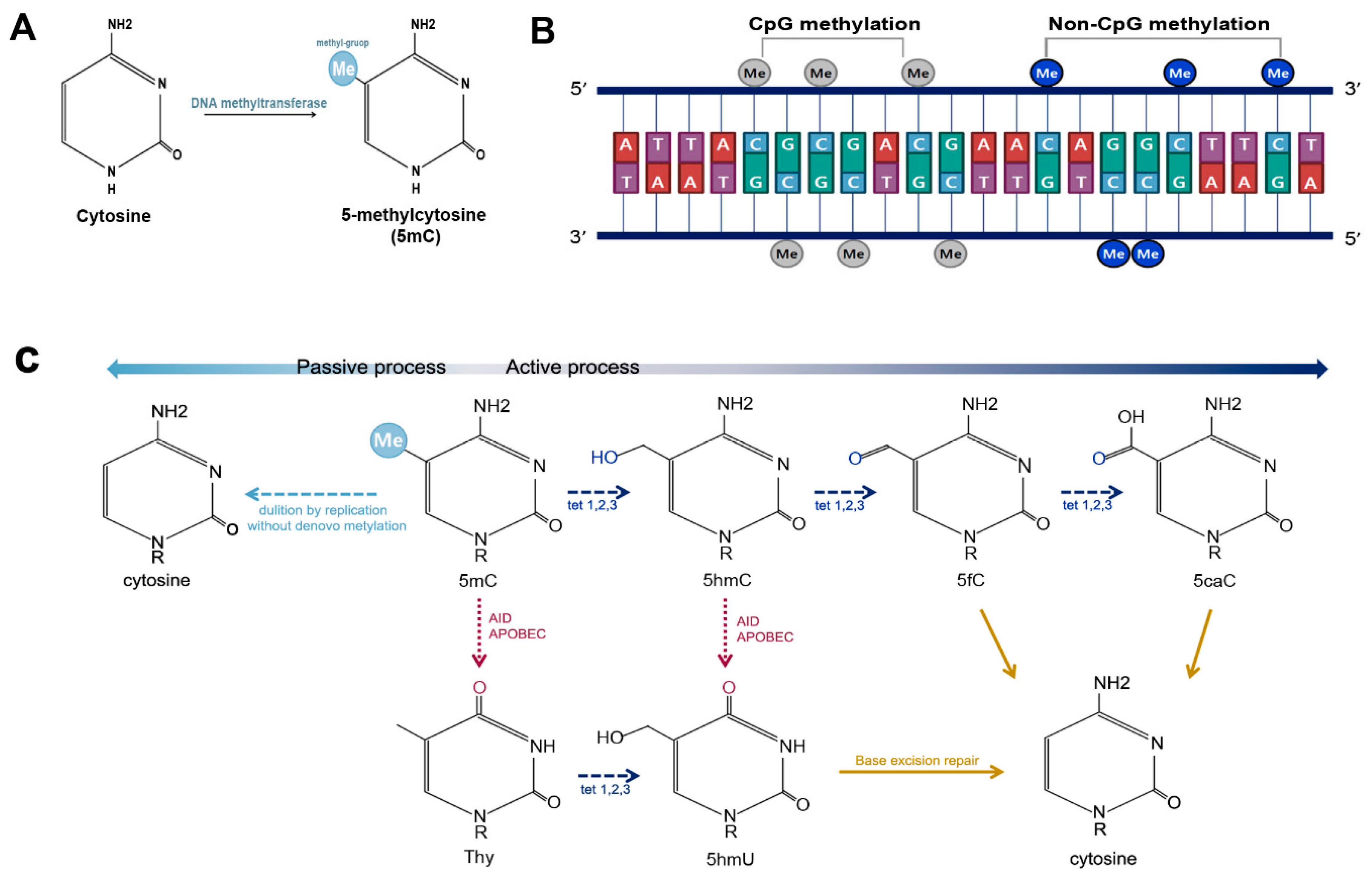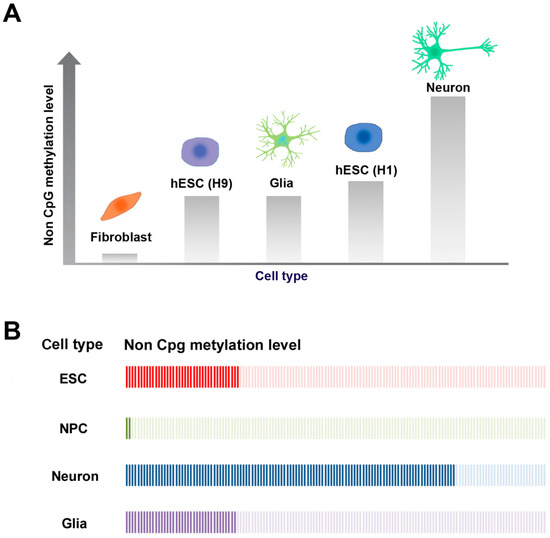 Figure 2. Non-CpG methylation levels in different cell types during differentiation of human ES cells. (A) Tissue-specific non-CpG methylation levels. In mammalian somatic cells, neurons have the highest non-CpG methylation levels, although non-CpG methylation is rare in most other differentiated cell types, such as fibroblasts. Non-CpG methylation is also enriched in ES cells. The human male ES cell line (H1) is more highly methylated than the female ES cell line (H9); (B) Dynamics of non-CpG methylation levels during the differentiation of ES cells. Non-CpG methylation levels decrease when ES cells differentiate into neural progenitor cells (NPCs). When NPCs are further differentiated into neurons and glial cells, non-CpG methylation is increased again. Interestingly, non-CpG methylation levels are higher in neurons than in glial cells.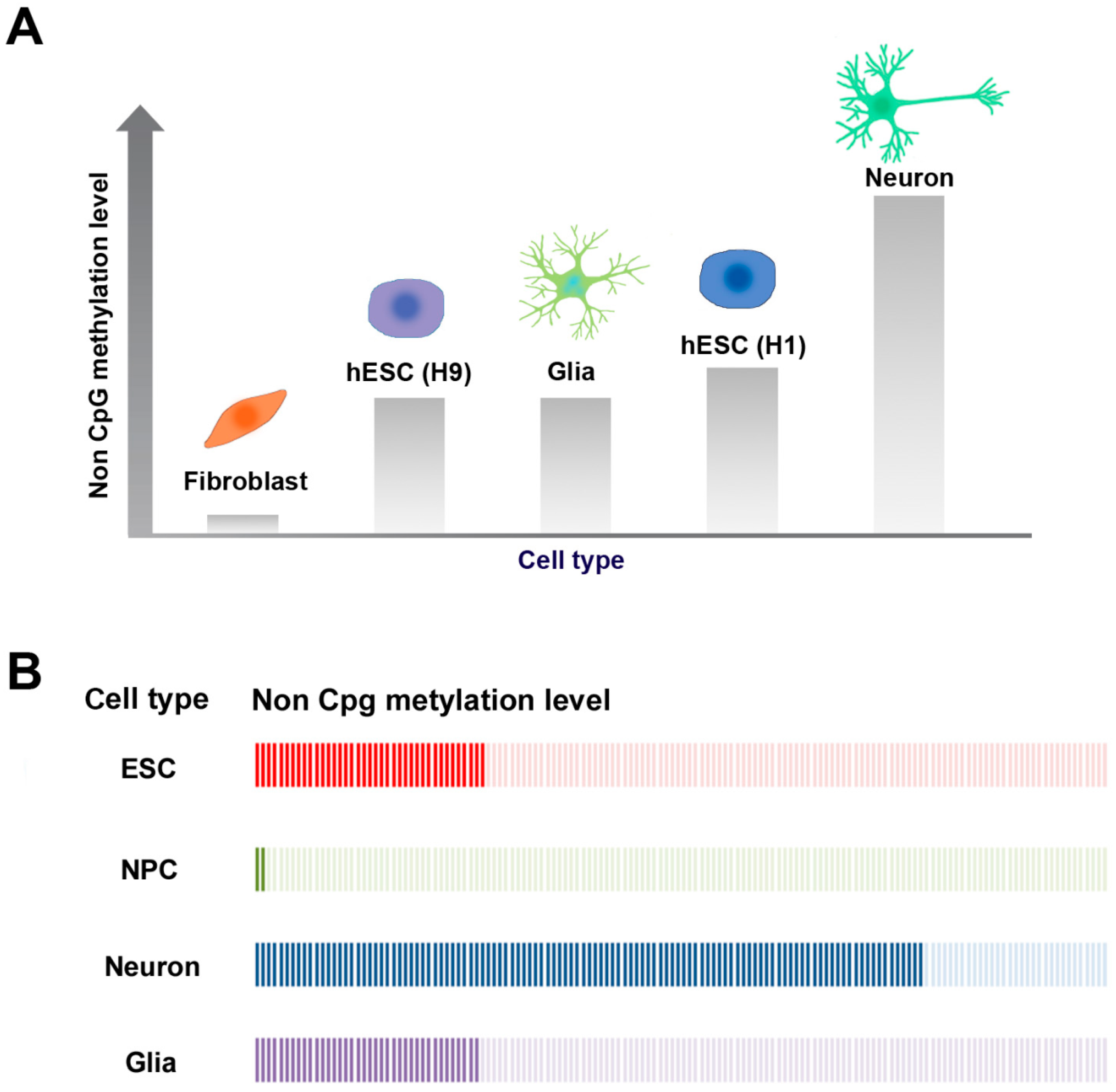 Disease
Patterns
Main Factors
References
Alzheimer's disease
CpG methylation
Methylated

interleukin-6

[97]
CpG methylation
Hypermethylated

TXBA2R

,

SORBS3

, and

SPTBN4

[102]
CpG/non-CpG methylation
Hypermethylated mitochondrial DNA
[103]
Rett syndrome
MeCp2 mutation
Mutations in MeCP2 target genes (

Bdnf

,

Fkbp5

,

Dlx5

,

Dlx6

,

UBE3A

, and

Sgk

)
[111,112,113,114,115]
Non-CpG methylation
Binding of MeCP2 to methylated non-CpG sites
[117]
MeCP2-5hmC interaction
Inhibition of conversion from 5mC to 5hmC
[89]
Fragile X syndrome
Histone deacetylation and DNA hypermethylation
Abnormal expansion of CGG repeat in 5' UTR of

FMR1

gene
[121]
Parkinson's disease
CpG methylation
Hypomethylation of SNCA
[130]
CpG methylation
Hypomethylation of TNF-αpromoter
[134]
CpG/non-CpG methylation
Hypomethylation of mitochondrial DNA
[102]
Huntington's disease
CpG methylation
Neurotrophic factors (Bdnf and A2A)
[139]
CpG methylation
Interaction of mutant Htt with MeCP2
[143]
5hmC
Regulation of

Adora2a

expression by 5hmC levels
[139]
Amyotrophic lateral sclerosis
CpG methylation
5mC accumulation in motor neurons
[150]

DMNT1

transcription
Increased levels of Dnmt3a lead to apoptosis
[150]
Genetic mutation
Gene mutations in

SOD1

,

C9orf72

,

TARDBP

, and

FUS

genes
[152]

© 2017 by the authors. Licensee MDPI, Basel, Switzerland. This article is an open access article distributed under the terms and conditions of the Creative Commons Attribution (CC BY) license (http://creativecommons.org/licenses/by/4.0/).