The Clinical Course of Patients with Preschool Manifestation of Type 1 Diabetes Is Independent of the HLA DR-DQ Genotype
1
Department of General Pediatrics, Neonatology and Pediatric Cardiology, University Children's Hospital, Heinrich Heine University Düsseldorf, 40225 Düsseldorf, Germany
2
Institute for Biometrics and Epidemiology, German Diabetes Center, Leibniz Center for Diabetes Research at Heinrich Heine University Düsseldorf, 40225 Düsseldorf, Germany
3
German Center for Diabetes Research (DZD), 85764 München-Neuherberg, Germany
4
Institute for Clinical Diabetology, German Diabetes Center, Leibniz Center for Diabetes Research at Heinrich Heine University Düsseldorf, 40225 Düsseldorf, Germany
5
Department of Endocrinology and Diabetology, Medical Faculty, Heinrich Heine University Düsseldorf, 40225 Düsseldorf, Germany
6
Institute of Biomedical and Clinical Science, University of Exeter Medical School, Exeter EX2 5DW, UK
7
Division of Endocrinology and Diabetes, Medical Faculty, RWTH Aachen University, 52074 Aachen, Germany
8
Institute of Epidemiology and Medical Biometry, ZIBMT, University of Ulm, 89069 Ulm, Germany
9
Institute for Transplantation Diagnostics and Cell Therapeutics, Heinrich Heine University Düsseldorf, 40225 Düsseldorf, Germany
*
Authors to whom correspondence should be addressed.
†
These authors contributed equally to this work.
Academic Editor: Roel Ophoff
Received: 30 January 2017 / Revised: 3 May 2017 / Accepted: 16 May 2017 / Published: 19 May 2017
Abstract
Introduction: Major histocompatibility complex class II genes are considered major genetic risk factors for autoimmune diabetes. We analysed Human Leukocyte Antigen (HLA)
DR
and
DQ
haplotypes in a cohort with early-onset (age < 5 years), long term type 1 diabetes (T1D) and explored their influence on clinical and laboratory parameters. Methods: Intermediate resolution
HLA-DRB1
,
DQA1
and
DQB1
typing was performed in 233 samples from the German Paediatric Diabetes Biobank and compared with a local control cohort of 19,544 cases. Clinical follow-up data of 195 patients (diabetes duration 14.2 ± 2.9 years) and residual C-peptide levels were compared between three HLA risk groups using multiple linear regression analysis. Results: Genetic variability was low, 44.6% (104/233) of early-onset T1D patients carried the highest-risk genotype
HLA-DRB1*03:01-DQA1*05:01-DQB1*02:01/DRB1*04-DQA1*03:01-DQB1*03:02
(
HLA-DRB1*04
denoting
04:01/02/04/05
), and 231 of 233 individuals carried at least one of six risk haplotypes. Comparing clinical data between the highest (
n
= 83), moderate (
n
= 106) and low risk (
n
= 6) genotypes, we found no difference in age at diagnosis (mean age 2.8 ± 1.1 vs. 2.8 ± 1.2 vs. 3.2 ± 1.5 years), metabolic control, or frequency of associated autoimmune diseases between HLA risk groups (each
p
> 0.05). Residual C-peptide was detectable in 23.5% and C-peptide levels in the highest-risk group were comparable to levels in moderate to high risk genotypes. Conclusion: In this study, we saw no evidence for a different clinical course of early-onset T1D based on the HLA genotype within the first ten years after manifestation.
View Full-Text
►

▼

Figures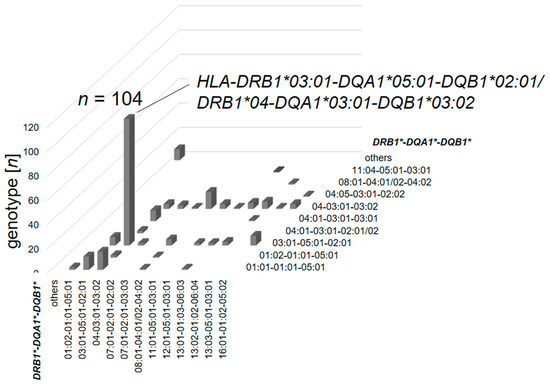 Figure 1
This is an open access article distributed under the
Creative Commons Attribution License
which permits unrestricted use, distribution, and reproduction in any medium, provided the original work is properly cited (CC BY 4.0).

Share & Cite This Article
MDPI and ACS Style
Reinauer, C.; Rosenbauer, J.; Bächle, C.; Herder, C.; Roden, M.; Ellard, S.; De Franco, E.; Karges, B.; Holl, R.W.; Enczmann, J.; Meissner, T. The Clinical Course of Patients with Preschool Manifestation of Type 1 Diabetes Is Independent of the HLA DR-DQ Genotype. Genes 2017, 8, 146.
Note that from the first issue of 2016, MDPI journals use article numbers instead of page numbers. See further details here.
Related Articles
Comments
[Return to top]