Open Access This article is
freely available
re-usable
Review
DNA Replication Origins and Fork Progression at Mammalian Telomeres
Department of Cellular Biochemistry, Graduate School of Pharmaceutical Sciences, Kyushu University, 3-1-1 Maidashi, Higashi-ku, Fukuoka 812-8582, Japan
*
Authors to whom correspondence should be addressed.
Academic Editor: Eishi Noguchi
Received: 7 February 2017 / Accepted: 24 March 2017 / Published: 28 March 2017
Abstract
:
Telomeres are essential chromosomal regions that prevent critical shortening of linear chromosomes and genomic instability in eukaryotic cells. The bulk of telomeric DNA is replicated by semi-conservative DNA replication in the same way as the rest of the genome. However, recent findings revealed that replication of telomeric repeats is a potential cause of chromosomal instability, because DNA replication through telomeres is challenged by the repetitive telomeric sequences and specific structures that hamper the replication fork. In this review, we summarize current understanding of the mechanisms by which telomeres are faithfully and safely replicated in mammalian cells. Various telomere-associated proteins ensure efficient telomere replication at different steps, such as licensing of replication origins, passage of replication forks, proper fork restart after replication stress, and dissolution of post-replicative structures. In particular, shelterin proteins have central roles in the control of telomere replication. Through physical interactions, accessory proteins are recruited to maintain telomere integrity during DNA replication. Dormant replication origins and/or homology-directed repair may rescue inappropriate fork stalling or collapse that can cause defects in telomere structure and functions.
Keywords:
DNA replication; genome integrity; telomere; shelterin; G-quadruplex; RecQ-like helicase; fragile telomere; replication fork barrier; dormant origin
Acknowledgments
We apologize to those whose work we were unable to cite due to space limitations. We thank members of the Fujita lab for helpful discussion and comments on the manuscript. This work was supported in part by Grants to Masatoshi Fujita and Kazumasa Yoshida from the Ministry of Education, Science, Sports, Technology and Culture of Japan.
Author Contributions
Mitsunori Higa, Masatoshi Fujita, and Kazumasa Yoshida wrote the paper and produced the figures.
Conflicts of Interest
The authors declare no conflict of interest.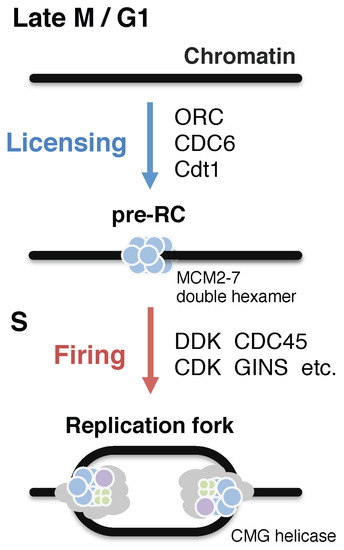 Figure 1. Initiation of eukaryotic DNA replication. Eukaryotic DNA replication is strictly regulated through two non-overlapping steps, origin licensing and firing. During the licensing step, which occurs from late M to G1 phases, the origin-recognition complex (ORC), and subsequently cell division cycle protein 6 (CDC6), DNA replication licensing factor Cdt1, and the MCM2–7 complex, bind to chromatin to form the pre-replication complex (pre-RC). The firing step requires S phase-specific kinases DBF4-dependent kinase (DDK) and cyclin-dependent kinase (CDK) that facilitate the loading of cell division cycle protein 45 (CDC45), the GINS complex (Sld5–Psf1–Psf2–Psf3), and several other proteins, to form the CMG (CDC45–MCM–GINS) helicase complex, which unwinds the DNA duplex, enabling DNA polymerases to initiate DNA synthesis at the replication fork. Multiple MCM2–7 double hexamers are loaded onto chromatin (not depicted in the figure). Licensed origins are sequentially activated during S phase. Some origins (called dormant origins) do not fire, are passively replicated in normal S phase, and act as backup origins upon replication stress.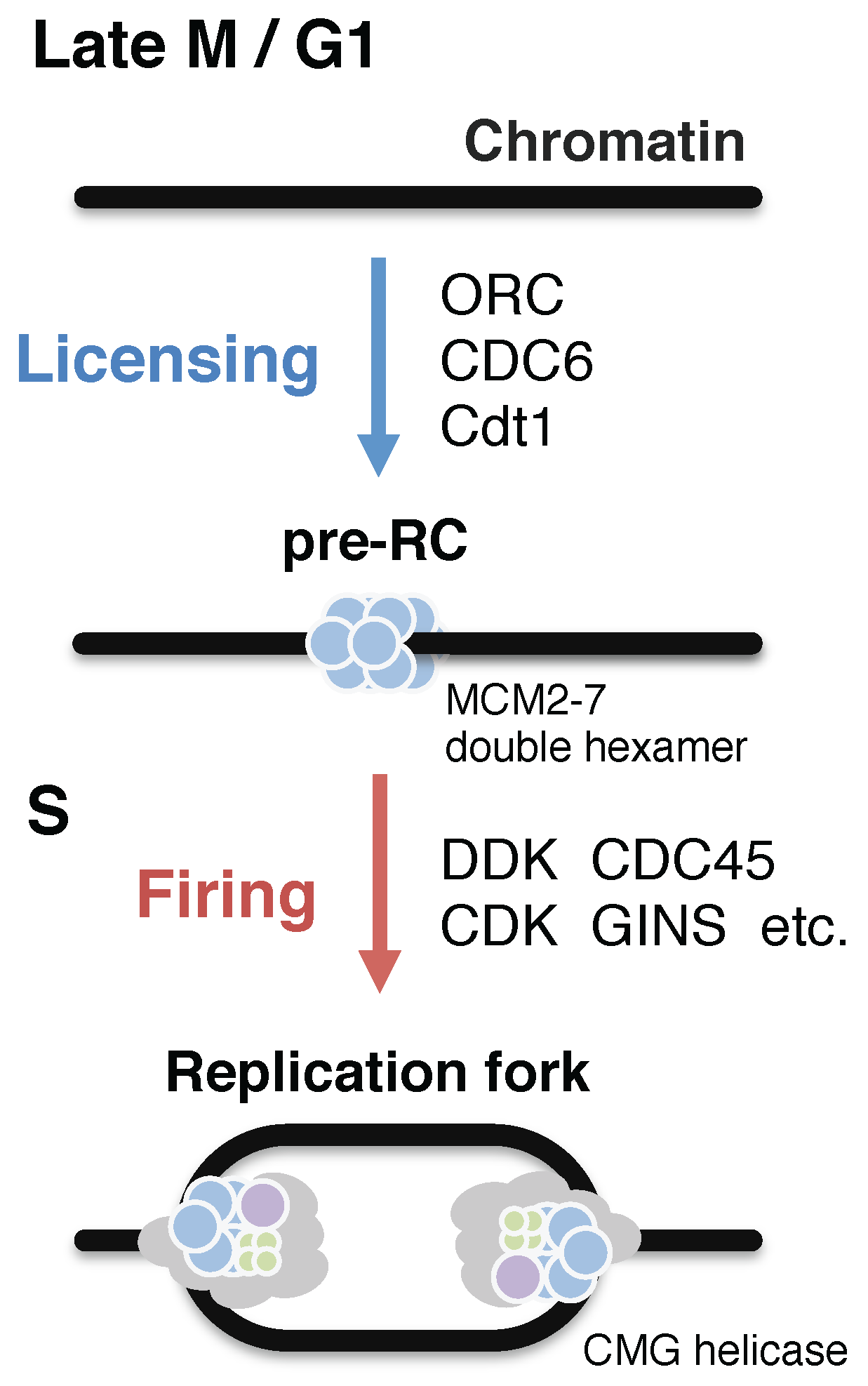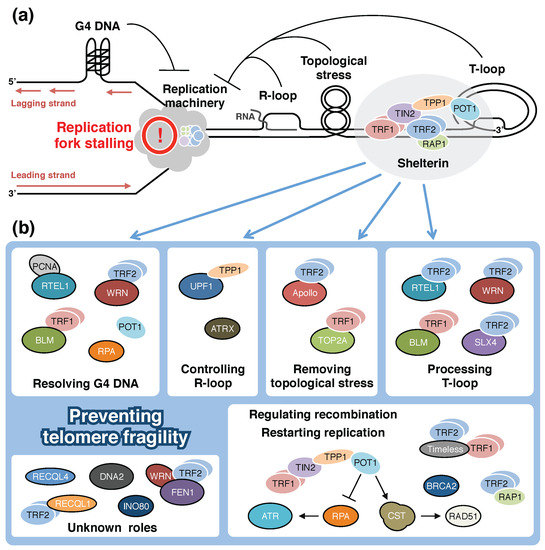 Figure 2. The causes of replication fork stalling and the mechanisms that overcome telomeric obstacles. (a) The bulk of telomeric DNA is duplicated by conventional semi-conservative DNA replication. When a telomeric replication fork progresses unidirectionally toward the chromosomal end, G-rich and C-rich strands are replicated by lagging-strand and leading-strand synthesis, respectively. The replication machinery encounters various obstacles that compromise passage of the fork through the telomere. (b) Telomere-specific and non-telomere-specific proteins overcome the obstacles and prevent telomere fragility during DNA replication. Components of shelterin complex have prominent roles in the recruitment of accessory factors to telomeres, while recruitment of several factors, such as RecQ-like helicase 4 (RECQL4), DNA replication helicase/nuclease 2 (DNA2), chromatin remodeling proteins INO80 and ATRX, and the DNA repair protein breast cancer 2 (BRCA2), may be independent of shelterin. The defects in many of these factors result in fragile telomere phenotype, suggesting that these obstacles naturally exist in cells and are potential causes of genomic instability. Although these factors are also involved in other telomere-maintenance mechanisms or in general DNA metabolism, the focus here is on their functions in relation to telomeric DNA replication. When replication machinery unwinds duplex of telomeric DNA, G-quadruplex (G4) DNA structure can be formed on the G-rich strand of telomeres, which is basically used as a template of lagging strand synthesis. Werner syndrome RecQ-like helicase (WRN), Bloom syndrome RecQ-like helicase (BLM), and regulator of telomere elongation helicase 1 (RTEL1) resolve G4 DNAs in concert with single-stranded DNA binding proteins. These helicases also participate in resolution of D-loop (displacement loop) at the base of T-loop (telomere loop) structure. Disassembly of T-loop is required for replication fork to arrive at the end of chromosome. In the absence of RTEL1, persistent T-loop will be one of substrates of structure-specific SLX4-associated endonucleases. Structural barriers to replication fork are also generated by R-loop derived from telomeric repeat-containing RNA (TERRA) binding to telomeric DNA, and by topological stress along chromosome. Furthermore, homologous recombination of the telomeric DNA should be tightly regulated, because inappropriate recombination causes telomere defects such as multi-telomeric signals, sister telomere association, and end-to-end fusion of chromosomes. Proper recombination at the stalled replication fork is also essential for stability and restart of the fork. See the main text for details.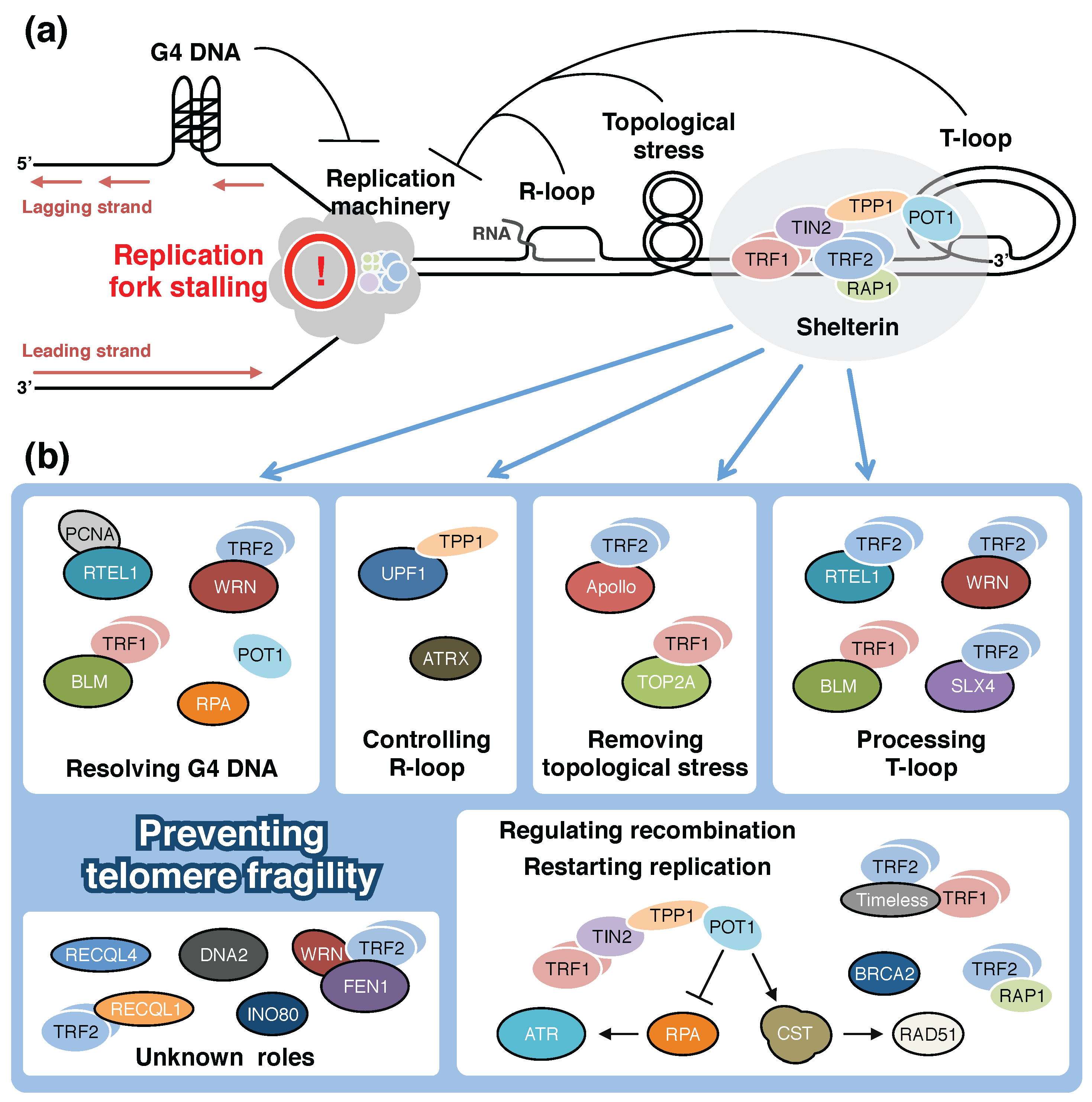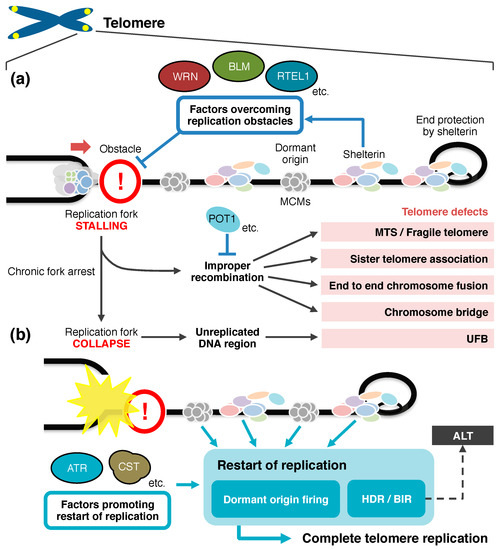 Figure 3. A model for the consequences of telomeric replication fork arrest and the different recovery mechanisms. (a) Telomeres present intrinsic obstacles, impeding the passage of replication machinery. Shelterin and accessory proteins prevent the fork stalling and repress improper recombination activity. Inappropriate recombination of the telomeric fork may result in telomere defects. (b) Persistent fork arrest might lead to fork collapse at telomeres. Restart of replication is necessary to avoid leaving an unreplicated region. Dormant origins could fire to complete telomere replication. Homologous recombination is also a general recovery mechanism from replication fork collapse. However, recombination at telomeres might increase the risk of cellular immortalization by ALT (alternative lengthening of telomeres). It is currently unknown how shelterin exactly contributes to restart of replication. BIR: break-induced replication; HDR: homology-directed repair; MTS: multi-telomeric signals; UFB: ultrafine anaphase bridge.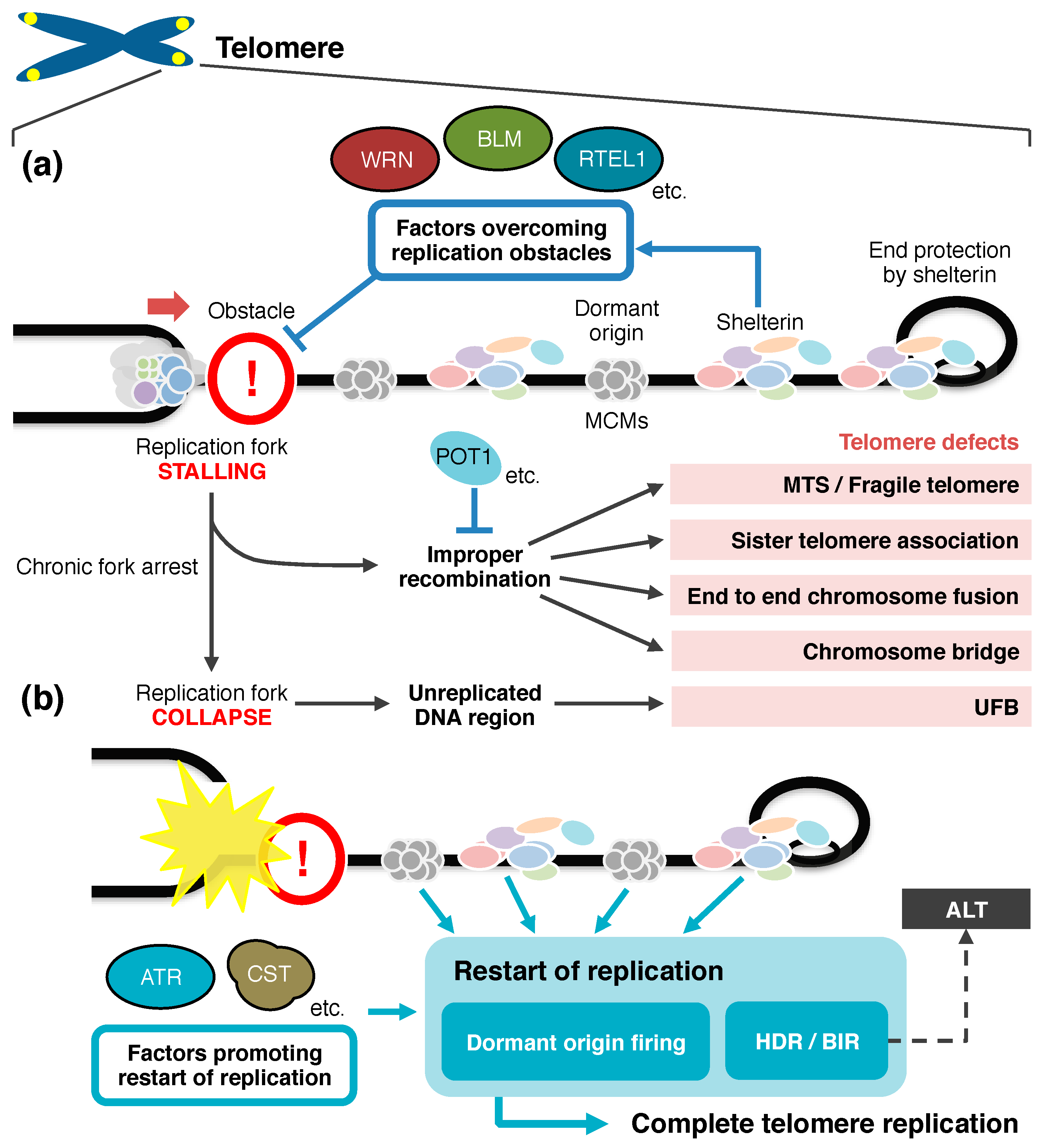 © 2017 by the authors. Licensee MDPI, Basel, Switzerland. This article is an open access article distributed under the terms and conditions of the Creative Commons Attribution (CC BY) license (http://creativecommons.org/licenses/by/4.0/).