Open Access This article is
freely available
re-usable
Article
Host-Derived Artificial MicroRNA as an Alternative Method to Improve Soybean Resistance to Soybean Cyst Nematode
1
Department of Plant Pathology, Kansas State University, Manhattan, KS 66506, USA
2
Bayer CropScience, 3500 Paramount Pkwy, Morrisville, NC 27560, USA
*
Author to whom correspondence should be addressed.
Academic Editor: Wenyi Gu
Received: 28 September 2016 / Accepted: 1 December 2016 / Published: 8 December 2016
Abstract
:
The soybean cyst nematode (SCN),
Heterodera glycines
, is one of the most important pests limiting soybean production worldwide. Novel approaches to managing this pest have focused on gene silencing of target nematode sequences using RNA interference (RNAi). With the discovery of endogenous microRNAs as a mode of gene regulation in plants, artificial microRNA (amiRNA) methods have become an alternative method for gene silencing, with the advantage that they can lead to more specific silencing of target genes than traditional RNAi vectors. To explore the application of amiRNAs for improving soybean resistance to SCN, three nematode genes (designated as
J15
,
J20
, and
J23
) were targeted using amiRNA vectors. The transgenic soybean hairy roots, transformed independently with these three amiRNA vectors, showed significant reductions in SCN population densities in bioassays. Expression of the targeted genes within SCN eggs were downregulated in populations feeding on transgenic hairy roots. Our results provide evidence that host-derived amiRNA methods have great potential to improve soybean resistance to SCN. This approach should also limit undesirable phenotypes associated with off-target effects, which is an important consideration for commercialization of transgenic crops.
Keywords:
artificial microRNA; soybean cyst nematode; soybean; resistance
Acknowledgments
This work was supported by funding from the United Soybean Board Project #2284 and the Kansas Soybean Commission. The authors are grateful to Guihua Bai, the director of the DNA sequencing facility in Agronomy Department at Kansas State University for sequencing and real-time PCR system. This article is contribution on. 17-128-J from the Kansas Agricultural Experimental Station, Kansas State University, Manhattan, KS.
Author Contributions
B.T., J.L., and H.N.T. conceived and designed the experiments; B.T. performed the experiments and analyzed the data; T.C.T. and T.R.O. provided nematode populations for SCN bioassays and T.C.T. contributed to the experimental analysis; B.T. and H.N.T. wrote the paper.
Conflicts of Interest
The authors declare no conflict of interest. The funding sponsors had no role in the design of the study; in the collection, analyses, or interpretation of data; in the writing of the manuscript, and in the decision to publish the results.

Figure 1. Vector map of pUFamiR construct used for host-derived gene silencing. The artificial microRNA (amiRNA) expression constructs were modified from pBI121 binary vector. The T-DNA region consists of NPTII cassette for kanamycin selection, soybean ubiquitin promoter (Gmubi3), superfolder green fluorescent protein (sGFP) reporter gene fused with the precursor amiRNA (pre-amiRNA) sequences, and the nopaline synthase (NOS) terminator at the 3' end. The specific amiRNA for each target gene was generated by exchanging the sequences of the amiR guide and passenger (amiR*) strands within the pre-amiRNA319a gene.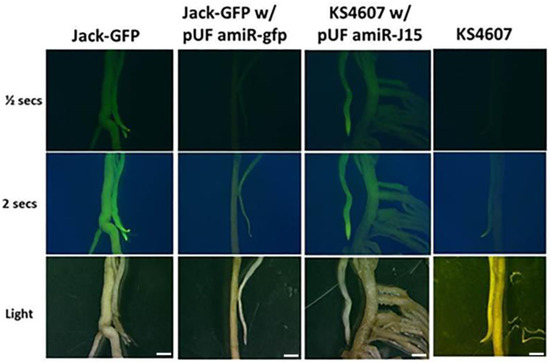 Figure 2. Validation of the pUFamiR vector. Row 1 and Row 2: visualization of GFP expression observed under blue light. Row 3: roots observed under white light. Column 1: roots from a transgenic soybean cultivar "Jack" expressing GFP. Column 2: Jack-GFP line transformed with pUFamiR-gfp. Column 3: cultivar KS4607 transformed with pUFamiR-J15. Column 4: nontransformed control KS4607. Scale Bar = 1 mm.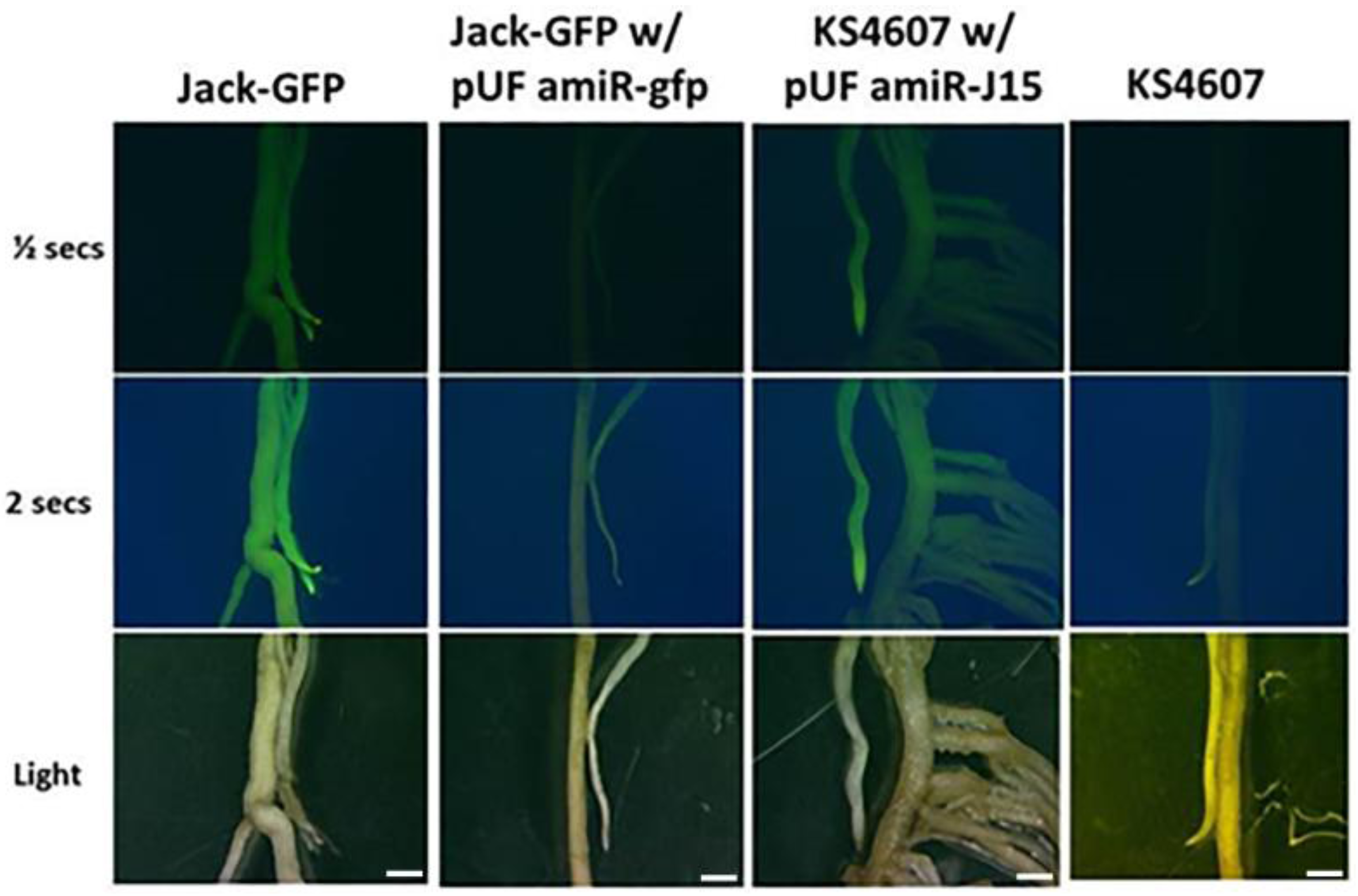 Figure 3.
RT-PCR analysis of typical transgenic root samples to confirm the expression level of sGFP mRNAs. (
a
) The GFP expression was tested on the root tissue and leaf tissue separated with the positive and control transgenic hairy roots, independently. Control soybean was inoculated by K599 with pUF empty vector. The Jack–GFP transgenic plants were used as a positive control; (
b
) The expression level of the
Rib
gene was monitored in parallel from the same samples as a control.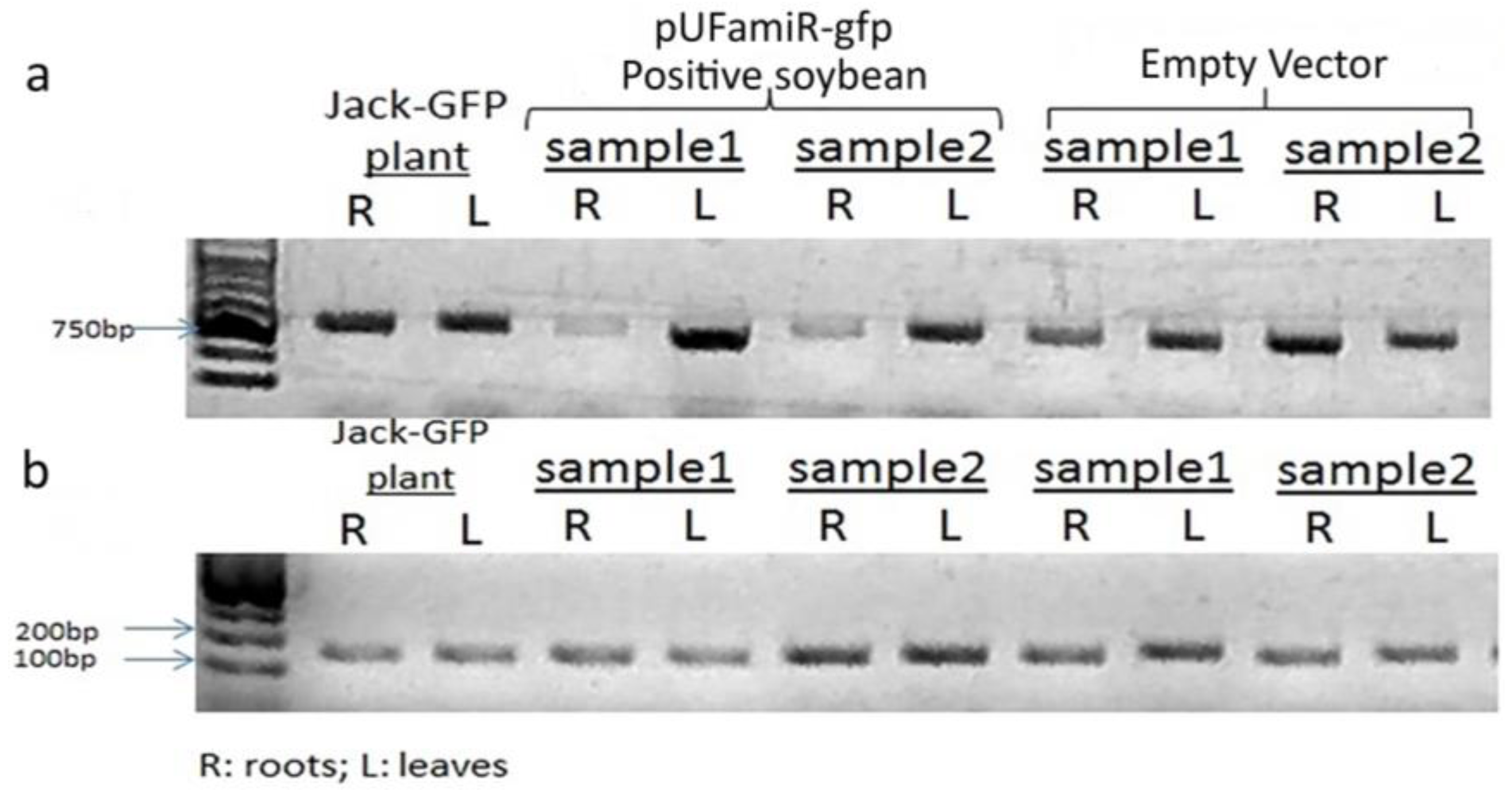 Figure 4. The typical expression of soybean hairy roots transformed with pUFamiR constructs containing GFP reporter. The observation of transgenic roots after 3 weeks grown on selection medium. (a) The positive root structure was observed under bright field; (b) The positive root structure was observed under blue light. Scale bar stands for 1 mm.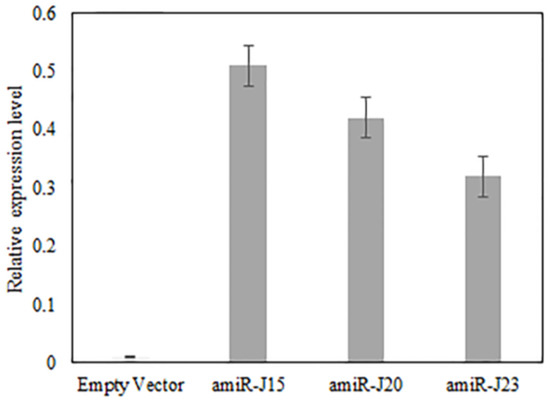 Figure 5. The stem-loop RT-qPCR confirmed the expression of amiR-J15, amiR-J20, and amiR-23 in the hairy roots but not in the hairy roots with empty vector. All three amiRNAs were not detected in the empty vector. Error bars represent the standard error of the mean for three experiments and three biological replicates per experiment, with experiment treated as a random effect.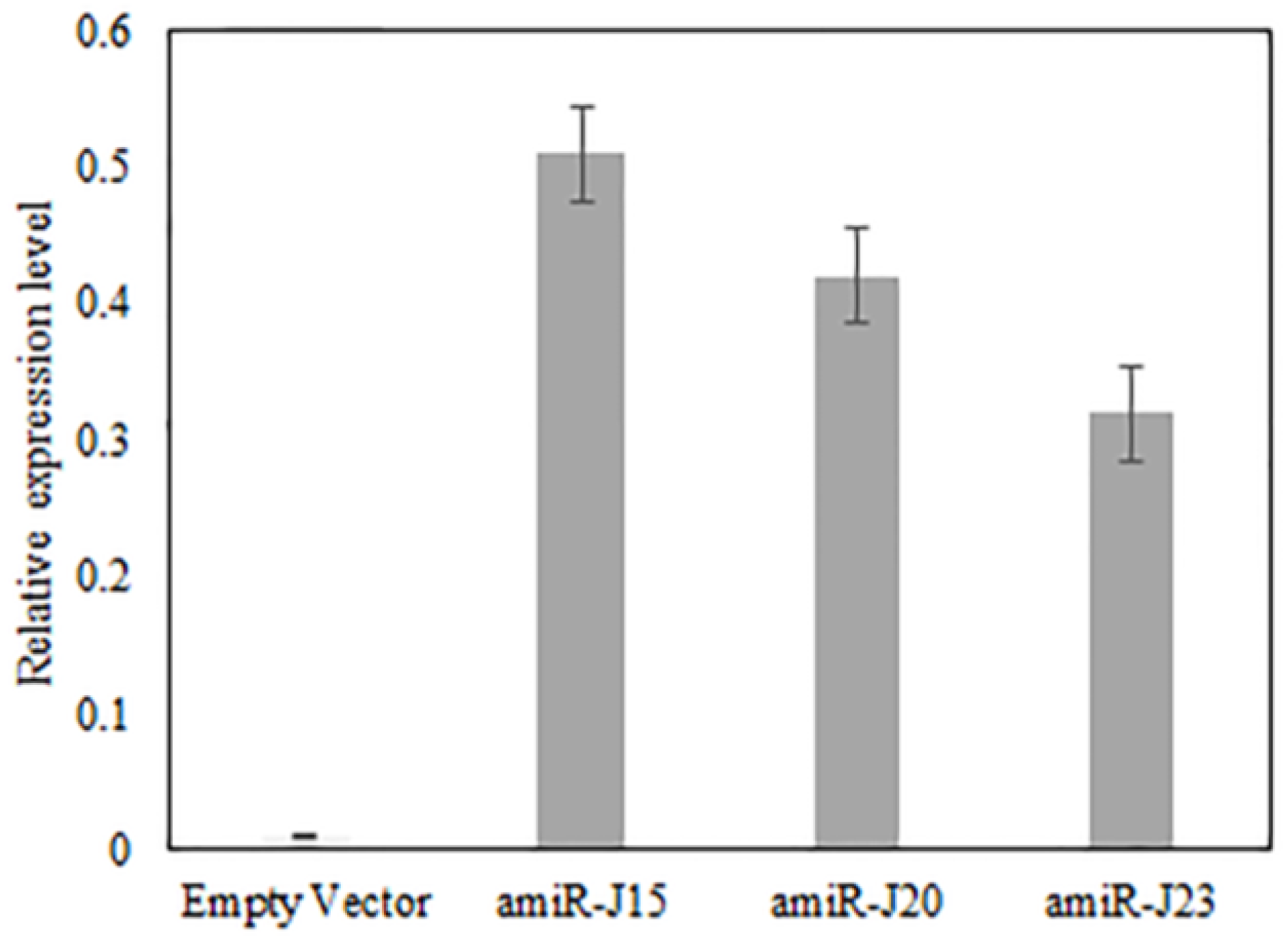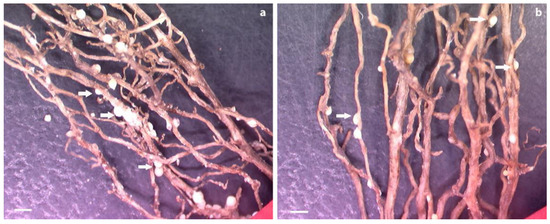 Figure 6. Roots from controls and composite plants infected with soybean cyst nematode (SCN) at 5 weeks postinoculation. (a) Roots transformed with pUFamiR empty construct showing numerous cysts (arrows); (b) roots transformed with pUFamiR–J15 showing significantly less cyst density. Scale b3ar = 1 mm.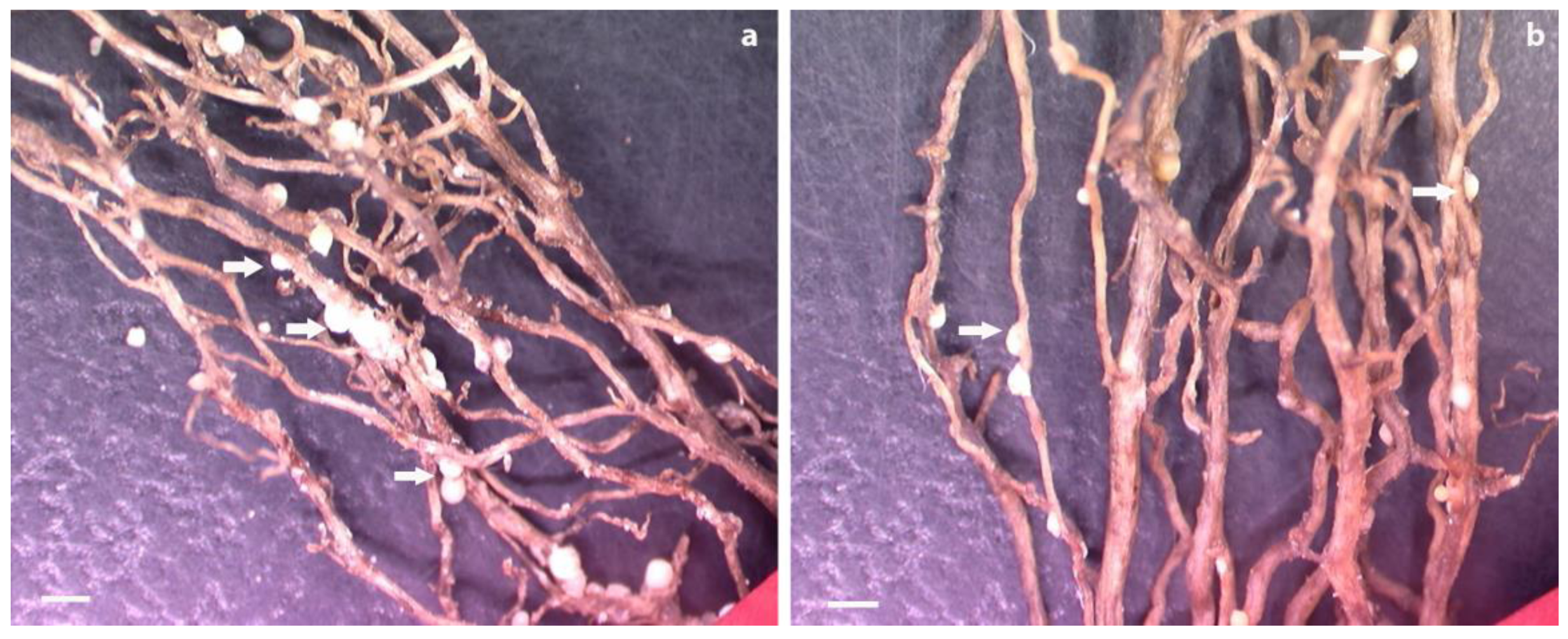 Figure 7.
Comparison of
H. glycines
cyst (
a
) and egg (
b
) densities on roots of transgenic composite plants. Composite plants transformed with the empty vector were used as negative controls. Bars with one or two asterisks are significantly different from the empty vector control at
p
< 0.05 (*) and 0.01 (**), respectively. Error bars represent the standard error of the mean based on at least three independent bioassay experiments, with experiment treated as a random effect.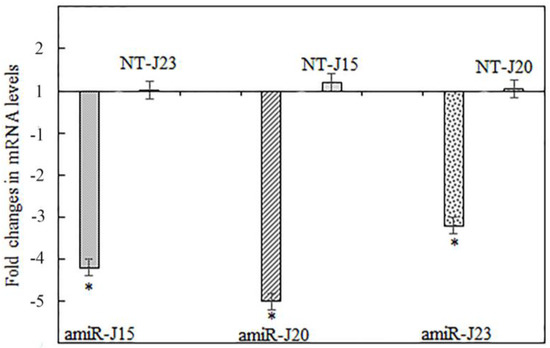 Figure 8.
Real-time RT-qPCR results showing the downregulation of target
H. glycines
genes
J15
,
J20
, and
J23
at mRNA transcript levels by host-derived amiRNA determined at 5 weeks after inoculation. The
H. glycines
β-actin gene was used as an internal control to normalize gene expression levels among samples. Nematodes feeding on composite plants with the pUFamiR empty vector were used as control samples. The 2
−ΔΔ

C

t
method was used to quantify the relative change in gene expression. The relative expression of a nontarget (NT) parasitism gene in each experiment remained unchanged. Error bars represent the standard error mean between three independent bioassay replicates. *
p
< 0.05.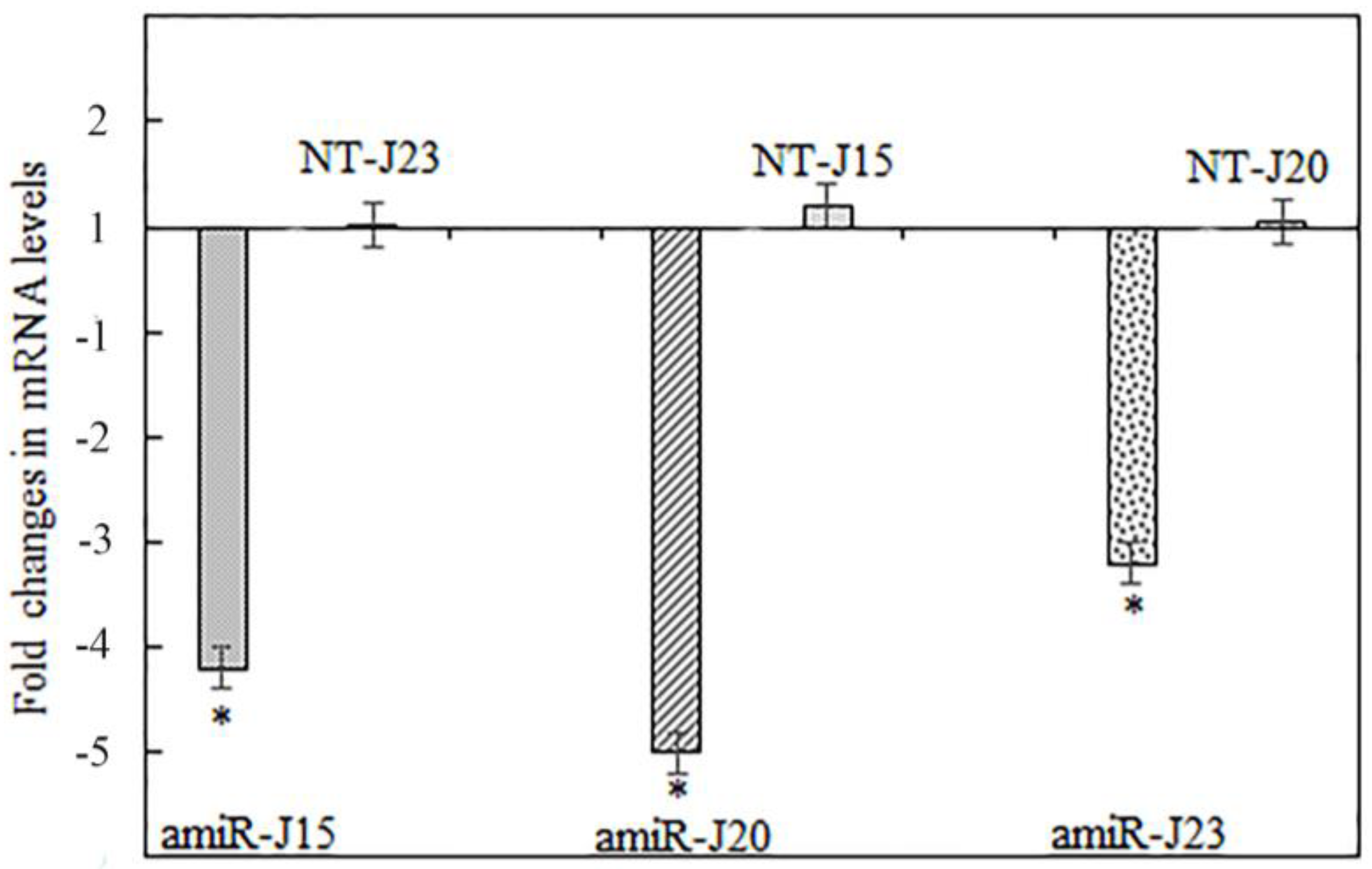 © 2016 by the authors; licensee MDPI, Basel, Switzerland. This article is an open access article distributed under the terms and conditions of the Creative Commons Attribution (CC-BY) license (http://creativecommons.org/licenses/by/4.0/).