Open Access This article is
freely available
re-usable
Article
Epigenetic Heterogeneity of B-Cell Lymphoma: DNA Methylation, Gene Expression and Chromatin States
Interdisciplinary Centre for Bioinformatics, Universität Leipzig, Härtelstr. 16–18, 04107 Leipzig, Germany
*
Authors to whom correspondence should be addressed.
Academic Editor: Jessica Tyler
Received: 30 April 2015 / Accepted: 18 August 2015 / Published: 7 September 2015
Abstract
:
Mature B-cell lymphoma is a clinically and biologically highly diverse disease. Its diagnosis and prognosis is a challenge due to its molecular heterogeneity and diverse regimes of biological dysfunctions, which are partly driven by epigenetic mechanisms. We here present an integrative analysis of DNA methylation and gene expression data of several lymphoma subtypes. Our study confirms previous results about the role of stemness genes during development and maturation of B-cells and their dysfunction in lymphoma locking in more proliferative or immune-reactive states referring to B-cell functionalities in the dark and light zone of the germinal center and also in plasma cells. These dysfunctions are governed by widespread epigenetic effects altering the promoter methylation of the involved genes, their activity status as moderated by histone modifications and also by chromatin remodeling. We identified four groups of genes showing characteristic expression and methylation signatures among Burkitt's lymphoma, diffuse large B cell lymphoma, follicular lymphoma and multiple myeloma. These signatures are associated with epigenetic effects such as remodeling from transcriptionally inactive into active chromatin states, differential promoter methylation and the enrichment of targets of transcription factors such as
EZH2
and
SUZ12
.
Keywords:
germinal center; epigenetic reprogramming; stemness; promoter methylation; gene expression; machine learning; high dimensional data portraying
1. Introduction
B-cells are lymphocytes that are an essential component of the adaptive immune system. Immature "naïve" B-cells are produced in the bone marrow which then migrate to germinal centers (GC) where they differentiate into mature B-lymphocytes (
Figure 1
). These GC are central to the formation of B-cell-mediated immunity: B-cells undergo immunoglobulin somatic hypermutation and clonal expansion via intense proliferation in the dark zone and subsequent antigen exposure and selection in the light zone of the GC to generate ultimately long-lived memory B-cells and terminally differentiated plasma cells expressing high-affinity antibodies. B-cell development is a multistep process sustained by a highly coordinated transcriptional network modulated by epigenetic mechanisms, including DNA methylation and histone modifications to promote lineage commitment, to define and sustain cell identity and establish heritable cell-type- and stage-specific gene expression profiles [
1
].
Dysfunction of epigenetic regulation represents a common and important feature of B-cell lymphomas. Available evidence suggests that different diseases arise from oncogenic B-cell clones at a distinct stage of differentiation, ranging from naïve B (NB) cells to plasma cells. These tumors of the lymphoid tissues represent one of the most heterogeneous malignancies owing to the wide spectrum of types of B-cells from which they can arise and also due to the heterogeneous microenvironment in the lymphatic organs providing a multitude of different niches for tumor progression. Many B-cell malignancies derive from germinal center B-cells, most likely because of the high proliferation rate of these cells and the high activity of mutagenic processes. This category includes diffuse large B-cell lymphomas (DLBCL), follicular lymphomas (FL), Burkitt lymphomas (BL) and mantle cell lymphoma (MCL). Mature B-cell malignancies in addition include leukemias derived from B-cells that have passed through the GC such as B-cell chronic lymphocytic leukemia (B-CLL) which is a stage of small lymphocytic lymphoma. Multiple myeloma (MM) is an incurable B-cell neoplasia arising from malignant plasma cells which originates in illegitimate immunoglobulin heavy chain (IgH) switch recombinations.
Morphologic features of lymphomas resemble lymphocytes at distinct differentiation stages serving as basis for their histological classification. Alternatively, the rapidly emerging information obtained from molecular high-throughput gene expression studies created a series of expression-based classification schemes [
1
,
2
,
3
,
4
,
5
] which distinguish, for example, molecular Burkitt lymphoma (mBL), non-mBL, intermediate lymphoma (IntL) with an intermediate signature between mBL and non-mBL, and B cell-like lymphoma (BCL) resembling pre- and post-GCB cells [
5
,
6
]. Many details of the molecular mechanisms underlying genesis, progression and also mutual transformations across the subtypes are not clear. Changing gene expression signatures are strongly linked to perturbations of epigenetic mechanisms. Understanding molecular mechanisms of lymphoma thus requires a combined view including gene expression, epigenetics and also genetic factors affecting B-cell biology.
B-cells employ epigenetic mechanisms to generate effective memory responses resembling epigenetic reprogramming of stem cells upon cell fate decisions and differentiation. Particularly, the transition from naïve B-cells permits GCB cells to generate the differential response to antigenic challenges and to differentiate toward plasma cell fates. Deregulation of the underlying epigenetic determinants such as DNA methylation [
7
] and/or chromatin activity states potentially disturbs or even prevents the differentiation of B-cells leading to lymphomas. Altered epigenetic regulation represents a common and important feature of B-cell disorders. For example, GCB cells are prone to instability in their cytosine DNA methylation patterns leading to aberrant methylation patterns in lymphoma, which display variable degrees of epigenetic heterogeneity [
2
,
8
,
9
]. Moreover, polycomb group (PcG) proteins, a subset of histone-modifying enzymes known to be crucial for B-cell maturation and differentiation, play a central role in malignant transformation of B-cells [
10
]. Genes
de novo
methylated in all lymphoma enrich in polycomb targets and share a similar stem cell-like epigenetic pattern [
9
].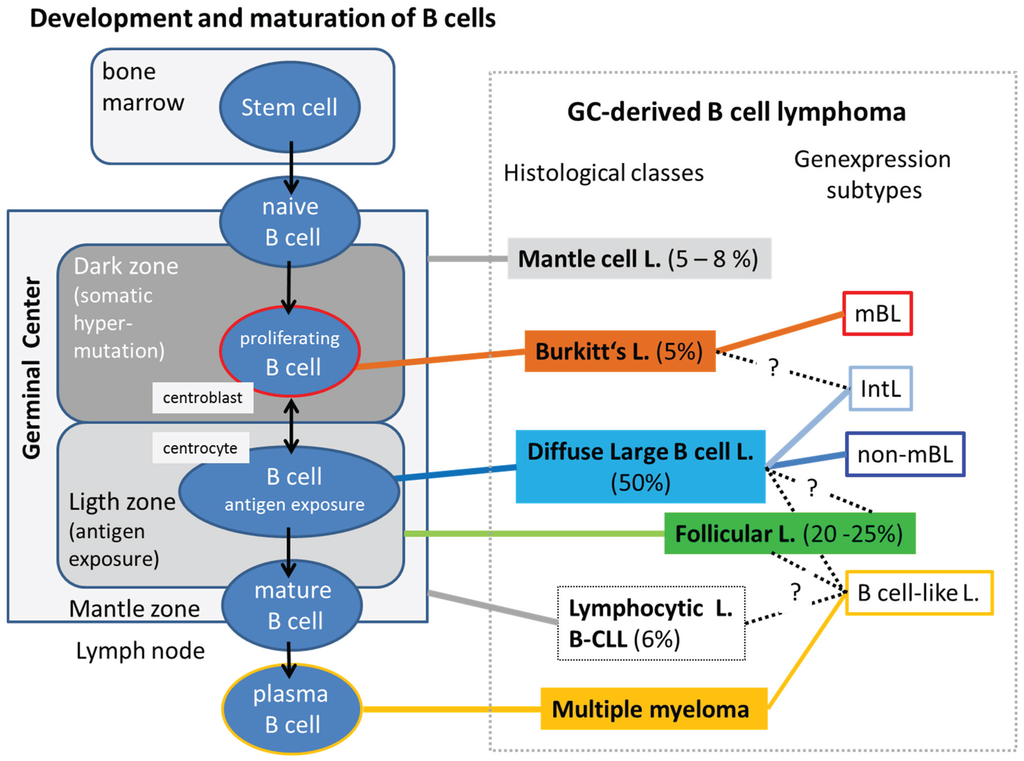 Figure 1.
Developmental and maturation stages of B-cells provide a wide spectrum of cell-of-origin- and micro-environmental conditions for different histological classes of B-cell lymphoma. In this study, we focus on germinal center derived B-cell lymphoma and multiple myeloma. Molecular gene expression subtypes were taken from [
4
,
5
,
6
]. Their relation to the histological classes is partly unclear mainly due to the absence of clear-cut borderlines between the molecular and histological signatures and because of transformations between the classes. Incidence rates in percentage of all B-cell lymphoma were taken from
http://www.cancerresearchuk.org/cancer-info/cancerstats/types/nhl
[
11
].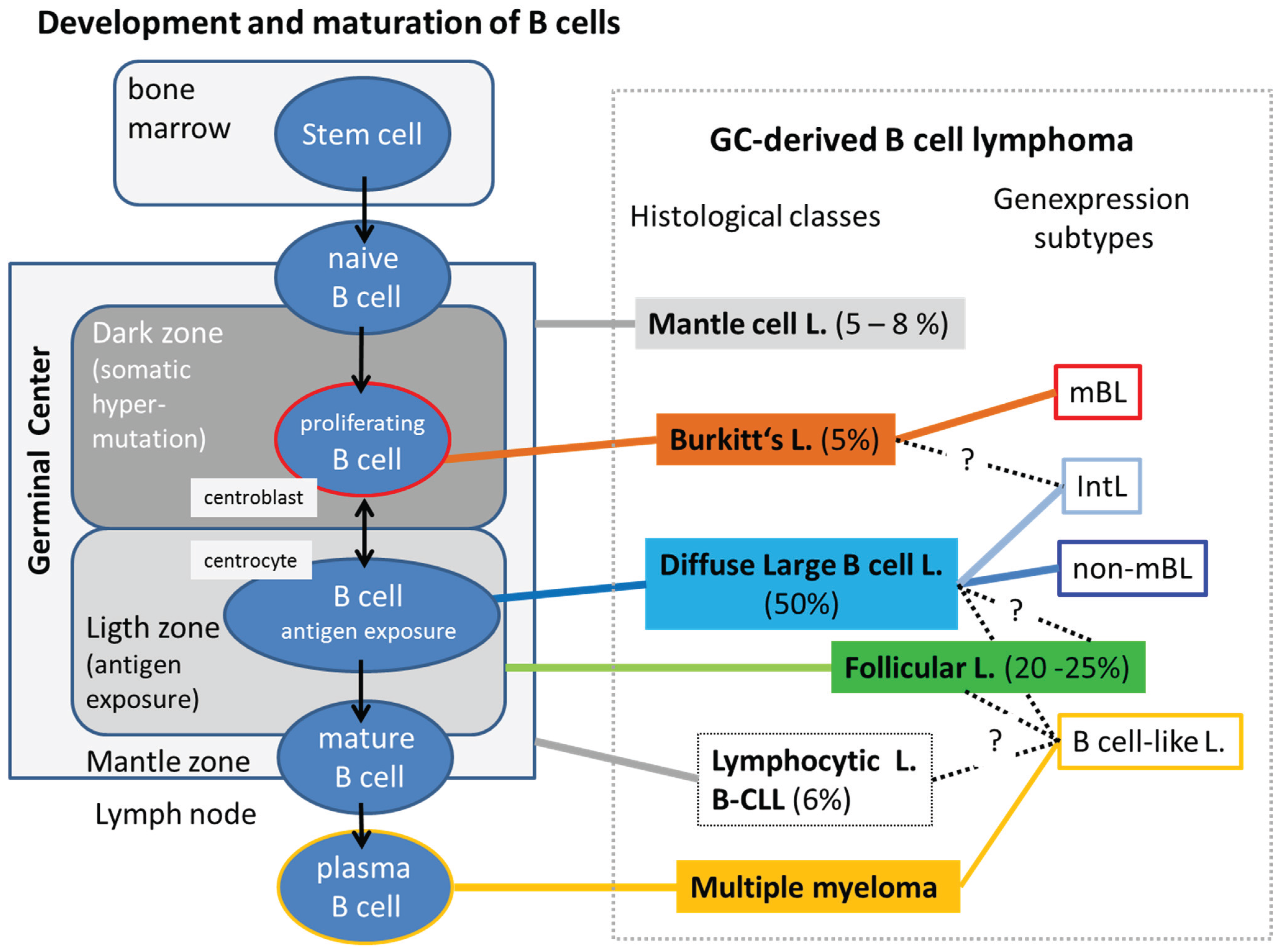 Our study aims to shed light into the epigenetic mechanisms driving lymphomagenesis and particularly the possible role of chromatin remodeling in the transformations from healthy to malignant B-cells. To this aim, we present an integrative study of gene expression and of DNA methylation data measured in lymphoma cohorts stratified into different lymphoma classes. We previously demonstrated that machine learning using self-organizing maps (SOM) well resolves the molecular landscapes of different cancer types [
5
,
12
,
13
,
14
]. Our high-dimensional data portraying method is applied here for the first time in an integrative way that combines expression and methylation data.
4. Discussion
4.1. Integrative SOM Portraying Resolves Differently Methylated and Expressed Genes and Their Functional Context
Epigenetics challenges bioinformatics as it requires integration of data of different omics realms to resolve the interplay between regulatory mechanisms on genomic, epigenomic, methylomic, transcriptional and translational levels. Our study focused on gene expression and DNA methylation data stratified with respect to different histological and molecular subtypes of lymphoma and healthy controls to discover epigenetic mechanisms of tumor genesis and progression. We applied SOM machine learning to the data, a powerful technique to "organize" complex, multivariate data. Using centralized methylation and expression data we identified clusters of co-methylated and of co-expressed genes among the samples studied, which we call "spot-modules" because of their spot-like appearance in the SOM-portraits.
Mutual correlation plots between the mean expression and methylation levels of the genes of each of the spot-modules revealed different patterns with impact for underlying epigenetic mechanisms of genomic regulation (
Figure 10
). We identified groups of genes mostly affected by methylation with only tiny expression changes (e.g., DmetSOM-spots iii and iv and DexSOM-spot G), vice versa, groups of genes with almost invariant methylation levels but strongly varied expression (e.g., DmetSOM-spots ii and DexSOM-spots D and E), and groups with strong positive (spots i, v and H and J) and negative (e.g., spots iii, A and I) correlations between expression and methylation levels in the different sample classes. Moreover, the Dmet- and DexSOM disentangle genes systematically hyper- and hypomethylated and/or over- and underexpressed in lymphoma compared with healthy B and GCB cells (see
Figure 10
). Hence, SOM portraying served as an effective sorting machine to extract different modes of co-regulation between expression and methylation mechanisms specifically characterizing lymphoma and differentiating also between the lymphoma subtypes.
Figure 10. Integrative view on differential methylation and gene expression in lymphoma and on the related functional context. Spot modules of co-methylated genes were extracted from the DmetSOM (part a) and spot modules of co-expressed genes from the DexSOM (b). The class-specific correlation plots for each spot reveal systematic methylation and expression changes in both maps many of them being associated with functional gene sets. Especially, differential methylation and expression with respect to healthy controls (B-cells and GCB cells, see red dotted circles) as well as systematic differences between lymphoma subtypes (e.g., mBL, DLBCL and MM) were sorted in a systematic fashion in both SOM maps.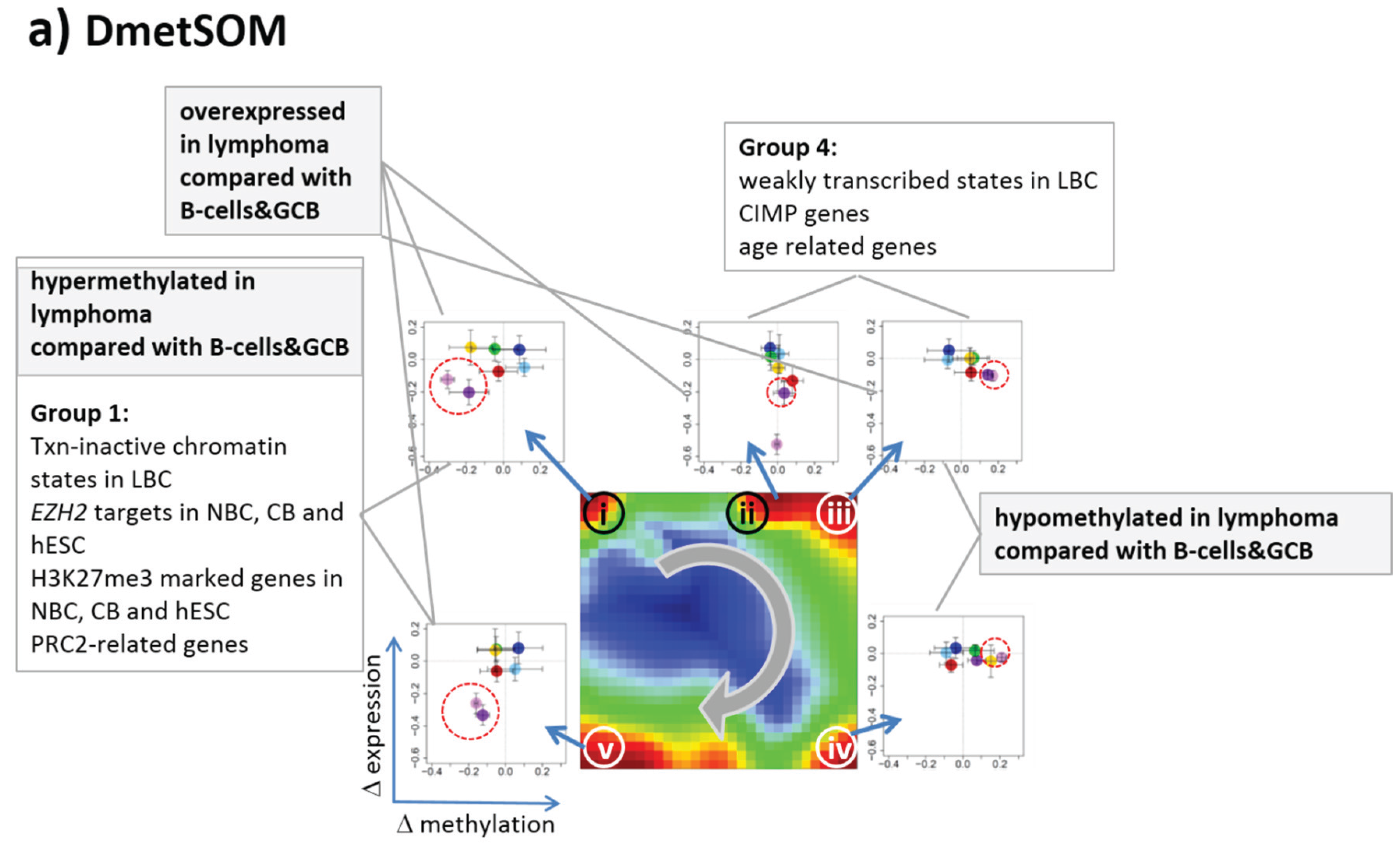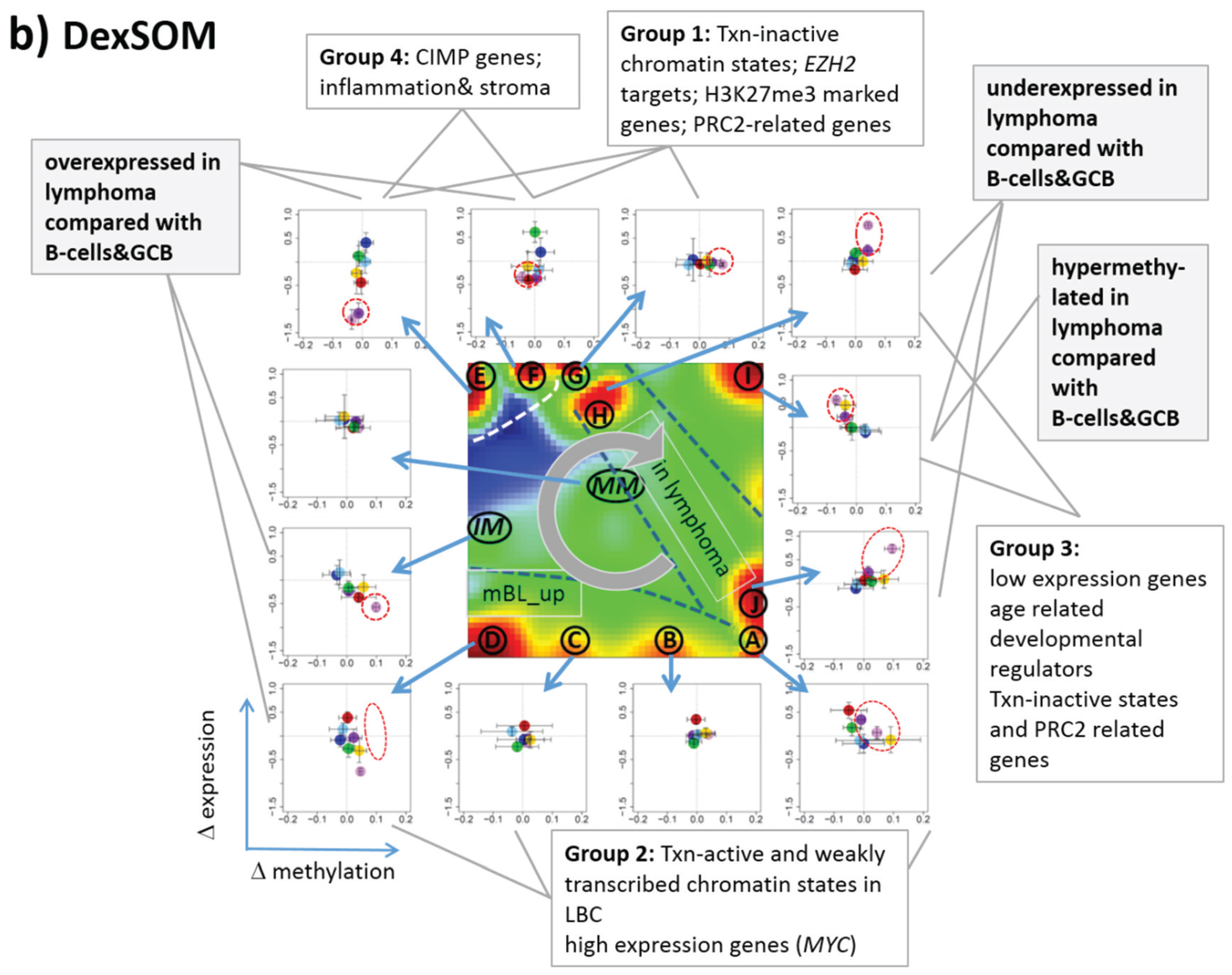 To assign the functional meaning to the spot modules, especially in the context of underlying epigenetic mechanisms, we applied enrichment analysis using a multitude of pre-defined gene sets related to categories such as biological function (e.g., inflammation, cell development and ageing), targets of different transcription factors (e.g.,
MYC
, high and low expression TFs) and epigenetic modulators (e.g.,
EZH2
,
SUZ12
;
PRC2
), different chromatin states in reference lymphoblastoid cells and also genes differently expressed and methylated in other cancers (e.g., CIMP and GCIMP genes in colorectal cancer and glioma, respectively). Interestingly, we found pronounced similarities of the expression and methylation signatures of gene sets from different categories in the lymphoma data which indicate there are mutual relationships between them. Particularly, the spot-modules can be sorted roughly into four main groups (see
Figure 10
):
Group 1 is enriched in PRC2 and

EZH2

targets, related to transcriptionally inactive states in LBC and shows strong variation in expression and methylation levels being hypermethylated and overexpressed in lymphoma compared with the controls;

Group 2 comprises transcriptionally active chromatin states, TFs related to highly expressed genes and

MYC

targets. It promotes cell proliferation and shows strong expression changes especially between mBL on high and the controls on low levels, but virtually no differential methylation;

Group 3 accumulates mostly in the top right part of DexSOM and contains ageing and developmental genes, and low expression TF genes. It overlaps with group 1 with respect to the enriched chromatin states and part of the

PRC2

and

EZH2

targets. Expression of these genes is down regulated in lymphoma compared with the controls but the methylation can differ in both directions;

Group 4 accumulates in the top left part of the DexSOM and contains CIMP/GCIMP genes, genes related to inflammation and stroma,

SMARCA4

targets and another part of the

PRC2

and

EZH2

targets. These genes are strongly upregulated in DLBCL, IntL and partly FL, and downregulated in the controls and BL. They show moderate methylation changes being slightly hypermethylated in lymphoma.
4.2. Dynamic Regulation of Epigenetic Landscapes in Lymphoma and during B-Cell Development
Figure 11
schematically illustrates and summarizes our results in the light of B-cell and lymphoma biology. Healthy B-cells pass essentially three relevant compartments, the dark and light zone of the GC and "outside-of-the-GC" which subsumes plasma, lymph node and also bone marrow (see also
Figure 1
). The associated types of B-cells can transform into the different lymphoma classes as illustrated by the red arrows in
Figure 11
a. The triangular shape of the scheme is motivated by the three different types of lymphoma classes which point to similarities with GC dark zone (DZ) B-cells in terms of proliferative activity, GC light zone (LZ) B-cells in terms of inflammatory signatures, and pre- and post-GCB cells in terms of (healthy) B-cell signatures (see also [
5
,
6
]).
The colored "ramps" code for alterations in gene expression and/or methylation between the lymphoma classes which associate with the groups of genes defined in the previous subsection and which were specified with respect to changing chromatin states (
Figure 11
b). Group 1 genes give rise to increasing differential expression and methylation between lymphoma and healthy B-cells with the largest effect in DLBCL. We suggest that the strong alterations in gene expression manifest chromatin remodeling from PRC-repressed and poised chromatin states into active ones associated with hypermethylation in lymphoma. Hence, group 1 genes are obviously of central importance for a mechanism of lymphomagenesis transforming healthy GCB cells into malignant ones. Recall that the largest differential effect of these genes in gene expression and methylation is observed for DLBCL. Along the axis linking mBL and DLBCL the expression changes are counterbalanced by group 2 genes which strongly upregulate in mBL compared with DLBCL almost without methylation changes. Presumably this trend is mainly caused by the activation of
MYC
in mBL (and also selected
MYC
-positive IntL cases) which, in turn, amplifies the expression of already transcribed genes giving rise to a sort of hyperactivation of the transcriptional state without strong DNA-methylation effects and chromatin remodeling. Group 3 and 4 genes mainly differentiate between DLBCL and MM, however, in opposite directions. Both groups show alterations in gene expression and methylation as well, and thus partly resembling group 1 genes in their molecular determinants. Particularly, group 1, 3 and 4 genes contain
PRC2
and
EZH2
targets showing that repressed and poised promoter states play a pivotal role in cell fate decisions of GCB cells and in their transformation into cancerogenic states.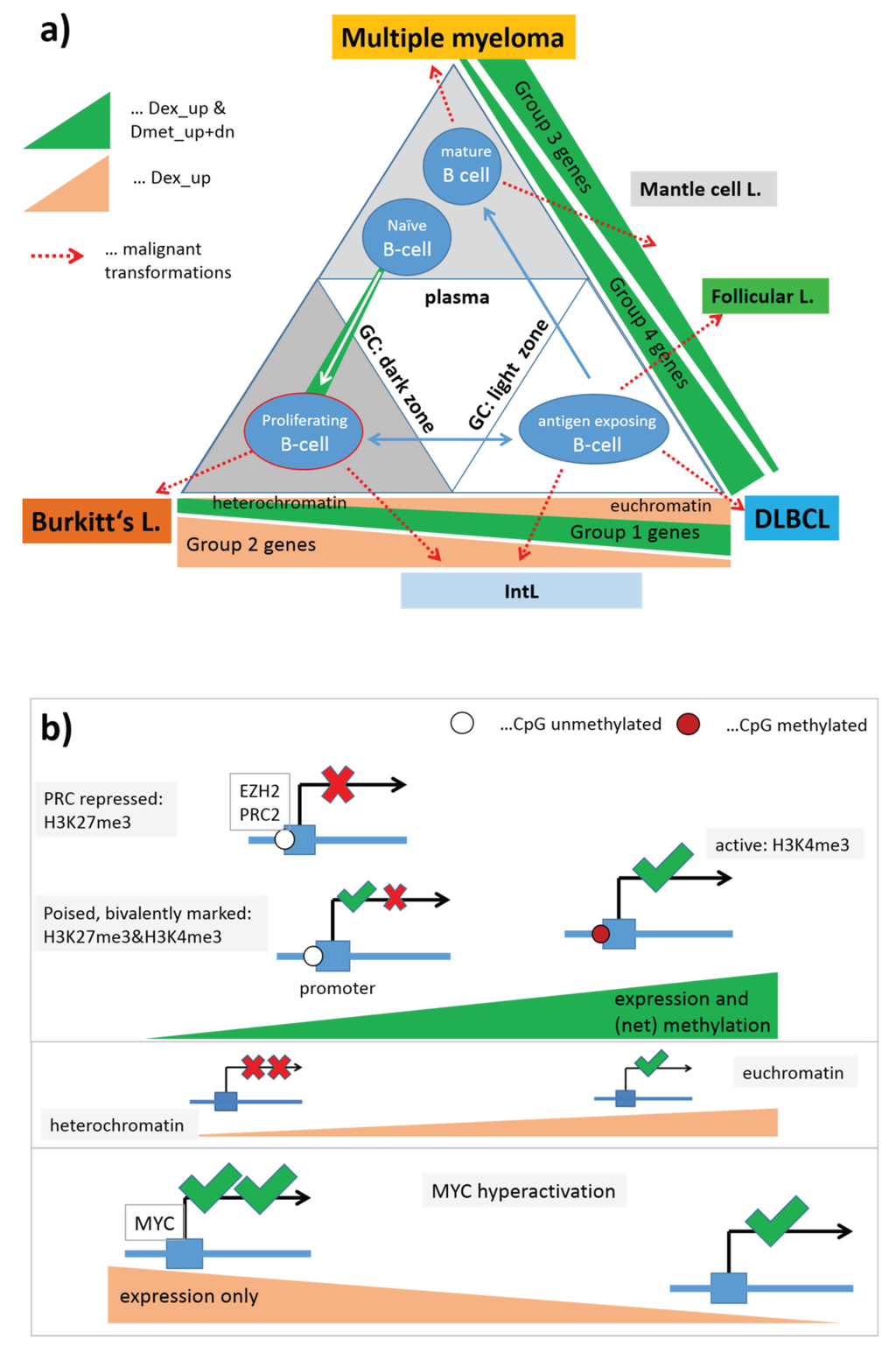 Figure 11.
Scheme illustrating lymphoma heterogeneity with respect to their cell of origin and groups of affected genes (part (
a
)). Different lymphoma subtypes can originate from GCB cells located in the dark zone of the germinal centre (centroblasts), from its light zone (centrocytes) or from maturated plasma B cells as indicated by the dotted red arrows; Part (
b
) illustrates the associated chromatin states and their remodeling due to altering histone modifications affecting transcription. The green ramp codes increasing expression and methylation associated with chromatin remodeling from inactive and poised to active states. The light red ramp codes increasing expression without methylation changes either due to chromatin remodeling from hetero- to euchromatin or due to
MYC
hyperactivation. Gene groups are specified in
Figure 10
.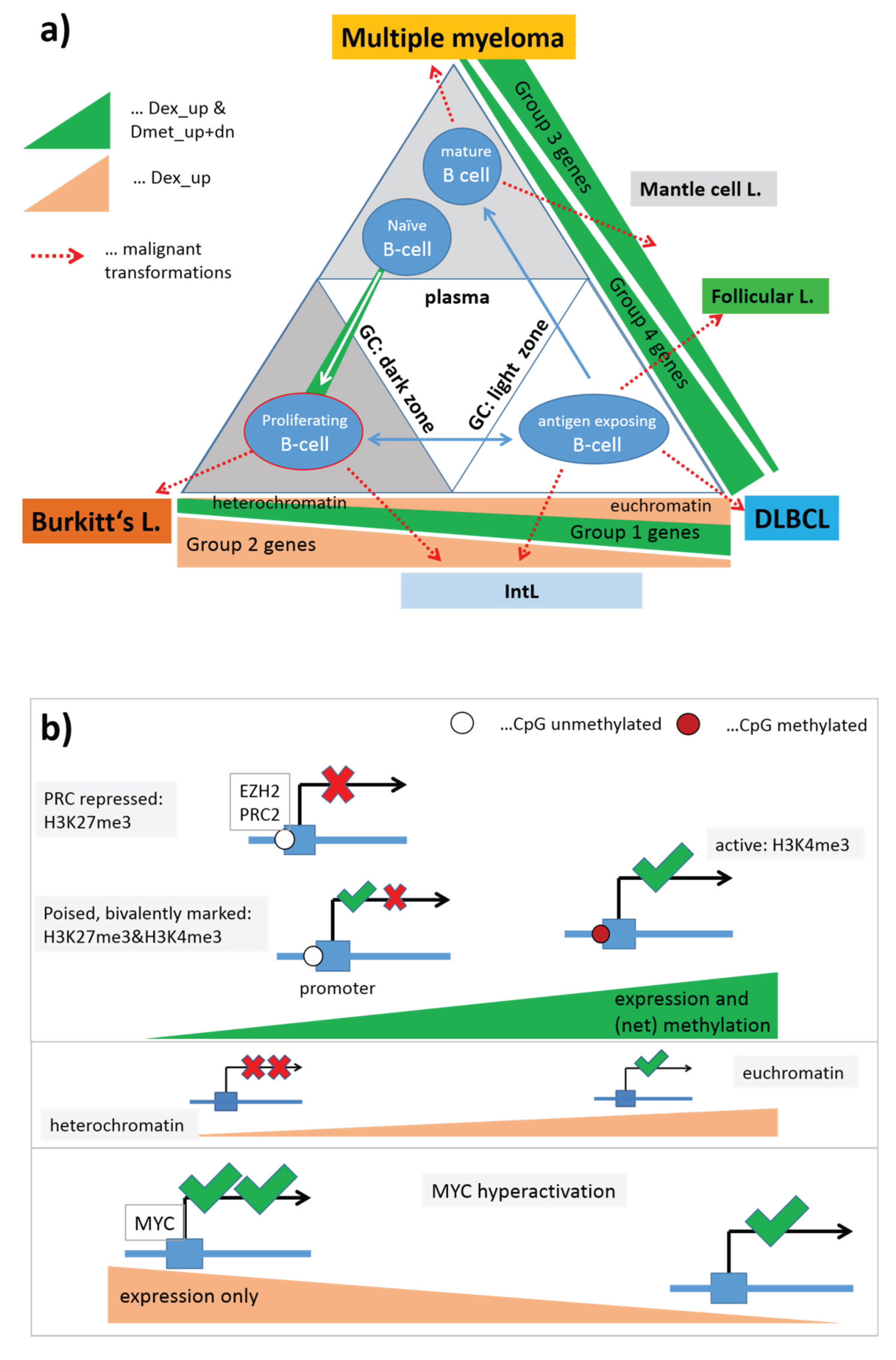 B-cells employ epigenetic mechanisms to generate effective memory responses resembling epigenetic reprogramming of stem cells upon cell fate decisions. Particularly, the transition from naïve B-cells permits GCB cells to generate the differential response to antigenic challenges and to differentiate toward plasma cell fates. Deregulation of the underlying epigenetic determinants such as DNA methylation [
7
] and/or chromatin activity states can be assumed to potentially disturb or even to prevent normal differentiation of B-cells leading to malignant lymphomas.
Note that not only the transition between naïve B and GCB cells requires alterations of the cellular programs but also the polarization of transcriptional programs between LZ and DZ in normal GCB cells suggests that environmental cues encountered by B-cells when moving between GC compartments determine their phenotype [
44
,
45
,
46
]. Normal LZ and DZ GCB cells represent alternating states of the same cell population. Hence, the transition between naïve B-cells and GCB cells and between DZ and LZ and vice versa requires a certain degree of plasticity of the underlying transcriptional programs to switch between the underlying more proliferative centroblastic and the more inflammatory centrocytic B-cell phenotypes.
Many promoters in embryonic stem cells harbor a distinctive histone modification signature that combines the activating histone H3 lysine 4 trimethylation (H3K4me3) mark and the repressive H3K27me3 mark. These bivalent domains are considered to poise expression of developmental genes, allowing timely activation while remaining repressed in the absence of differentiation signals [
47
]. Hence, bivalent domains and associated chromatin-modifying complexes safeguard proper and robust differentiation. In view of this basal mechanism, it appears not surprisingly that bivalent chromatin states in the reference lymphoblastoid cells are strongly affected by expression and methylation changes observed in group 1, 3 and 4 genes. These bivalent promoters possibly ensure the plasticity of the genome to switch between the functional requirements in the different compartments of the GC. Moreover, it was previously shown that genes
de novo
methylated in lymphoma subtypes are enriched for
PCR2
targets in embryonic stem cells showing that lymphoma share a similar stem cell-like epigenetic pattern either because lymphoma originate from cells with stem cell features or because stemness is acquired during lymphomagenesis by epigenetic remodeling [
8
].
Recent studies suggest that
EZH2
upregulation during the transition of naïve B-cell to proliferating GCB cell (centroblast) reactivates this stem cell-like repression program not present in naïve B-cells and possibly featuring increased self-renewal and proliferative potential. This program accomplishes a proliferative function in GCB cells which makes them prone for malignant transformation into lymphoma [
39
]. Moreover,
PCR2
-mediated repression seems to be almost independent of DNA methylation in normal B-cells (including proliferating centroblasts). However, in lymphoma, DNA methylation of these genes clearly changes, where many hypermethylated genes are targeted by
PCR2
also found in stem cells [
8
] and centroblasts [
39
]. The authors of the latter paper hypothesize that lymphoma cells may have achieved a selective advantage by recruiting DNA methyltransferases to
PCR2
-bound or/and H3K27me3-marked promoters and that increased promoter DNA methylation may consolidate and stabilize
PCR2
-mediated repression of one or several of the tumor suppressors targeted by
PCR2
or make them less capable of responding to anti-oncogenic signals [
37
]. However, methylation in the promoters of PCR2 genes can also associate with the opposite effect by destabilizing inactive chromatin states and thus promoting their remodeling into active ones, e.g., in group 3 genes in DLBCL. Our analysis suggests also the parallel remodeling of heterochromatin into transcriptionally active euchromatin without clear alterations of the methylation of the promoters of the involved genes.
5. Conclusions
From a methodical viewpoint our study shows, that combined SOM portraying of expression and methylation data together with function mining using a battery of gene sets provides detailed insights into the regulatory landscape affecting the transcriptome and methylome and delivers a hypothesis for epigenetic mechanisms of lymphomagenesis. Our analysis is based on unmatched data sets with respect to the cancer cases used. We expect considerable improvement of the method for matched data sets.
Our study confirms previous results about the role of stemness genes during development and maturation of B-cells and the dysfunction of these regulatory programs in lymphoma presumably locking them in more proliferative or more immune-reactive states referring to GCB cell functionalities in the dark and light zone of the GC. These dysfunctions are governed by epigenetic effects altering the promoter methylation of the involved genes, their activity status as moderated by histone modifications and also by higher-order chromatin structures which emerge as an important regulator of gene expression.
Supplementary Files
Supplementary File 1
Supplementary File 1
Supplementary File 1
Acknowledgments
This work is supported by the Federal Ministry of Education and Research (BMBF), project grant No. FKZ 031 6166 (MMML-MYC-SYS) and FKZ 031 6065A (HNPCCSys).
Author Contributions
Lydia Hopp, Henry Löffler-Wirth and Hans Binder conceived this study, performed all analyses and wrote the paper.
Conflicts of Interest
The authors declare no conflict of interest.
© 2015 by the authors; licensee MDPI, Basel, Switzerland. This article is an open access article distributed under the terms and conditions of the Creative Commons Attribution license (http://creativecommons.org/licenses/by/4.0/).