Altered Actions of Memantine and NMDA-Induced Currents in a New
Grid2-

Deleted Mouse Line

1

Laboratory of Cell Signaling and Metabolic Disease, National Institute of Biomedical Innovation, Saito-Asagi, Ibaraki, Osaka 567-0085, Japan

2

Laboratory for Neural Information Technology, Graduate School of Science and Engineering, University of Toyama, Toyama 930-8555, Japan

3

Department of Neurology, Osaka University Graduate School of Medicine, Osaka 565-0871, Japan

4

Laboratory of Animal Models for Human Diseases, National Institute of Biomedical Innovation, Saito-Asagi, Ibaraki, Osaka 567-0085, Japan

5

Nomura Project, National Institute of Biomedical Innovation, Saito-Asagi, Ibaraki, Osaka 567-0085, Japan

6

Laboratory of Cell Cultures, National Institute of Biomedical Innovation, Saito-Asagi, Ibaraki, Osaka 567-0085, Japan

7

Laboratory of Bioinformatics, National Institute of Biomedical Innovation, Saito-Asagi, Ibaraki, Osaka 567-0085, Japan

8

Department of Life Science and Biotechnology, Kansai University, Suita, Osaka 564-8680, Japan

*

Authors to whom correspondence should be addressed.

†

These authors contributed equally to this work.

Received: 14 October 2014 / Revised: 12 November 2014 / Accepted: 2 December 2014 / Published: 11 December 2014
Abstract
Memantine is a non-competitive antagonist of the
N
-methyl-D-aspartate (NMDA) receptor, and is an approved drug for the treatment of moderate-to-severe Alzheimer's disease. We identified a mouse strain with a naturally occurring mutation and an ataxic phenotype that presents with severe leg cramps. To investigate the phenotypes of these mutant mice, we screened several phenotype-modulating drugs and found that memantine (10 mg/kg) disrupted the sense of balance in the mutants. Moreover, the mutant mice showed an attenuated optokinetic response (OKR) and impaired OKR learning, which was also observed in wild-type mice treated with memantine. Microsatellite analyses indicated that the
Grid2
gene-deletion is responsible for these phenotypes. Patch-clamp analysis showed a relatively small change in NMDA-dependent current in cultured granule cells from
Grid2
gene-deleted mice, suggesting that GRID2 is important for correct NMDA receptor function. In general, NMDA receptors are activated after the activation of non-NMDA receptors, such as AMPA receptors, and AMPA receptor dysregulation also occurs in
Grid2
mutant mice. Indeed, the AMPA treatment enhanced memantine susceptibility in wild-type mice, which was indicated by balance sense and OKR impairments. The present study explores a new role for GRID2 and highlights the adverse effects of memantine in different genetic backgrounds.
View Full-Text
►

▼

Figures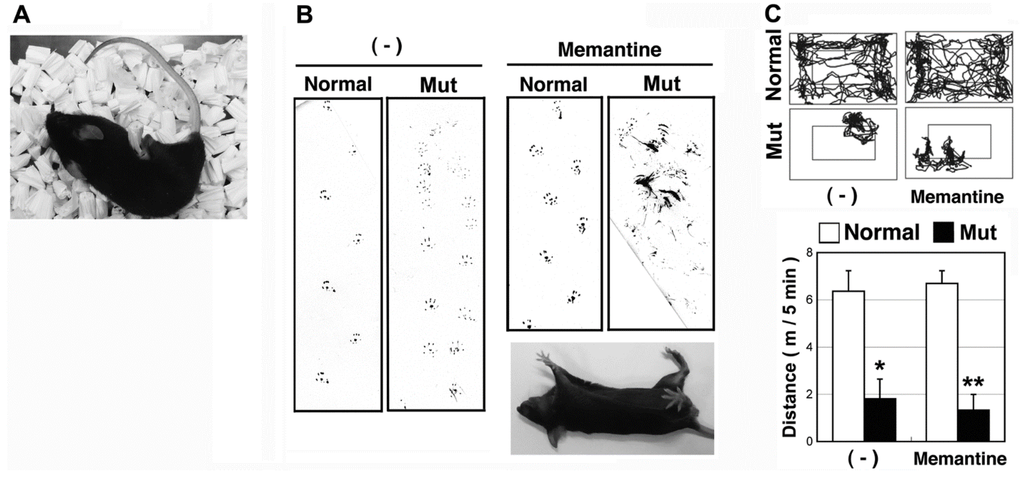 Figure 1
This is an open access article distributed under the
Creative Commons Attribution License
which permits unrestricted use, distribution, and reproduction in any medium, provided the original work is properly cited (CC BY 4.0).

Share & Cite This Article
MDPI and ACS Style
Kumagai, A.; Fujita, A.; Yokoyama, T.; Nonobe, Y.; Hasaba, Y.; Sasaki, T.; Itoh, Y.; Koura, M.; Suzuki, O.; Adachi, S.; Ryo, H.; Kohara, A.; Tripathi, L.P.; Sanosaka, M.; Fukushima, T.; Takahashi, H.; Kitagawa, K.; Nagaoka, Y.; Kawahara, H.; Mizuguchi, K.; Nomura, T.; Matsuda, J.; Tabata, T.; Takemori, H. Altered Actions of Memantine and NMDA-Induced Currents in a New Grid2-Deleted Mouse Line. Genes 2014, 5, 1095-1114.
Related Articles
Comments
[Return to top]