Microsatellites with Macro-Influence in Ewing Sarcoma
1
Center for Children's Cancer Research, Huntsman Cancer Institute, University of Utah, Salt Lake City, UT 84112, USA
2
Sarcoma Services, Department of Orthopedic Surgery, University of Utah, Salt Lake City, UT 84108, USA
3
Department of Pathology and Program in Molecular Medicine, University of Utah, Salt Lake City, UT 84112, USA
4
Division of Pediatric Hematology/Oncology, University of Utah, Salt Lake City, UT 84108, USA
5
Department of Oncological Sciences, University of Utah, Salt Lake City, UT 84112, USA
*
Author to whom correspondence should be addressed.
Received: 16 May 2012 / Revised: 4 July 2012 / Accepted: 5 July 2012 / Published: 23 July 2012
Abstract
Numerous molecular abnormalities contribute to the genetic derangements involved in tumorigenesis. Chromosomal translocations are a frequent source of these derangements, producing unique fusion proteins with novel oncogenic properties. EWS/ETS fusions in Ewing sarcoma are a prime example of this, resulting in potent chimeric oncoproteins with novel biological properties and a unique transcriptional signature essential for oncogenesis. Recent evidence demonstrates that EWS/FLI, the most common EWS/ETS fusion in Ewing sarcoma, upregulates gene expression using a GGAA microsatellite response element dispersed throughout the human genome. These GGAA microsatellites function as enhancer elements, are sites of epigenetic regulation and are necessary for EWS/FLI DNA binding and upregulation of principal oncogenic targets. An increasing number of GGAA motifs appear to substantially enhance EWS/FLI-mediated gene expression, which has compelling biological implications as these GGAA microsatellites are highly polymorphic within and between ethnically distinct populations. Historically regarded as junk DNA, this emerging evidence clearly demonstrates that microsatellite DNA plays an instrumental role in EWS/FLI-mediated transcriptional regulation and oncogenesis in Ewing sarcoma. This unprecedented role of GGAA microsatellite DNA in Ewing sarcoma provides a unique opportunity to expand our mechanistic understanding of how EWS/ETS fusions influence cancer susceptibility, prognosis and transcriptional regulation.
View Full-Text
►

▼

Figures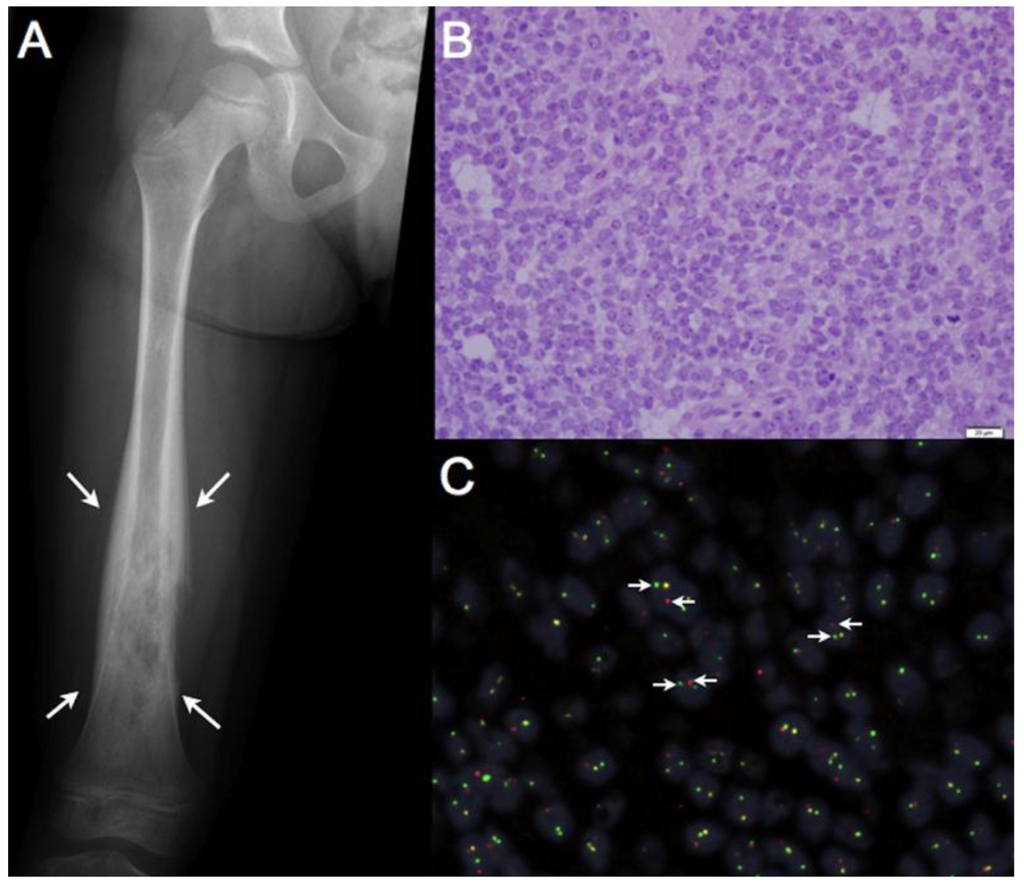 Figure 1

Share & Cite This Article
MDPI and ACS Style
Monument, M.J.; Johnson, K.M.; Grossmann, A.H.; Schiffman, J.D.; Randall, R.L.; Lessnick, S.L. Microsatellites with Macro-Influence in Ewing Sarcoma. Genes 2012, 3, 444-460.
Related Articles
Comments
[Return to top]