Integrative Analysis Identifies Candidate Tumor Microenvironment and Intracellular Signaling Pathways that Define Tumor Heterogeneity in NF1
1
Computational Oncology, Sage Bionetworks, Seattle, WA 98121, USA
2
Childhood Cancer Data Lab, Alex's Lemonade Stand Foundation, Philadelphia, PA 19102, USA
3
Department of Computer Sciences, University of Wisconsin-Madison, Madison, WI 53715, USA
4
Morgridge Institute for Research, Madison, WI 53715, USA
5
Division of Oncology, Washington University Medical School, St. Louis, MO 63110, USA
6
Sidney Kimmel Comprehensive Cancer Center and Department of Oncology, Johns Hopkins University School of Medicine, Baltimore, MD 21287, USA
7
Neurology, Neurosurgery and Oncology, Johns Hopkins University, Baltimore, MD 21287, USA
8
Department of Systems Pharmacology and Translational Therapeutics, Perelman School of Medicine, University of Pennsylvania, Philadelphia, PA 19104, USA
*
Author to whom correspondence should be addressed.
†
These authors have equal contribution.
Received: 15 January 2020 / Revised: 15 February 2020 / Accepted: 19 February 2020 / Published: 21 February 2020
Neurofibromatosis type 1 (NF1) is a monogenic syndrome that gives rise to numerous symptoms including cognitive impairment, skeletal abnormalities, and growth of benign nerve sheath tumors. Nearly all NF1 patients develop cutaneous neurofibromas (cNFs), which occur on the skin surface, whereas 40–60% of patients develop plexiform neurofibromas (pNFs), which are deeply embedded in the peripheral nerves. Patients with pNFs have a ~10% lifetime chance of these tumors becoming malignant peripheral nerve sheath tumors (MPNSTs). These tumors have a severe prognosis and few treatment options other than surgery. Given the lack of therapeutic options available to patients with these tumors, identification of druggable pathways or other key molecular features could aid ongoing therapeutic discovery studies. In this work, we used statistical and machine learning methods to analyze 77 NF1 tumors with genomic data to characterize key signaling pathways that distinguish these tumors and identify candidates for drug development. We identified subsets of latent gene expression variables that may be important in the identification and etiology of cNFs, pNFs, other neurofibromas, and MPNSTs. Furthermore, we characterized the association between these latent variables and genetic variants, immune deconvolution predictions, and protein activity predictions.
2. Materials and Methods
2.1. Materials Implementation and Data and Code Availability
2.2. Sequencing Data Collection and Processing
Gene expression data were collected from four independent studies and processed via a workflow at
https://github.com/Sage-Bionetworks/rare-disease-workflows/tree/master/rna-seq-workflow
to be stored on the NF Data Portal (
Table 1
). Specifically, raw fastq files were downloaded from Synapse and transcripts were quantified using the Salmon pseudo-alignment tool [
36
] with Gencode V29 transcriptome. Links to specific datasets and the access teams required to download them can be found using Synapse ID
syn21221980
.
2.3. Latent Variable Calculation and Selection
2.4. Generation of Ensemble of Random Forests for Feature Selection
To select gene expression patterns of interest, we used ensembles of random forests to sufficiently resample our modestly sized dataset. We compared random forest models built using gene expression data as well as latent variables.
2.4.1. Algorithm Implementation
The main algorithm was implemented using the "caret" and "randomforest" packages in R [
44
,
45
].
Figure S2
outlines the steps involved in the generation of the ensemble of random forests. Briefly, the full dataset was first split into 80%
model
set and 20%
independent test
set. The function createDataPartition was used to create balanced splits of the data according to the tumor type. We tuned two parameters to the random forest algorithm,
mtrys
, and
ntrees
, using an iterative approach, evaluating
mtrys
values of 1 to 100 and
ntrees
values of 250, 500, 1000, and 2000. We selected the optimal values (
mtry
= 51,
ntrees
= 1000) using fivefold cross-validation, using latent variables as input features. We then split the
model
training set further to generate 500 samples of
training
data (75%) and hold-out
test
data (25%) (balanced splits randomly sampled without replacement). Each of these
training
and
test
datasets were used to train separate random forests to obtain a distribution of F1 scores and feature importance scores (
n
= 500). Given our noisy dataset with limited sample size, the distribution of feature and F1 scores enabled estimation of confidence intervals for the feature importance as well as model performance.
2.4.2. Feature Selection
The importance of each feature was estimated using raw importance scores that measure the change in correctly classified "class" due to random permutation of the values for the feature. To select the top features for a specific class (i.e., tumor type), we calculated the median
importance score
of each feature from the distribution of
raw importance scores
generated through 500 iterations of random forests. The top 40 features were selected according to the mean decrease of the Gini index. The union of top features from all classes was then used as a restricted feature set to train another 500 iterations of random forests as described above. However, each new forest trained with the restricted feature-set was tested using the
independent test set
to examine the performance of the model on a completely unseen dataset. For each class, the median F1 scores of the new ensemble of forests were compared to the previous ensemble of random forests. Improvement of median F1 scores for each class in the final ensemble of random forests compared to the earlier one suggested that the selected features from each class were sufficiently informative for their classification. This subset of features was then selected for downstream analyses.
2.5. Immune Subtype Prediction
To understand the relative immune infiltration across the nerve sheath tumors studied, we used two tumor deconvolution methods: CIBERSORT and MCP-counter, as implemented through the "immunedeconv" R package [
29
,
30
,
31
]. Analysis is located at
https://github.com/Sage-Bionetworks/NF_LandscapePaper_2019
and results were uploaded to a Synapse table (syn21177277) that includes the tumor-specific immune cell scores for both algorithms as well as associated tumor metadata.
2.6. MetaVIPER
We applied the metaVIPER algorithm [
32
] to infer protein regulatory activity based on the tissue gene expression profiles. This algorithm builds transcriptional regulatory networks across the cancer genome atlas (TCGA) [
32
,
46
] and uses these to build consensus predictions for a sample of other origin. The resulting analysis is uploaded to Synapse and stored at syn21259610 along with tumor-specific metadata.
2.7. VIPER Correlation Clustering and Drug Enrichment Analysis
A heatmap and subclusters of latent variables that had similar VIPER protein predictions were generated using the "pheatmap" R package [
47
]. We observed five clear clusters of latent variables; these clusters were defined using the R cutree function to isolate the five clusters and their contents. We then calculated the mean correlation of each VIPER protein within each cluster to generate a consensus protein activity prediction for each latent variable cluster. Then, we used gene set enrichment analysis (via the "clusterProfiler" R package [
48
]) to assess whether drug targets were enriched in the five consensus protein lists. Drug-wise target lists were obtained from the Drug Target Explorer database [
49
]. Significant enrichment was defined as any positively enriched drug (i.e., a VIPER protein positively correlated with the latent variable cluster) with a Benjamini–Hochberg corrected
p
-value < 0.05. Results were plotted using "ggplot" and "enrichplot" packages [
33
,
50
]. To plot the LV cluster expression by tumor type, we calculated the mean expression of all latent variables for each cluster and for each tumor sample.
3. Results
We collected mRNA sequencing, exome sequencing, and whole genome sequencing data from previously published or publicly available resources as depicted in
Table 3
. We applied a combination of methods to identify biological mechanisms of interest in the samples that had patient-derived transcriptomic data. Briefly, we employed a transfer learning-inspired approach to group transcripts into latent variables (LVs), and then selected the LVs that best separate out tumors by tumor type using an ensemble of random forest models. We evaluated the selected LVs for patterns of immune cell gene expression, protein activity, and gene variants.
5. Conclusions
In conclusion, this work proposed a short list of testable hypotheses involving specific biological signatures for NF1-deficient nerve sheath tumors. Verification of these mechanisms in in-vitro and in-vivo models of nerve sheath tumors as well as human NF1 nerve sheath tumor tissue needs active and extensive experimental work. Although we analyzed tumor datasets from four different studies, the addition of other neurofibromatosis-driven tumor datasets will greatly aid identification of commonalities or critical differences to inform therapeutic decisions across the family of neurofibromatoses. This study, together with future work, may guide the repositioning of clinically approved drugs in the context of NF1.
Supplementary Materials
The following are available online at
https://www.mdpi.com/2073-4425/11/2/226/s1
. Figure S1: (a) A density plot indicating the pairwise Pearson correlation of LVs (not including self-self-pairs). A threshold of 0.5 was selected to eliminate non-orthogonal latent variables. Figure S2: Schematic showing the generation of the ensemble of random forests. (A) Stratified split of original dataset into "model" set and "independent test" set. (B) Generation of first ensemble of random forests using training set and test set generated from the "model" set for all 962 latent variables. (i) Example density plot showing distribution of model accuracy (F1) scores for each class. (ii) Example plot showing distribution of feature importance scores from the 500 random forests. (C) Generation of the second ensemble of random forests using restricted feature set of only 98 latent variables. The newly generated models were tested on the "independent test" set. (i) Example plot showing the distribution of model accuracy scores from the second ensemble of random forests. Figure S3: A boxplot representing the decrease in pairwise distances between all tumor samples of the same tumor type from
Figure 1
A (green, based on gene clustering) to 1C (orange, based on LV clustering). Figure S4: Small molecule-target networks showed enrichment of LV-dependent target classes. (A) Cluster 1 of LV-correlated VIPER proteins was enriched for HDAC inhibitors. (B) Cluster 3 of LV-correlated VIPER proteins was enriched for kinase inhibitors, particularly inhibitors of kinases responsible for cell cycle progression (CDKs). (C) Cluster 5 of LV-correlated VIPER proteins was enriched for HDAC inhibitors. Table S1: Pan-NF1 MultiPLIER results across RNA-seq data for 77 nerve sheath tumors. Table S2: Significance of latent variable status being correlated with gene mutation status. Table S3: Summary of latent variables selected by random forest model and their correlated genes and signatures. Table S4: Tumor deconvolution scores across NF1 patient samples. Table S5: metaVIPER protein scores across all NF1 patient samples. Table S6: Spearman correlation scores of RF-selected latent variables with metaVIPER scores. Table S7: Drug set enrichment analysis of latent variables.
Author Contributions
Conceptualization, R.J.A., J.B., S.J.C.G.; methodology, R.J.A., J.B., J.N.T., C.S.G., A.B., J.G., S.J.C.G.; software, R.J.A., J.B., J.N.T., C.S.G., A.B., J.G., S.J.C.G.; formal analysis, R.J.A., J.B., A.B., S.J.C.G.; investigation, R.J.A., J.B., S.J.C.G.; resources, X.Z., C.I.M., A.H., C.A.P.; writing—original draft preparation, R.J.A., J.B., S.J.C.G.; writing—review and editing, J.B., R.J.A., C.S.G., A.B., J.G., and S.J.C.G.; supervision, S.J.C.G., C.S.G., J.O.B., J.G.; project administration, S.J.C.G.; funding acquisition, S.J.C.G., J.G. All authors have read and agreed to the published version of the manuscript.
Funding
This work was supported with funds from the Neurofibromatosis Therapeutic Acceleration Program.
Acknowledgments
We would like to acknowledge our colleagues at Sage Bionetworks, Matthew Wall and Michael Mason, for many helpful conversations.
Conflicts of Interest
The authors have no conflicts of interest to declare, with the exception of Angela Hirbe and Christine A. Pratilas, who are serving as a co-editor for this issue of Genes. Both Angela Hirbe and Christine A. Pratilas have abstained from any editorial duties relating to this manuscript.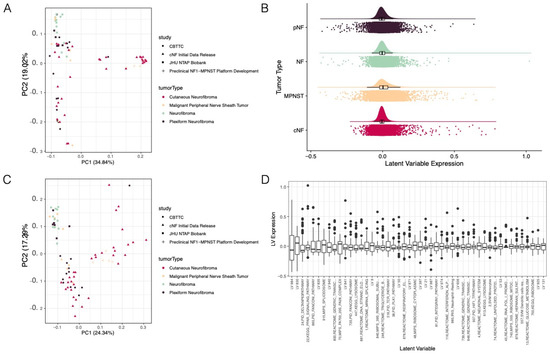 Figure 1. Transfer learning reduced dimensionality and added additional context to gene expression datasets. (A) Principal components analysis (PCA) of gene expression data indicated that counts-level data may have been batch confounded. (B) The relative distributions of latent variable expression across the four tumor types using a density plot indicated that the majority of latent variables (LVs) had an expression value near 0 and that the four tumor types had similar latent variable expression distributions. (C) PCA of LVs indicated that batch effects, although reduced, may still have existed in the LV data (D) A look at the 5% most variable LVs across the cohort of gene expression data indicated that the latent variables represented a wide swath of biological processes, as well as some LVs that had no clear association to a defined biological pathway.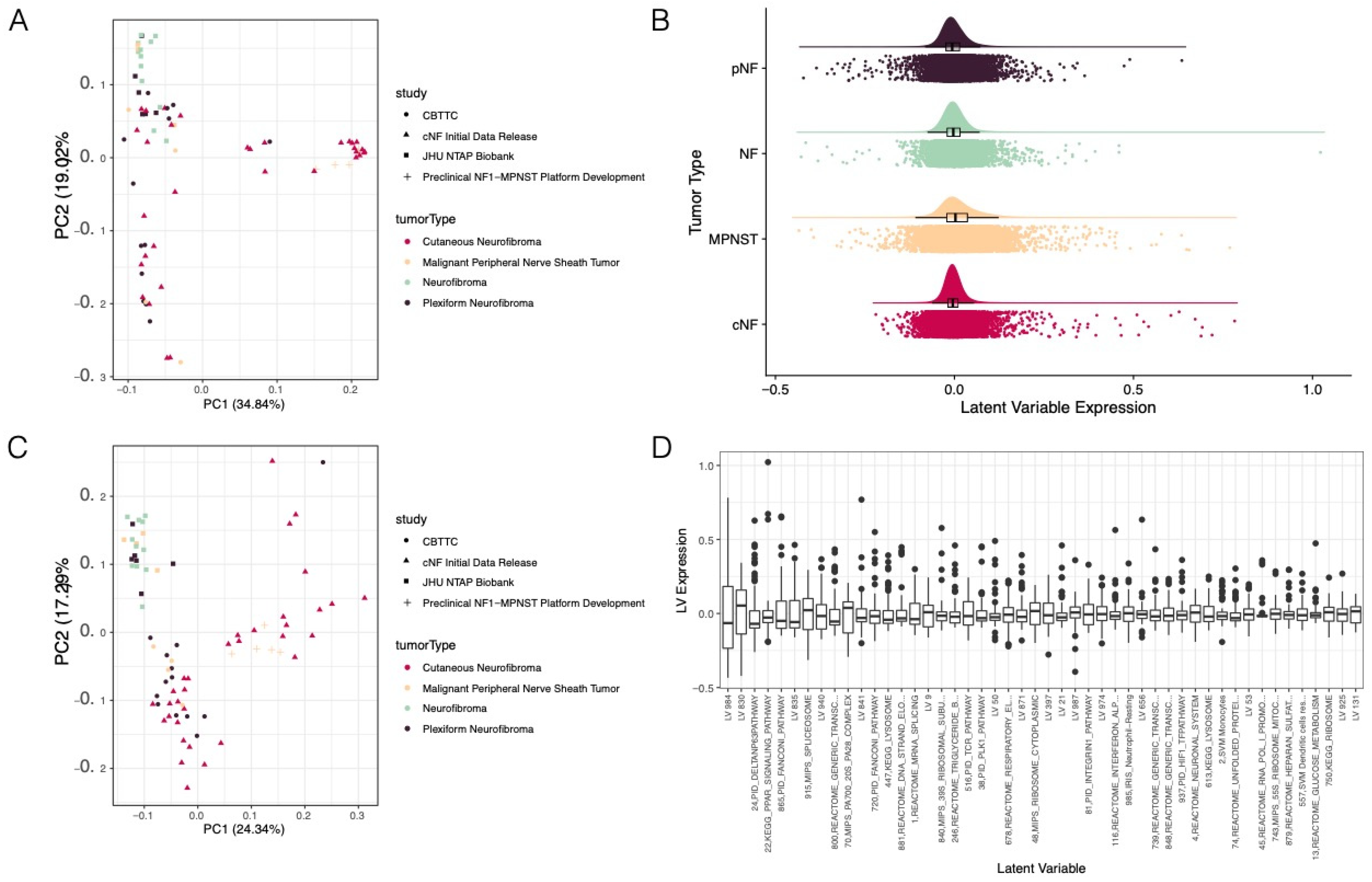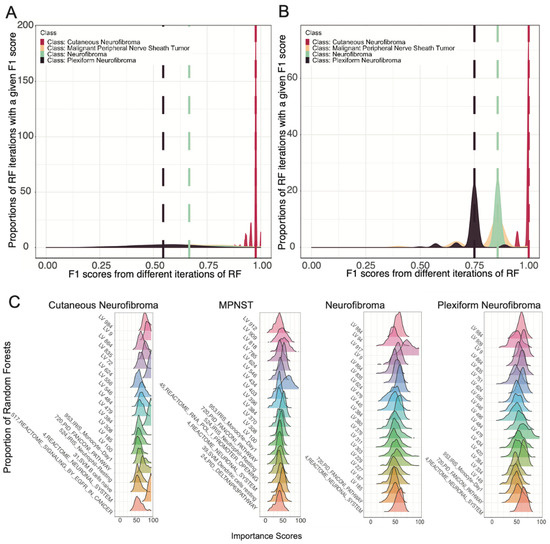 Figure 2. An ensemble of random forests selected the most important latent variables for classifying different tumor types in NF1. (A) Density plot showing the distribution of F1 scores of 500 iterations of independent random forest models using all latent variables. (B) Density plot showing the distribution of F1 scores of 500 iterations of independent random forest models trained using only the top 40 features with high importance scores for each class obtained from models included in (A). (C) Ridgeplots of top 20 latent variables selected by the random forest for each tumor type and their importance scores for each class that were selected for later analyses.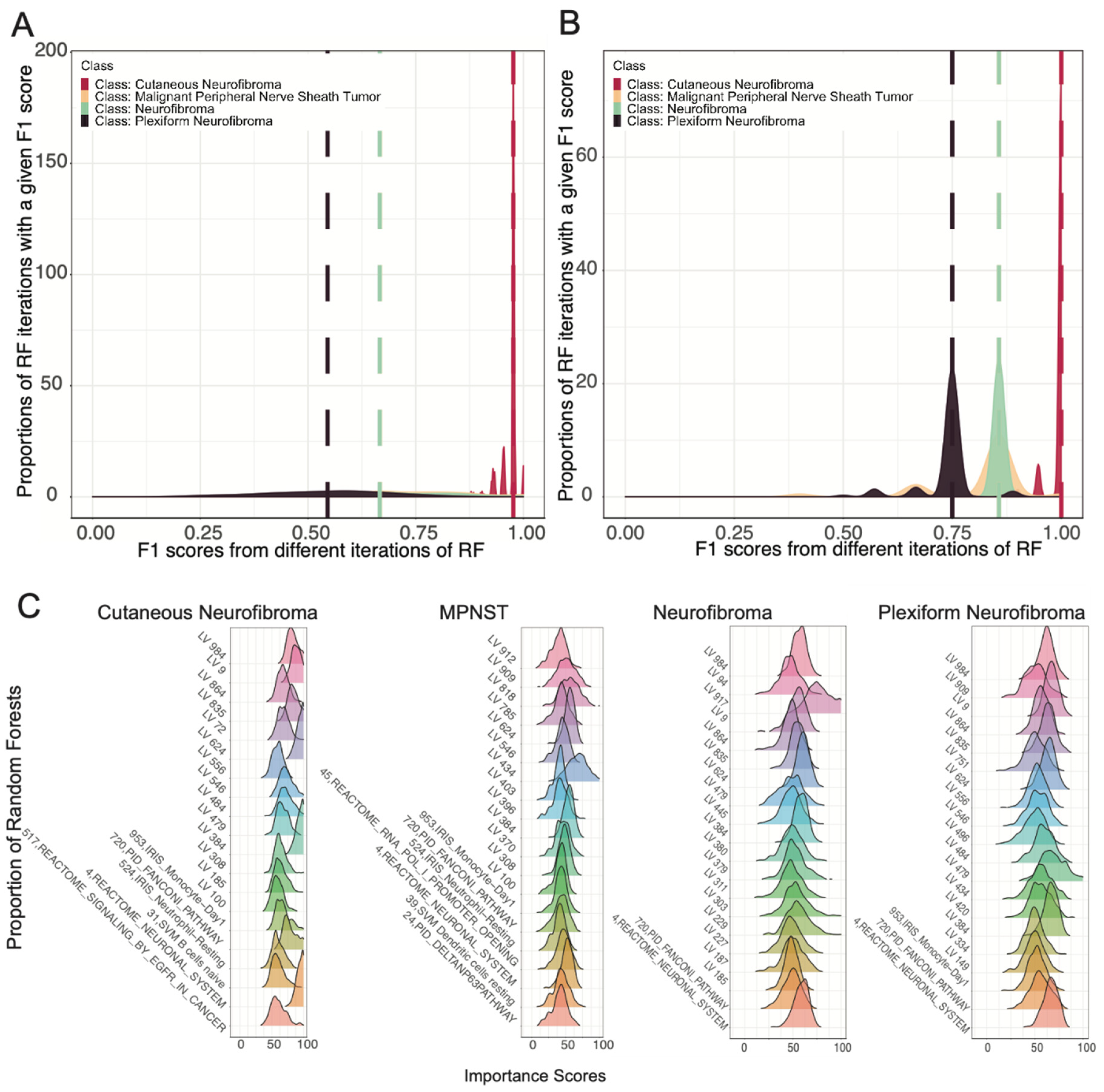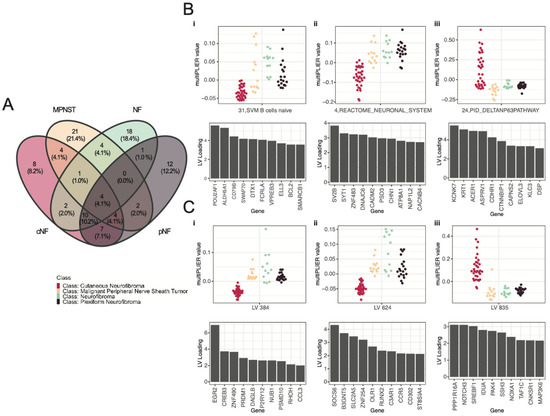 Figure 3. Selected latent variables (LVs) represented gene combinations unique to each tumor type. (A) Venn diagram showing the distribution of the top 40 LVs from each tumor type. (B,C) Total values of the LVs as measured by multiPLIER across samples are represented in the dot-plots, where color of the dots represents the tumor type ("Class" label colors described in the lower left). Loading values for the top 10 genes for each LV are represented in bar-plots below. The higher the loading, the greater impact that the gene expression had on the total multiPLIER value. (B,i–iii) Genes constituting the latent variables associated with known cell signaling pathways. (C,i–iii) Genes constituting the uncharacterized latent variables.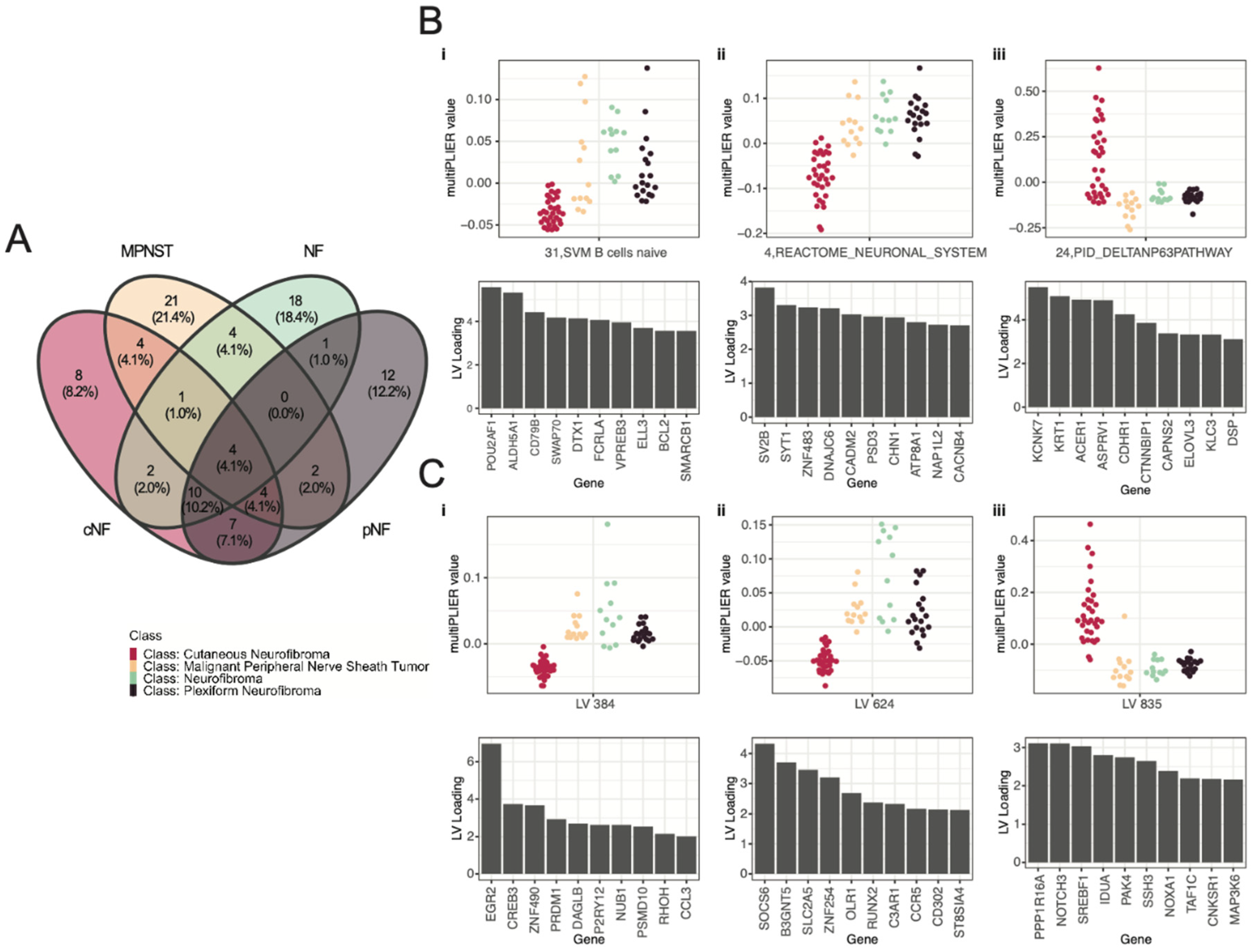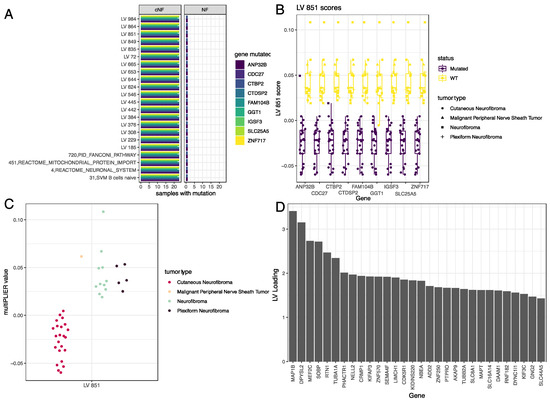 Figure 4.
Some genes significantly distinguished expression of latent variables. (
A
) Latent variables (
y
-axis) whose values are significantly altered by mutations in specific genes. (
B
) MultiPLIER value of LV 851 across tumor samples. (
C
) MultiPLIER value of LV 851 across all samples. (
D
) Loading values of the top 20 genes that comprise LV 851.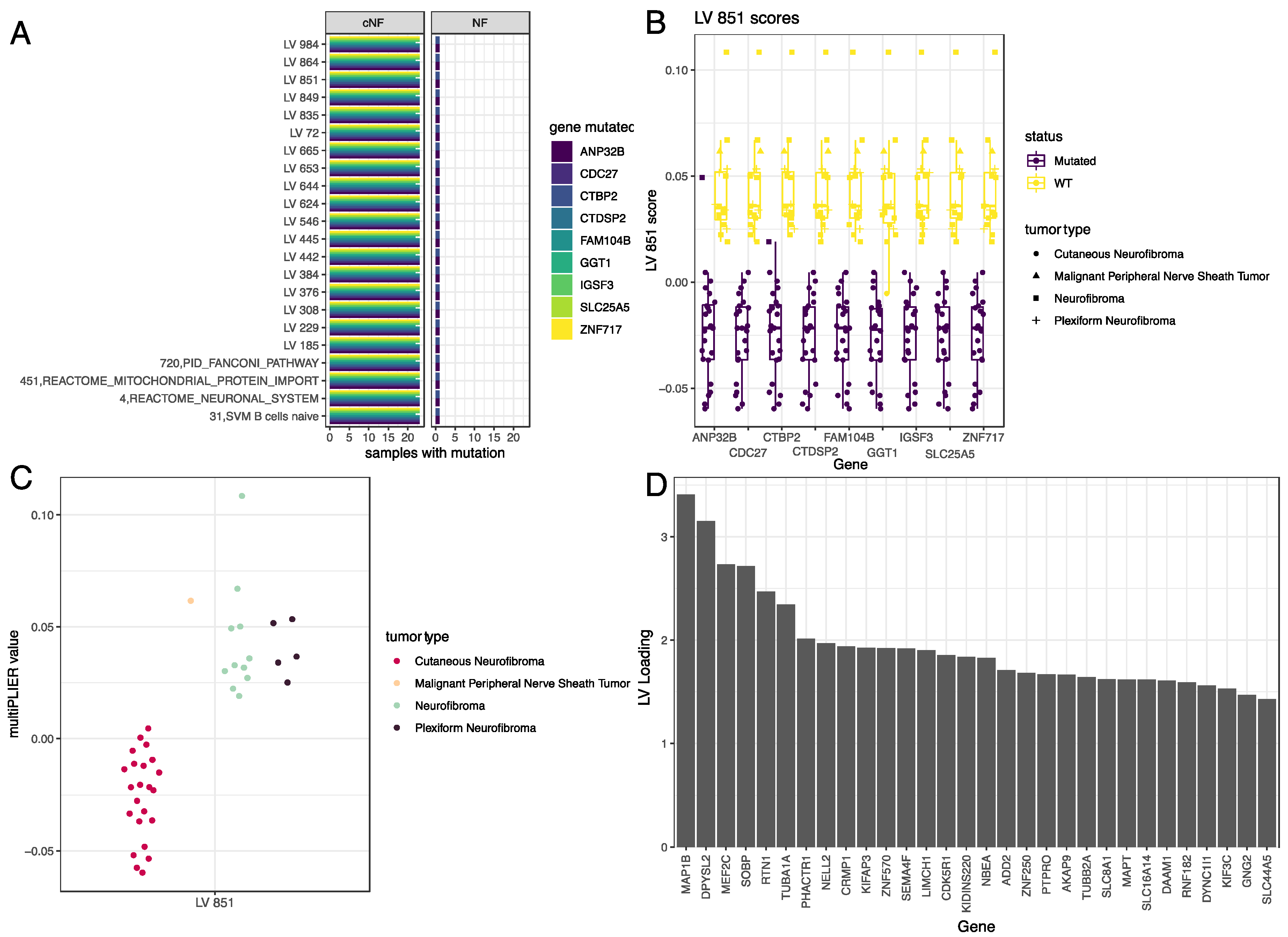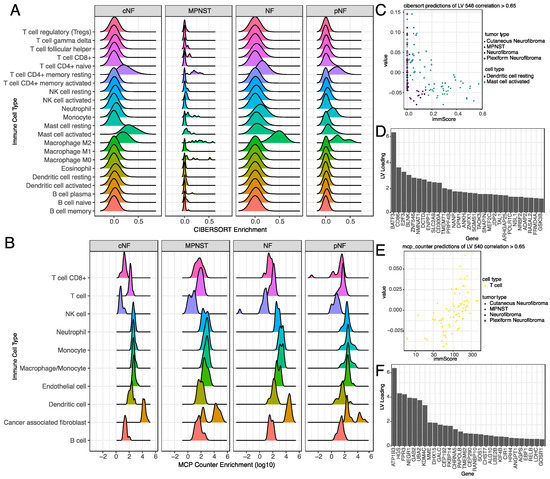 Figure 5.
Various immune cell signatures correlated to specific LVs that differentiate tumor types in NF1. (
A
) CIBERSORT deconvolution of bulk nerve sheath tumor expression data predicted the presence of activated mast cells and M2 macrophages and resting CD4
+
memory T cells in all of the tested tumor types. (
B
) MCP-counter based deconvolution of bulk nerve sheath tumor expression data predicted the presence of cancer-associated fibroblasts across all tumor types, and diversity in T cell population across tumor types. (
C
) Correlation of CIBERSORT immune score (
x
-axis) with expression of latent variable 546 highlighted the increased presence of activated mast cells and resting dendritic cells in cNFs (circles). (
D
) Top 20 gene loadings of LV 546. (
E
) Correlation of MCP-counter score of Tell infiltration (
x
-axis) with LV 540. (
F
) Top 20 gene loadings of LV 540.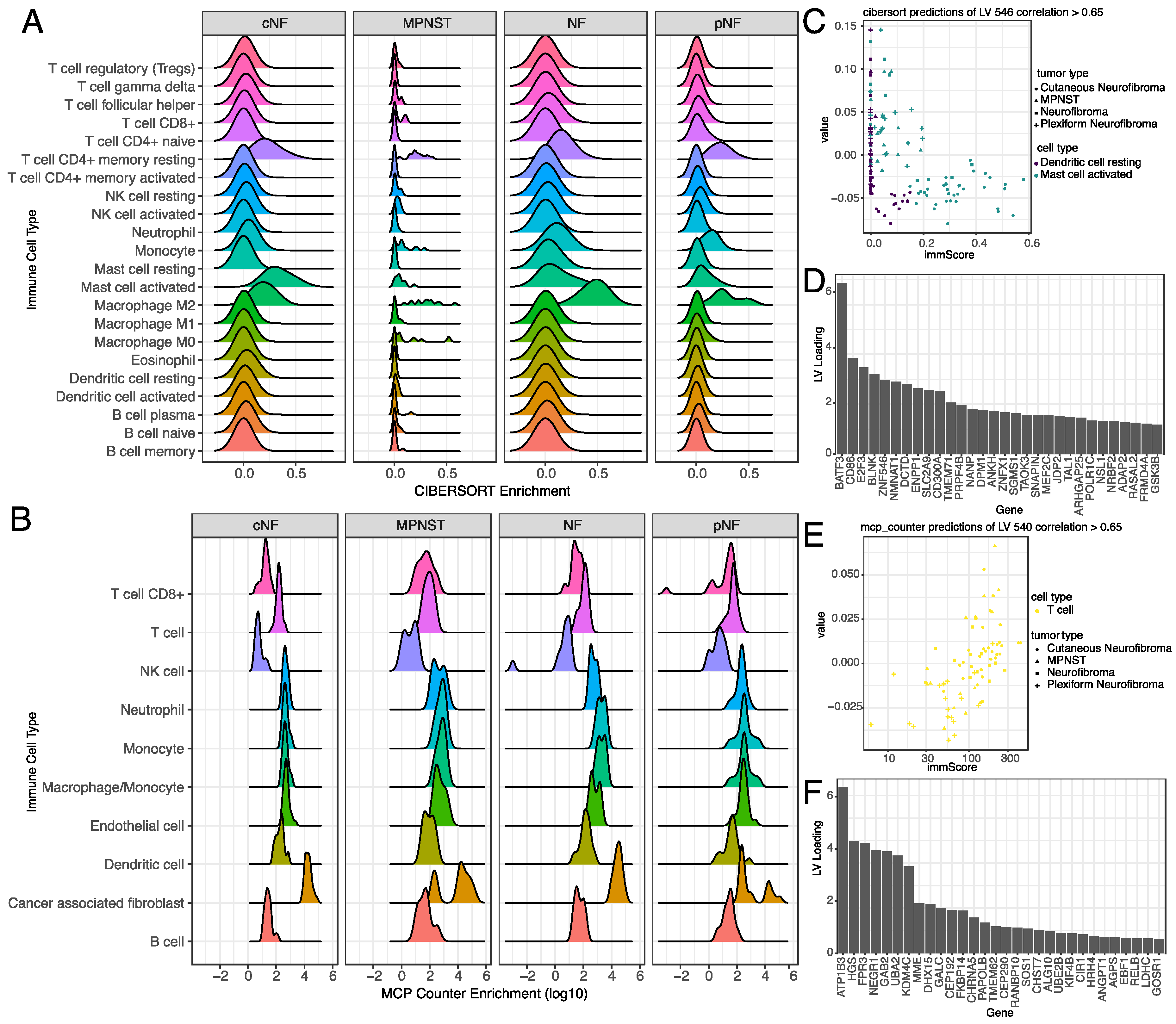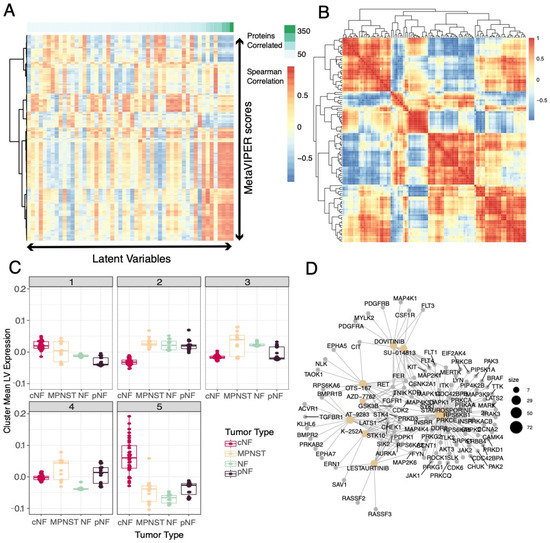 Figure 6. Integration of protein activity information with LVs can identify candidate drug targets for different NF1 tumor types. (A) A heatmap of correlation scores of known proteins with regulatory networks (or regulons) that are represented in the characterized and uncharacterized LVs selected above. The green bar across the top depicts how many protein activity scores had a Spearman correlation greater than 0.65. (B) Clustering of the LV-correlated VIPER proteins highlighted five clusters of latent variables with similar VIPER protein predictions, suggesting that these five clusters may have functional overlap. (C) Mean LV expression within the clusters highlighted differential expression within the clusters across tumor types. Tumor type is indicated by colors on the right. (D) Drug set enrichment analysis of the average VIPER protein correlation of cluster 2 identified some drugs and preclinical molecules that are enriched with targets in this cluster.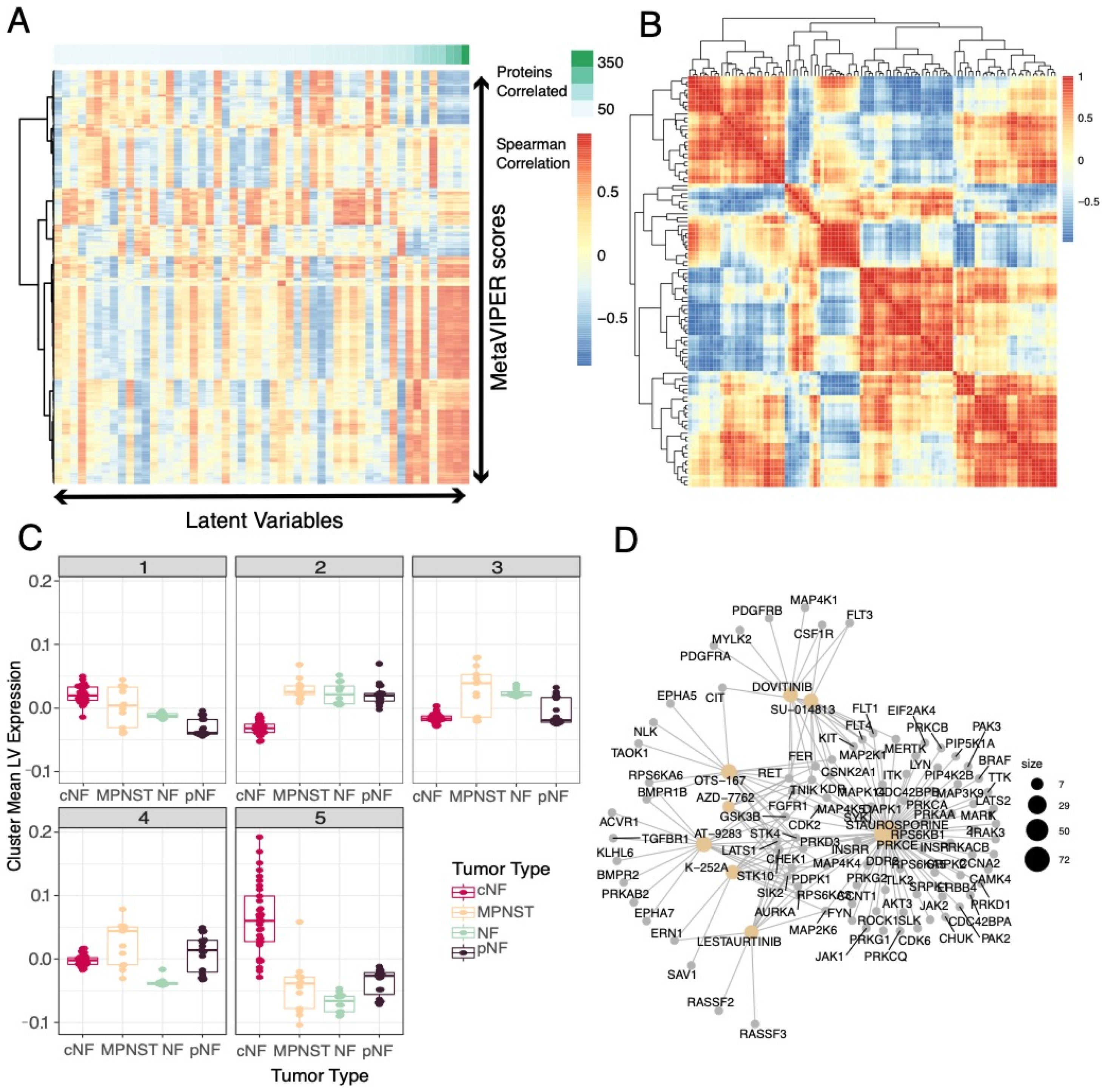 Dataset Name
Synapse Project Name
Synapse Table Name
Synapse Access Team
WashU Biobank
Preclinical NF1-MPNST Platform Development (

syn

11638893)
WashU Biobank RNA-seq data
WUSTL MPNST PDX Data Access
JHU Biobank [37]
A Nerve Sheath Tumor Bank from Patients with NF1 (

syn

4939902)
Biobank RNASeq Data
JHU Biobank Data Access
cNF Patient Data [38]
Cutaneous Neurofibroma Data Resource (

syn

4984604)
cNF RNASeq Counts
CTF cNF Resource Data Access Group
CBTTC Data [39]
Children's Brain Tumor Tissue Consortium (

syn

20629666)
CBTTC RNASeq Counts
CBTTC Data Access Group
| Dataset Name | Assay | Synapse Table Name | Synapse Access Team | Synapse Project |
| --- | --- | --- | --- | --- |
| JHU Biobank Exome-Seq Data | exomeSeq | Biobank ExomeSeq Data | JHU Biobank Data Access | A Nerve Sheath Tumor Bank from Patients with NF1 |
| cNF WGS Data | wholeGenomeSeq | cNF WGS Harmonized Data | CTF cNF Resource Data Access Group | Cutaneous Neurofibroma Data Resource |

Table 3. Summary of individuals and samples for the NF1 nerve sheath tumors used in this study. All samples have gene expression data and a subset have genomic data derived from whole-exome sequencing or whole genome sequencing. Some neurofibromas did not have more specific pathologic subtyping information available, and therefore were classified as "undefined neurofibromas" or NFs.
| Tumor Type | Individuals | Samples | # with Genomic Variant Data |
| --- | --- | --- | --- |
| Cutaneous Neurofibroma (cNF) | 11 | 33 | 23 |
| MPNST | 13 | 13 | 1 |
| Undefined Neurofibroma (NF) | 12 | 12 | 11 |
| Plexiform Neurofibroma (pNF) | 19 | 19 | 5 |

© 2020 by the authors. Licensee MDPI, Basel, Switzerland. This article is an open access article distributed under the terms and conditions of the Creative Commons Attribution (CC BY) license (http://creativecommons.org/licenses/by/4.0/).