Open Access This article is
freely available
re-usable
Article
Histone Methylation Participates in Gene Expression Control during the Early Development of the Pacific Oyster
Crassostrea gigas
1
Unité de Formation et de Recherches (UFR) des sciences, Université de Caen Normandie, 14032 Caen CEDEX, France
2
Biologie des Organismes et Ecosystèmes Aquatiques (BOREA), FRE2030, Muséum National d'Histoire Naturelle (MNHN), Centre National de la Recherche Scientifique (CNRS), Institut de Recherche et Développement (IRD), Sorbonne Université (SU), Université de Caen Normandie (UCN), Université des Antilles (UA), 75231 Paris CEDEX, France
3
Coastal Ecology Section, Alfred Wegener Institute Helmholtz Centre for Polar and Marine Research, Wadden Sea Station Sylt, 25992 List, Germany
4
Centre de Microscopie Appliquée à la Biologie, SF 4206 Interaction Cellule-Organisme-Environnement (ICORE), Université de Caen Normandie, Esplanade de la paix, 14032 Caen CEDEX, France
*
Author to whom correspondence should be addressed.
Received: 2 August 2019 / Accepted: 6 September 2019 / Published: 10 September 2019
Abstract
:
Histone methylation patterns are important epigenetic regulators of mammalian development, notably through stem cell identity maintenance by chromatin remodeling and transcriptional control of pluripotency genes. But, the implications of histone marks are poorly understood in distant groups outside vertebrates and ecdysozoan models. However, the development of the Pacific oyster
Crassostrea gigas
is under the strong epigenetic influence of DNA methylation, and
Jumonji
histone-demethylase orthologues are highly expressed during
C
.
gigas
early life. This suggests a physiological relevance of histone methylation regulation in oyster development, raising the question of functional conservation of this epigenetic pathway in lophotrochozoan. Quantification of histone methylation using fluorescent ELISAs during oyster early life indicated significant variations in monomethyl histone H3 lysine 4 (H3K4me), an overall decrease in H3K9 mono- and tri-methylations, and in H3K36 methylations, respectively, whereas no significant modification could be detected in H3K27 methylation. Early in vivo treatment with the JmjC-specific inhibitor Methylstat induced hypermethylation of all the examined histone H3 lysines and developmental alterations as revealed by scanning electronic microscopy. Using microarrays, we identified 376 genes that were differentially expressed under methylstat treatment, which expression patterns could discriminate between samples as indicated by principal component analysis. Furthermore, Gene Ontology revealed that these genes were related to processes potentially important for embryonic stages such as binding, cell differentiation and development. These results suggest an important physiological significance of histone methylation in the oyster embryonic and larval life, providing, to our knowledge, the first insights into epigenetic regulation by histone methylation in lophotrochozoan development.
Keywords:
epigenetics; histone modifications; methylstat; embryos; mollusk; H3K4; H3K9; H3K27; H3K36
1. Introduction
Methylation of histone lysine residues is a common post-translational modification that impacts different cellular processes such as the regulation of transcription, nucleosome architecture, cell cycle and genome stability [
1
]. Lysines at the N-terminal end of the histones H3 and H4 are the most studied and are often associated with the compaction of chromatin and its transcriptional status [
2
]. Each lysine residue may be mono (me1), di (me2) or tri-methylated (me3), highlighting a high versatility of this epigenetic mark and a high variability in the chromatin landscapes regarding methylation, reflective of its very precise tuning potential of the nucleosome structure. Indeed, the heterochromatin has a compact structure associated with silent transcription and presents methylated forms of Histone 3 lysine 9 (H3K9), H3K27, and H4K20. Methylated H3K4, H3K36 and H3K79 residues [
2
] lie within the relaxed euchromatin and are associated with active transcription, although complex relationships exist between transcriptional activity and precise H3 lysine methylation patterns and combinations. For example, in eukaryotes, the transcription start sites of expressed genes are generally surrounded by H3K4me3, indicating a role in transcription initiation and early elongation for this epigenetic mark [
3
]. However, transcriptional outcomes of histone methylation depend on several parameters including number of methyl groups, residue bearing methylation, gene and cell types, chromatin context, and species examined [
3
]. Indeed, methylation of H3K9 has different outcomes depending on its localization within genes (regulating or coding regions) [
2
]. Physiologically, histone methylation patterns are widely implicated in the maintenance of the stem identity of cells and their differentiation. Indeed, the methylation of H3K4 forbids the local recruitment of DNMT3L during implantation in mammals and therefore controls selected gene expression in the early embryo through DNA methylation [
4
]. In a similar fashion, redifferentiation implies H3K4 demethylation by a JmjC histone demethylase [
5
], which participate in the transcriptional control of Oct3/4 and Nanog, illustrating the regulation of pluripotency genes expression by histone methylation [
6
,
7
]. Further illustrating the role of histone methylation in development, the methylation of H3K36 delimits body regions of active genes [
8
], while methyl marks on H3K27 are generally associated with transcriptional repression via Polycomb group (PcG) proteins [
9
]. Therefore, histone methylation patterns and their regulating factors are of paramount interest in a developmental context.
Among them, Jumonji-C domain containing proteins (JmjC) are a widely conserved family of histone demethylases, which can specifically remove methyl groups from lysines through a hydroxylase activity. These enzymes present a great diversity of domain architectures, which gives the JmjC specificity towards peculiar histone residues and/or number of methyl groups, as well as the ability to interact directly with DNA and/or other proteins [
10
,
11
,
12
]. Histone methylation in the development of model organism becomes increasingly understood [
13
]. However, despite such information being critical for our understanding of the evolution of epigenetic regulation, whether histones are dynamically methylated and whether this epigenetic pathway is of biological relevance remains poorly described in mollusks and more generally in the lophotrochozoans [
14
,
15
,
16
].
The pacific oyster
Crassostrea gigas
(Thunberg, 1793) (i.e.,
Magallana gigas
) is a bivalve mollusk belonging to the lophotrochozoa, a distant evolutionary group that remains epigenetically poorly documented when compared to ecdysozoans (such as insects [
17
]), trematodes [
18
], nematodes [
19
] and vertebrates [
13
].
Crassostrea gigas
undergoes an indirect development and adults are successive hermaphrodite animals, which live in the highly changing and stressful intertidal zone. Thus, throughout his life, the oyster undergoes many morpho-physiological changes, such as embryogenesis, metamorphosis, and annual gonad renewal. These changes rely on the proliferation and/or (re)differentiation of stem cells, that are supported by transient specific transcriptomes stabilized by the stochastic expression of developmental genes [
20
,
21
]. Because epigenetic mechanisms can establish and maintain such transcriptomes [
22
], they were hypothesized to be of physiological relevance in a developmental context. Consistently DNA methylation has been found important for the oyster embryogenesis [
23
,
24
,
25
,
26
,
27
,
28
]. In addition, our group recently demonstrated the presence of the JmjC histone demethylases family with strong and regulated mRNA levels during early life [
29
] together with an influence of temperature on histone methylation and
Jumonji
mRNA expression in embryos [
15
], suggesting a potential conservation of histone methylation and its functional outcomes in development.
In order to gain more insights into this issue, we quantified histone methylation during oyster early life using fluorescent ELISAs and examined the effect of histone demethylation using methylstat, a specific inhibitor of JmjC enzymes, in vivo. In addition, to shed light on the possible biological roles of histone methylation during oyster development, we led a microarray approach and identified genes displaying differential expression upon histone demethylase inhibition across larval development. Furthermore, we used Gene Ontology to envision the putative physiological pathways related to these genes. To our knowledge, these results show the first evidence for histone methylation conservation and functional relevance in development outside vertebrates and ecdysozoans.
3. Results
3.1. Histone Methylation Exhibits Stage-Specific Patterns during Oyster Early Development
The amount of methylation of histone H3 lysine 4, 9, 27, and 36 residues was observed to be in the same range overall, from ca. 0.5 to ca. 30 ng methyl histone/µg protein. However, some variations in the patterns of mono-, di- and tri-methylations could be observed across developmental stages, depending on the histone lysine residue and the number of methyl groups considered. Indeed, H3K4me1 and H3K4me2 remained stable whereas H3K4me3 decreased significantly after a maximum level observed in 4–8 cell embryos (
p
< 0.05). H3K9me1 and H3K9me3 also displayed a significant decrease, which was more marked up to the blastula stage and then remained stable. Finally, the global level of methylation on H3K36 also decreased especially until the blastula/gastrula stages before an increase in the trocophore stage. In contrast, no significant variation could be detected in the level of the methyl marks on H3K27 (
Figure 1
).
3.2. Methylstat-Induced Histone Hypermethylation is Correlated to Severe Developmental Alterations
The treatment of embryos with methylstat induced an increase in histone methylation measured from 6 h after fertilization (hpf) (Blastula stage) and sustained till 24 hpf (Late Trochophore/D-larvae stage), consistent with the inhibitor effect of methylstat on JmjC-histone demethylases (
Figure 2
(1)). However, at 6 hpf, only H3K4me and H3K9me2 were significantly up regulated, with a 2-fold increase in H3K4me whereas H3K9me2 was only slightly increased. By contrast, at 24 hpf, the mono-, di- and tri-methylation of all the lysine residues examined was increased almost twice upon methylstat treatment, except H3K27me3 for which the apparent increase was not statistically significant (
Figure 2
(1)).
In correlation with the methylstat treatment, some developmental defects could be observed at 6 hpf already. While control embryos were at the Blastula stage, methylstat embryos exhibited a wide diversity of abnormal phenotypes (
Figure 2
(2)). They displayed an abnormal cell differentiation, and a reduced motility. Methylstat treated embryos also underwent some mortality (data not shown, <50%), while control embryos display a normal development. After 24 h of development in the presence of methylstat, the survival rate was significantly lower in treated embryos (data not shown). Larvae exposed to methylstat still presented abnormal phenotypes reflecting a failure to rescue a normal cell differentiation. Indeed, most of the cells looked alike with a round shape and ciliae, in contrast to the differentiated cells within normal trochophore and D-larvae animals (
Figure 2
(2)).
3.3. Methylstat Treatment Induces Transcriptomic Variations
Sixteen pools of embryos, from control (4 control-6 h, 4 control-24 h) and Methylstat treated (4 methylstat-6 h, 4 methylstat-24 h) conditions, were used to perform a microarray experiment. After analysis of the microarray results with TMeV 4.6.0 software [
32
,
33
], a two factor ANOVA (time (6 and 24 h) and treatment (control and Methylstat 10
−5
M)) with a p-value based on permutation (1000) of 0.05 and an α correction identified that 376 out of 31,918 analyzed ESTs were statistically differentially expressed between controls and treated animals. Hierarchical clustering using Pearson's correlation grouped the 16 sample pools according to the treatment and the developmental time (data not shown). Biological interpretation of the data led us to group these clusters into 3 major gene expression profiles using K means clustering of genes according to similar expression patterns using Pearson's correlation (
Figure 3
A). (I) Overexpressed genes in MeS-treated animals (147 genes, 39%, cluster 1) (
Figure 3
(A1)); (II) underexpressed genes in MeS-treated animals (90 genes, 25%, cluster 2) (
Figure 3
(A2)); (III) underexpressed genes in MeS-treated 6 hpf animals (139 genes, 37%, cluster 3) (
Figure 3
(A3)). The list of genes within each cluster is provided in
supplementary data (Tables S2–S4)
. A Principal Component Analysis (PCA) was applied to all 376 genes of the sixteen sample pools (4 control 6 h, 4 control 24 h, 4 methylstat 6 h, 4 methylstat 24 h) to assess internal consistency of the whole transcriptional dataset and verify that the main variation in gene expression correspond specifically to treatment (
Figure 3
B). The first three Principal component (PCs) explained 58.5% of the total variance. The score plot obtained using the three first PCs is shown in
Figure 3
B. In this plot, similar transcriptional profiles cluster together, whereas significantly different samples appear more distant from each other. We observed a clear clustering of the different treatments and developmental times determined by microscopy and/or histone methylation pattern upon Methylstat treatment.
3.4. Identification of the Putative Metabolic Pathways Implicating the Differentially Expressed Genes in Larvae Exposed to Methylstat
Homology searches (BLAST algorithm using default parameters and
E
-value < 10
−3
) of the differentially expressed genes led to the blast hits of 66% of them (246 out of 376) with 51% (193 out of 376) annotated and 15% (55 out of 376) identified as "unknown protein" or "hypothetical protein". Thus, among the 147 overexpressed genes in MeS-treated animals (cluster 1), 47% (69 out of 147) are annotated (
supplementary data Table S2
), while 54% (49 out of 90 and 75 out of 139, respectively) have been identified in the two other clusters (underexpressed genes in MeS-treated animals (cluster 2), and genes underexpressed in MeS-treated 6 hpf animals (cluster 3), respectively) (
supplementary data Tables S3 and S4
). As an example, mRNAs overexpressed in MeS-treated animals include genes coding proteins implicated in cell cycle (Calm2 (CU991884), ANAPC4 (CU991170)), in cell proliferation and migration (TYRP1 (CU996139)), and gastrulation/embryonic development (CFC1 (CU988912)). Interestingly, among the underexpressed genes in MeS-treated animals, two genes were found to encode homeobox proteins (abd-B (AM857383) and Otp (CU991046)), which have been shown in mollusks to be critical regulators of early development [
41
]. Genes coding for proteins mediating the selective degradation of proteins such as UBA6 (FP005933) or UCHL3 (CU988028) also seemed to be regulated. However, only a limited number of sequences were assigned a GO, which makes precise interpretations of the physiological consequences of methylstat treatment rather speculative. Nevertheless, the GO enrichment using the GIGATON database [
36
] is consistent with the previously identified genes (
supplementary data Tables S2–S4
), and demonstrated that the differentially expressed transcripts within each cluster lie within a wide range of distinct GO categories among biological processes, molecular function and cell component that are not equally represented between clusters (
Table 1
; and
supplementary data Table S5
). Considering cluster 3 (genes underexpressed in MeS-treated 6hpf animals) for example, significantly enriched GO (
p
< 0.05) indicated a putative role in growth, map kinase activity and protein ubiquitination (
Table 1
; and
supplementary data Table S5
), while in cluster 1 (overexpressed genes in MeS-treated animals), GO categories are more implicated in ion transport or lipid biosynthesis (
Table 1
; and
supplementary data Table S5
).
3.5. Selected Marker Genes RT-qPCR Measurements Confirm Microarray Signals
5. Conclusions
This study demonstrates the presence and the potential importance of histone methylation in
Crassostrea gigas
. The evolutionary conservation of this epigenetic mark and its stage-specific patterns during development suggest an important biological function consistent with the role of these mechanisms in other species. Our results bring the first evidence for regulation of histone methylation in lophotrochozoans, further questioning a possible conservation of theses epigenetic marks in this group.
Supplementary Materials
The following are available online at
https://www.mdpi.com/2073-4425/10/9/695/s1
, Table S1: qPCR Primers, Table S2: Cluster 1_147 genes, Table S3: Cluster 2_90 genes, Table S4: Cluster 1_139 genes, Table S5 Go term enrichment.
Author Contributions
Conceived and designed the experiments: F.A., R.G.; performed the experiments: F.A., J.A., G.D.; analyzed the data: F.A., R.G., L.L.; wrote the paper: F.A., R.G., F.P.
Funding
A.F. was supported by a fellowship from the Council of the Région Basse-Normandie (France) (Grant Number: 10P02187). This work was funded by the Région Basse-Normandie (France) (Grant Number: 10P02187) and the Agence Nationale de la Recherche (ANR-08-GENM-041 Gamétogènes).
Acknowledgments
The authors want to thank B. Petton, C. Mingant (IFREMER experimental hatchery, Argenton, France) for their expertise in oyster embryonic development.
Conflicts of Interest
The authors declare that they have no conflict of interest.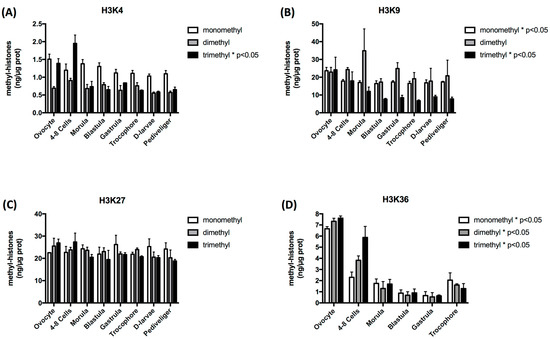 Figure 1.
Histone methylation profiles of H3K4 (
A
), H3K9 (
B
), H3K27 (
C
) and H3K36 (
D
) during the early development of
Crassostrea gigas
. Asterisk in the legend indicates significant variation of the indicated mark along development A One-way ANOVA was used to determine whether methylation levels were statistically significantly different between development stage for each residue, and a
p
-value < 0.05 was considered significant.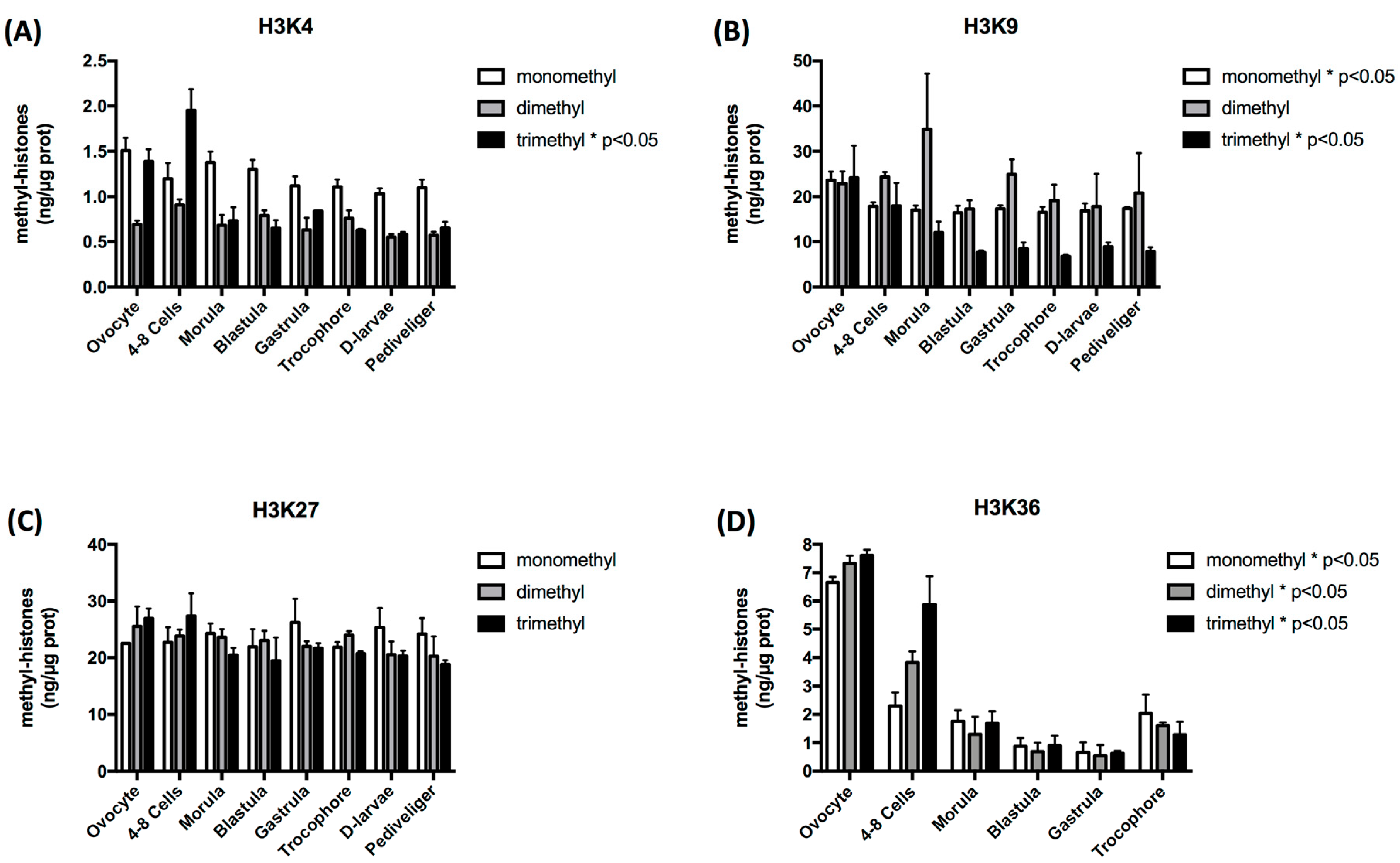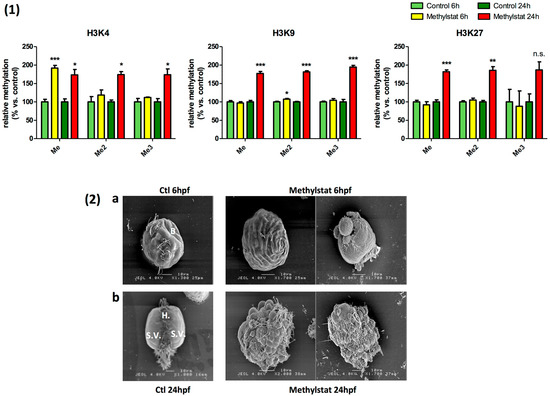 Figure 2.
(
1
) Hypermethylation of histone lysine residues in presence of 10 µM Methylstat. Global H3K4 methylation increase in presence of methylstat, but only H3K4me1 and H3K4me3 are significant. Global H3K9 methylation increase in presence of methylstat, but only H3K9me2 is significant. H3K27me and H3K27me2 increase in presence of methylstat. Asterisk in the legend indicates significant variation of the indicated mark (One-way ANOVA;
p
< 0.05 was considered significant (<0.05 (*), <0.001 (**), <0.0001 (***)). (
2
) Abnormal development. Different phenotypes observed in control condition and under methylstat treatment at 6 h after fertilization (
a
) and 24 h after fertilization (
b
).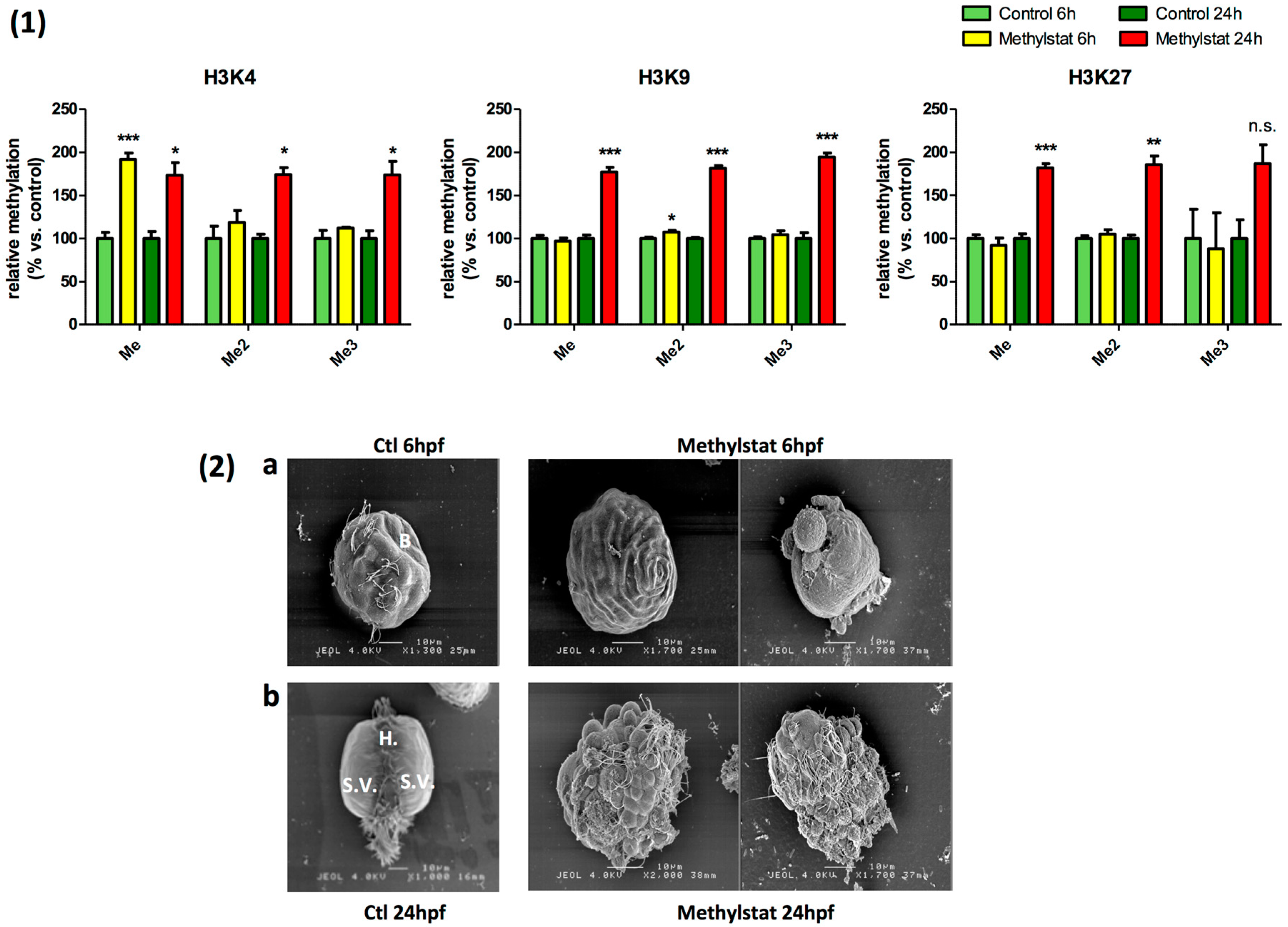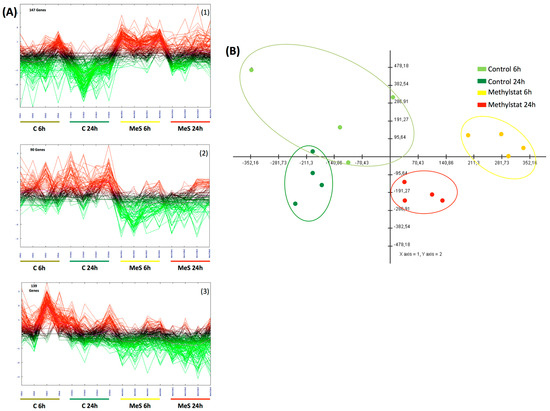 Figure 3. (A) Gene clustering. KMC clustering of the 376 genes differentially expressed upon methylstat exposure independently of development time. Three main clusters were discriminated (From the top to the bottom): (1) overexpressed in MeS-treated animals (147 genes), (2) underexpressed in MeS-treated animals (90 genes) and (3) underexpressed in MeS-treated 6hpf animals (139 genes). (B) Principal component analysis. The first three Principal component (PCs) explained 55.417% of the total variance of the 376 genes significantly differentially expressed between sample pools.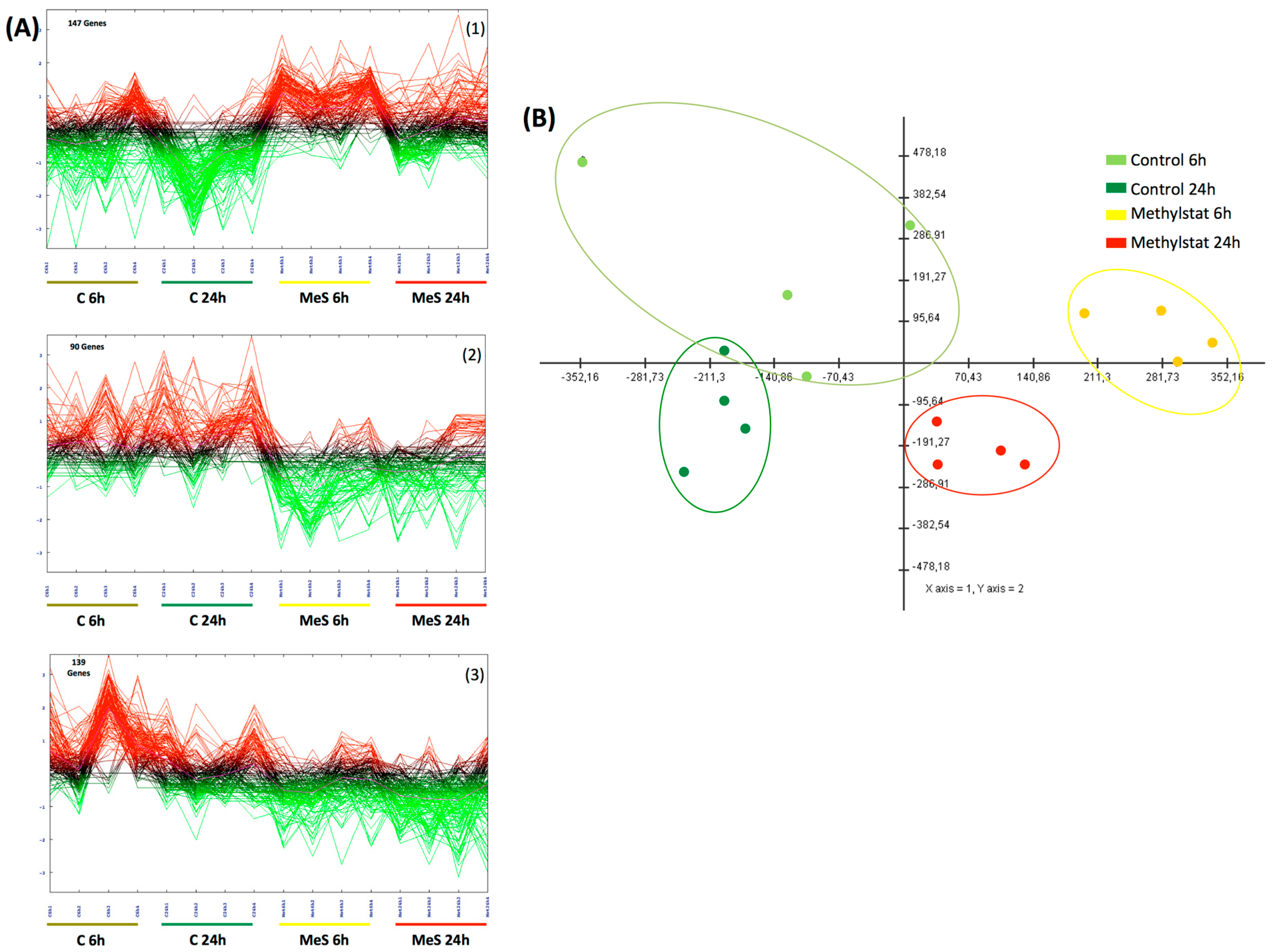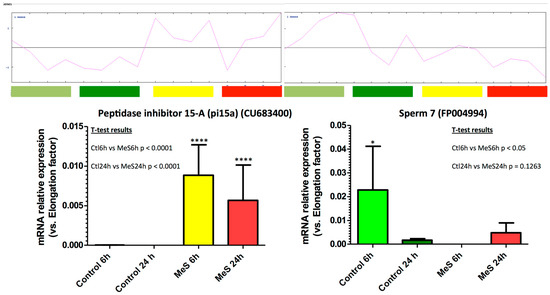 Figure 4.
RT-qPCR measurements of mRNA expression of selected marker genes from the different clusters. Examples of cluster 1 (Peptidase inhibitor 15-a (pi15a) (CU683400), overexpressed in MeS treatment) and cluster 2 (Sperm7 (FP004994), underexpressed in MeS-treated 6hpf animals) are shown. For each transcript, a student's T tests (
p
< 0.05 was considered significant) has been used to compare control 6 h (Ctl6h) vs. Methylstat sample 6h (MeS6h) and control 24 h (Ctl24h) vs. Methylstat sample 24 h (MeS24h). (****:
p
< 0.0001).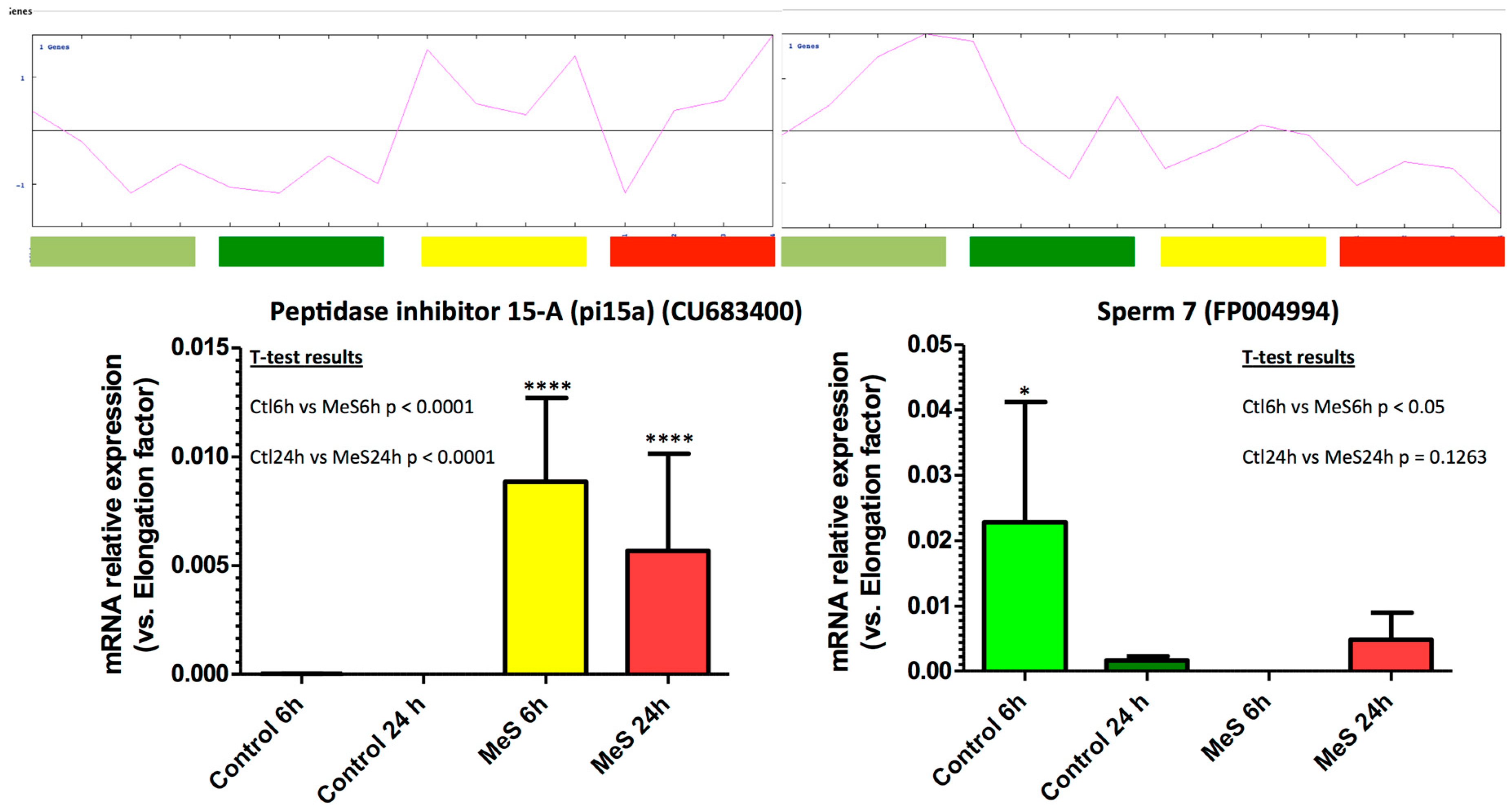 GO-ID
GO-Term
GO-Class

p

-Value
Cluster 1
0005890
Sodium:potassium-exchanging ATPase complex
CC
0.0027
0044183
Protein binding involved in protein folding
MF
0.0027
0006814
Sodium ion transport
BP
0.0031
0004126
Cytidine deaminase activity
MF
0.0054
0009972
Cytidine deamination
BP
0.0054
0080019
Fatty-acyl-CoA reductase (alcohol-forming) activity
MF
0.0054
0030126
COPI vesicle coat
CC
0.0080
Cluster 2
0005882
Intermediate filament
CC
0.000045
0004952
Dopamine neurotransmitter receptor activity
MF
0.0015
0005198
Structural molecule activity
MF
0.0022
0050829
Defense response to Gram-negative bacterium
BP
0.0030
0050830
Defense response to Gram-positive bacterium
BP
0.0030
0000087
Mitotic M phase
BP
0.0045
0008250
Oligosaccharyltransferase complex
CC
0.0045
0004579
Dolichyl-diphosphooligosaccharide-protein glycontransferase
MF
0.0060
0005887
Integral component of plasma membrane
CC
0.0089
0016641
Oxidoreductase activity, acting on the CH-NH2 group of donors, oxygen as acceptor
MF
0.0089
Cluster 3
0006511
Ubiquitin-dependent protein catabolic process
BP
0.0020
0003868
4-hydroxyphenylpyruvate dioxygenase activity
MF
0.0031
0003922
GMP synthase (glutamine-hydrolizing) activity
MF
0.0031
0006177
GMP biosynthetic process
BP
0.0031
0004879
RNA polymerase II transcription factor activity, ligand-activated sequence-specific DNA binding
MF
0.0062
0010309
Acireductone dioxygenase (iron(II)-requiring) activity
MF
0.0062
0016701
Oxydoreductase activity, acting on single donors with incorporation of molecular oxygen
MF
0.0062
0030833
Regulation of actin filament polymerization
BP
0.0062
0000220
Vacuolar proton-transporting V-type ATPase, V0 domain
CC
0.0092
0004427
Inorganic diphosphatase activity
MF
0.0092
0006206
Pyrimidine nucleobase metabolic process
BP
0.0092
0006796
Phosphate-containing compound metabolic process
BP
0.0092
0016154
Pyrimidine-nucleoside phosorylase activity
MF
0.0092
0016462
Pyrophosphatase activity
MF
0.0092
0019509
L-methionine biosynthetic process from methylthioadenosine
BP
0.0092
Cluster 1: The seven most enriched terms and the corresponding p-value (hypergeometric method) for enrichment are given among the overexpressed genes in MeS-treated animals (147 genes). Cluster 2: The ten most enriched terms and the corresponding

p

-value (hypergeometric method) for enrichment are given among the underexpressed genes in MeS-treated animals (90 genes). Cluster 3: The fifteen most enriched terms and the corresponding

p

-value (hypergeometric method) for enrichment are given among the underexpressed genes in MeS-treated 6hpf animals (139 genes). CC (Cellular Components), BP (Biological Process), MF (Molecular Function).

© 2019 by the authors. Licensee MDPI, Basel, Switzerland. This article is an open access article distributed under the terms and conditions of the Creative Commons Attribution (CC BY) license (http://creativecommons.org/licenses/by/4.0/).