Open Access This article is
freely available
re-usable
Review
Molecular Therapies for Inherited Retinal Diseases—Current Standing, Opportunities and Challenges
Department of Human Genetics and Donders Institute for Brain, Cognition and Behaviour, Radboud University Medical Center, 6525GA Nijmegen, The Netherlands
†
Both senior authors contributed equally.

Received: 31 July 2019 / Accepted: 26 August 2019 / Published: 28 August 2019
Abstract
:
Inherited retinal diseases (IRDs) are both genetically and clinically highly heterogeneous and have long been considered incurable. Following the successful development of a gene augmentation therapy for biallelic
RPE65
-associated IRD, this view has changed. As a result, many different therapeutic approaches are currently being developed, in particular a large variety of molecular therapies. These are depending on the severity of the retinal degeneration, knowledge of the pathophysiological mechanism underlying each subtype of IRD, and the therapeutic target molecule. DNA therapies include approaches such as gene augmentation therapy, genome editing and optogenetics. For some genetic subtypes of IRD, RNA therapies and compound therapies have also shown considerable therapeutic potential. In this review, we summarize the current state-of-the-art of various therapeutic approaches, including the pros and cons of each strategy, and outline the future challenges that lie ahead in the combat against IRDs.
Keywords:
inherited retinal diseases; IRD; DNA therapies; RNA therapies; compound therapies; clinical trials
1. Introduction
1.1. Inherited Retinal Diseases (IRDs)
Inherited retinal diseases (IRDs) are a rare and heterogeneous group of neurodegenerative disorders that collectively result in progressive visual impairment. IRDs are estimated to affect around 1 in 2000 people worldwide [
1
]. Over 250 causative genes have been identified in which mutations can cause one or more of the clinical subtypes of IRD (
https://sph.uth.edu/retnet/
). IRDs can be familial or sporadic, isolated (non-syndromic) or syndromic and stationary or progressive. In terms of geographic distribution, they could be diffused or localized. Most forms of IRD mainly affect photoreceptors but other forms can also primarily affect the retinal pigment epithelium (RPE) or the inner retina. IRDs can propagate through all modes of inheritance—autosomal dominant (AD), autosomal recessive (AR), X-linked (XL) or mitochondrial, whilst digenic cases or uniparental disomy have also been described occasionally [
2
].
1.2. Present Treatment of IRD
The eye is an ideal target for molecular therapies, for various reasons. First, the tight junctions of the blood-retina barrier (BRB) define the retina to be a relatively immune-privileged tissue [
3
]. In other words, the introduction of a foreign antigen (like a viral vector) is generally well tolerated without evoking severe inflammatory responses [
4
,
5
]. The risk of widespread dissemination of the locally administered vector is low, preventing unwanted systemic effects. Furthermore, relatively small amounts of the vector are needed to achieve a therapeutic response [
6
,
7
]. The eye is easily accessible by surgery [
8
], which allows intravitreal and subretinal administration of vectors to the affected tissue. As retinal cells are differentiated and non-dividing, there is no loss of the transgene even with the use of non-integrating vectors [
9
]. Finally, there are many different non-invasive approaches that are able to monitor disease progression [
10
]. Examples include fundus autofluorescence that provides a topographical map of lipofuscin changes in the RPE cells, spectral domain OCT to assess retinal thickness and photoreceptor layer architecture, as well as other known tests like visual acuity and biomicroscopy [
11
,
12
,
13
].
Currently, there are various (overlapping) approaches to treat IRDs under development, including molecular therapies but also stem cell-based therapies and retinal prostheses [
14
,
15
,
16
,
17
,
18
] (
Figure 1
). Despite the promising results obtained with some of these approaches, there are still many challenges that must be overcome in order to reach a broad implementation of treatment modalities for IRDs. The great heterogeneity of these diseases [
19
] hampers the development of a common treatment for a large number of patients [
20
]. In addition, a significant proportion of genes involved in IRDs has a cDNA size that exceeds the cargo capacity of adeno-associated viral (AAV) vectors, generally considered the most preferred viral vector for retinal delivery of therapeutic molecules [
21
]. Finally, the costs of developing gene or even mutation-specific approaches are substantial, while often having only a limited number of individuals that could potentially benefit from a given therapeutic molecule.
In this review, we summarize the current state-of-the-art of the therapeutic approaches for IRDs, with a strong emphasis on molecular therapies.
2. Molecular therapies
Due to the severity and heterogeneity of IRDs, avid research is ongoing to identify therapeutic strategies that could ameliorate symptoms and/or disease progression, including many that focus on resolving the consequences of a particular genetic defect [
22
]. However, a good candidate for molecular therapies requires—(i) a substantial disease burden and a favourable risk/benefit ratio compared to another therapy, if any; (ii) the relevant gene/locus involved in the disease has already been identified and there is ample knowledge of the molecular mechanism of disease and its progression; (iii) the right target cell(s) can be reached, with or without using a therapeutic vehicle; (iv) phenotypic improvement can preferably be achieved with limited expression levels of the therapeutic gene, while its overexpression does not exert any toxic effect [
23
].
We can subdivide the molecular strategies into different groups—DNA, RNA and compound therapies, as graphically depicted in
Figure 1
and
Figure 2
. Ongoing clinical trials for genetic subtypes of IRDs are summarized in
Table 1
(DNA therapies),
Table 2
(RNA therapies) and
Table 3
(Compound therapies).
2.1. DNA Therapies
2.1.2. Genome Editing
Although several hurdles still need to be overcome, the development of the CRISPR/Cas9 system has opened new avenues for the future treatment of various genetic subtypes of IRD.
2.2. RNA Therapies
2.2.1. Splicing Modulation
2.2.2. Post-transcriptional Gene Silencing
2.2.3. RNA Editing (dCas13 and ADAR)
The ADAR (adenosine deaminase acting on RNA) family of proteins can mediate endogenous editing of transcripts via the deamination of adenosine to inosine, a nucleobase that is functionally equivalent to guanosine both in splicing and in translation [
135
]. Cox and colleagues designed a catalytically inactivated Cas13 (dCas13) that is able to retain its RNA-binding capacity, to direct an ADAR towards the RNA transcript of interest and to perform its adenosine-to-inosine deaminase function [
135
]. This demonstrated the flexibility of Cas13 to be adapted as a tool for nucleic acid modification. The system that was created is called REPAIRv2 and generates a higher specificity compared to other RNA-editing platforms reported so far [
138
,
139
] with high levels of on-target activity. Other advantages include—(i) Cas13 has no targeting sequence constraints and does not present any preferential motif surrounding the target adenosine, allowing any adenosine in the transcriptome to be potentially targeted; (ii) the REPAIRv2 system directly deaminates target adenosines to inosines and does not depend on endogenous repair pathways, thereby enabling RNA editing in post-mitotic cells like neurons and photoreceptors and, (iii) RNA editing, contrary to DNA editing, is transient and thus can be more readily reversed, allowing temporal control over editing events [
135
]. These features make RNA editing an interesting strategy to be used in future therapeutic studies in IRDs.
2.3. Compound Therapies
As happens in other types of diseases, pharmacological development can offer an entirely different approach to the treatment of IRD. However, the great heterogeneity observed in IRDs and the access-limiting BRB present major challenges towards an effective compound therapy [
140
]. In this section, we focus our attention on some promising drugs for the treatment of IRDs.
2.3.1. Translational Read-Through
Translational read-through (TR) therapy is based on small molecules, also known as TR-inducing drugs (TRIDs), that allow the translation machinery to bypass a premature termination codon (PTC) during translation [
141
]. In addition, PTCs can induce mRNA degradation through nonsense-mediated decay and thereby also inhibit full-length protein expression [
141
,
142
]. The incorporation of an amino acid at the site of the premature stop codon can increase the expression of the full-length protein as well as the reduction of nonsense-mediated decay [
142
]. Until now, the detailed mechanisms by which TRIDs induce their therapeutic effect are not completely understood. However, it is known that TR efficiency depends on the competition between decoding of the stop codon by a near-cognate tRNA and stop codon recognition by eRF1 [
141
]. There are two main classes of TRIDs—aminoglycoside and non-aminoglycoside TRIDs. From the first group, gentamicin has been most widely used to analyse TR in different disease models, including those affected with IRD. The efficacy of gentamicin was studied in different rat and mouse models—(i) the S334ter rat model that carries a nonsense mutation (c.1002T>A; p.S334*) in the gene encoding the visual pigment rhodopsin (
Rho
) and (ii) the
rd12
mouse, a model for retinal degeneration caused by a nonsense mutation in
Rpe65
. Systematic gentamicin treatment showed different results between the two models. In S334ter rats, a partial rescue of photoreceptor survival was noticed however, no rescue was observed in
rd12
mice [
143
]. Studies on genes mutated in Usher syndrome (a syndromic form of IRD accompanied by hearing impairment) demonstrated that aminoglycosides and derivatives thereof can mediate TR of different disease-causing PTCs in the
PCDH15
and
USH1C
genes, in
in vitro
translation assays as well as in cell culture experiments [
144
,
145
,
146
,
147
,
148
,
149
].
The non-aminoglycoside TRID PTC124 (also known as Ataluren) is used in a wide range of diseases including Duchenne muscular dystrophy and cystic fibrosis [
150
,
151
,
152
,
153
], with several clinical studies having been performed or ongoing. For IRDs, promising results using PTC124 have been reported by the restoration of full-length RP2 protein, the encoding gene of which is mutated in X-linked RP, as well as for the REP1 protein, encoded by the
CHM
gene that is mutated in choroideremia. In X-linked RP, rod photoreceptors mainly suffer from the loss of RP2, although the effect on cone photoreceptors and RPE cells should not be neglected. Schwarz and colleagues used TRIDs (both the aminoglycoside G418 as well as PTC124) to successfully increase full-length RP2 protein levels in the presence of the p.R120ter (c.358C>T; p.R120 *) mutation. In choroideremia, many nonsense mutations in
CHM
have been described. Several studies attempted to use TRIDs, including PTC124 or its analogue PTC-414, to increase REP1 protein levels, either in cellular (human fibroblasts, iPSC-derived RPE) or animal (zebrafish) models [
154
,
155
,
156
]. The efficacy of read-through was found to be considerably variable, not only depending on the type of nonsense codon and its surrounding sequence but also on the remaining transcript levels that can differ significantly between patients [
142
]. Another study, based on topical administration of PTC124 to the eye, demonstrated functional restoration of the harmonin protein in a mouse model for Usher syndrome type 1c (USH1C) [
141
,
145
].
One of the disadvantages of the systemic use of TRIDs is that for many diseases, drugs need to go through physical barriers (such as the blood-brain barrier or BRB). These barriers can reduce compound availability in the targeted organ after treatment, illustrating the need to increment the dosage administered to the patients or to change the delivery method of TRIDs (commonly intraperitoneal) towards local administration [
141
]. One strategy to overcome this is the encapsulation of drugs into tissue-specific liposomes [
157
]. In particular for IRDs, topical applications or intraocular injections should be considered in the future.
2.3.2. Restoring Proteostasis (Protein Therapies)
2.3.3. Pathway-Specific Therapies
Cyclic guanosine-monophosphate (cGMP) is a crucial molecule for photoreceptor signal transduction and has two main cellular effectors—cyclic nucleotide gated ion channels (CNGCs) and cGMP-dependent protein kinase G (PKG) [
169
]. It has been reported that over-activation of PKG can be enough to cause photoreceptor cell death and that its activation levels are higher in mutant photoreceptors. Knowing that CNGCs play an important role in driving phototransduction, some interesting observations have been made. The deletion of CNGC beta subunits protects photoreceptors in
rd1
mice that harbour a defect in the
Pde6b
gene, which encodes the phosphodiesterase protein involved in the phototransduction cascade. Therefore, either PKG or CNGCs can be considered as critical disease drivers; consequently, both of them are therapeutic targets for prevention of (further) retinal degeneration [
140
]. As mentioned above, the BRB can prevent the access of therapeutic agents to the retina. Vighi and colleagues overcame this problem using a liposomal drug delivery method, the liposomal cGMP analogue formulation LP-CN03, and demonstrated improved visual function as well as reduced photoreceptor degeneration in mouse models harbouring mutations in different IRD gene orthologues [
140
]. Together, these data suggest that cGMP signalling could be a common pathway to target for the treatment of genetically and phenotypically divergent kinds of retinal degeneration [
140
,
169
].
Another drug previously tested in clinical trials is an orally delivered synthetic cis-retinoid also known as QLT091001. This drug triggered visual restoration in transgenic and naturally occurring mouse and dog models mutant for
Rpe65
[
170
]. The results of the clinical trial NCT01014052 (
Table 3
) showed that QLT091001 did improve visual function in subjects with IRD due to
LRAT
or
RPE65
mutations. Mutations in these genes can cause different subtypes of IRD, usually classified as LCA or RP. Despite this, the exact genetic defect apparently did not affect the drug response in both LCA and RP patients [
171
]. Upon oral administration of QLT091001, patients showed beneficial effects in the remaining photoreceptors of the retina in both eyes, although it did not stop the progression of photoreceptor degradation completely. The safety profile of this drug showed transient adverse effects such as headaches or nausea [
171
]. In theory, QLT091001 could be combined with gene augmentation therapy, although the combination of treatments, in particular for orphan diseases, poses additional challenges on drug development.
3. Delivery of Therapeutic Molecules
3.1. Methods of Ocular Delivery
Despite its small size, the eye contains several cell and tissue types that can be targeted by therapeutic agents [
172
]. Local tolerability of vector administration in IRDs has been reported in various studies and no serious systemic problems have been indicated so far [
23
]. Commonly, we can identify two main potential delivery methods—subretinal and intravitreal injections. Subretinal injections are considered to be more prone towards complications (e.g., retinal detachment), especially in patients with affected retinal integrity, compared to intravitreal injection. Despite, the vector is delivered much closer to its target cells/region, allowing an efficient vector transduction in RPE cells and/or photoreceptors [
173
]. In contrast, intravitreal injections allow an easier targeting of the optic nerve, lens or inner retina and less often the outer retina or the anterior chamber. It also shows fewer procedure-related complications but the transduction of the viral vector into photoreceptors and RPE cells is less efficient when compared with subretinal injections [
23
,
174
]. Apart from these two methods, there is an alternative system—Suprachoroidal delivery. With this, therapeutic agents are delivered directly to the suprachoroidal space located between the sclera and choroid [
175
,
176
]. Preclinical animal studies showed that suprachoroidal drug delivery has the same safety profile as intravitreal injections [
177
,
178
,
179
]. Results from completed clinical trials (e.g., NCT01789320) have also showed encouraging safety profiles [
180
], although potential spreading of therapeutic vectors into the systemic circulation needs to be considered.
Finally, there is the possibility of topical delivery by the use of eye drops. However, this approach can result in lower bioavailability and increased clearance in comparison to the different types of injections. In addition, ocular barriers decrease the bioavailability of topically applied therapeutic agents to less than 5% [
181
]. Therefore, the effectiveness of this method is less than those reported with the systems previously described.
3.2. Vectors
Besides the routes of administration, a wide range of viral and non-viral gene delivery approaches has been developed over the last twenty years, in order to allow an efficient transfer of therapeutic molecules to the right target cell. Choosing one over another depends on the cell or tissue type to be targeted, the cloning capacity of each of the vectors and safety concerns [
23
].
4. Other IRD Treatments
While gene-based therapies may stop or at least delay, the progression of the disease, other promising approaches that are less dependent of the genetic cause of the disease are also gaining momentum. This is for instance the case for stem cell-derived retinal cell transplantation (cell therapy) or the use of prosthetic implants.
4.1. Cell Therapy
Retinal cells, like other cells within the central nervous system, present a low regeneration potential. Therefore, cell therapies could be applied in those IRDs that present an advanced degeneration stage. The use of this type of therapy aims to result in an integration of exogenously delivered cells and subsequent re-activation of visual function [
45
]. Patient-derived somatic cells could be used to reprogram induced pluripotent stem cells (iPSCs) that subsequently could be differentiated to retinal precursor cells and introduced into the eye to replace either photoreceptors or supporting cells (e.g., RPE) that provide trophic and metabolic maintenance to prevent further degeneration of the remaining photoreceptors [
209
]. Genome editing tools (such as those described in
Section 2.1.2
) can be used to repair patient-specific mutations, to eventually transplant the corrected cells back to the patient [
210
]. The use of embryonic stem cells (ESCs) would not require this genetic modification and it has been demonstrated that these cells also have a high capacity to differentiate into retinal precursors [
45
,
211
]. However, the use of ESC is associated with ethical considerations not present with the use of iPSCs generated from the patients. Moreover, the transplantation of iPSC-derived retinal cells would avoid the risk of immune rejection after surgery [
45
].
Following up on the promising advances that demonstrated that stem cell-derived photoreceptor transplantation can restore rod- and cone-mediated vision [
211
,
212
,
213
,
214
], recent studies showed that these transplanted cells are not able to integrate well into non-degenerative host retinas. Instead, it seems that post-mitotic donor and host photoreceptors can exchange RNA and proteins, including rhodopsin [
215
,
216
]. The visual improvements measured after stem cell-derived photoreceptor transplantation could thus also be the result of endogenous photoreceptors that have taken up donor cell-derived proteins. Recently, it was demonstrated that cell integration as well as cytoplasmic transfer can occur but the relative contributions of each depend on the environment within the host retina [
45
,
216
].
Some cell therapies that are already tested in the clinic use hESC or hiPSC-derived RPE, for treating diseases such as AMD or Stardgardt disease [
217
,
218
,
219
,
220
]. For the study employing iPSC-derived RPE transplantation, a one-year follow-up analysis indicated that the transplantation did not generate any adverse effect and no immune response was induced, even in the absence of immunosuppression. One of the studies using hESC-derived RPE also reported an improvement of vision in patients with age-related macular degeneration as well as those with Stargardt disease [
218
]. Nevertheless, more studies are needed to provide reproducible protocols to generate iPSC-derived photoreceptor precursor cells. In addition, if such cells are transplanted after gene mutation repair, stringent quality controls of the iPSCs before and after genome editing are extremely important [
45
].
4.2. Retinal Prosthetic Implants
5. Concluding Remarks
The approval of LuxturnaTM as the first approved gene augmentation therapy for an ocular disease has provided an enormous impulse to the development of retinal therapeutics, both in academic centres as well as in industry. As summarized in this review, current developments range from gene augmentation, splice modulation, genome editing, optogenetics and compound therapies to cell replacement strategies and retinal prostheses. Patients with progressive vision loss are in need of treatment, to improve their quality of life by (partially) restoring vision or at least slow down or halt the progression of their diseases. Which strategy has the highest chance of being safe and efficacious depends on many factors, including the person's genetic defect(s) and the stage of disease accompanied by the appearance of the retina. However, therapeutic development also requires appropriate cellular and/or animal models to test the efficacy of a given approach, as well as clinical endpoints to determine whether an improvement of therapeutic intervention can be measured. Only when fundamental and translational scientists, clinicians, funding agencies, patient organizations, industry and regulatory bodies join forces, we can fight these devastating conditions and provide hope and vision, for thousands of visually impaired individuals worldwide.
Author Contributions
I.V.D., A.G. and R.W.J.C. collected data, wrote the manuscript, and performed careful proofreading. All authors approve the final content of the manuscript.
Funding
I.V.D.: A.G. and R.W.J.C. research is supported by Foundation Fighting Blindness USA, grant no. PPA-0517-0717-RAD. In addition, A.G. and R.W.J.C. research is supported by the Algemene Nederlandse Vereniging ter Voorkoming van Blindheid, Stichting Blinden-Penning, Landelijke Stichting voor Blinden en Slechtzienden, Stichting Oogfonds Nederland, Stichting Macula Degeneratie Fonds and Stichting Retina Nederland Fonds (who contributed through UitZicht 2015-31 and 2018-21), together with the Rotterdamse Stichting Blindenbelangen, Stichting Blindenhulp, Stichting tot Verbetering van het Lot der Blinden, Stichting voor Ooglijders and Stichting Dowilvo. A.G. was also supported by an Off Road grant (91215203) from ZonMw. The funding organizations had no role in the design or conduct of this research. They provided unrestricted grants.
Conflicts of Interest
I.V.D. declares no conflict of interest. A.G. and R.W.J.C. are inventors of several patents related to work cited in this review based on splicing modulation for
ABCA4
(P6063546EP, 18184432.5-111, 18210107.1-1111) and R.W.J.C also for splicing modulation of
CEP290
(P6037013PCT).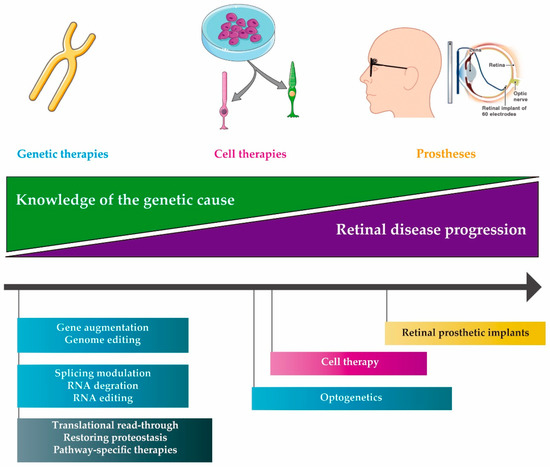 Figure 1. Schematic representation of potential therapeutic approaches according to the retinal disease progression and the knowledge of the genetic cause of the retinal disease. Genetic therapies (blue boxes) are preferred in the first steps of the disease progression (retinal cells are still alive) and when knowledge of the genetic causes of the diseases is present. As the disease progresses and the knowledge of the pathogenesis decreases, other approaches such as cell therapies (pink box) or retinal prosthetic implants (yellow box) can be used. Compound therapies (black box), based on pharmacological treatments, could be used as an alternative approach when the genetic cause of the disease or the pathway involved are either known or unknown. For late-stage diseases, optogenetics or retinal prostheses may be the only option. Image sources—smart.servier.com and Doheny Retina Institute (new.bbc.co.uk/2/hi/science/nature/6368089).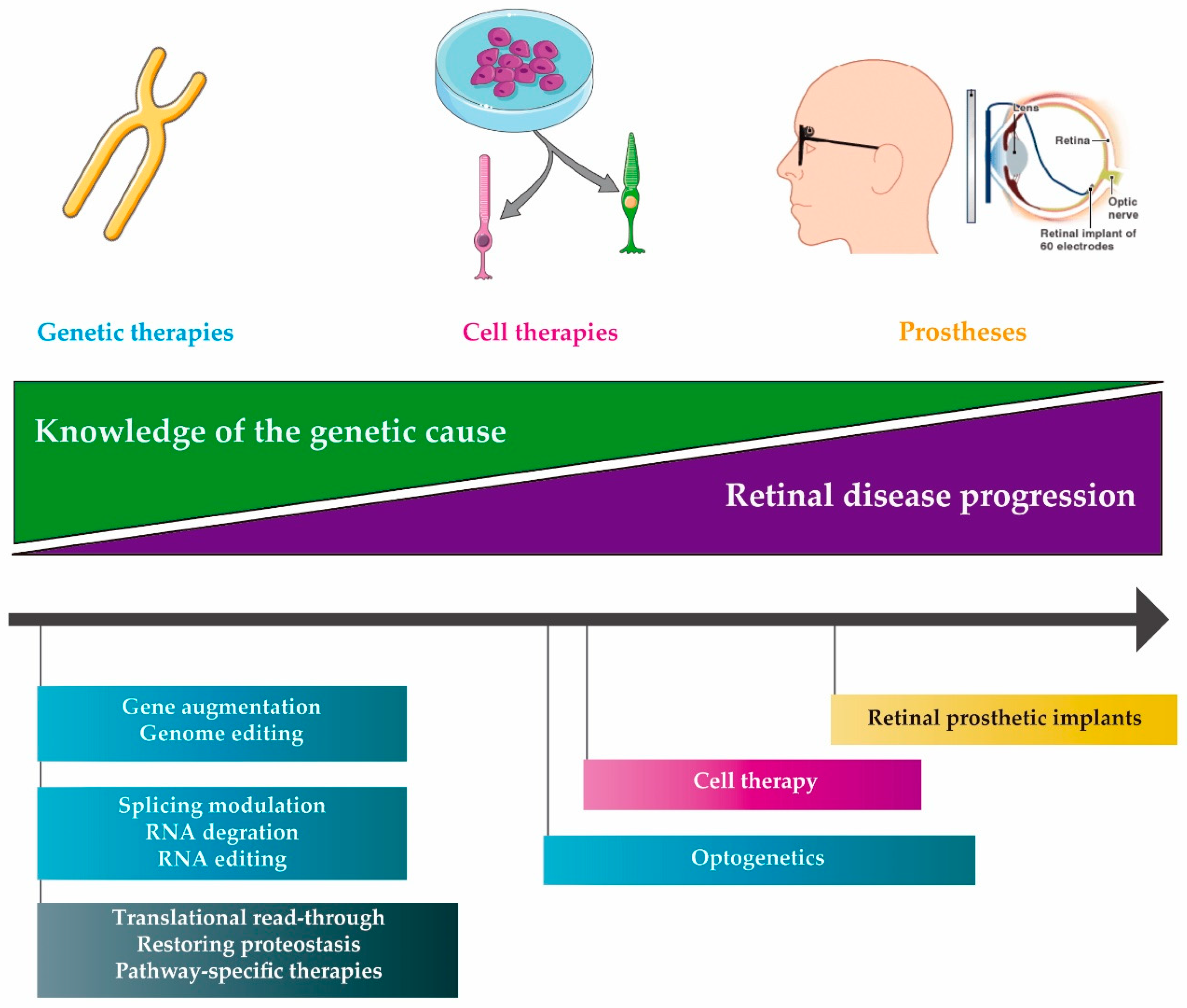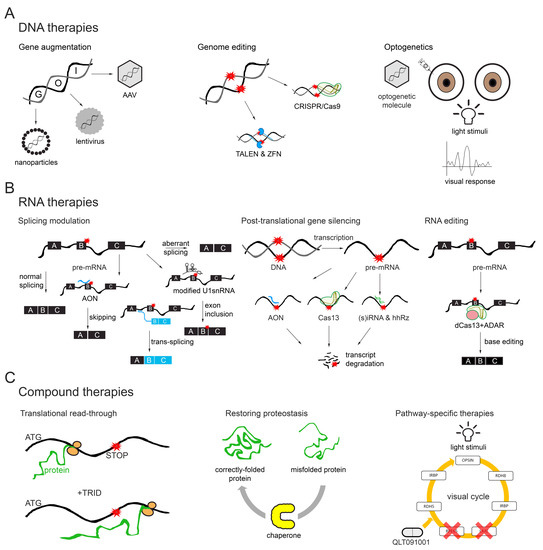 Figure 2.
Schematic and simplified representation of the several types of molecular therapies. (
A
) DNA therapies are represented by gene augmentation, genome editing and optogenetics. In gene augmentation, the entire coding sequence of the gene of interest (GOI) is delivered using different vectors. Genome editing employs nucleases able to edit the DNA at a specific position; CRISPR/Cas9 is depicted in green, guide RNA in dark yellow and ZFN and TALEN in blue. Mutations are depicted in red. In optogenetics, a light-sensitive molecule is delivered to the eye to give photosensitive properties to remaining retinal neurons. (
B
) RNA therapies; splicing modulation can be achieved using AONs (in dark blue) for (pseudo)exon skipping or modified U1 snRNA (in black) to favour exon inclusion in cases where mutations (in red) are found in the donor splice site. Trans-splicing occurs between two independent RNA molecules—The original transcript and the exogenous molecule without the mutation. In all cases, splicing is modulated to obtain a transcript with full or residual function. Post-translational gene silencing can be achieved by degrading the RNA transcript using AONs (dark blue), Cas13 (green) with a guide RNA (dark yellow) or (s)iRNA and hhRz (in green). These approaches can be used for dominant-negative mutations by promoting allele-specific degradation. Mutations are indicated in red. With RNA editing using CRISPR/Cas technology, dead Cas13 (in green) is conjugated with an adenosine deaminase (dark yellow) acting at the RNA level (ADAR, in light red). This molecule is guided to the mutation using a guide RNA binding on top of the mutation (in red) to induce a G-to-A transversion. (
C
) Representative examples of compound therapies. Translational read-through allows the ribosome to continue protein synthesis despite a premature stop codon (in red) in the presence of the translational read-through-inducing drugs (TRIDs). Restoring proteostasis can be accomplished by using chaperones to properly fold proteins. QLT091001 is a pathway-specific therapy that acts in the visual cycle and can be used when for example,
RPE65
or
LRAT
are mutated.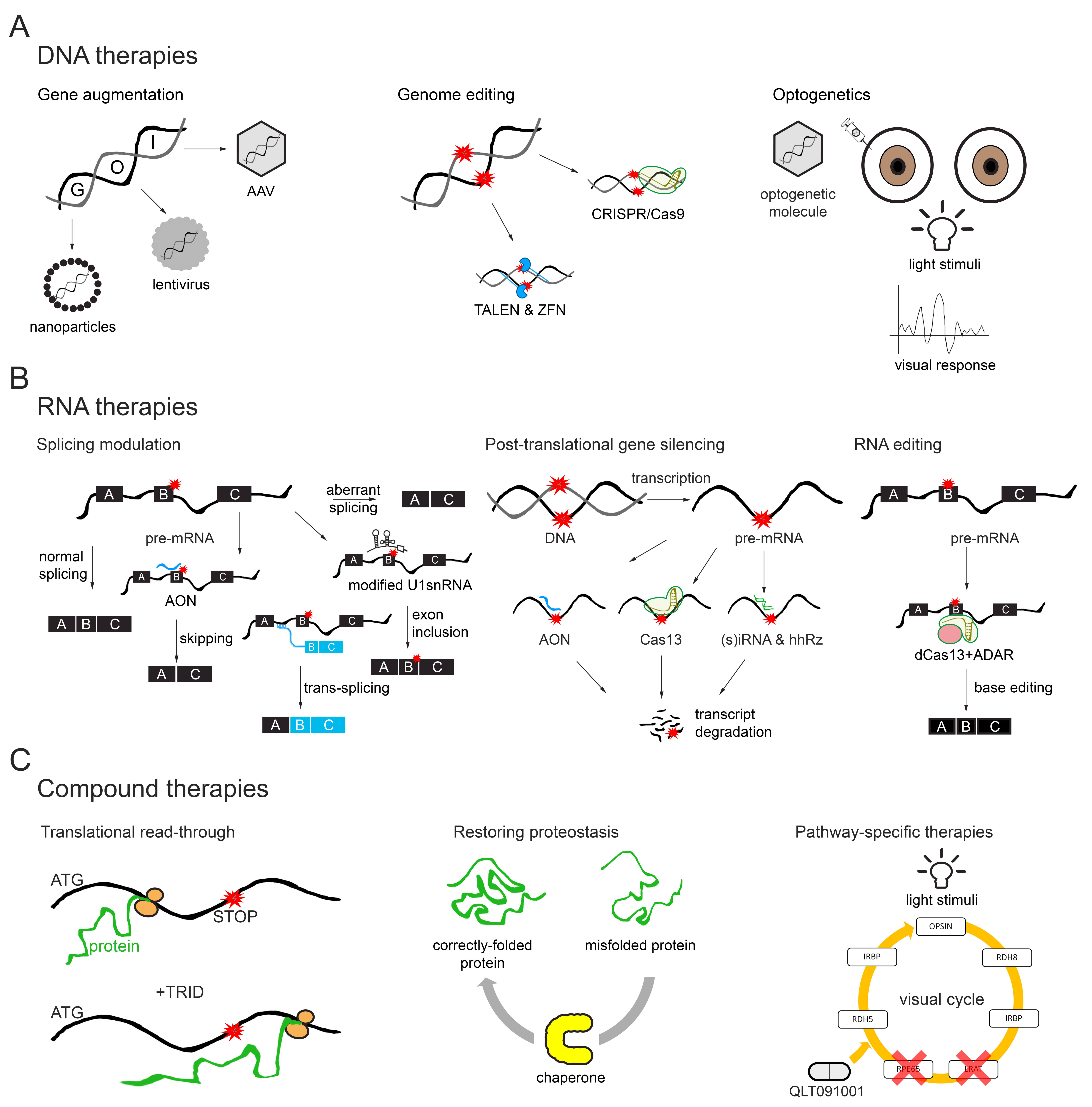 Gene/Condition
Therapeutic Molecule
Clinical Trial Identifier
Status

Gene Augmentation

ABCA4

SAR422459
NCT01367444
Recruiting
SAR422459
NCT01736592
Enrolling by invitation

CHM

AAV2-hCHM
NCT02341807
Active, not recruiting
AAV2-REP1
NCT03496012
Recruiting
AAV2-REP1
NCT03507686
Recruiting
AAV2-REP1
NCT02407678
Active, not recruiting
rAAV2.REP1
NCT02671539
Active, not recruiting
rAAV2.REP1
NCT02077361
Completed
rAAV2.REP1
NCT01461213
Completed
AAV2-REP1
NCT03584165
Enrolling by invitation
AAV2-REP1
NCT02553135
Completed

CNGA3

AGTC-402
NCT02935517
Recruiting
AAV2/8-hG1.7p.coCNGA3
NCT03758404
Recruiting
rAAV.hCNGA3
NCT02610582
Active, not recruiting

CNGB3

rAAV2tYF-PR1.7-hCNGB3
NCT02599922
Recruiting
AAV2/8-hCARp.hCNGB3
NCT03001310
Recruiting
AAV-CNGB3
NCT03278873
Recruiting

MERTK

rAAV2-VMD2-hMERTK
NCT01482195
Recruiting

MYO7A

UshStat
NCT02065011
Enrolling by invitation

PDE6B

AAV2/5-hPDE6B
NCT03328130
Recruiting

RPE65

AAV OPTIREP
NCT02946879
Recruiting
rAAV2-CBSB-hRPE65
NCT00481546
Active, not recruiting
AAV2-hRPE65v2-
NCT00516477
Active, not recruiting
AAV2-hRPE65v2
NCT00999609
Active, not recruiting
AAV2-hRPE65v2
NCT01208389
Active, not recruiting
AAV2-hRPE65v2
NCT03602820
Active, not recruiting
tgAAG76 (rAAV 2/2.hRPE65p.hRPE65)
NCT00643747
Completed
rAAV2-CB-hRPE65
NCT00749957
Completed
rAAV2-hRPE65
NCT00821340
Completed
rAAV2/4.hRPE65
NCT01496040
Completed
AAV RPE65
NCT02781480
Completed

RLBP1

CPK850
NCT03374657
Recruiting

RPGR

AAV8-RPGR
NCT03116113
Recruiting
AAV2/5-hRKp.RPGR
NCT03252847
Recruiting
rAAV2tYF-GRK1-RPGR
NCT03316560
Recruiting

RS1

AAV8-scRS/IRBPhRS
NCT02317887
Recruiting
rAAV2tYF-CB-hRS1
NCT02416622
Active, not recruiting

Genome editing

CEP290

EDIT-101 (AGN-151587)
NCT03872479
Recruiting

Optogenetics

Advanced RP
RST-001
NCT02556736
Recruiting
Non-syndromic RP Retinitis Pigmentosa
GS030-DP
NCT03326336
Recruiting
Black and gray are just used to indicate the different sectiond and can be considered as headers. Gene or disease condition (first column), therapeutic molecule (second column), clinical trial identifier (third column) and the current status of the trial (last column) are indicated. Completed trials are highlighted in bold. Data obtained from https://clinicaltrials.gov/. RP: retinitis pigmentosa.
Gene
Therapeutic Molecule
Clinical Trial Identifier
Status

CEP290

QR-110
NCT03140969
Active, not recruiting
QR-110
NCT03913130
Recruiting
QR-110
NCT03913143
Recruiting

USH2A

QR-421a
NCT03780257
Recruiting
Black is just used to indicate the different sectiond and can be considered as headers. Gene (first column), therapeutic molecule (second column), clinical trial identifier (third column) and current status of the trial (last column) are indicated. Data obtained from https://clinicaltrials.gov/.
Gene
Therapeutic Molecule
Clinical Trial Identifier
Status

ABCA4

ALK-001
NCT02402660
Recruiting
Zimura
NCT03364153
Active, not recruiting
Emuxustat
NCT03772665
Recruiting
Emuxustat
NCT03033108
Completed

RPE65

QLT091001
NCT01014052
Completed
QLT091001
NCT01521793
Completed
QLT091001
NCT01543906 *
Completed

RS1

Dorzolamide 2% TID or brinzolamide 1% TID
NCT02331173
Completed
Black is just used to indicate the different sectiond and can be considered as headers. Gene (first column), therapeutic molecule (second column), clinical trial identifier (third column) and current status of the trial (last column) are indicated. Completed trials are highlighted in bold. Data obtained from https://clinicaltrials.gov/. * Of note, Trial NCT01543906 describes the use of QLT091001 in patients with a dominant

RPE65

mutation (unlike most

RPE65

mutations inherited in an autosomal recessive manner).

© 2019 by the authors. Licensee MDPI, Basel, Switzerland. This article is an open access article distributed under the terms and conditions of the Creative Commons Attribution (CC BY) license (http://creativecommons.org/licenses/by/4.0/).