Open Access This article is
freely available
re-usable
Article
DNA Testing Reveals the Putative Identity of JB55, a 19th Century Vampire Buried in Griswold, Connecticut
1
Armed Forces Medical Examiner System's Armed Forces DNA Identification Laboratory (AFMES-AFDIL), Dover Air Force Base, Dover, DE 19902, USA
2
SNA International (Contractor Supporting the AFMES-AFDIL), Alexandria, VA 22314, USA
3
Department of Biology – Forensic and Investigative Sciences Program, Indiana University-Purdue University Indianapolis, Indianapolis, IN 46202, USA
4
National Museum of Health and Medicine, Anatomical Division, Defense Health Agency, Silver Spring, MD 20910, USA
5
Defense POW/MIA Accounting Agency, Offutt Air Force Base, Sarpy County, NE 68113, USA
6
Department of Anthropology, University of Connecticut, Storrs, CT 06269, USA
7
Independent Researcher, Plainville, CT 06062, USA
8
Forensic Genetics Unit, Institute of Forensic Sciences, University of Santiago de Compostela, 15782 Santiago de Compostela, Spain
9
Institute of Legal Medicine, Medical University of Innsbruck, 6020 Innsbruck, Austria
10
Forensic Science Program, The Pennsylvania State University, University Park, PA 16802, USA
*
Author to whom correspondence should be addressed.
Received: 4 June 2019 / Accepted: 20 August 2019 / Published: 22 August 2019
Abstract
:
In 1990 in Griswold, Connecticut, archaeologists excavated a burial found in a "skull and crossbones" orientation. The lid of the 19th century coffin had brass tacks that spelled "JB55", the initials of the person lying there and age at death. JB55 had evidence of chronic pulmonary infection, perhaps tuberculosis. It is possible that JB55 was deemed a vampire due to his disease, and therefore had to be "killed" by mutilating his corpse. In an attempt to reveal the identity of JB55, DNA testing was performed. Ancestry informative single nucleotide polymorphism (SNP) analysis using the Precision ID Ancestry Panel indicated European ancestry. A full Y-chromosomal short tandem repeat (Y-STR) profile was obtained, belonging to haplogroup R1b. When the Y-STR profile was searched in the publicly accessible FamilyTreeDNA R1b Project website, the two closest matches had the surname "Barber". A search of historical records led to a death notice mentioning John Barber, whose son Nathan Barber was buried in Griswold in 1826. The description of Nathan Barber closely fits the burial of "NB13," found near JB55. By applying modern forensic DNA tools to a historical mystery, the identity of JB55 as John Barber, the 19th century Connecticut vampire, has been revealed.
Keywords:
vampire; surname prediction; ancestry estimation; historical archaeology; Next-Generation Sequencing; DNA identification; SNP; Y-STR; genetic genealogy; tuberculosis
Supplementary Materials
The following are available online at
https://www.mdpi.com/2073-4425/10/9/636/s1
, Table S1: Y-SNP typing of several R1b branches specific to Western European ancestry, Table S2: Genotype and number of reads per SNP for JB55-1 and JB55-2 samples, Table S3: JB55-1 sequenced Y-STR data obtained from STRait Razor v.2.6., Table S4: JB55-2 sequenced Y-STR data obtained from STRait Razor v.2.6.
Author Contributions
Conceptualization, C.M.; data generation, J.D.-H. and E.M.G.; data analysis, J.D.-H., E.M.G., S.K.F., C.X., M.d.l.P., and C.M.; historical and genealogical research, K.S.G. and S.K.F.; resources, S.W., W.P., and T.P.M.; writing, J.D.-H., E.M.G., S.K.F., C.X., M.d.l.P., and C.M.; review and editing, all authors; funding acquisition, S.W., W.P., and T.P.M.
Funding
This research was not funded by any external granting agency.
Acknowledgments
The authors would like to thank the NMHM and the AFMES-AFDIL administrations in support of this project. We also thank Kimberly Sturk-Andreaggi of SNA International and the AFMES-AFDIL; Ellen Greytak, Janet Cady, and CeCe Moore of Parabon NanoLabs; Julia Sommer of SNA International and the Defense POW/MIA Accounting Agency; Odile Loreille of the FBI Laboratory; and Jonathan King and August Woerner of the University of North Texas Health Science Center, for thoughtful discussions about JB55.
Conflicts of Interest
The authors declare no conflict of interest. The assertions herein are those of the authors and do not necessarily represent the official position of the U.S. Department of Defense, the Defense Health Agency, or its entities including the Armed Forces Medical Examiner System and the National Museum of Health and Medicine. Any mention of commercial products was done for scientific transparency and should not be viewed as an endorsement of the product or manufacturer.
Appendix A. Illumina Sequencing of Yfiler Amplification Product
Yfiler amplicon product was purified using 1.8x Agencourt AMPure XP purification. Amplicon concentration for downstream library preparation was evaluated with the Agilent DNA High Sensitivity Kit on the 2100 BioAnalyzer instrument. Libraries were prepared using the KAPA Hyper Prep kit for Illumina platforms (Kapa Biosystems, Wilmington, MA, USA) following the manufacturer's protocol for sequencing on the Illumina MiSeq. Adapter ligation utilized dual-indexed adapters for Illumina (Integrated DNA Technologies, Skokie, IL, USA) at a concentration of 15 μM. No library amplification was performed. Libraries were quantified using the Agilent DNA High Sensitivity Kit on the 2100 BioAnalyzer instrument. Based on the molarity, samples were individually normalized to 4 nM and pooled in equal volume for sequencing. The final pool was diluted to 10 pM and spiked with denatured PhiX Sequencing Control v3 at a 5% concentration. Single-end sequencing was completed for 500 cycles using an Illumina MiSeq Reagent Kit v3 (600-cycle) on the MiSeq FGx Desktop Sequencer. STRait razor v.2.6 [
23
] was used for sequenced STR data analysis.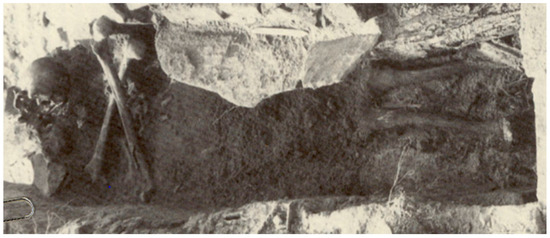 Figure 1. Photograph of JB55 showing the long bones arranged in an "X" directly under the skull in a "skull and cross bones" orientation.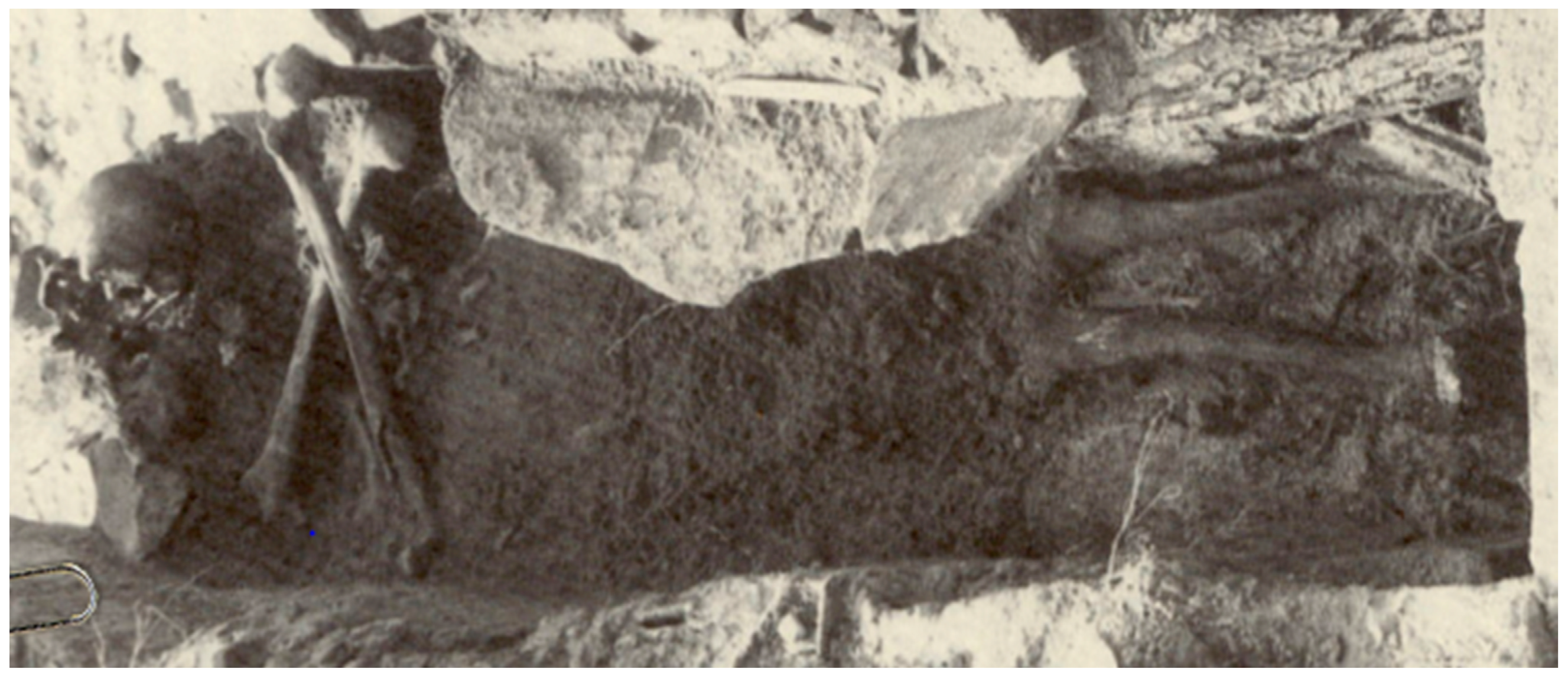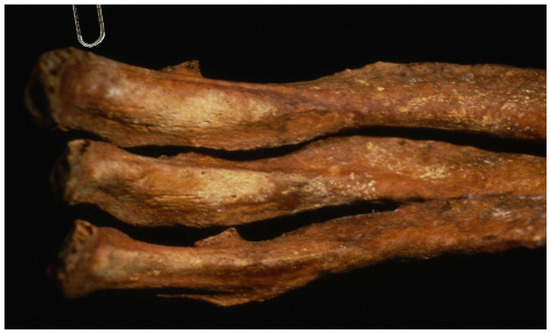 Figure 2. The ribs of JB55 showing pathological lesions consistent with chronic lung infection, perhaps caused by tuberculosis.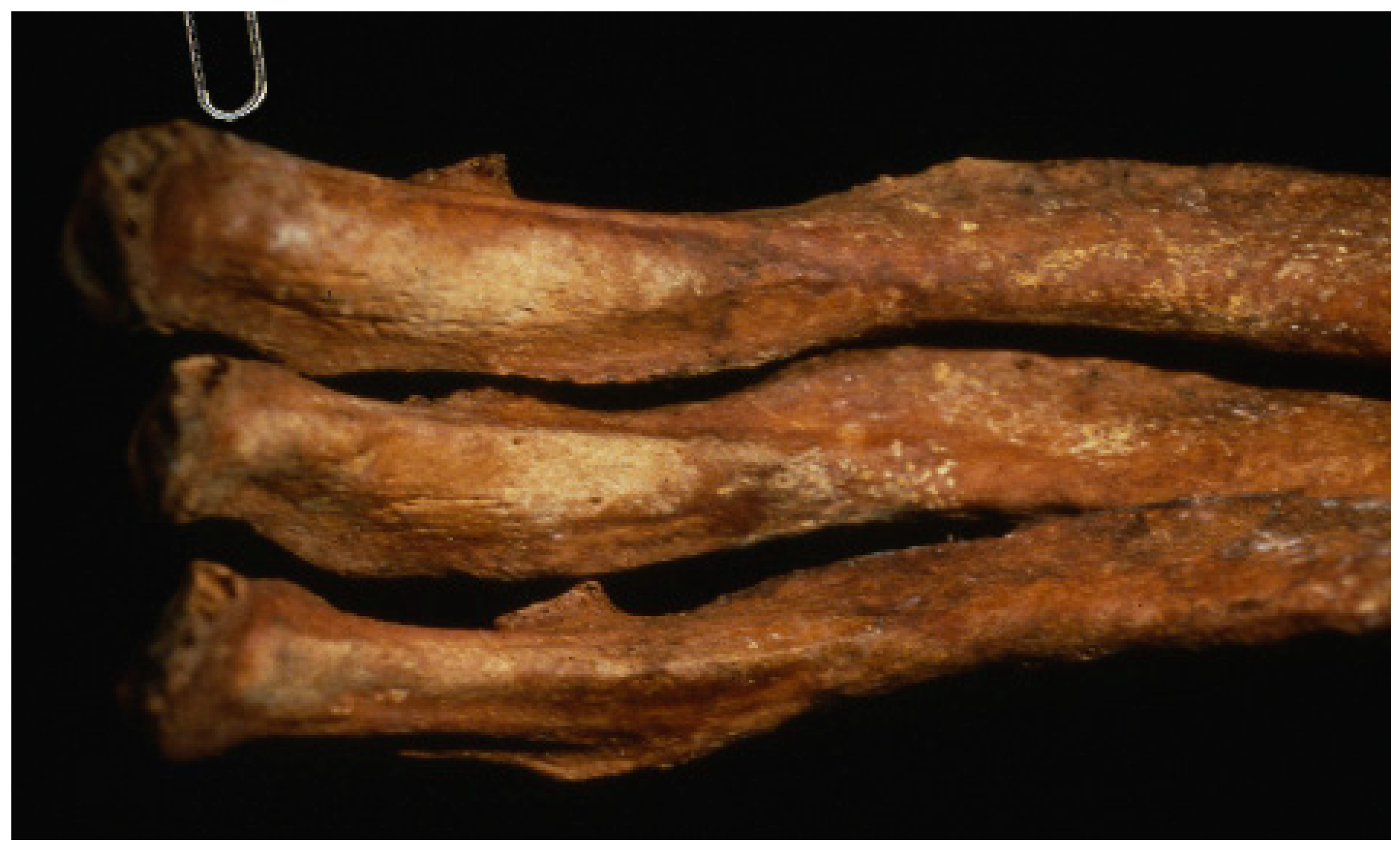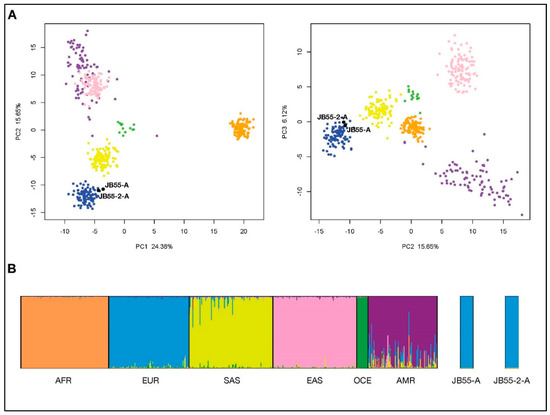 Figure 3. Bio-geographical ancestry inference for the two JB55 extracts using the Precision ID Ancestry single nucleotide polymorphism (SNP) panel and custom reference data. (a): Graphical representation of the principal components analysis (PCA) showing principal components (PC) 1 and 2 (left), and 2 and 3 (right). (b): Plot represents proportions of ancestry for K = 6 obtained with STRUCTURE. Individuals are colored in the PCA according to the six different clusters corresponding with six major populations in the STRUCTURE plot—AFR: Africa, EUR: Europe, SAS: South Asia, EAS: East Asia, OCE: Oceania and AMR: America.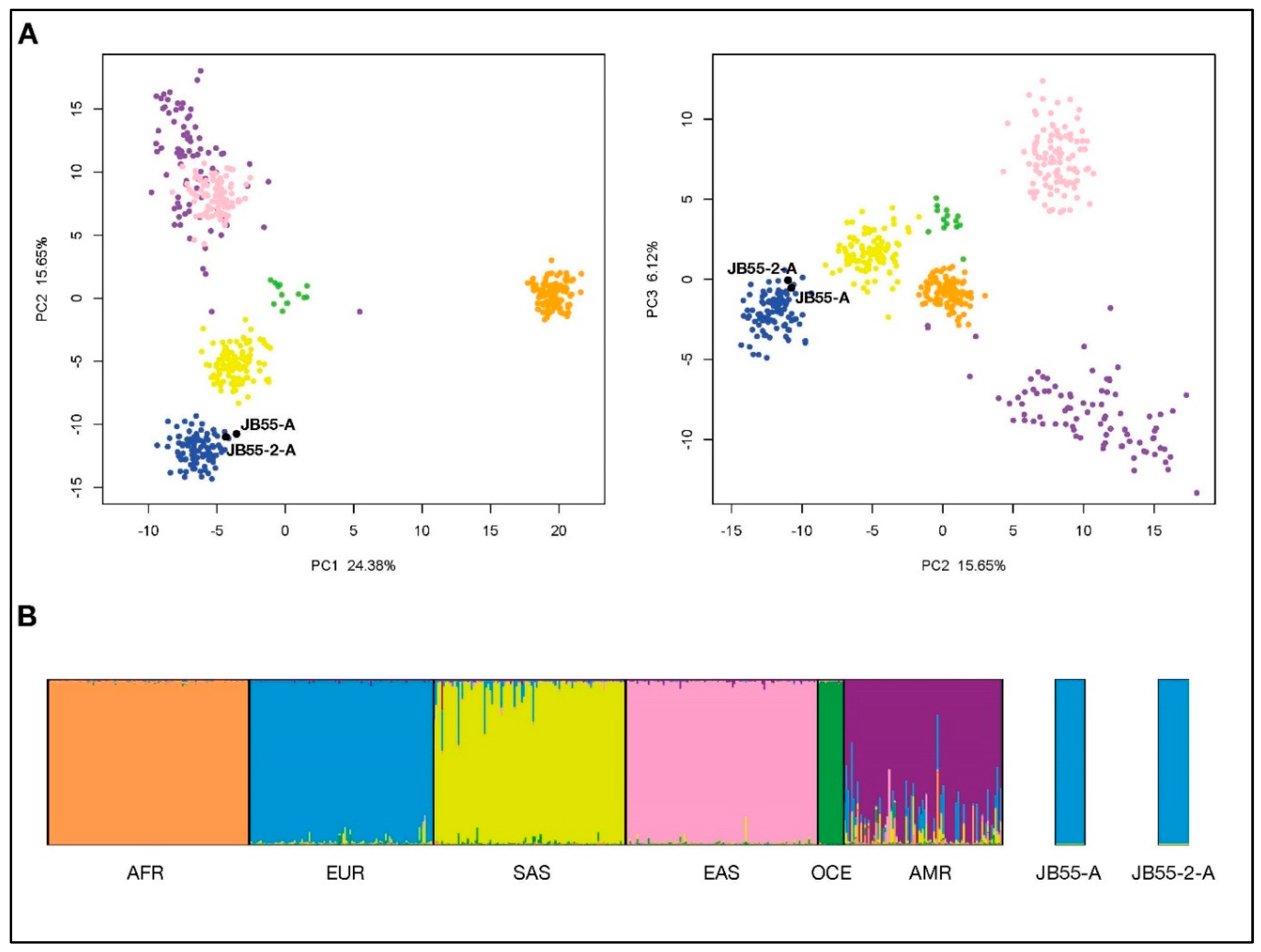 Table 1. Plexor HY DNA quantification results from JB55 extracts 1 and 2, and corresponding reagent blanks (RBs). DNA concentration values are shown, and all DNA extracts contained 200 µL volume.
Sample ID
Autosomal DNA Concentration
(99 bp target) (ng/µL)
Y-Chromosomal DNA Concentration
(133 bp target) (ng/µL)
Autosomal:
Y-Chromosomal DNA Ratio
JB55-1
0.2009
0.0871
2.3072
RB-1
0
0
0
JB55-2
0.1735
0.0802
2.1624
RB-2
0
0
0

Table 2. Y-chromosomal short tandem repeat (Y-STR) profiles obtained from each of the two JB55 DNA extracts using a low copy number AmpFISTR Yfiler amplification procedure and allelic separation by capillary electrophoresis.
| Locus | JB55-1 Allele(s) | JB55-2 Allele(s) |
| --- | --- | --- |
| DYS19 | 15 | 15 |
| DYS385 | 11,13 | 11,13 |
| DYS389I | 13 | 13 |
| DYS389II | 29 | 29 |
| DYS390 | 23 | 23 |
| DYS391 | 11 | 11 |
| DYS392 | 13 | 13 |
| DYS393 | 13 | 13 |
| DYS437 | 15 | 15 |
| DYS438 | 12 | No Data |
| DYS439 | 12 | 12 |
| DYS448 | 19 | 19 |
| DYS456 | 15 | 15 |
| DYS458 | 17 | 17 |
| DYS635 | 23 | 23 |
| Y GATA H4 | 12 | 12 |

Table 3. DYS438 alleles obtained from Illumina sequencing of the Yfiler amplification product from the two JB55 DNA extracts. The stutter product with the highest read count is also shown (11 for JB55-1 and 13 for JB55-2).
JB55-1
JB55-2
Allele
Read Count
% of Total Reads
Allele
Read Count
% of Total Reads
12
12,343
96.3%
12
8
88.9%
11
386
3.0%
13
1
11.1%
Other
87
0.7%
Other
0
0%
Total
12,816
100%
Total
9
100%

© 2019 by the authors. Licensee MDPI, Basel, Switzerland. This article is an open access article distributed under the terms and conditions of the Creative Commons Attribution (CC BY) license (http://creativecommons.org/licenses/by/4.0/).