Open Access This article is
freely available
re-usable
Article
Cloning and Functional Analysis of Lignin Biosynthesis Genes
Cf4CL
and
CfCCoAOMT
in
Cryptomeria fortunei
1
Key Laboratory of Forest Genetics & Biotechnology of Ministry of Education, Nanjing Forestry University, Nanjing 210037, China
2
Co-Innovation Center for Sustainable Forestry in Southern China, Nanjing forestry University, Nanjing 210037, China
3
College of Forestry, Nanjing Forestry University, Nanjing 210037, China
†
These authors contributed equally to this work.

Received: 4 July 2019 / Accepted: 12 August 2019 / Published: 15 August 2019
Abstract
:
Cryptomeria fortunei
, also known as the Chinese cedar, is an important timber species in southern China. The primary component of its woody tissues is lignin, mainly present in secondary cell walls. Therefore, continuous lignin synthesis is crucial for wood formation. In this study, we aimed to discover key genes involved in lignin synthesis expressed in the vascular cambium of
C. fortunei
. Through transcriptome sequencing, we detected expression of two genes,
4CL
and
CCoAOMT
, known to be homologous to enzymes involved in the lignin synthesis pathway. We studied the function of these genes through bioinformatics analysis, cloning, vascular cambium expression analysis, and transgenic cross-species functional validation studies. Our results show that
Cf4CL
and
CfCCoAOMT
do indeed function in the pathway of lignin synthesis and likely perform this function in
C. fortunei
. They are prime candidates for future (gene-editing) studies aimed at optimizing
C. fortunei
wood production.
Keywords:
Cryptomeria fortunei
; lignin synthetase; gene cloning; expression analysis; functional verification
Supplementary Materials
The following are available online at
https://www.mdpi.com/2073-4425/10/8/619/s1
. Table S1: Analysis of secondary structure of encoded protein; Table S2: Comparison of plant height and stem diameter after Tobacco Maturity; Table S3: Transverse section cell wall thickness of tobacco stem segments; Figure S1: Hydrophobicity curves of the
Cf4CL
and
CfCCoAOMT
gene encoding protein of
C. fortunei
; Figure S2: Transmembrane pattern map of
Cf4CLC
and
fCCoAOMT
gene encoding protein of
C. fortunei
; Figure S3: Pattern diagram of protein signal peptide encoded by
C. fortunei Cf4CL
and
CfCCoAOMT
gene.
Author Contributions
Conceptualization, J.X.; formal analysis, Z.G., H.H., H.Z., and J.Y.; funding acquisition, J.X.; investigation, Z.G., H.H., H.Z., and J.Y.; project administration, J.X.; writing—original draft, H.H, Z.G.; writing—review and editing, Z.G., J.M.
Funding
This work was supported by National Forestry and Grassland Administration of China, forestry public welfare industry research (201304104), and the Priority Academic Program Development of Jiangsu Higher Education Institutions (PAPD).
Acknowledgments
We would like to give thanks to Remco A. Mentink of Plant Research International, Wageningen University and Research Centre for his careful scientific revision on the manuscript. We also thank reviewers for insightful comments on this article.
Conflicts of Interest
The authors declare no conflicts of interest.

Figure 1.
Amplification of the full length
Cf4CL
and
CfCCoAOMT
gene cDNA from stem vascular cambium total RNA. Primers used are listed in
Table 1
. Each lane represents a technical replicate. (
A
)
Cf4CL
; (
B
)
CfCCoAOMT
.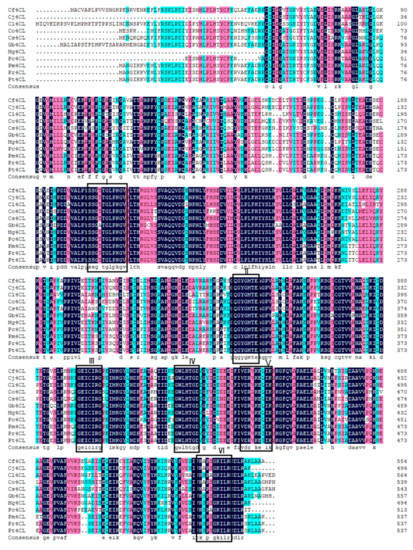 Figure 2.
Multiple sequence alignment of the
4CL
protein using 10 plant species. The species represented by the abbreviations on the left side of the figure and their registration numbers in NCBI are as follows:
Cf4CL
(
C. fortunei
, MK236392),
Cj4CL
(
C. japonica
, AFJ73433.1),
Mg4CL
(
Metasequoia glyptostroboides
, AFJ73430.1),
Pc4CL
(
Pseudotaxus chienii
, AFJ73459.1),
Gb4CL
(
Ginkgo biloba
, AMN10098.1),
Pm4CL
(
Pinus massoniana
, ACO40513.1),
Pt4CL
(
P. taeda
, AAA92669.1),
Pr4CL
(
P. radiate
, ACF35279.1),
Cl4CL
(
Cunninghamia lanceolate
, AFX98059.1),
Co4CL
(
Cinnamomum osmophloeum
, AFG26323.1),
Cs4CL
(
Camellia sinensis
, ASU87411.1). The marked boxes are the six strongly conserved regions.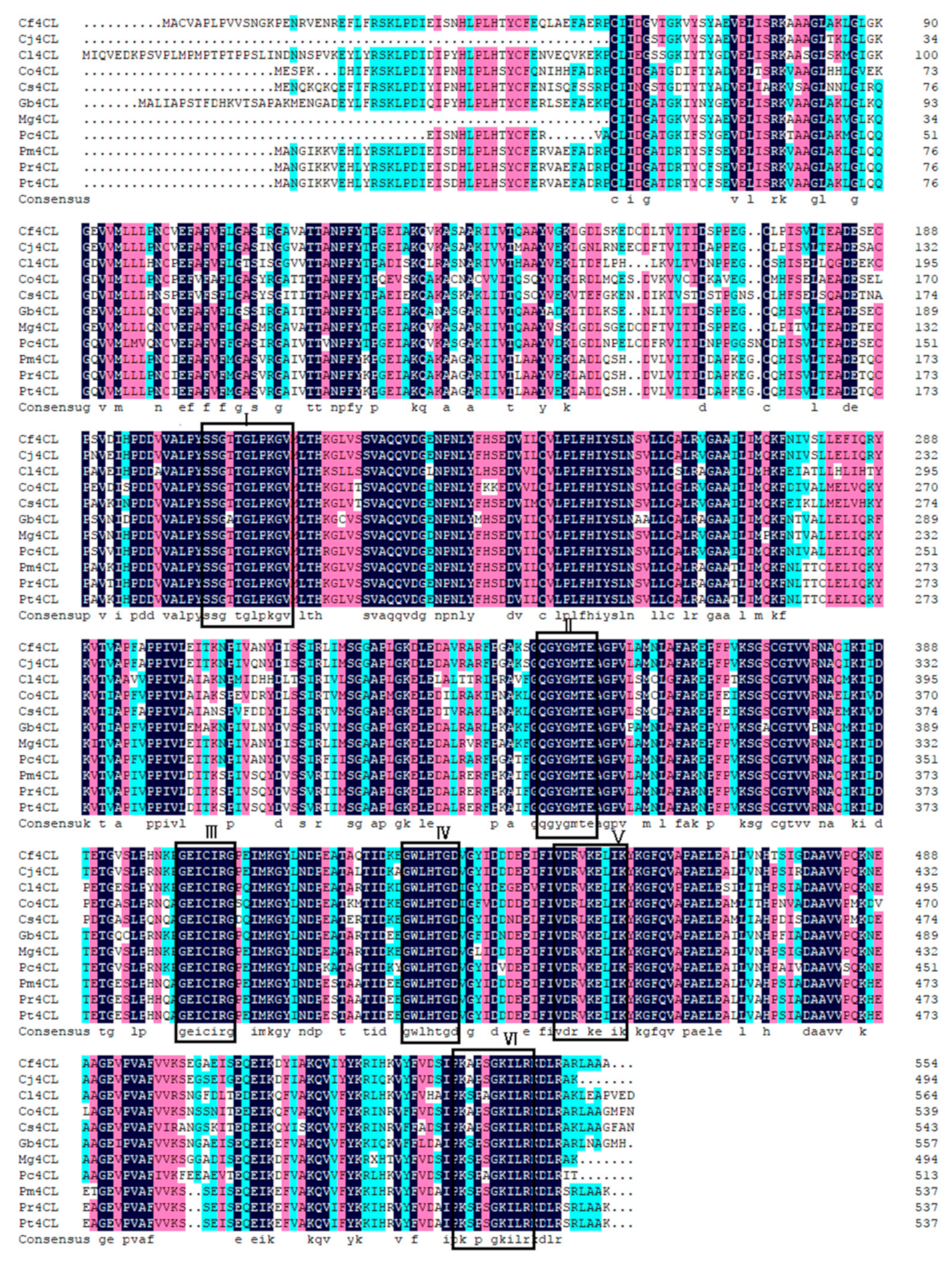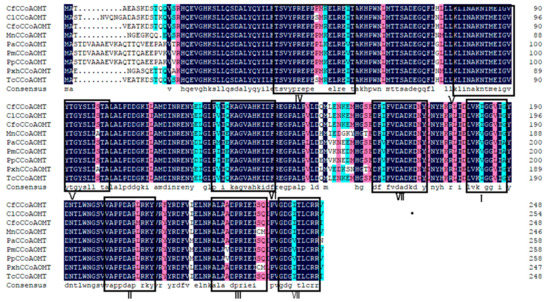 Figure 3.
Multiple sequence alignment of the
CfCCoAOMT
protein using 9 plant species. The species represented by the abbreviations on the left side of the figure and their registration numbers in NCBI are as follows:
CfCCoAOMT
(
C. fortunei
, MK236394),
CfoCCoAOMT
(
Chamaecyparis formosensis
, ABB89956.1),
TcCCoAOMT
(
Taiwania cryptomerioides
, ABB87184.1),
ClCCoAOMT
(
Cunninghamialanceolata
, AFX98065.1),
CofCCoAOMT
(
Chamaecyparis obtusa var. formosana
, ABB87185.1),
PaCCoAOMT
(
Picea abies
, CAK18782.1),
PpCCoAOMT
(
P. pinaster
, AFL65039.1),
PmCCoAOMT
(
P. massoniana
, AHL67654.1),
AtCCoAOMT
(
Amborella trichopoda
, XP_006856484.1),
MnCCoAOMT
(
Morus notabilis
, XP_010107916.1),
PxhCCoAOMT
(
Petunia
x
hybrida
, ALP75648.1).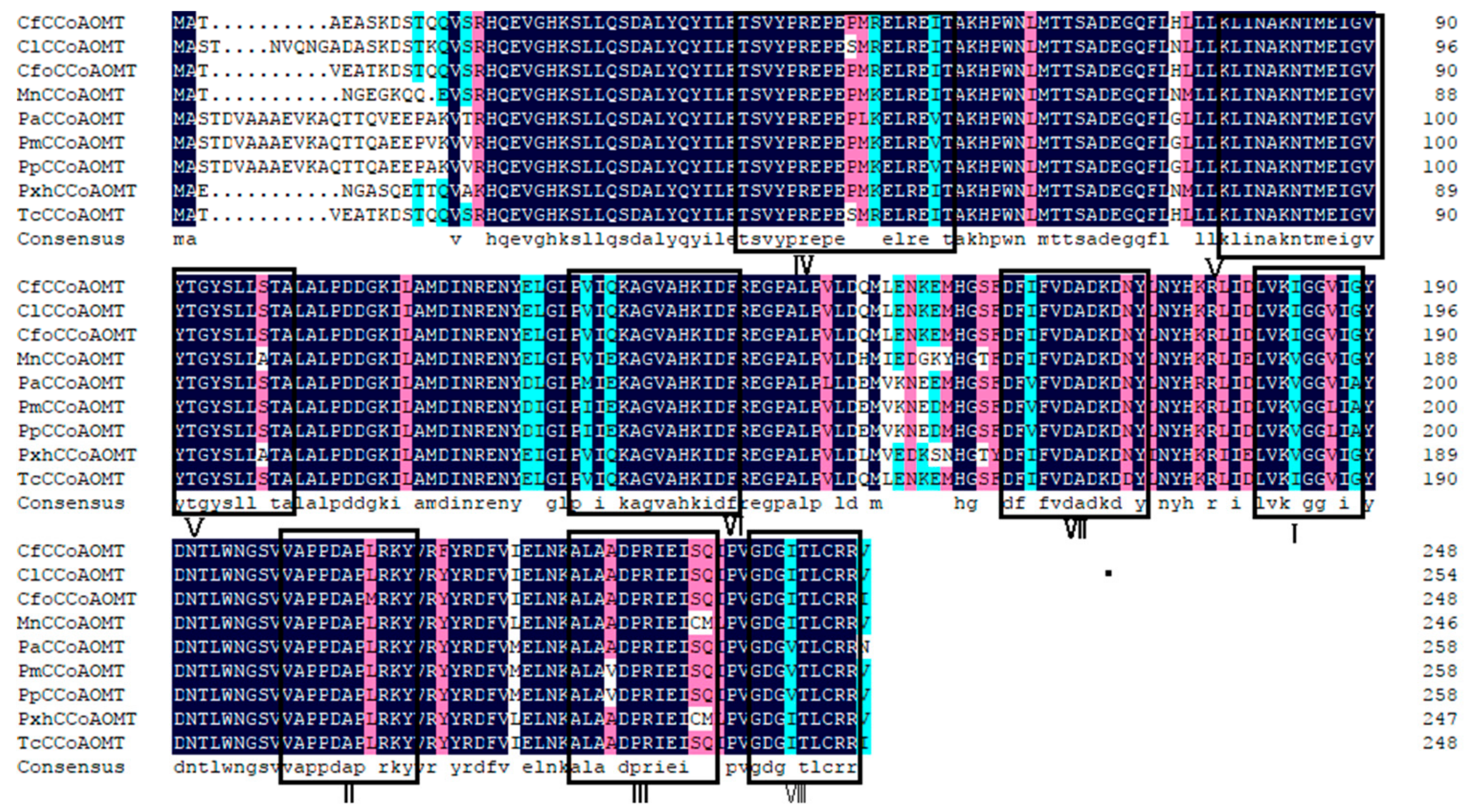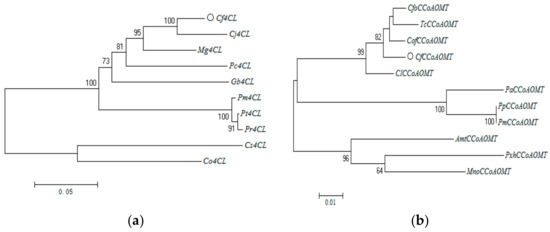 Figure 4. Phylogenetic trees of 4CL (a) and CCoAOMT (b) proteins using the most closely related protein sequences from 9 (a) and 10 (b) plant species. Displayed are tree diagrams of the interrelationships between the branches of each biological lineage, constructed according to their phylogeny to indicate the genetic relationship between species. Trees were generated using the unrooted Maximum Likelihood algorithm trees with MEGA 6.0 software. Bars represent genetic distance.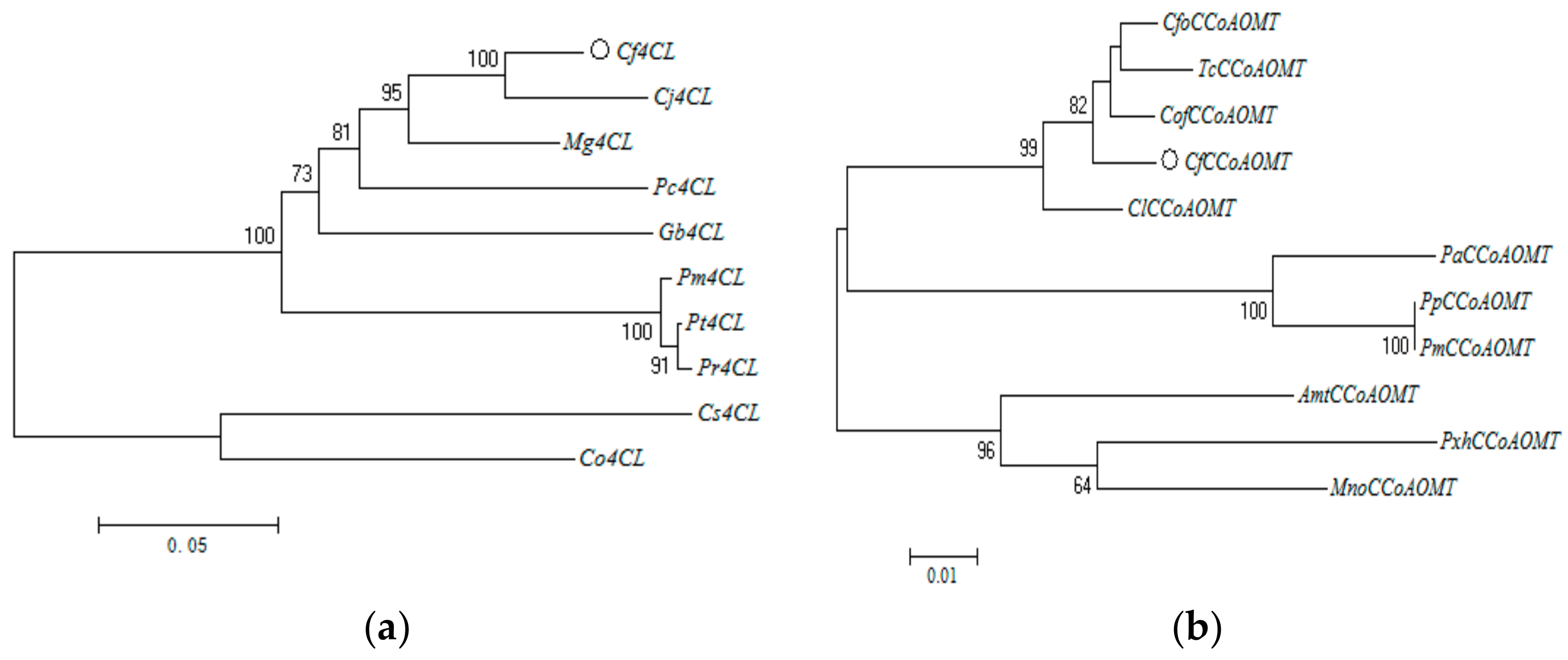 Figure 5.
Protein domain analysis of Cf4CL (
a
) and CfCCoAOMT (
b
) proteins in
C. fortunei
. The figure was constructed with NCBI conserved domains. Specific hits are the top-ranking RPS-BLAST hits (compared to other hits in overlapping intervals) that meet or exceed a domain-specific E-value threshold (details and illustration). Non-specific hits meet or exceed the RPS-BLAST threshold for statistical significance. Superfamily is the domain cluster to which the specific and/or non-specific hits belong.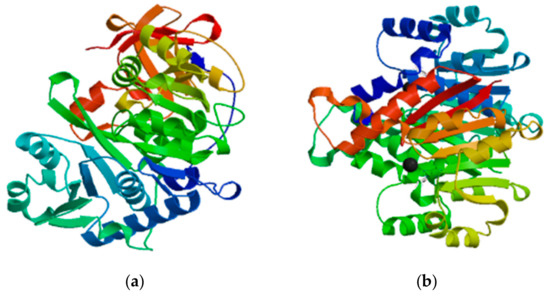 Figure 6.
Tertiary structure model of the
C. fortunei Cf4CL
(
a
) and
CfCCoAOMT
(
b
) proteins. Color shows the order of peptide chain, starting as dark blue from the N-terminus, going to red at the C-terminus.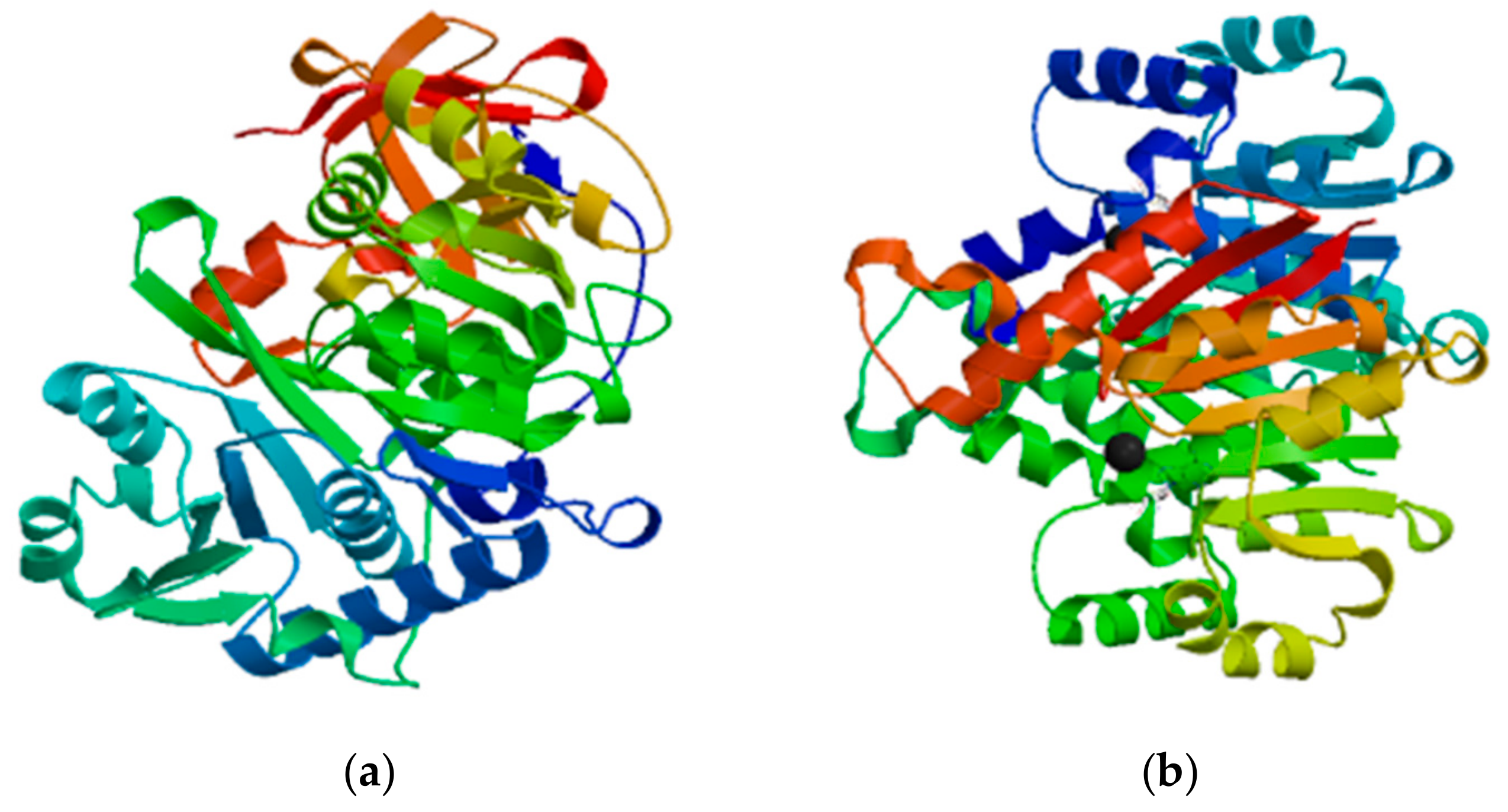 Figure 7.
Expression of
Cf4CL
(
a
) and
CfCCoAOMT
(
b
) in
C. fortunei
vascular cambium during the different growth stages throughout the year. Plotted are means +/− standard deviation (
n
= 6 replications for each growing stage).
p
values were calculated with t-test, *
p
< 0.05, **
p
< 0.01.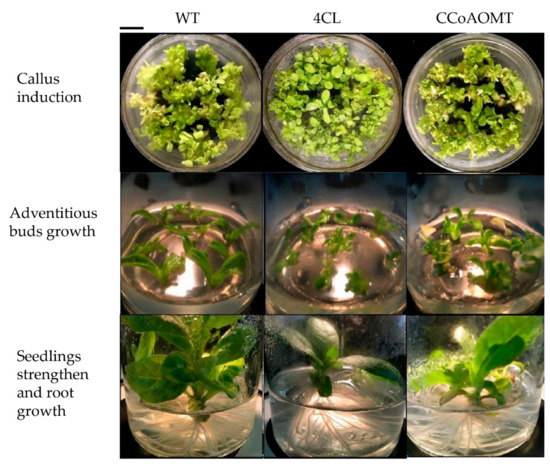 Figure 8.
Overexpression of
Cf4CL
and
CfCCoAOMT
initially impedes tobacco growth. The first to third columns show representative images of wild type,
Cf4CL
transfected, and
CfCCoAOMT
transfected leaves, respectively. The first to third rows successively show the callus induction, adventitious bud growth, and seedling strengthening/root growth phases. A total of 3 seedlings were randomly chosen for measurements of each genotype. Bar equals 1 cm.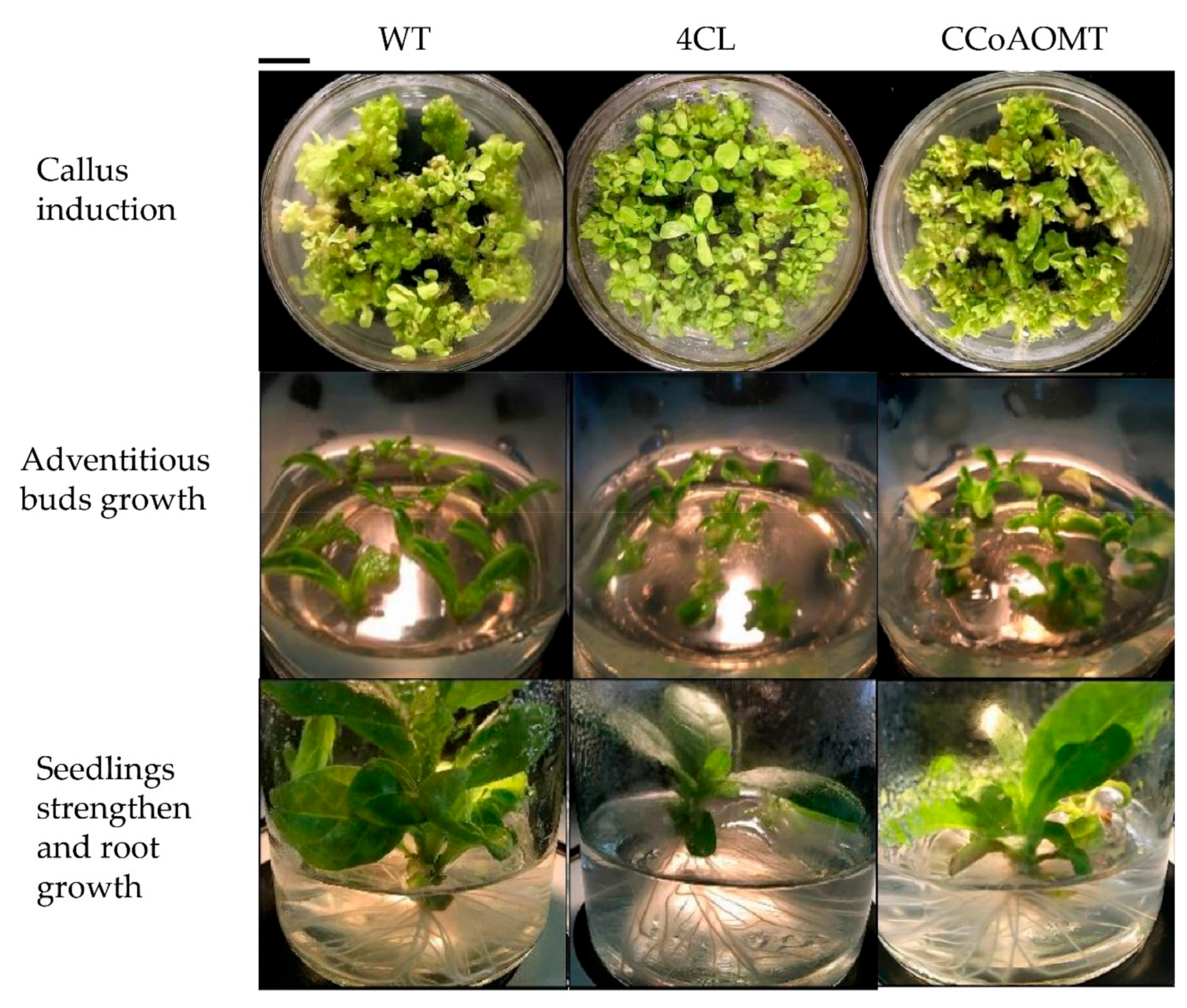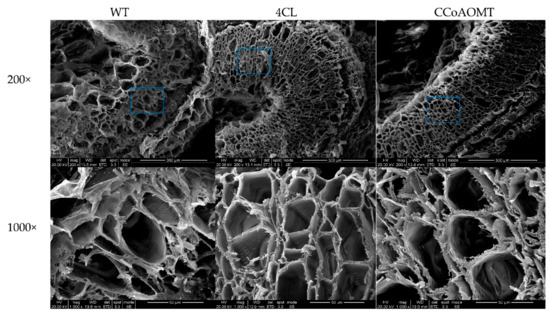 Figure 9.
Representative SEM micrographs of tobacco stem cross sections, taken at 200× and 1000×. The first to third columns show wild type,
Cf4CL
and
CfCCoAOMT
transfected tobacco respectively. The pictures at 1000× show part of the pictures taken at 200×, indicated by a blue square.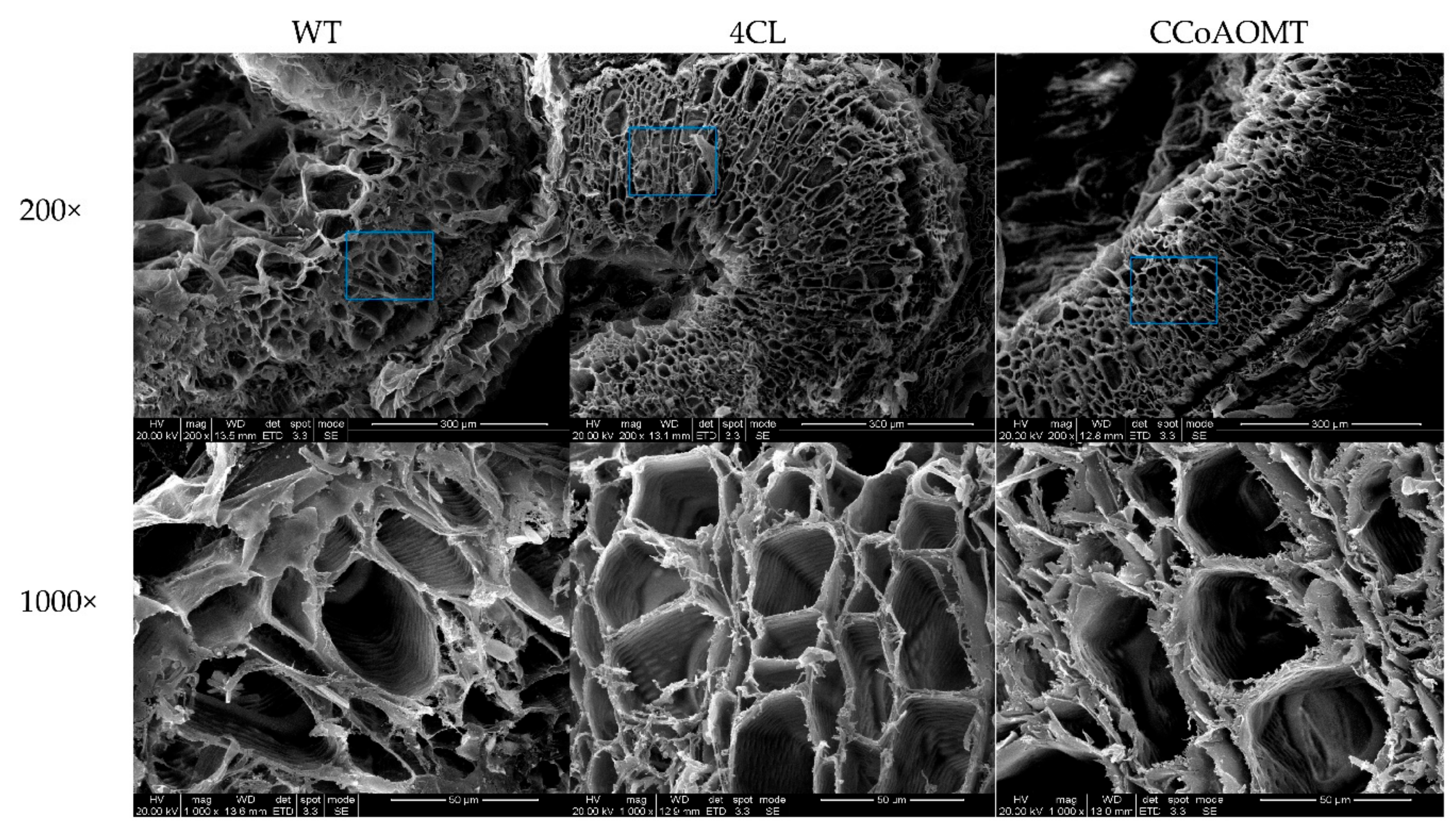 Primer Name
Primer Sequence (5′-3′)
Application
Longer
CTAATACGACTCACTATAGGGCAAGCAGTGGTATCAACGCAGAGT
Universal primer
Shorter
CTAATACGACTCACTATAGGGC
4CL-5′outer
GGCATTCGCTCTCATCCGCCTCAGTCAG

4CL


RACE reaction
4CL-5′inner
GCTCCACCGGACATGATCAAGC
4CL-3′outer
ATAGCCCACCTGAAGGTTGCCTCCCGATT
4CL-3′inner
CTATTCCCTCAATTCGGTGCTC
CCoAOMT-5′outer
GTATTGTCATAGCCGATCACTCCCCCAA

CCoAOMT

RACE reaction
CCoAOMT-5′inner
CAATTTTGTGGGCAACACCTG
CCoAOMT-3′outer
GCCCTGCCTGATGATGGAAAGATCCTAG
CCoAOMT-3′inner
GATCGGCTATGACAATACTCTG
4CL-ALL-F
GGGTAAAGATCAATTACTGCTTC
Amplification of the conserved region
4CL-ALL-R
CAAATTTATGTGTGCTGCGAGT
CCoAOMT-ALL-F
GTTTCATTCCTCCAATCCAGT
CCoAOMT-ALL-R
GGGCTGTTCTTAAATCACTCC
RT-4CL-F
CTCCTTTGTGCGCTCCGAGT
RT-PCR
RT-4CL-R
GCTCCACCGGACATGATCAAGC
RT-CCoAOMT-F
GCTCATCAATGCCAAGAACACCA
RT-CCoAOMT-R
TCAATTTTGTGGGCAACACCT
CE-4CL-F
ATGGCTTGTGTCGCACCTCT
Enzyme cutting
CE-4CL-R
TTAGGCTGCTGCAAGTCTGGC
CE-CCoAOMT-F
ATGGCAACTGCAGAGGCTTC
CE-CCoAOMT-R
AATAACTCTTCTGCAGAGAGTGATGC
| | Amino Acids/aa | Molecular Weight/kD | PI Value | Molecular Formula | Fat Coefficient | Hydrophilicity | Unstable Coefficient |
| --- | --- | --- | --- | --- | --- | --- | --- |
| Cf4CL | 554 | 59.86 | 5.41 | C2700H4309N699O793S19 | 103.84 | 0.124 | 36.15 |
| CfCCoAOMT | 249 | 28.098 | 5.52 | C1261H1994N338O372S8 | 99.88 | −0.228 | 39.40 |
Plant
WT

4CL

CCoAOMT

1
2
3
1
2
3
Average lignin content %
4.86
8.31
10.51
7.14
9.13
7.54
8.34
SD
0.983
1.457
2.819
0.404
2.318
0.507
1.365
Sig
<0.05
<0.01
<0.05
<0.01
<0.05
<0.01
For every tobacco genotype 3 plants were measured (

n

= 3), 3 technical repetitions were done per plant sample. SD, standard deviation from selected lines. Sig, the level of significance, data was compared through

t

-test.

© 2019 by the authors. Licensee MDPI, Basel, Switzerland. This article is an open access article distributed under the terms and conditions of the Creative Commons Attribution (CC BY) license (http://creativecommons.org/licenses/by/4.0/).