Open Access This article is
freely available
re-usable
Article
Multiplex CRISPR Mutagenesis of the Serine/Arginine-Rich (SR) Gene Family in Rice
1
Laboratory for Genome Engineering and Synthetic Biology, Division of Biological Sciences, King Abdullah University of Science and Technology, Thuwal 23955-6900, Saudi Arabia
2
Program in Molecular Plant Biology, Program in Cell and Molecular Biology, Department of Biology, Colorado State University, Fort Collins, CO 80523-1062, USA
*
Author to whom correspondence should be addressed.
Received: 25 June 2019 / Accepted: 5 August 2019 / Published: 7 August 2019
Abstract
:
Plant growth responds to various environmental and developmental cues via signaling cascades that influence gene expression at the level of transcription and pre-mRNA splicing. Alternative splicing of pre-mRNA increases the coding potential of the genome from multiexon genes and regulates gene expression through multiple mechanisms. Serine/arginine-rich (SR) proteins, a conserved family of splicing factors, are the key players of alternative splicing and regulate pre-mRNA splicing under stress conditions. The rice (
Oryza sativa
) genome encodes 22 SR proteins categorized into six subfamilies. Three of the subfamilies are plant-specific with no mammalian orthologues, and the functions of these SR proteins are not well known. The clustered regularly interspaced short palindromic repeats (CRISPR)/CRISPR-associated protein 9 (Cas9) system is a genome engineering tool that cleaves the target DNA at specific locations directed by a guide RNA (gRNA). Recent advances in CRISPR/Cas9-mediated plant genome engineering make it possible to generate single and multiple functional knockout mutants in diverse plant species. In this study, we targeted each rice SR locus and produced single knockouts. To overcome the functional redundancy within each subfamily of SR genes, we utilized a polycistronic tRNA-gRNA multiplex targeting system and targeted all loci of each subfamily. Sanger sequencing results indicated that most of the targeted loci had knockout mutations. This study provides useful resource materials for understanding the molecular role of SR proteins in plant development and biotic and abiotic stress responses.
Keywords:
splicing; alternative splicing; SR proteins; genome engineering; multiplex targeting; CRISPR/Cas9
Supplementary Materials
The following are available online at
https://www.mdpi.com/2073-4425/10/8/596/s1
, Table S1: Synthetic fragments used as sgRNAs for targeting single and multiple SR loci, Table S2: List of oligos used for genotyping, Table S3: Summary for genotyping of SR mutants.
Author Contributions
Conceptualization, M.M.M.; Data curation, H.B., A.P. and L.L.; Formal analysis, H.B. and L.L.; Investigation, H.B. and A.P.; Methodology, M.M.M.; Project administration, M.M.M.; Supervision, M.M.M.; Writing—original draft, H.B.; Writing—review & editing, A.S.N.R. and M.M.M.
Funding
This study is supported by King Abdullah University of Science and Technology.
Conflicts of Interest
The authors declare no conflict of interest.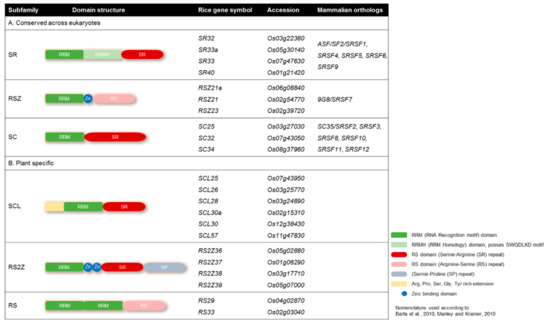 Figure 1.
Domain structures of the serine/arginine-rich (SR) proteins. Domain architecture of the SR protein subfamilies with their mammalian orthologs. (
A
) Highly conserved eukaryotic SR protein subfamilies; (
B
) plant-specific SR protein subfamilies. Rice has 22 SR proteins, 10 of which are conserved among eukaryotes, while the other 12 are plant-specific. The nomenclature adopted from [
38
,
39
].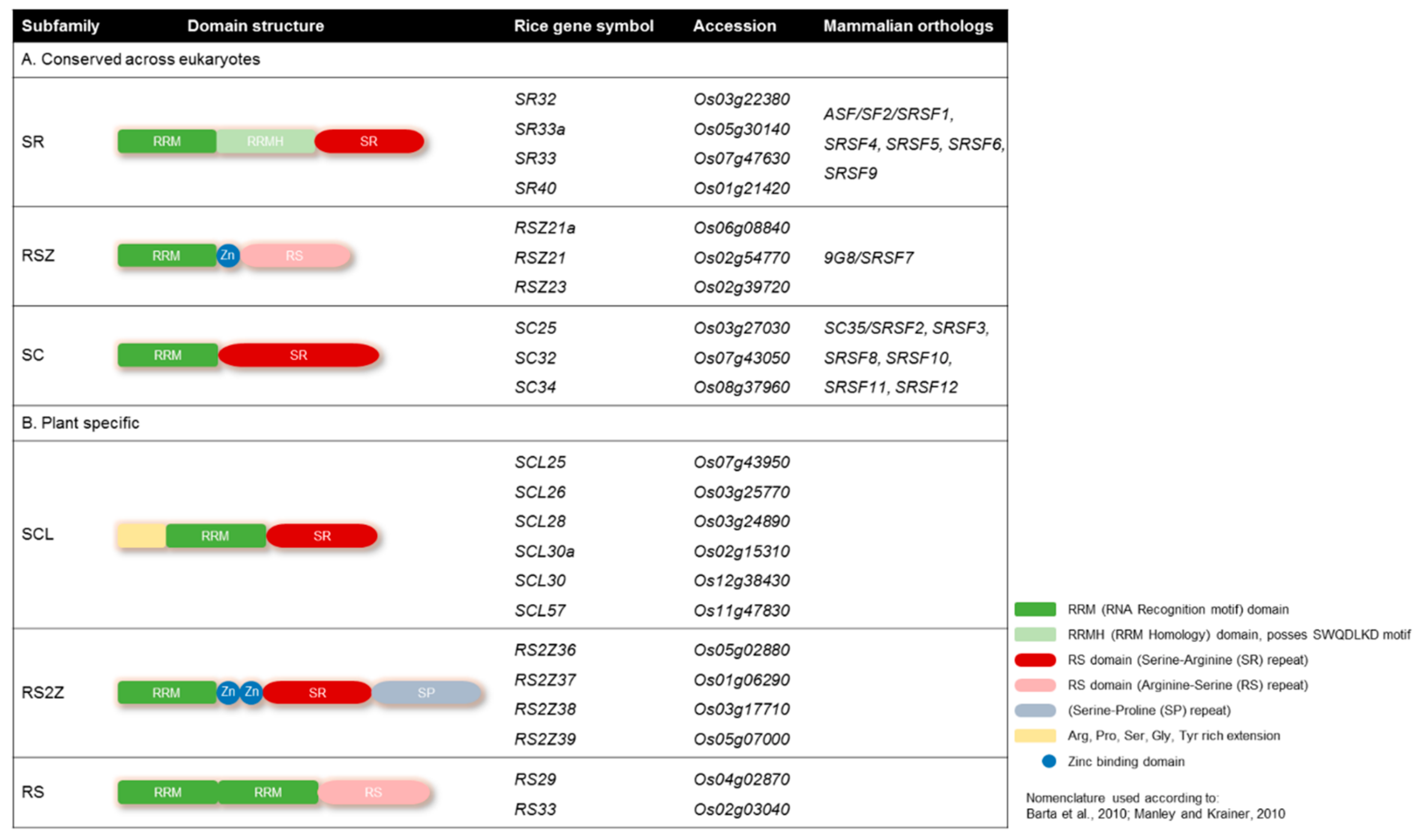 Figure 2. The polycistronic tRNA-gRNA (PTG)/ CRISPR/CRISPR-associated protein 9 (Cas9) system for targeting single or multiple genes. The synthetic PTG molecule consists of a tRNA-gRNA unit. (A) For targeting a single locus, PTG was expressed under the OsU3 promoter. The PTG fragment is spliced by RNaseP and RNaseZ, and the sgRNA is released to further guide the Cas9 endonuclease to its genomic target; (B) multiple loci were targeted using the PTG system. Mature sgRNAs are released by the cleavage activity of RNaseP and RNaseZ. Each sgRNA directs the Cas9 endonuclease to its target genomic region.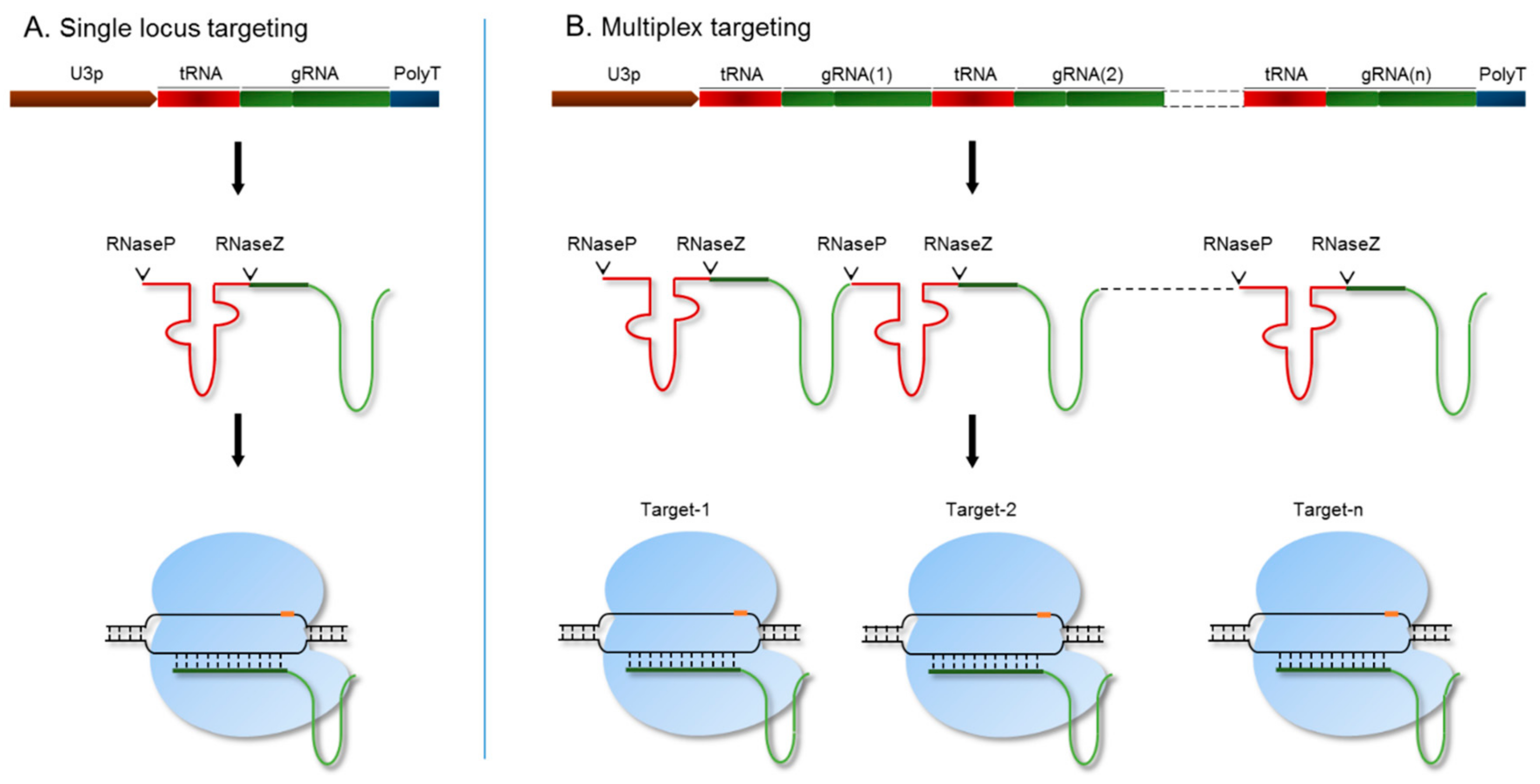 Figure 3.
Single and multiplex mutagenesis of SR proteins using the PTG system. sgRNAs were designed to target each
SR
locus mostly in the first or second exons. The sgRNA target sequence is indicated in bold. The protospacer adjacent motif (PAM) sequence is underlined. Blue boxes indicate exons, and lines represent introns. Multiplex targeting was done for each subgroup of the SR family, in which all loci were targeted simultaneously. The multiplex mutants were named according to their subfamily name preceded by "
M
" for "multiplex." (
A
) Single and multiplex mutants are identified for the SR subfamily; (
B
) single and multiplex mutants for RSZ and SC subfamilies; (
C
) the SCL subfamily has six members. Multiplex targeting was done for
SCL25/26/28
and
SCL30a/30/57. SCL30a
and
SCL30
are highly conserved; a single sgRNA was used to target both loci; (
D
) mutagenesis of RS2Z and RS subfamilies.
RS2Z36
and
RS2Z38
are highly conserved, and a single sgRNA was used to target both loci.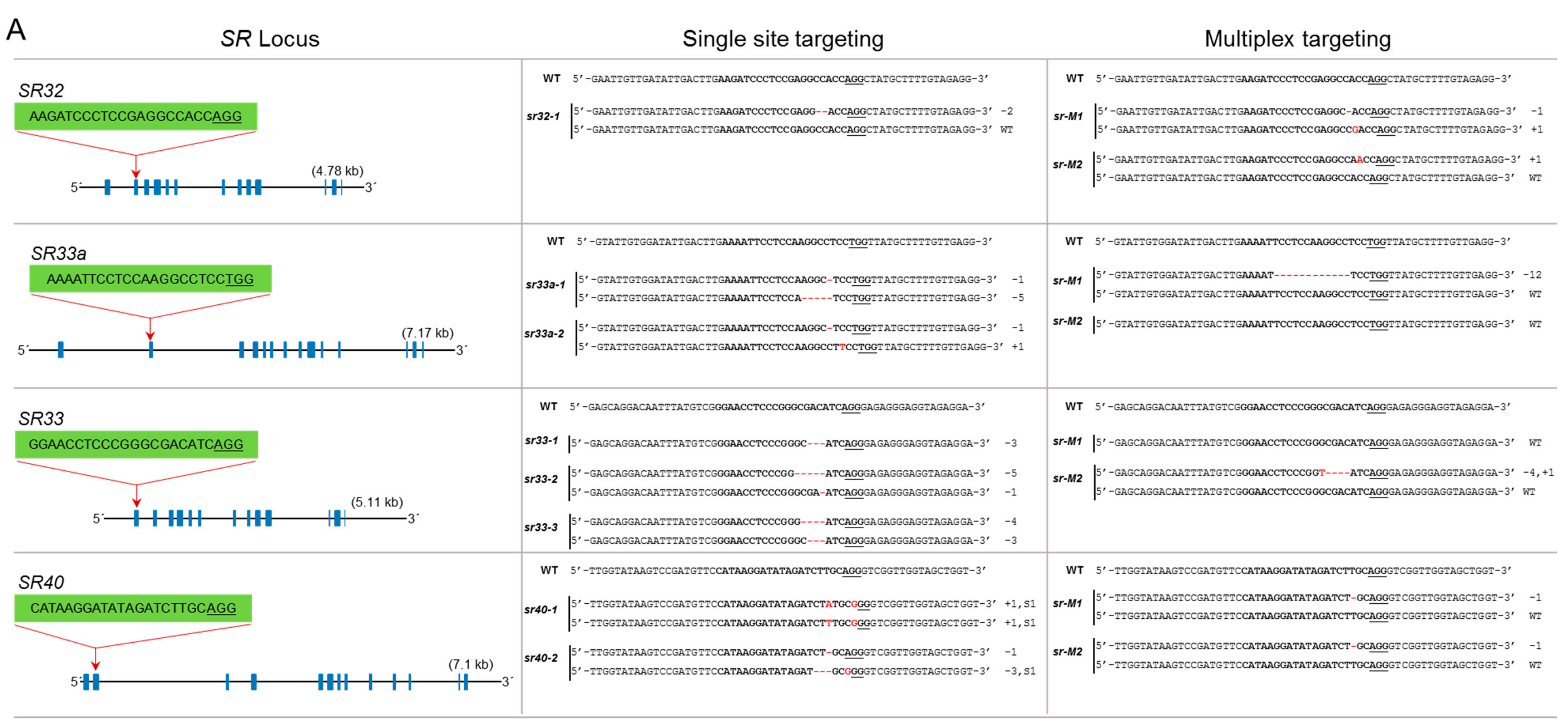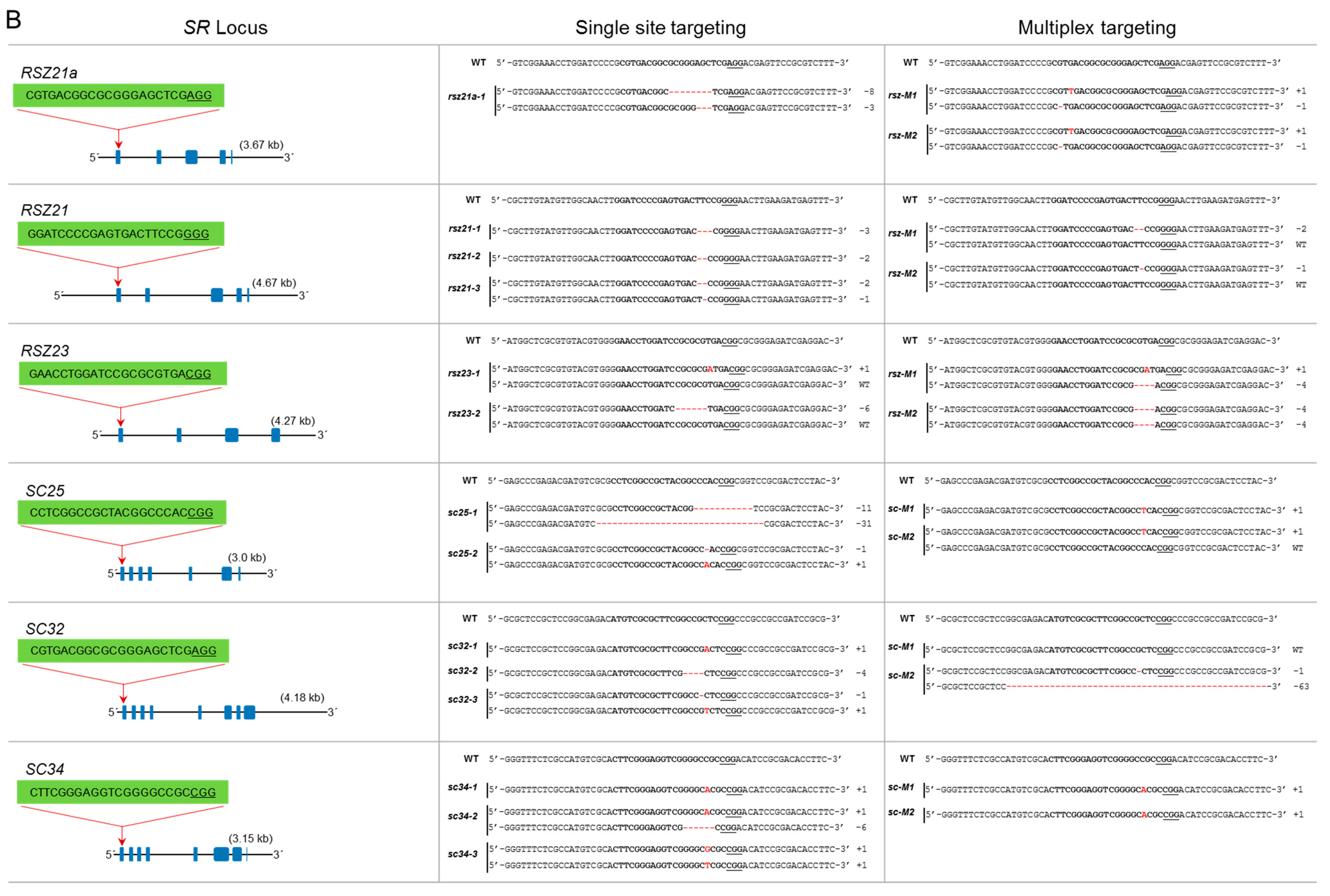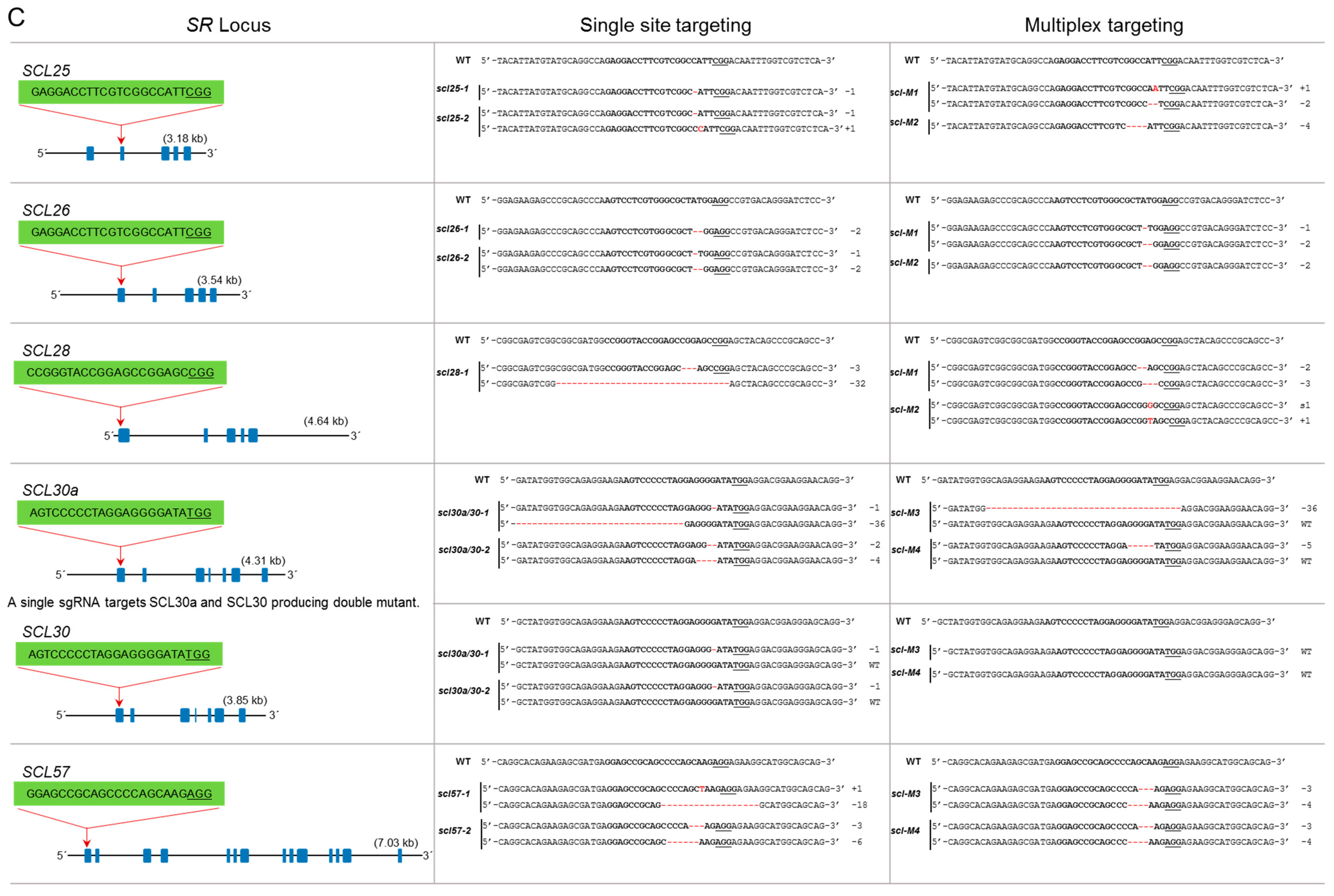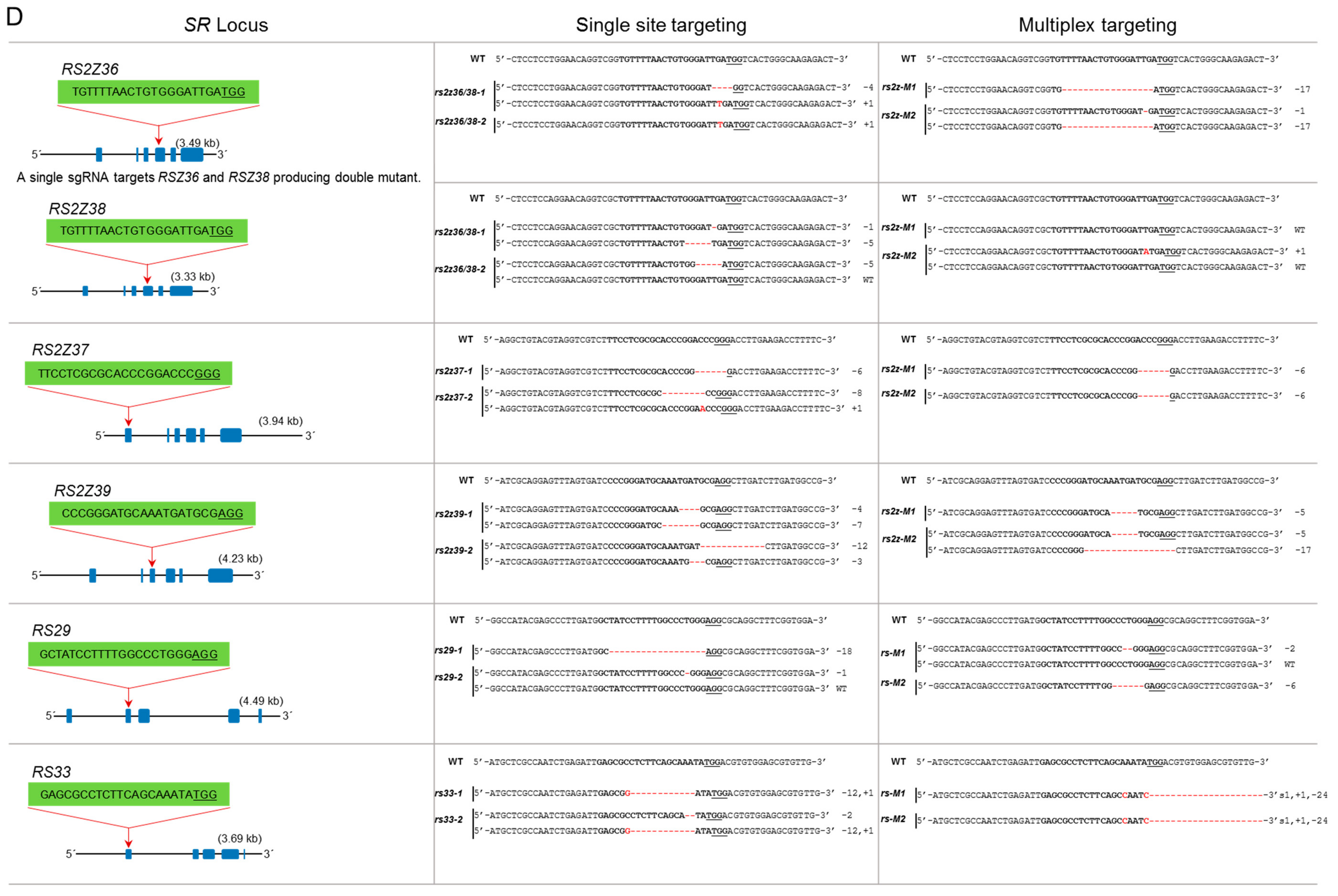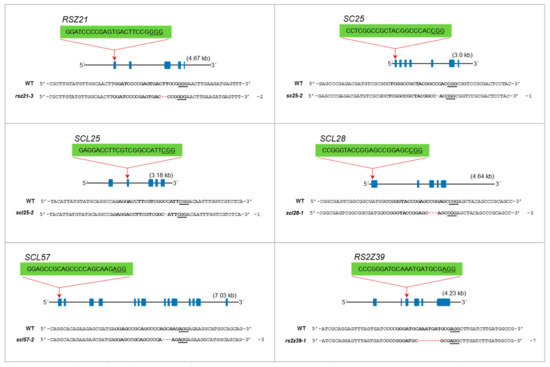 Figure 4.
Analysis of seed progeny of SR mutants. Genotyping of SR gene mutations in seed progeny. The heterozygous parent plants were segregating to homozygous monoallelic mutants for
RSZ21, SC25, SCL25, SCL28, SCL57
and
RS2Z39
.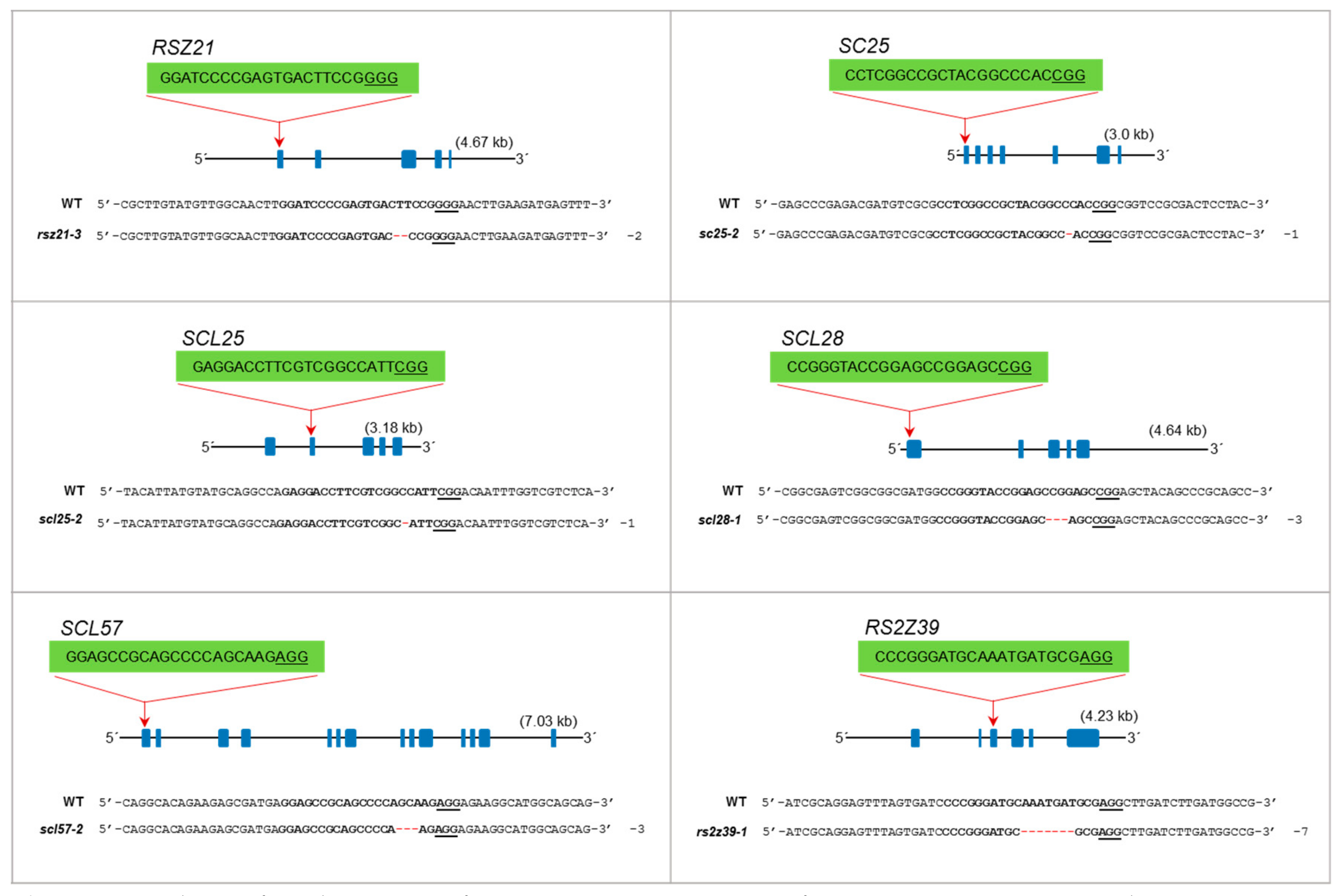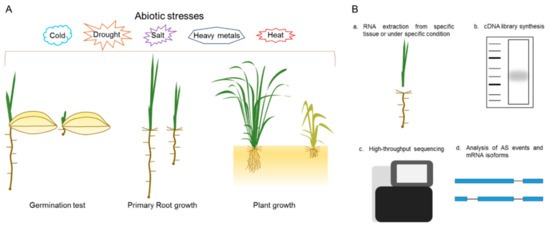 Figure 5.
Platform for the analysis of SR mutants. (
A
) Molecular and physiological phenotyping can be done at different growth stages of SR mutants. This can be achieved by providing different abiotic stresses like salt, drought, and extreme temperatures, etc; (
B
) a general pipeline for the global analysis of alternative splicing (AS) in
SR
mutants.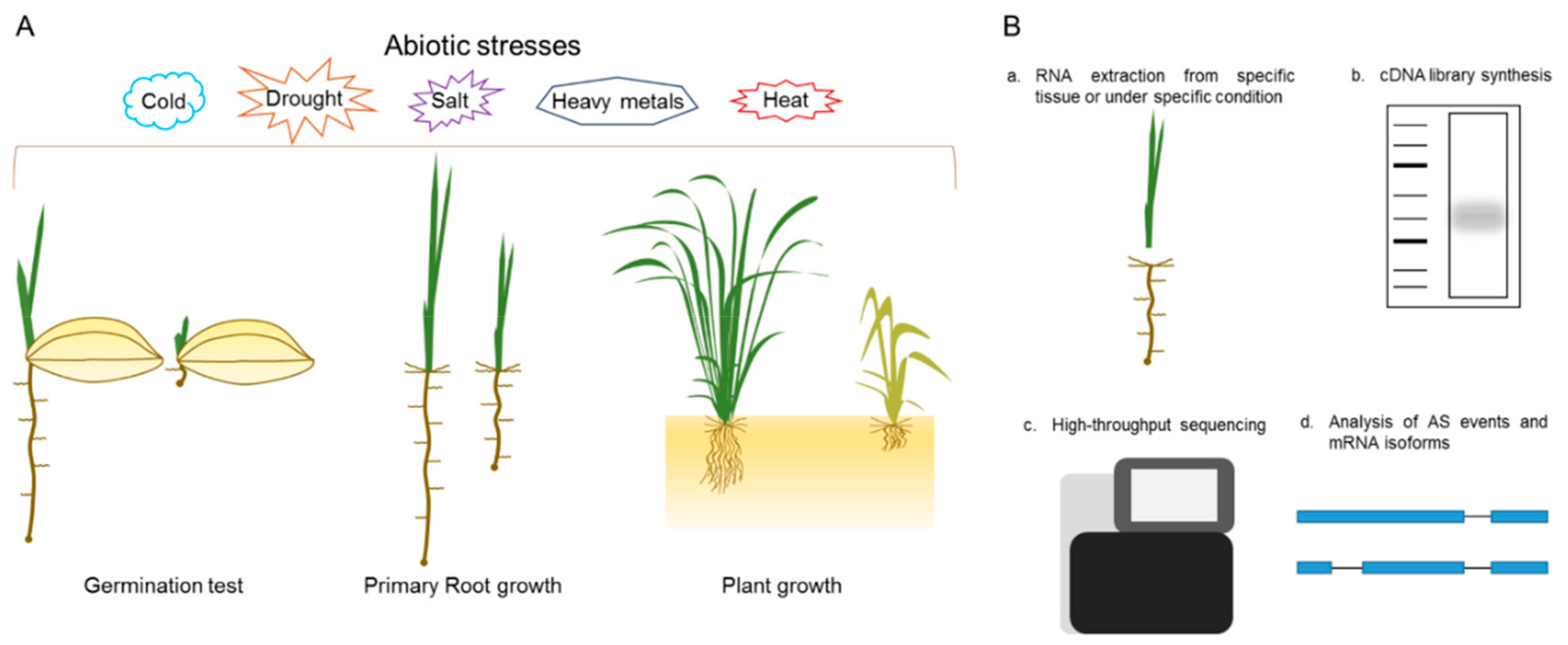 © 2019 by the authors. Licensee MDPI, Basel, Switzerland. This article is an open access article distributed under the terms and conditions of the Creative Commons Attribution (CC BY) license (http://creativecommons.org/licenses/by/4.0/).