Genome-Wide Identification and Expression Analysis of HD-ZIP I Gene Subfamily in
Nicotiana tabacum
1
State Key Laboratory of Silkworm Genome Biology, Biological Science Research Center, Southwest University, Chongqing 400716, China
2
Chongqing Institute of Tobacco Science, Chongqing 400716, China
3
Biological Science Research Center, Southwest University, Chongqing 400716, China
4
Chongqing Engineering and Technology Research Center for Novel Silk Materials, Southwest University, Chongqing 400716, China
5
Chongqing Key Laboratory of Sericulture, Southwest University, Chongqing 400716, China
6
Tobacco Breeding and Biotechnology Research Center, Yunnan Academy of Tobacco Agricultural Sciences, Key Laboratory of Tobacco Biotechnological Breeding, National Tobacco Genetic Engineering Research Center, Kunming 650021, China
*
Authors to whom correspondence should be addressed.
Received: 18 June 2019 / Revised: 22 July 2019 / Accepted: 28 July 2019 / Published: 30 July 2019
Abstract
The homeodomain-leucine zipper (HD-Zip) gene family, whose members play vital roles in plant growth and development, and participate in responding to various stresses, is an important class of transcription factors currently only found in plants. Although the HD-Zip gene family, especially the HD-Zip I subfamily, has been extensively studied in many plant species, the systematic report on HD-Zip I subfamily in cultivated tobacco (
Nicotiana tabacum
) is lacking. In this study, 39 HD-Zip I genes were systematically identified in
N. tabacum
(Nt). Interestingly, that 64.5% of the 31 genes with definite chromosome location information were found to originate from
N. tomentosoformis
, one of the two ancestral species of allotetraploid
N. tabacum
. Phylogenetic analysis divided the
NtHD-Zip
I subfamily into eight clades. Analysis of gene structures showed that
NtHD-Zip
I proteins contained conserved homeodomain and leucine-zipper domains. Three-dimensional structure analysis revealed that most
NtHD-Zip
I proteins in each clade, except for those in clade η, share a similar structure to their counterparts in
Arabidopsis
. Prediction of cis-regulatory elements showed that a number of elements responding to abscisic acid and different abiotic stresses, including low temperature, drought, and salinity, existed in the promoter region of
NtHD-Zip
I genes. The prediction of
Arabidopsis
ortholog-based protein–protein interaction network implied that
NtHD-Zip
I proteins have complex connections. The expression profile of these genes showed that different
NtHD-Zip
I genes were highly expressed in different tissues and could respond to abscisic acid and low-temperature treatments. Our study provides insights into the evolution and expression patterns of
NtHD-Zip
I genes in
N. tabacum
and will be useful for further functional characterization of
NtHD-Zip
I genes in the future.
View Full-Text
►

▼

Figures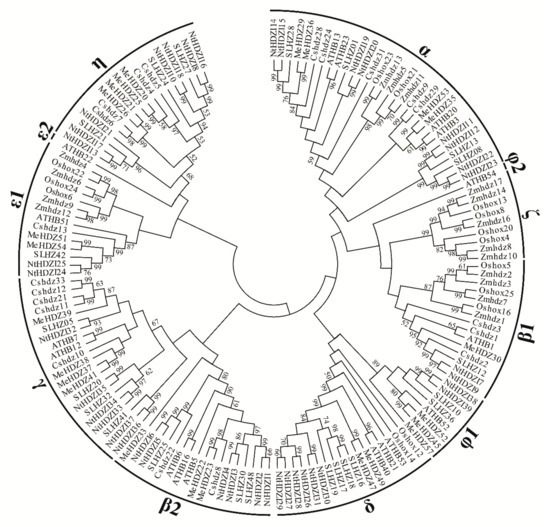 Figure 1
This is an open access article distributed under the
Creative Commons Attribution License
which permits unrestricted use, distribution, and reproduction in any medium, provided the original work is properly cited (CC BY 4.0).

Share & Cite This Article
MDPI and ACS Style
Li, Y.; Bai, B.; Wen, F.; Zhao, M.; Xia, Q.; Yang, D.-H.; Wang, G. Genome-Wide Identification and Expression Analysis of HD-ZIP I Gene Subfamily in Nicotiana tabacum. Genes 2019, 10, 575.
Note that from the first issue of 2016, MDPI journals use article numbers instead of page numbers. See further details here.
Related Articles
Comments
[Return to top]