Assessing Anthocyanin Biosynthesis in Solanaceae as a Model Pathway for Secondary Metabolism
1
Center for Plant Science Innovation, University of Nebraska, Lincoln, NE 68588, USA
2
Guangdong Key Laboratory of Ornamental Plant Germplasm Innovation and Utilization, Environmental Horticulture Research Institute, Guangdong Academy of Agricultural Sciences, Guangzhou 510640, China
3
Department of Chemistry, University of Nebraska, Lincoln, NE 68588, USA
4
Biology Department, University of Jamestown, Jamestown, ND 58405, USA
5
Center for Biotechnology, University of Nebraska, Lincoln, NE 68588, USA
6
Department of Agronomy and Horticulture, University of Nebraska, Lincoln, NE 68583, USA
*
Author to whom correspondence should be addressed.
†
These authors contributed equally to this work.
Received: 19 June 2019 / Revised: 19 July 2019 / Accepted: 23 July 2019 / Published: 25 July 2019
Abstract
Solanaceae have played an important role in elucidating how flower color is specified by the flavonoid biosynthesis pathway (FBP), which produces anthocyanins and other secondary metabolites. With well-established reverse genetics tools and rich genomic resources, Solanaceae provide a robust framework to examine the diversification of this well-studied pathway over short evolutionary timescales and to evaluate the predictability of genetic perturbation on pathway flux. Genomes of eight Solanaceae species, nine related asterids, and four rosids were mined to evaluate variation in copy number of the suite of FBP enzymes involved in anthocyanin biosynthesis. Comparison of annotation sources indicated that the NCBI annotation pipeline generated more and longer FBP annotations on average than genome-specific annotation pipelines. The pattern of diversification of each enzyme among asterids was assessed by phylogenetic analysis, showing that the CHS superfamily encompasses a large paralogous family of ancient and recent duplicates, whereas other FBP enzymes have diversified via recent duplications in particular lineages. Heterologous expression of a pansy F3′5′H gene in tobacco changed flower color from pink to dark purple, demonstrating that anthocyanin production can be predictably modified using reverse genetics. These results suggest that the Solanaceae FBP could be an ideal system to model genotype-to-phenotype interactions for secondary metabolism.
View Full-Text
►

▼

Figures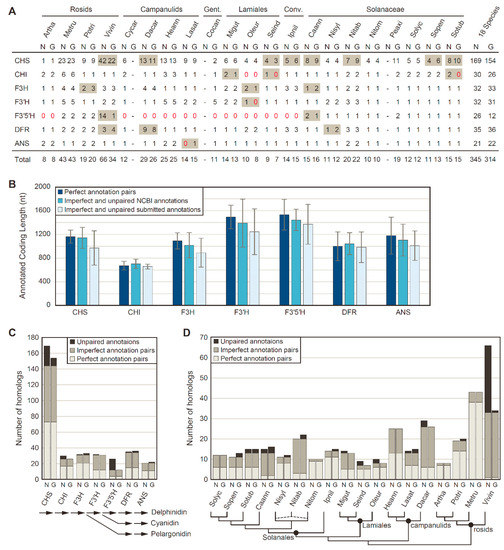 Figure 1
This is an open access article distributed under the
Creative Commons Attribution License
which permits unrestricted use, distribution, and reproduction in any medium, provided the original work is properly cited (CC BY 4.0).

Share & Cite This Article
MDPI and ACS Style
Li, Z.; Vickrey, T.L.; McNally, M.G.; Sato, S.J.; Clemente, T.E.; Mower, J.P. Assessing Anthocyanin Biosynthesis in Solanaceae as a Model Pathway for Secondary Metabolism. Genes 2019, 10, 559.
Note that from the first issue of 2016, MDPI journals use article numbers instead of page numbers. See further details here.
Related Articles
Comments
[Return to top]