Dissecting the Brain/Islet Axis in Metabesity
1
Andalusian Center of Molecular Biology and Regenerative Medicine-CABIMER, Junta de Andalucia-University of Pablo de Olavide-University of Seville-CSIC, 41092 Seville, Spain
2
Instituto de Investigación Biomédica de Málaga-IBIMA, UGC Endocrinología y Nutrición. Hospital Regional Universitario de Málaga, 29009 Málaga, Spain
3
Centro de Investigación Biomédica en Red de Diabetes y Enfermedades Metabólicas Asociadas (CIBERDEM), 28029 Madrid, Spain
*
Authors to whom correspondence should be addressed.
†
Equal contribution to this work.
Received: 10 April 2019 / Revised: 2 May 2019 / Accepted: 2 May 2019 / Published: 8 May 2019
Abstract
The high prevalence of type 2 diabetes mellitus (T2DM), together with the fact that current treatments are only palliative and do not avoid major secondary complications, reveals the need for novel approaches to treat the cause of this disease. Efforts are currently underway to identify therapeutic targets implicated in either the regeneration or re-differentiation of a functional pancreatic islet β-cell mass to restore insulin levels and normoglycemia. However, T2DM is not only caused by failures in β-cells but also by dysfunctions in the central nervous system (CNS), especially in the hypothalamus and brainstem. Herein, we review the physiological contribution of hypothalamic neuronal and glial populations, particularly astrocytes, in the control of the systemic response that regulates blood glucose levels. The glucosensing capacity of hypothalamic astrocytes, together with their regulation by metabolic hormones, highlights the relevance of these cells in the control of glucose homeostasis. Moreover, the critical role of astrocytes in the response to inflammation, a process associated with obesity and T2DM, further emphasizes the importance of these cells as novel targets to stimulate the CNS in response to metabesity (over-nutrition-derived metabolic dysfunctions). We suggest that novel T2DM therapies should aim at stimulating the CNS astrocytic response, as well as recovering the functional pancreatic β-cell mass. Whether or not a common factor expressed in both cell types can be feasibly targeted is also discussed.
View Full-Text
►

▼

Figures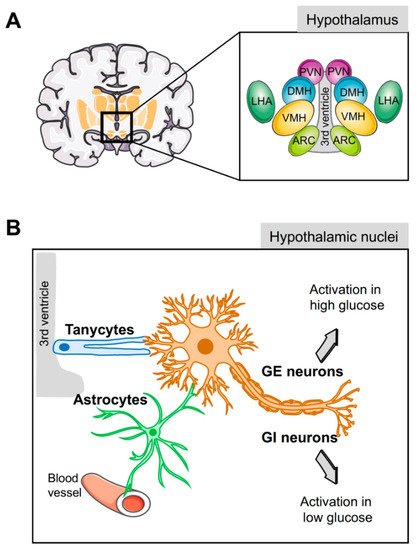 Figure 1
This is an open access article distributed under the
Creative Commons Attribution License
which permits unrestricted use, distribution, and reproduction in any medium, provided the original work is properly cited (CC BY 4.0).

Share & Cite This Article
MDPI and ACS Style
Fuente-Martín, E.; Mellado-Gil, J.M.; Cobo-Vuilleumier, N.; Martín-Montalvo, A.; Romero-Zerbo, S.Y.; Diaz Contreras, I.; Hmadcha, A.; Soria, B.; Martin Bermudo, F.; Reyes, J.C.; Bermúdez-Silva, F.J.; Lorenzo, P.I.; Gauthier, B.R. Dissecting the Brain/Islet Axis in Metabesity. Genes 2019, 10, 350.
Note that from the first issue of 2016, MDPI journals use article numbers instead of page numbers. See further details here.
Related Articles
Comments
[Return to top]