Obesity, Xenobiotic Intake and Antimicrobial-Resistance Genes in the Human Gastrointestinal Tract: A Comparative Study of Eutrophic, Overweight and Obese Individuals
1
Laboratory of Bacterial Physiology and Molecular Genetics, Department of Parasitology, Microbiology and Immunology, Federal University of Juiz de Fora, 36036-330 Juiz de Fora, MG, Brazil
2
Department of Pharmacy and Nutrition, Federal University of Espirito Santo, 29500-000 Alegre, ES, Brasil
3
Department of Nutrition, Federal University of Juiz de Fora, 36036-330 Juiz de Fora, MG, Brazil
4
Department of Biology, Federal University of Juiz de Fora, 36036-330 Juiz de Fora, MG, Brazil
*
Author to whom correspondence should be addressed.
Received: 25 February 2019 / Revised: 29 April 2019 / Accepted: 30 April 2019 / Published: 7 May 2019
Abstract
Although lifestyle and physiology in obese individuals are accepted to lead to changes in the intestinal microbiota, uncertainty remains about microbiota dysbiosis, and xenobiotics intake, as a source of selective pressure, independent of antimicrobial chemotherapy. The aim of this study was to compare the occurrence of antimicrobial resistance genetic markers (ARG) in faecal specimens of eutrophic, overweight and obese individuals, and their correlation with xenobiotic intake and gut bacteria density.
Methods
: This was a cross-sectional case-controlled study including 72 adult participants with no record of intestinal or systemic diseases, or recent use of antimicrobials, grouped as eutrophic, overweight, or obese. Anthropometric profile, eating habits and oral xenobiotics intake were recorded. Faecal metagenomic DNA was used to screen for ARG by PCR, and to measure bacterial groups by fluorescence in situ hybridization (FISH). Student's
t
and Wilcoxon tests were used to compare means and differences in ARG detection (95% confidence intervals). Correlation analyses (odds ratio) and relationships between bacteria density and ARG were determined.
Results
: Increase in abdominal circumference, waist circumference, hip, waist-hip ratio, BMI, carbohydrate, fibres, and total calorie intakes were different from eutrophic to obese participants. Habitual use of antihypertensive and anti-inflammatory drugs, antacids, and artificial sweeteners were associated mainly with obesity and overweight. Nutritional supplements were associated to the eutrophic group. ARG screening showed differences being more frequent among obese, and positive for 27 genetic markers related to β-lactams, tetracyclines, the macrolide lincosamide and streptogramin group, quinolones, sulfonamides, aminoglycosides, and efflux pump. Positive correlation between ARG and BMI, caloric intake, and intake of xenobiotics, was observed for obese individuals. Relationships among ARG detection and bacteria densities were also different.
Conclusions
: This study reinforces the hypothesis that obese individuals may harbour an altered gut microbiota, if compared to eutrophic. The overweight individuals display a transitional gut microbiota which seems to be between eutrophic and obese. Furthermore, the increased xenobiotic intake associated to obesity may play an important role in the antimicrobial resistance phenomenon.
View Full-Text
►

▼

Figures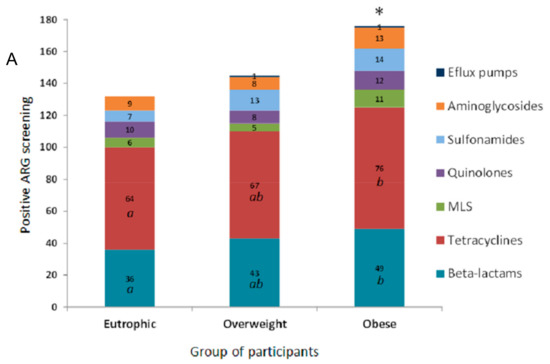 Figure 1
This is an open access article distributed under the
Creative Commons Attribution License
which permits unrestricted use, distribution, and reproduction in any medium, provided the original work is properly cited (CC BY 4.0).

Share & Cite This Article
MDPI and ACS Style
Sarmiento, M.R.A.; de Paula, T.O.; Borges, F.M.; Ferreira-Machado, A.B.; Resende, J.A.; Moreira, A.P.B.; Dutra Luquetti, S.C.P.; Cesar, D.E.; da Silva, V.L.; Diniz, C.G. Obesity, Xenobiotic Intake and Antimicrobial-Resistance Genes in the Human Gastrointestinal Tract: A Comparative Study of Eutrophic, Overweight and Obese Individuals. Genes 2019, 10, 349.
Note that from the first issue of 2016, MDPI journals use article numbers instead of page numbers. See further details here.
Related Articles
Comments
[Return to top]