Congenital Leptin Deficiency and Leptin Gene Missense Mutation Found in Two Colombian Sisters with Severe Obesity
1
Dexa Diab IPS, Bogotá 110221, Colombia
2
Texas Biomedical Research Institute, San Antonio, TX 78227, USA
3
Facultad de Medicina, Fundación Universitaria Juan N. Corpas, Bogotá 111161, Colombia
4
Genetica Molecular de Colombia, Bogotá 111221, Colombia
5
Facultad de Medicina, Universidad de La Sabana, Chía 53753, Colombia
6
NeuRos, Instituto de Medicina Traslacional, Escuela de Medicina y Ciencias de la Salud, Universidad del Rosario, Bogotá 111711, Colombia
7
GeniURos, CIGGUR, Instituto de Medicina Traslacional, Escuela de Medicina y Ciencias de la Salud, Universidad del Rosario, Bogotá 111711, Colombia
8
Grupo de Investigación en Psiquiatría (GIPSI), Instituto de Investigaciones Médicas. Facultad de Medicina, Universidad de Antioquia, Medellín 050010, Colombia
9
SUNY Upstate Medical University, Syracuse, NY 13210, USA
*
Author to whom correspondence should be addressed.
†
These authors contributed equally.
Received: 10 March 2019 / Revised: 23 April 2019 / Accepted: 30 April 2019 / Published: 7 May 2019
Abstract
Background: Congenital leptin deficiency is a recessive genetic disorder associated with severe early-onset obesity. It is caused by mutations in the leptin (
LEP
) gene, which encodes the protein product leptin. These mutations may cause nonsense-mediated mRNA decay, defective secretion or the phenomenon of biologically inactive leptin, but typically lead to an absence of circulating leptin, resulting in a rare type of monogenic extreme obesity with intense hyperphagia, and serious metabolic abnormalities. Methods: We present two severely obese sisters from Colombia, members of the same lineal consanguinity. Their serum leptin was measured by MicroELISA. DNA sequencing was performed on MiSeq equipment (Illumina) of a next-generation sequencing (NGS) panel involving genes related to severe obesity, including
LEP
. Results: Direct sequencing of the coding region of
LEP
gene in the sisters revealed a novel homozygous missense mutation in exon 3 [NM_002303.3], C350G>T [p.C117F]. Detailed information and clinical measurements of these sisters were also collected. Their serum leptin levels were undetectable despite their markedly elevated fat mass. Conclusions: The mutation of
LEP
, absence of detectable leptin, and the severe obesity found in these sisters provide the first evidence of monogenic leptin deficiency reported in the continents of North and South America.
View Full-Text
►

▼

Figures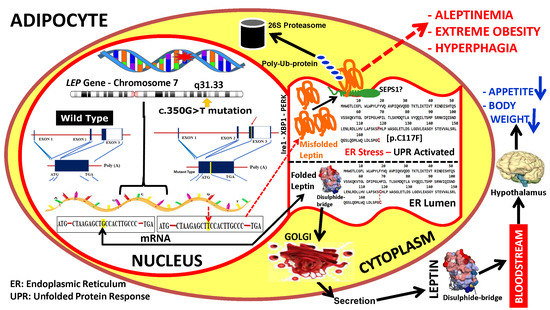 Graphical abstract
This is an open access article distributed under the
Creative Commons Attribution License
which permits unrestricted use, distribution, and reproduction in any medium, provided the original work is properly cited (CC BY 4.0).

Share & Cite This Article
MDPI and ACS Style
Yupanqui-Lozno, H.; Bastarrachea, R.A.; Yupanqui-Velazco, M.E.; Alvarez-Jaramillo, M.; Medina-Méndez, E.; Giraldo-Peña, A.P.; Arias-Serrano, A.; Torres-Forero, C.; Garcia-Ordoñez, A.M.; Mastronardi, C.A.; Restrepo, C.M.; Rodriguez-Ayala, E.; Nava-Gonzalez, E.J.; Arcos-Burgos, M.; Kent, J.W., Jr.; Cole, S.A.; Licinio, J.; Celis-Regalado, L.G. Congenital Leptin Deficiency and Leptin Gene Missense Mutation Found in Two Colombian Sisters with Severe Obesity. Genes 2019, 10, 342.
Note that from the first issue of 2016, MDPI journals use article numbers instead of page numbers. See further details here.
Related Articles
Comments
[Return to top]