A Novel Aquaporin 12-like Protein from
Chilo suppressalis

: Characterization and Functional Analysis

1

College of Horticulture and Plant Protection & Institute of Applied Entomology, Yangzhou University, Yangzhou 225009, China

2

State Key Laboratory for Biology of Plant Diseases and Insect Pests, Institute of Plant Protection, Chinese Academy of Agricultural Sciences, Beijing 100000, China

3

Jiangsu Key Laboratory of Crop Genetics and Physiology/Co-Innovation Center for Modern Production Technology of Grain Crops, Yangzhou University, Yangzhou 225009, China

*

Author to whom correspondence should be addressed.

Received: 20 February 2019 / Revised: 15 April 2019 / Accepted: 16 April 2019 / Published: 21 April 2019
Abstract
Aquaporins (AQPs), which are members of the major intrinsic protein (MIP) family, play an important role in the transport of water and other small, uncharged solutes across membranes. In this study, we identified gene encoding two aquaporin 12-like (AQP12L) proteins,
CsAqp12L_v1
and
CsAqp12L_v2
, from
Chilo suppressalis
, a serious rice pest in Asia. Phylogenetic analysis indicated that
Cs
AQP12L_V1 and
Cs
AQP12L_V2 were grouped in a well-supported cluster that included other members of Lepidoptera. The two proteins are almost identical, except that
Cs
AQP12L_V1 lacks 34 amino acids that are present in
Cs
AQP12L_V2 at site 217. The qRT-PCR indicated that both
CsAqp12L
and
CsAqp12L_v2
were expressed in heads, epidermis, foregut, midgut, and hindguts, with the highest level of expression in hindguts, heads, and epidermis. Expression of
CsAqp12L
and
CsAqp12L_v2
was detected in all life stages and both sexes and was highest in first instar larvae and lowest in eggs. Expression of
CsAqp12L
and
CsAqp12L_v2
was not significantly altered by exposure to brief changes in temperature. There were no significant differences in the third instar larvae, male and female pupae, and female adults in response to adverse humidity. However, the mRNA level of
CsAqp12L
in the fifth instar larvae and
CsAqp12L_v2
in male adults was induced significantly by low humidity, respectively. Moreover,
Xenopus
oocytes injected with cRNAs of
Cs
AQP12L_V1 and
Cs
AQP12L_V2 showed no significant changes in permeability to water, glycerol, trehalose, or urea. The two
Cs
AQP12L variants likely localize to an intracellular location in
C. suppressalis
and may respond to novel stimuli.
View Full-Text
►

▼

Figures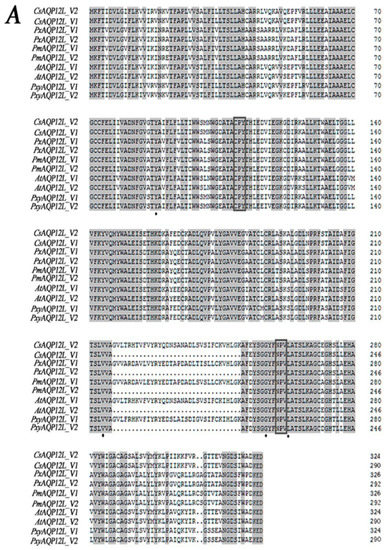 Figure 1
This is an open access article distributed under the
Creative Commons Attribution License
which permits unrestricted use, distribution, and reproduction in any medium, provided the original work is properly cited (CC BY 4.0).

Share & Cite This Article
MDPI and ACS Style
Lu, M.-X.; Song, J.; Xu, J.; Wang, G.; Liu, Y.; Du, Y.-Z. A Novel Aquaporin 12-like Protein from Chilo suppressalis: Characterization and Functional Analysis. Genes 2019, 10, 311.
Note that from the first issue of 2016, MDPI journals use article numbers instead of page numbers. See further details here.
Related Articles
Comments
[Return to top]