Open Access This article is
freely available
re-usable
Review
m6A mRNA Destiny: Chained to the rhYTHm by the YTH-Containing Proteins
Laboratoire de Biochimie, Ecole polytechnique, CNRS, Université Paris-Saclay, 91128 Palaiseau CEDEX, France
*
Author to whom correspondence should be addressed.
Received: 10 December 2018 / Accepted: 10 January 2019 / Published: 15 January 2019
Abstract
:
The control of gene expression is a multi-layered process occurring at the level of DNA, RNA, and proteins. With the emergence of highly sensitive techniques, new aspects of RNA regulation have been uncovered leading to the emerging field of epitranscriptomics dealing with RNA modifications. Among those post-transcriptional modifications, N6-methyladenosine (m6A) is the most prevalent in messenger RNAs (mRNAs). This mark can either prevent or stimulate the formation of RNA-protein complexes, thereby influencing mRNA-related mechanisms and cellular processes. This review focuses on proteins containing a YTH domain (for YT521-B Homology), a small building block, that selectively detects the m6A nucleotide embedded within a consensus motif. Thereby, it contributes to the recruitment of various effectors involved in the control of mRNA fates through adjacent regions present in the different YTH-containing proteins.
Keywords:
epitranscriptomics; mRNA methylation; m
6
A readers; YTH domain
1. Introduction
The regulation of gene expression plays a central role during development and upon cell response to stress exposure. Hence, living organisms have developed highly complex mechanisms at different steps of gene expression to tune various cellular pathways. Many of those events occur at the post-transcriptional level through the formation of protein-RNA complexes that will influence various aspects of messenger RNA (mRNA) maturation such as alternative splicing, editing, export, and polyadenylation. Therefore, RNA binding domains (RBDs) are key actors in these regulatory mechanisms through their recognition of specific RNA sequences or structures. The most common RBDs are the RNA recognition motif (RRM) (corresponding to about 2% of all RNA binding domains), the hnRNP K Homology domains (KH), Piwi Argonaute and Zwille domains (PAZ), and double stranded RNA-binding domains (dsRBD) [
1
,
2
,
3
,
4
]. With recent technological developments combining UV cross-linking together with oligo(dT) purification of mRNAs, we now have comprehensive lists of RNA-binding proteins in various eukaryotic organisms [
5
,
6
,
7
,
8
], indicating that many other RBDs are yet to be uncovered.
The recent identification of several internal post-transcriptional modifications such as m
6
A (N6-methyladenosine), m
1
A (N1-methyladenosine), pseudouridine (Ψ), m
5
C (5-methylcytosine), and ac
4
C (N4-acetylcytosine) within mRNAs has shed light onto an additional layer of regulation now known as epitranscriptomics [
9
,
10
,
11
,
12
,
13
,
14
,
15
,
16
,
17
,
18
]. Indeed, similar to the dynamic modifications known to occur in DNA and proteins, epitranscriptomics modifications widely contribute to the regulation of biological pathways [
19
,
20
]. At present, the most studied mRNA modification is m
6
A. This modification was initially identified in mRNAs four decades ago [
9
]. However, because m
6
A does not alter base pairing [
21
], and hence does not result in the introduction of a stall or a mutation during reverse-transcription, the development of advanced techniques to precisely map m
6
A sites has been a main obstacle for studying its biological significance. This field was reignited in 2011, following the discovery of the m
6
A demethylase FTO (fat mass and obesity-associated protein), a protein involved in human obesity, as a so-called 'eraser' enzyme that removes m
6
As present on mRNAs [
22
]. More recently, several laboratories have finally been successful in mapping m
6
A at individual-nucleotide resolution using cross-linking and immuno-precipitation with m
6
A-specific antibodies. High-throughput sequencing of the immuno-precipitated RNA fragments revealed the presence of more than 10,000 m
6
A sites in human cells, affecting more than 25% of the transcriptome. Their detailed mapping showed an enrichment of m
6
A near the stop codon and in the 3′ untranslated region (3′ UTR) of the target mRNAs. The main 'writer' methyltransferase is a multi-protein complex composed of at least METTL3, METTL14, WTAP, and KIAA1429, which is responsible for m
6
A deposition on the consensus motif DRA*CH (where D is A, G or U; R is A, or G; A* is the methylated A and H is A, C ,or U; [
10
,
13
,
23
,
24
]). The m
6
A marks can be deleted by 'erasers' such as FTO and ALKBH5 [
22
,
25
]. Furthermore, this modification can attract m
6
A-binding proteins known as 'readers', as well as repel various proteins regulating mRNA functions [
10
,
26
,
27
,
28
]. This differential recruitment of regulatory proteins on m
6
A marks subsequently determines the fate of m
6
A-containing mRNAs, such as splicing, translation, degradation, or cellular localization. The most studied RNA binding module known to directly recognize m
6
A marks is the YTH domain. Indeed, many studies are scrutinizing eukaryotic YTH-containing proteins in order to clarify their roles in the regulation of mRNA fates. The present review aims at summarizing our current knowledge on this class of m
6
A readers.
2. The YTH Domain, an m6A RNA Grip
The foremost member of this m
6
A reader protein family is human YT521-B (hereafter termed YTHDC1), which was initially identified as a factor interacting with Tra2β, SC35, SF2, hnRNP G, and SAM68 splicing factors [
29
,
30
]. Despite this clear interaction of YTHDC1 with splicing machinery, no known RNA binding domain was detected and the only common feature with splicing factors was the presence of repeats of charged amino acids [
30
]. Further bioinformatics analyses led to the identification of an additional conserved region, named YTH (for YT521-B Homology) domain. This domain was found exclusively in eukaryotic proteins from fungi (one member in
Saccharomyces cerevisiae
and
Schizosaccharomyces pombe
yeasts) through plants (13 members in
Arabidopsis thaliana
) to higher eukaryotes (five members in human, namely YTHDC 1–2 and YTHDF 1–3) [
31
,
32
]. Although this domain was predicted to be a putative RNA binding domain since its identification, its RNA binding property was only demonstrated in 2010 when Zhang et al. showed that YTHDC1 can bind degenerate RNA sequences [
33
]. YTH-containing proteins became a topic of strong interest when YTHDF1, 2, and 3, three paralogous members of the YTH-containing protein family, were found to be the most enriched human proteins specifically retained by an RNA fragment containing an m
6
A modification at the heart of the DRA*CH consensus sequence [
10
,
26
].
The YTH domain is made of 150 to 200 residues and adopts an α/β fold, with four to five α-helices surrounding a curved six stranded β-sheet as revealed by the NMR structure of YTHDC1 YTH domain determined by the RIKEN Structural Genomics and Proteomics Initiative in 2007 (PDB code: 2YUD). At the center of the β-sheet lies a cavity delineated by conserved hydrophobic residues including three tryptophan amino acid side chains (in some YTH domains, one Trp residue is substituted by either Leu or Tyr) forming a so-called aromatic cage (
Figure 1
A). Several 3D-structures of different YTH-m
6
A containing RNA complexes have revealed that this aromatic cage is responsible for the specific recognition of the m
6
A mark by YTH domains [
34
,
35
,
36
,
37
,
38
]. Indeed, in the case of human YTHDC1 bound to an m
6
A containing RNA, the aromatic cage specifically accommodates m
6
A via the side chains from W377, W428, and L439 amino acids [
37
]. The m
6
A methyl group forms methyl-π interaction with W428 side chain while the purine base is sandwiched between the W377 and L439 side chains (
Figure 1
A). This interaction of the m
6
A methyl group with W428 most probably explains the higher affinity (20 to 50-fold difference) of YTH domains for an m
6
A containing RNA oligonucleotide compared to the same unmodified oligonucleotide [
36
]. Sequence alignment revealed that the W377 and W428 residues are strictly conserved among the YTH-containing proteins while the position corresponding to L439 can be occupied by either Leu, Tyr, or Trp. The integrity of this aromatic cage is essential for the recognition of m
6
A since mutation of any of these three residues to alanine disrupts binding [
34
,
37
,
38
]. Polar amino acids (S378, N363, and N367 in human YTHDC1) also contribute to m
6
A recognition by forming specific hydrogen bonds with nitrogen atoms from the adenine base and then participating together with the aromatic cage to the selective recognition of m
6
A (
Figure 1
A). Residues surrounding this aromatic cage are also important for RNA binding as they form a large positively-charged surface interacting with RNA phosphate groups from nucleotides surrounding m
6
A and also provide some specific interactions with bases. A large majority of m
6
A marks generated by the main m
6
A methyltransferase 'writer' is found within Gm
6
AC (70%) or Am
6
AC (30%) motifs [
37
]. Interestingly, structural analyses coupled to isothermal titration calorimetry (ITC) measurements using various RNA sequences have shown that the affinity of YTH domain from YTHDC1 for RNA fragments is higher (five- to six-fold difference) when the nucleotide immediately upstream of m
6
A is a G compared to an A [
37
,
38
], suggesting the co-evolution of both the active site of METTL3-METTL14 methyltransferase holoenzyme and of the RNA binding site of human YTHDC1. Indeed, in the structure of YTHDC1 bound to a GGm
6
ACU RNA fragment [
37
], the carbonyl group at position six of the G base preceding m
6
A forms a hydrogen bond with the main chain nitrogen group from V382 (or equivalent position in other YTH domains;
Figure 1
A). The amine group, present at the same position in A, is less prone to form such hydrogen bond, which could rationalize the differences in measured affinities. However, this seems to be specific of YTHDC1 as all other tested YTH-containing proteins (YTHDF1/2, YTHDC2, and
S. cerevisiae
Pho92) exhibit similar affinities for RNAs containing any of the four nucleotides at the position immediately upstream m
6
A [
38
]. This probably results from the fact that this nucleotide binds into different pockets with no obvious base specificity on YTHDF1 or the
Zygosaccharomyces rouxii
Mrb1/Pho92 fungal orthologue compared to YTHDC1 [
35
,
38
]. So far, structural studies have been performed only with 5- or 7-mers RNAs, which are known to bind more weakly (Kd values in the 2 to 30 µM range) than longer RNAs (9 or 16-mers for instance; Kd values ranging from 0.2 to 0.3 µM for YTHDC1 up to 7.5 µM for YTHDC2 [
38
]). Therefore, additional structural studies with longer RNA fragments might be of interest to bring more information on RNA recognition by these YTH motifs.
In summary, YTH-domain containing proteins interact with single-stranded RNAs and selectively identify the presence of a modified m6A nucleotide at the center of a consensus signature motif matching that of the major m6A methyltransferase machinery identified to date.
3. YTH, a Building Block Governing the Fates of m6A Containing mRNAs
Most RNA binding modules are embedded within larger proteins and are surrounded by either structured domains or low complexity regions, all with various functions [
8
,
40
,
41
]. The YTH domain is no exception to this rule and clearly serves as a building block mostly flanked by regions predicted to be disordered (
Figure 2
; [
42
,
43
,
44
]). By influencing both the sub-cellular localization of these YTH proteins and their partners, these flanking regions are thereby important for the function of YTH proteins in the regulation of m
6
A-containing RNA fates, i.e., splicing, mRNA nucleocytoplasmic export, translation and mRNA decay [
26
,
35
,
45
,
46
,
47
].
As mentioned above, bioinformatics analyses have identified 13 YTH-containing proteins in
A. thaliana
, which roles are being clarified. As this topic has been nicely discussed by Bhat et al. in this special issue [
32
], these plant YTH proteins will not be discussed in this section. On the basis of amino acid sequences, YTH domain proteins from different vertebrates can be divided into three families: YTHDC1, YTHDC2, and YTHDF1–3. There is no significant sequence similarity between members from those different families outside of the YTH domain, hence YTHDC1, YTHDC2, and YTHDF1–3 members cannot be considered as paralogues.
4.
Schizosaccharomyces pombe

Mmi1, a Fission within YTH Family Proteins
5. Conclusions
The technological progresses made during the last decade have allowed the identification of RNA modifications present at low abundance and on RNA species with limited stability such as mRNAs and long noncoding RNAs in eukaryotic cells. This research has created the basis for the characterization of proteins and multi-protein complexes involved in the deposition, elimination, and detection of these modifications. So far, much of the studies have focused on the most abundant modification, namely m
6
A. As a consequence, the best characterized m
6
A 'readers' are YTH-containing proteins and studies in human cells have shown that the five human YTH proteins are affecting mRNA fates such as splicing, export, translation, and decay by recruiting various protein partners. However, there is increasing evidence that proteins lacking YTH domains can also selectively recognize m
6
A marks. This is indeed the case for instance of the eIF3 initiation factor [
70
], the FMR1 RNA binding protein, which loss results in fragile X-linked mental retardation syndrome [
28
,
96
] or the insulin-like growth factor 3 mRNA-binding proteins IGF2BPs [
97
]. Undoubtedly, epitranscriptomics is a highly dynamic field and future work will identify new 'readers' of epitranscriptomics marks as has recently been the case for ALYREF, an m5C 'reader' [
98
], paving the way for the description of highly sophisticated mechanisms to control gene expression at the mRNA level.
Author Contributions
D.H., C.C. and M.G. drafted the article and approved the version to be published. We apologize for the many studies that could not be cited due to space constraints. We are indebted to Mathieu Rougemaille for critical reading of the manuscript.
Funding
This work was supported by Ecole Polytechnique, the Centre National pour la Recherche Scientifique, the Agence Nationale pour la Recherche [grant ANR-16-CE11-0003]. D.H. was supported by a PhD fellowship from the French Ministère de l'Enseignement Supérieur et de la Recherche (MESR).
Conflicts of Interest
The authors declare no conflicts of interest.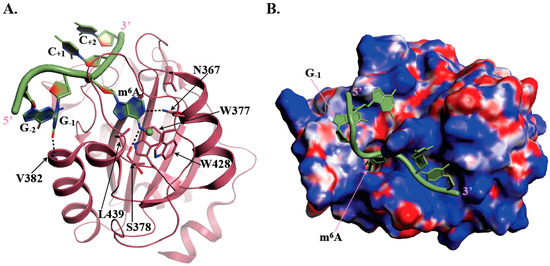 Figure 1.
Recognition of m
6
A (N6-methyladenosine) containing RNAs by human YTHDC1 YTH domain. (
A
) Ribbon representation of a GGm
6
ACC RNA oligonucleotide (green) bound to human YTHDC1 (PDB code: 4R3I; [
37
]). The methyl group grafted on N6-adenosine is shown as a sphere. The side chains from residues involved in the formation of the m
6
A aromatic cage and the hydrogen bonds responsible for specificity of m
6
A as well as for increased affinity of YTHDC1 for RNAs harboring a G just upstream of the m
6
A mark are shown as sticks. Hydrogen bonds are depicted by black dashed lines. (
B
) Mapping of the electrostatic surface at the surface of human YTHDC1 YTH domain with the GGm
6
ACC RNA oligonucleotide shown in green. Positively (8 kBT/e) and negatively (−8 kBT/e) charged regions are colored blue and red, respectively. The potential was calculated using the CHARMM-GUI server [
39
].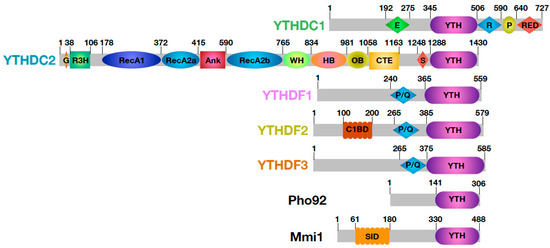 Figure 2.
Schematic representation and domain composition of human,
Saccharomyces cerevisiae
(Pho92) and
Schizosaccharomyces pombe
(Mmi1) YTH-domain containing proteins. The predicted or experimentally determined limits of domains are indicated. E: Glu-rich domain. R: Arg-rich domain. P: Pro-rich domain. RED: Arg/Glu/Asp-rich domain. G: Gly-rich domain. R3H: small domain containing an invariant Arg sported from a highly conserved His by three residues. RecA1 and RecA2: RecA domains found in helicases. Ank: Ankyrin repeats. WH: Winged-helix domain. HB: Helical bundle. OB: OB-fold. CTE: C-terminal extension. S: Ser-rich domain. P/Q: Pro and Gln-rich domain. C1BD: CNOT1 binding domain. SID: Self-Interacting domain.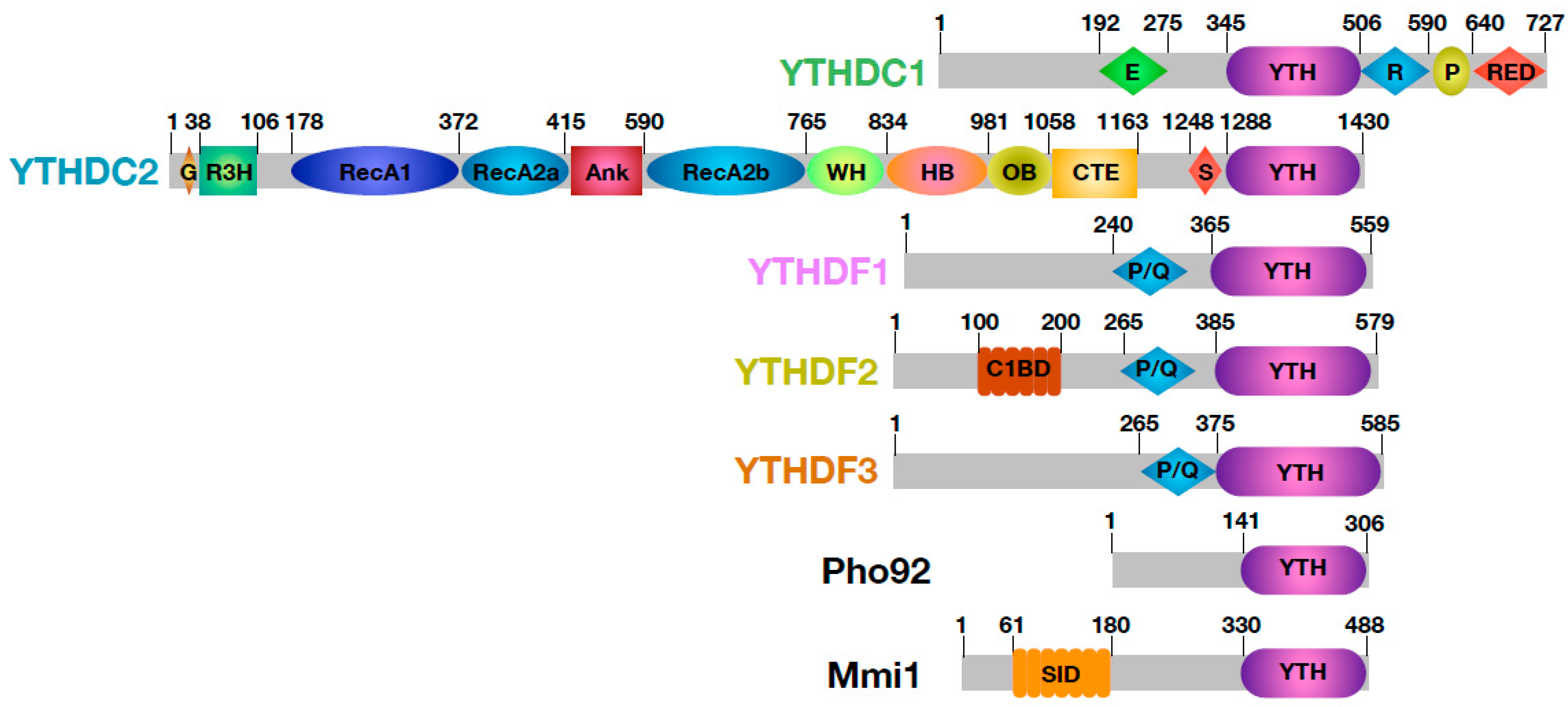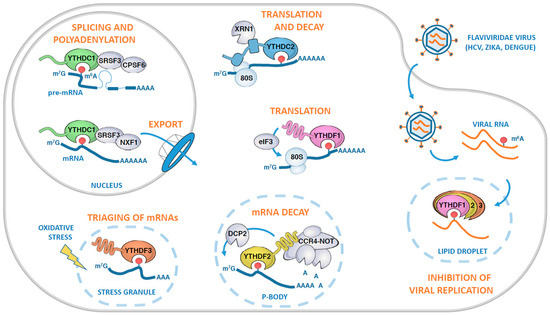 Figure 3. Roles of human YTH-containing proteins in various aspects of messenger RNA (mRNA) fates. In the nucleus, YTHDC1 recognizes m6A-modified pre-mRNAs and orchestrates their splicing, polyadenylation, and nuclear export through its association with SRSF3, CPSF6, and NXF1. Once in the cytosol, the modified mRNAs can be bound by YTHDC2, which in turn recruits both the ribosome and the XRN1 exoribonuclease. Alternatively, the mRNA can be targeted by the YTHDF proteins, either to be actively translated in an YTHDF1-dependent manner, or subjected to mRNA decay through YTHDF2 and its ability to recruit the CCR4-NOT deadenylase complex. YTHDF2-mediated mRNA decay is likely to occur in Processing bodies (P-bodies) where it co-localizes with the decapping enzyme DCP2. Following oxidative stress, m6A-modified mRNAs can also be recognized by YTHDF3, which facilitates the triaging of mRNAs into the stress granules. The YTHDF proteins can also target viral m6A-modified RNAs during infection, as illustrated by the case of hepatitis C virus (HCV) infection. During infection, the YTHDF proteins relocalize to lipid droplets, sites of viral assembly, and sequester m6A-modified HCV RNAs, preventing their interaction with HCV core protein and subsequent virus particle production.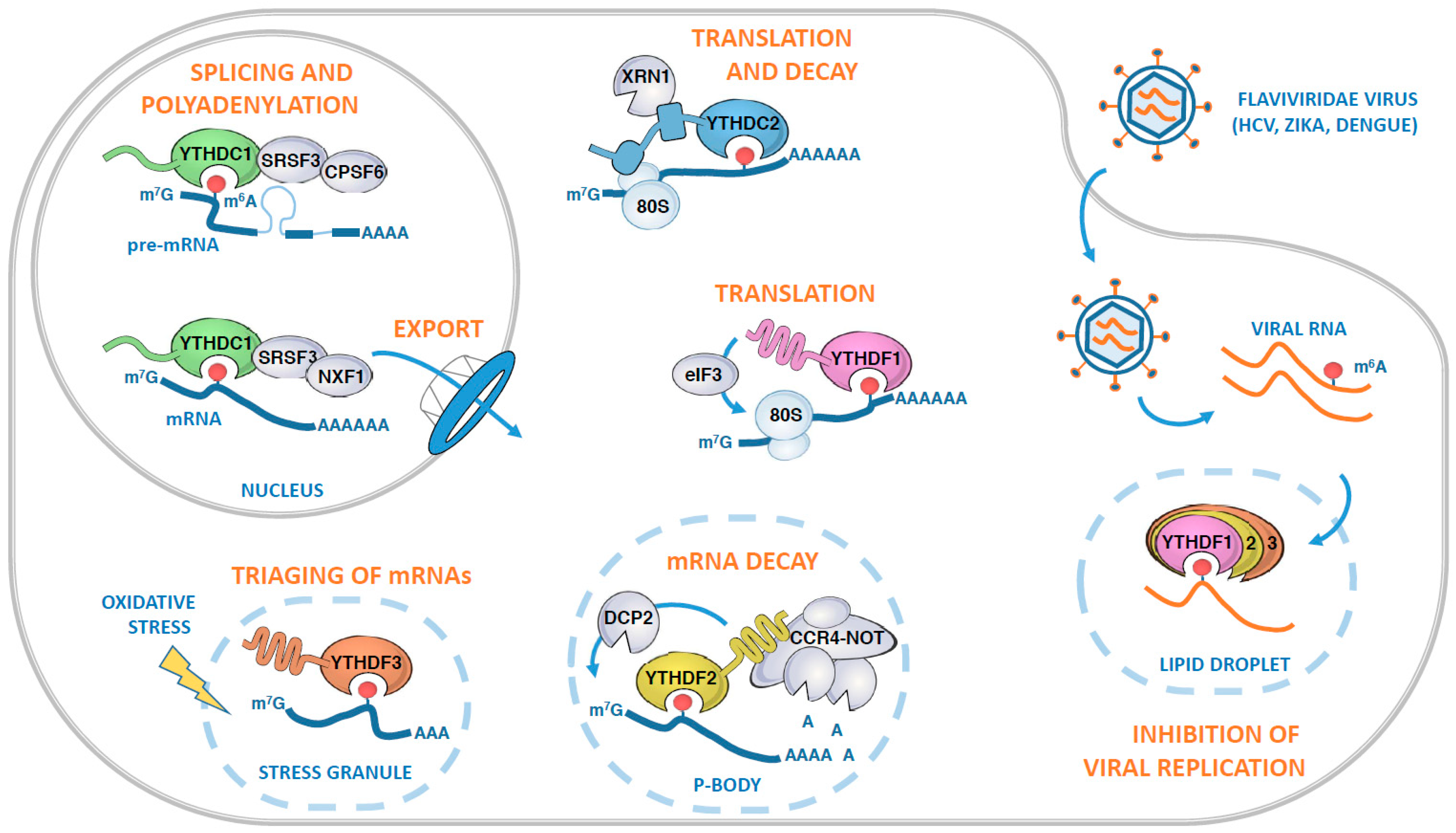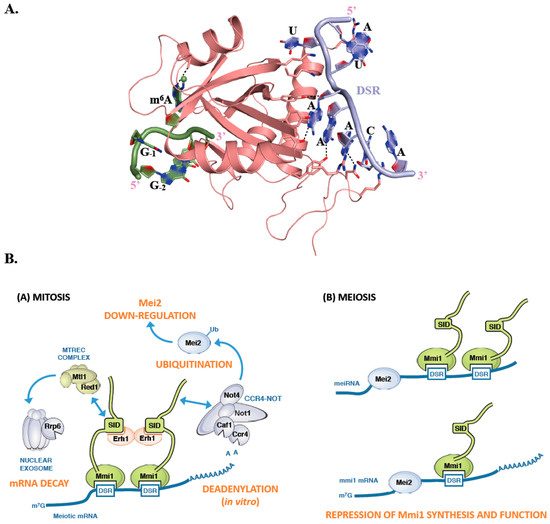 Figure 4.
S. pombe
Mmi1 contains an atypical YTH domain. (
A
) Ribbon representation of the complex between
S. pombe
Mmi1 YTH domain (pink) and a Determinant of Selective Removal (DSR) RNA sequence (light blue; [
84
]). An m
6
A containing RNA fragment (green) has been modeled by superimposing the crystal structure of RNA-bound YTH domain from YTHDC1 onto the structure of
S. pombe
Mmi1. Some residues and hydrogen bonds important for the interaction between
S. pombe
Mmi1 and the RNA DSR sequence are shown as sticks or black dashed lines, respectively. (
B
) Cartoons summarizing how Mmi1 controls the decay of meiotic mRNAs during mitosis or is inactivated during meiosis.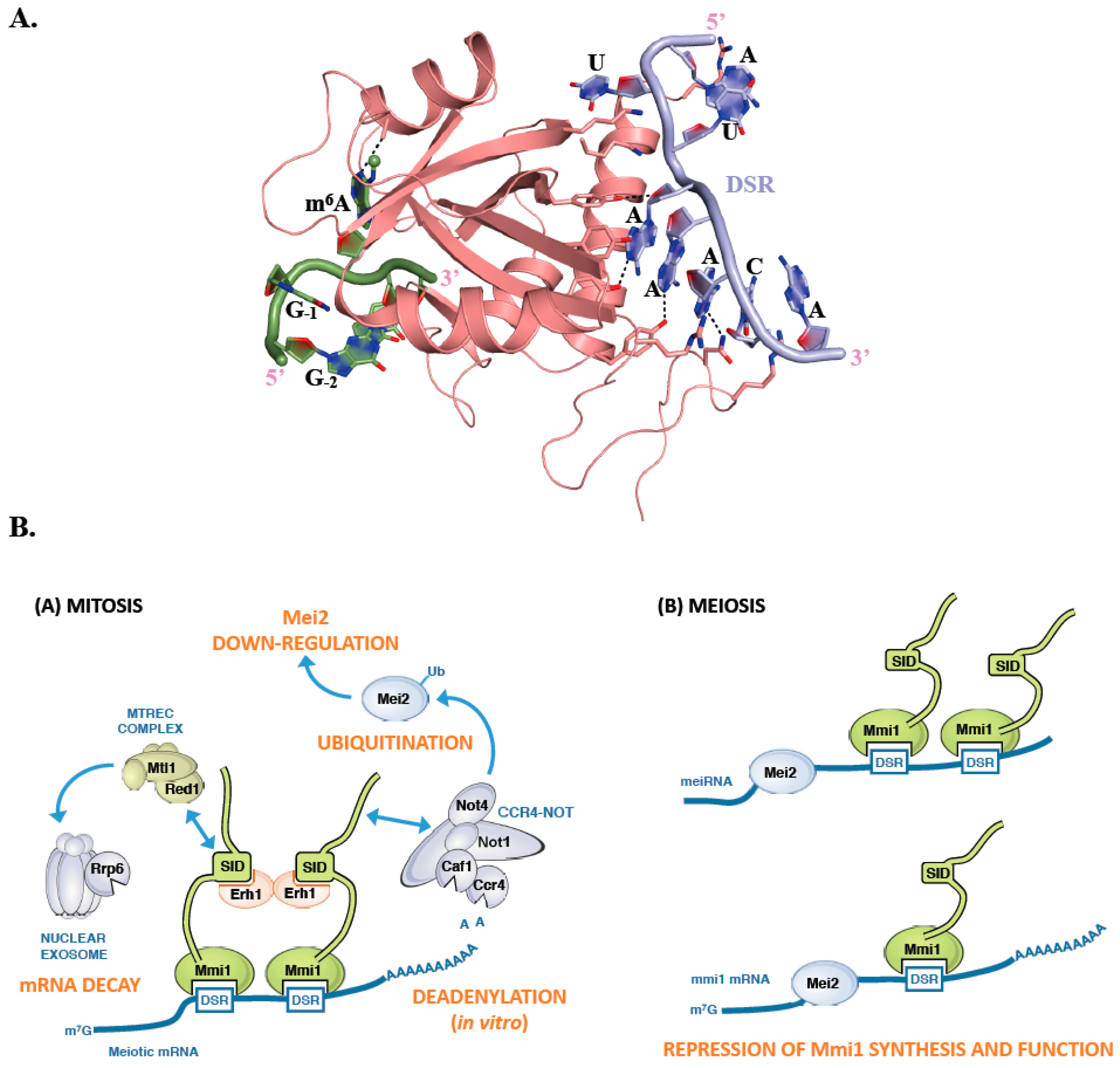 © 2019 by the authors. Licensee MDPI, Basel, Switzerland. This article is an open access article distributed under the terms and conditions of the Creative Commons Attribution (CC BY) license (http://creativecommons.org/licenses/by/4.0/).