The Immuno-Modulatory Effects of Inhibitor of Apoptosis Protein Antagonists in Cancer Immunotherapy
1
Peter MacCallum Cancer Centre, Melbourne, VI 3000, Australia
2
Sir Peter MacCallum Department of Oncology, The University of Melbourne, VI 3010, Australia
3
The Walter and Eliza Hall Institute of Medical Research, VI 3010, Australia
4
Department of Medical Biology, University of Melbourne, Parkville, VI 3010, Australia
5
Department of Immunology, Monash University, Melbourne, VI 3004, Australia
*
Author to whom correspondence should be addressed.
Received: 29 November 2019 / Revised: 6 January 2020 / Accepted: 11 January 2020 / Published: 14 January 2020
One of the hallmarks of cancer cells is their ability to evade cell death via apoptosis. The inhibitor of apoptosis proteins (IAPs) are a family of proteins that act to promote cell survival. For this reason, upregulation of IAPs is associated with a number of cancer types as a mechanism of resistance to cell death and chemotherapy. As such, IAPs are considered a promising therapeutic target for cancer treatment, based on the role of IAPs in resistance to apoptosis, tumour progression and poor patient prognosis. The mitochondrial protein smac (second mitochondrial activator of caspases), is an endogenous inhibitor of IAPs, and several small molecule mimetics of smac (smac-mimetics) have been developed in order to antagonise IAPs in cancer cells and restore sensitivity to apoptotic stimuli. However, recent studies have revealed that smac-mimetics have broader effects than was first attributed. It is now understood that they are key regulators of innate immune signalling and have wide reaching immuno-modulatory properties. As such, they are ideal candidates for immunotherapy combinations. Pre-clinically, successful combination therapies incorporating smac-mimetics and oncolytic viruses, as with chimeric antigen receptor (CAR) T cell therapy, have been reported, and clinical trials incorporating smac-mimetics and immune checkpoint blockade are ongoing. Here, the potential of IAP antagonism to enhance immunotherapy strategies for the treatment of cancer will be discussed.
1. Inhibitor of Apoptosis Proteins
The capacity to evade apoptosis, a form of physiological cell death that relies on the activation of a family of cysteine proteases known as caspases [
1
], is a common trait of malignantly transformed cells [
2
]. During apoptotic cell death, endogenous second mitochondrial activator of caspases/Direct IAP-Binding Protein With Low PI (smac/DIABLO), is released from the mitochondrial inter-membrane space where it binds to, and inhibits, the three major inhibitor of apoptosis proteins; cellular IAP 1 (cIAP1,
BIRC2
) and 2 (cIAP2,
BIRC3
) and X-linked IAP (XIAP,
BIRC4
) [
3
,
4
]. The inhibitor of apoptosis (IAP) proteins are a family of endogenous proteins that function as key regulators of caspase activity, and are defined by the presence of at least one Baculoviral IAP Repeat (BIR) domain. These approximately 70-residue zinc-binding domains enable their interaction with, and suppression of, caspases, and therefore facilitate the inhibition of apoptosis [
5
]. Only XIAP is a potent direct inhibitor of caspases, however, the physiological significance of this activity is unclear, because cells from patients with XIAP mutations [
6
] and murine XIAP knockout mice, are not more sensitive to apoptosis than wild type cells [
7
]. Importantly, IAPs also contain a RING finger E3 ligase domain at the C-terminus [
8
,
9
], enabling these proteins to participate in diverse cellular processes, including signal transduction events that promote inflammation, cell cycle progression and migration. Notably, IAPs are critical regulators of both canonical and alternative (non-canonical) nuclear factor kappa light-chain enhancer of activated B cells (NF-κB) signalling, downstream of various members of the Tumour Necrosis Factor Receptors Superfamily (TNFRSF).
1.1. Inhibitor of Apoptosis Proteins in NF-κB Signalling
IAPs are required for the activation of the canonical NF-κB pathway downstream of several receptors [
10
,
11
]. One of the best studied is downstream of TNF Receptor 1 (TNFR1) (
Figure 1
). In this pathway, TNFR1 ligation by TNF results in the formation of a complex comprising RIPK1, TRADD, and TRAF2 (Complex I), where TRAF2 is the primary factor required for the recruitment of IAPs [
12
,
13
,
14
]. IAPs ubiquitylate several components within this complex, although the best studied is RIPK1 [
15
,
16
,
17
,
18
]. The downstream signalling pathway consists of the trimeric canonical IκB kinase (IKK) complex, composed of IKKα and IKKβ subunits, as well as the regulatory subunit IKKγ (also known as NF-κB essential modulator (NEMO)). IAP-mediated ubiquitylation of Complex I mediates the recruitment of the linear ubiquitin chain assembly complex (LUBAC) [
19
], which is comprised of HOIL-1L, HOIP and Sharpin [
20
]. LUBAC generates M1 linked ubiquitin chains on Complex I components such as RIPK1 and IKKγ [
21
], which stabilizes Complex I and allows full activation of the IKK complex (consisting of IKK1, IKK2 and IKKγ/NEMO) and a TAK1 containing complex. IKK2 phosphorylates IκBα, resulting in its proteasomal degradation and the release of the p50 and p65/RelA NF-κB heterodimer, which allows their translocation to the nucleus [
22
,
23
], while TAK1 activation leads to activation of the MAPK pathway. This results in the induction of pro-survival and inflammatory transcriptional programs [
24
].
IAP-mediated ubiquitylation of RIPK1 in Complex I also limits RIPK1 association with FADD and caspase 8 to form the ripoptosome (Complex II) [
25
]. Together MAPK, IKK activation and IAP ubiquitylation therefore suppress TNF induced apoptosis. As a result, antagonism, or the absence of, IAPs results in signalling through TNFR1 that activates caspase-mediated apoptosis, rather than the induction of NF-κB pro-survival signalling [
26
,
27
,
28
]. IAPs also inhibit cell death induced by the TNFSF death ligands, FasL and TRAIL, as well as chemotherapy agents [
28
,
29
,
30
,
31
]. In these cases, it is likely that preventing RIPK1 from generating a FADD caspase-8 activating complex is the primary mechanism of inhibition, while NF-κB activation plays a less significant role.
The cellular IAPs (cIAPs) also have a critical role in the regulation of NF-κB-inducing kinase (NIK) through K-48 ubiquitylation; a process that leads to its continuous degradation and therefore low-level expression [
26
,
27
]. Therefore, the loss or inhibition of IAPs leads to NIK stabilization and accumulation, phosphorylation and activation of IKKα, phosphorylation and processing of p100 (NFκB2) and nuclear translocation of the p52 and RelB NF-κB heterodimer; resulting in activation of the so-called non-canonical NF-κB pathway.
1.2. IAPs and Smac-Mimetics in Cancer
IAPs are amplified in approximately 3% of cancers [
32
], and several IAPs can act as proto-oncogenes as a result of genetic alterations in various cancer types [
33
]. As IAPs promote cell survival in response to TNFSF ligands and chemotherapy, their upregulation renders cancer cells resistant to the cytotoxic effects of these agents, and is associated with failure of treatment and poor prognosis in multiple cancer types [
24
,
25
,
34
]. For example, XIAP expression has been implicated in cisplatin resistance in ovarian cancer [
35
], correlated with disease severity in AML [
36
], and is a prognostic indicator in renal cell carcinoma [
37
]. Following the discovery of a potent antagonist of XIAP [
38
], small molecule mimetics of smac/DIABLO (smac-mimetics; SMs) were developed to overcome the survival benefits of IAP upregulation in cancer cells, through their antagonism of IAP activity and promotion of tumour cell death [
39
,
40
,
41
,
42
]. SMs promote IAP degradation by binding to the BIR3 domain of cIAPs, which allows the RING to dimerize, and in turn, activate the E3 ubiquitin ligase function of the cIAPs [
26
,
27
,
43
]. As they are not bound to a natural substrate such as NIK, this results in their own ubiquitylation and degradation [
44
,
45
]. Although SMs also bind to the BIR3 of XIAP, very few of them promote degradation of XIAP, although they nevertheless can antagonise normal XIAP function [
11
,
46
,
47
].
A number of SMs have been developed over the past decade with differing chemistries, including monovalent and bivalent varieties, which both mimic the N-terminus of SMAC and subsequently promote RIPK1-caspase8 complex formation and apoptosis. However, bivalent SMs are typically more cytotoxic than the structurally related monovalent IAP antagonists. Biochemical analyses of various monovalent and bivalent SMs have revealed that bivalency promotes cIAP1 degradation more effectively than monovalent IAP antagonists, and monovalent SMs are also less effective at depleting TRAF2-associated cIAP1, and thus inhibiting canonical NF-κB signalling [
48
]. SMs not only degrade IAPs to promote tumor cell death, but also induce the production of TNF in a subset of tumor cells, which can act in an autocrine or paracrine manner to cause tumor cell death [
24
,
26
,
27
,
49
,
50
]. In this manner, single agent efficacy of SMs has been reported, particularly for the treatment of certain leukaemias [
51
,
52
,
53
]. However, these monotherapy studies have shown that, for the most part, antagonism of IAPs alone does not result in immediate cell death; rather, SM-induced assembly of the ripoptosome can prime cells for death—a process which requires an additional RIPK1 activating signal [
1
,
30
,
31
], which lowers the threshold for TNF-dependent apoptotic cell death. The importance of the ripoptosome in SM-induced cell death was highlighted by a recent study demonstrating resistance to SM therapy by chronic lymphocytic leukaemia cells as the result of an inability to form the ripoptosome complex [
54
]. SMs do not usually sensitize non-transformed cells to TNF-induced death, as is evident from the good safety profile of these drugs, but how healthy cells are protected from this effect is not well understood.
Several SMs have now entered clinical trials, including monovalent LCL161 and Debio 1143 (AT- 406) and one of the most clinically advanced SMs—the bivalent and pan-IAP antagonist birinapant [
39
]. Despite promising pre-clinical efficacy, this has largely failed to translate into positive outcomes in clinical trials, with several reports of the poor efficacy of SMs when used as single agents [
32
,
55
]. However, due to their favourable safety profile, attention is now being directed to the incorporation of SMs in combination therapies and as immuno-modulatory agents for the treatment of cancer.
1.3. The Immuno-Modulatory Properties of Smac-Mimetics in Cancer
2. IAP Antagonists and Immunotherapy Approaches
Immunotherapy has had some remarkable successes in the clinic, however the benefit is limited to only a subset of patients. For example, checkpoint blockade therapy, such as α-PD-1 treatment, results in a partial or complete clinical response rate in only ~20% of patients with solid tumours [
74
]. The application of chimeric antigen receptor (CAR) T cell therapy has also been limited to haematological malignancies, largely due to poor CAR T cell infiltration and the hostile tumour microenvironment associated with solid tumours. Several properties of SMs, including their immuno-modulatory effects on a range of immune subsets, may overcome these challenges and enhance the efficacy of immunotherapies when used in combination. SM therapy can also synergise with innate immune stimuli such as oncolytic viruses, poly(I:C) or CpG, to promote anti-tumour immunity in mouse models [
50
]. The potential of SMs to promote the anti-tumour activity of CD8+ cytotoxic T lymphocytes (CTLs) is particularly promising, as these are the key immune cells required for the clinical efficacy of both adoptive cell therapies and checkpoint blockade immunotherapies.
2.1. Role of Smac-Mimetics in T Cell-Specific Immunotherapies
2.2. Role of Smac-Mimetics in NK Cell-Specific Immunotherapies
While the success of CAR T cell therapy and checkpoint blockade has highlighted the use of T cell-centric immunotherapies for the treatment of cancer, there is potential for natural killer (NK) cell-specific immunotherapies to provide an alternative or overcome relapse or resistance to these therapies [
95
,
96
]. Like T cells, IAPs also regulate aspects of NK cell biology, however their role has not been extensively studied.
There have been several reports that IAP antagonists potentiate Hodgkin lymphoma susceptibility towards NK cell-mediated killing [
97
,
98
], and a TNF-dependent increase in the effector function of NK cells in vitro following the administration of birinapant has been reported [
85
]. Similarly, BV6 improves NK cell-mediated killing of rhabdomyosarcoma cells by sensitising them to NK cell-mediated killing through TNF, whilst simultaneously enhancing the cytotoxic potential of the NK cells through increasing NK cell activation [
99
]. Furthermore, the administration of AG-1387 resulted in a five-fold increase in NK cell tumour infiltration, as well as inducing tumour cell apoptosis directly in a hepatocellular carcinoma xenograph model [
80
]. More recently, the cytotoxic activity of NK cells against hepatocellular carcinoma was shown to be enhanced following AG-1387 administration [
100
]. Based on this favourable pre-clinical efficacy, and mounting evidence for the role of the PD-1/PDL-1 inhibitory axis on NK cell cytotoxic activity [
101
,
102
,
103
], a Phase 1/2 clinical trial with AG-1387 in combination with pembrolizumab (α-PD-1), is ongoing (
Table 1
). IAP activity, particularly XIAP, is also implicated in NKT cell development [
104
], and SM treatment has been reported to enhance cytokine production from mouse and human NKT cells and promote the anti-tumour activity of NKT cells in a B16F10 lung metastasis model [
105
], providing excellent rationale to combine SMs with immunotherapy approaches.
Whether NK cell-based immunotherapies will become commonplace in clinical practice is still unknown, but some clinical success has been reported following the adoptive transfer of the NK92 cell line or NK cells engineered to express a chimeric antigen receptor against a tumour associated antigen [
106
,
107
]. The role of NK cells in anti-tumour immunity should not be underestimated, and given the potent cytotoxic capacity of NK cells to kill tumour cells, the potential to enhance their effector function with SMs is a promising approach. Indeed, emerging literature suggests that tumour cells may be senstitised to NK cell-mediated and TNF-dependent killing through administration of a SM, and potentially overcome resistance to T cell-directed immunotherapies [
96
].
2.3. Role of Smac-Mimetics in Oncolytic Virus Immunotherapy
3. Conclusions
While IAPs were originally characterised as modulators of cell death through their interaction with caspases, it is now clear that they have broad immuno-modulatory properties, affecting both the innate and adaptive immune system. As such, IAP antagonists are poised to enter the clinic as a promising approach to overcome some of the challenges associated with conventional immunotherapies. One of the key immuno-modulatory effects of SMs is their ability to potentiate TNF-mediated bystander killing of tumour cells.
Combination therapies that enhance the efficacy of SMs are those that typically increase the local concentration of inflammatory cytokines, which can then be harnessed and potentiated by SMs via their capacity to sensitise tumour cells to TNF-mediated apoptosis. Therefore, therapies specifically designed to enhance the local secretion of inflammatory cytokines in the tumour microenvironment, such as CAR T cell or oncolytic virus therapy, have resulted in a synergistic effect with SMs and significantly enhanced tumour cell death. It may be possible to create triple combination therapies based on this approach, by incorporating an immune checkpoint blockade–a therapy which has been shown to enhance T cell secretion of inflammatory cytokines–to further enhance this synergistic effect. As many of these agents with potential for synergy with SMs are already in clinical trials, we can expect a rapid translation of such combination therapies in to the clinic.
Author Contributions
J.M., C.J.K., E.D.H., J.S. and J.O. conceptualized the review; writing—original draft preparation, J.M.; writing—review and editing, C.J.K., E.D.H., J.S. and J.O. All authors have read and agreed to the published version of the manuscript.
Funding
This research was funded by the National Health and Medical Research Council, grant number APP1139626 and the National Breast Cancer Foundation, grant number IIRS-18-151.
Acknowledgments
We thank members of the Cancer Immunology Division at the Peter MacCallum Cancer Centre and collaborators at the Walter and Eliza Hall Institute of Medical Research for helpful discussion and insights. We apologise to all researchers in this field who were not cited due to space constraints.
Conflicts of Interest
The authors declare no conflict of interest.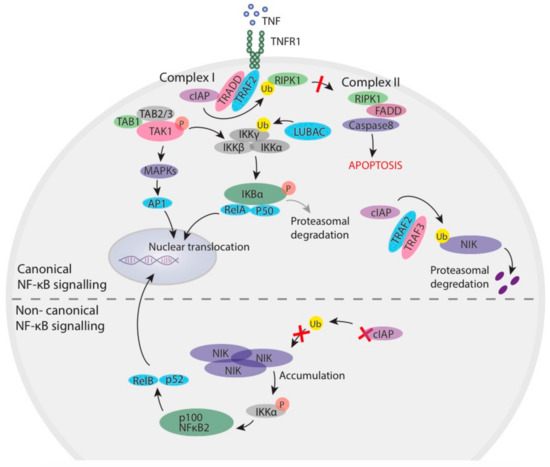 Figure 1. The Inhibitor of Apoptosis Proteins (IAPs) are critical regulators of both canonical and non-canonical NF-κB signalling. During canonical NF-κB signalling, the ubiquitylation of Complex I components by cIAPs results in the nuclear translocation and activation of pro-survival canonical NF-κB and limits the formation of pro-apoptotic Complex II. cIAPs also target NIK for proteasomal degradation preventing the activation of non-canonical NF-κB. Loss of IAPs results in the formation of Complex II and activates caspase-mediated apoptosis, and results in the accumulation of NIK, which causes downstream non-canonical NF-κB activation.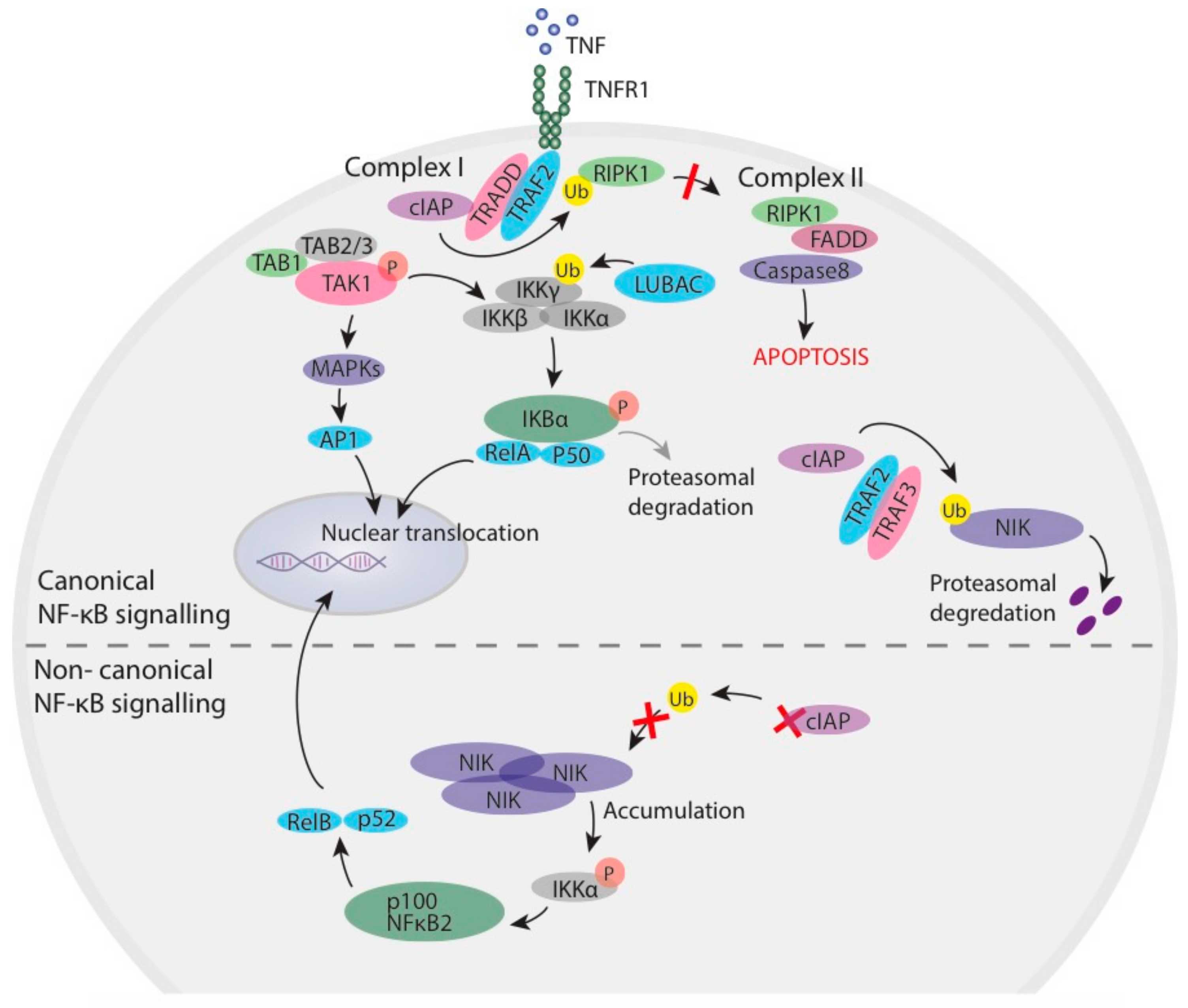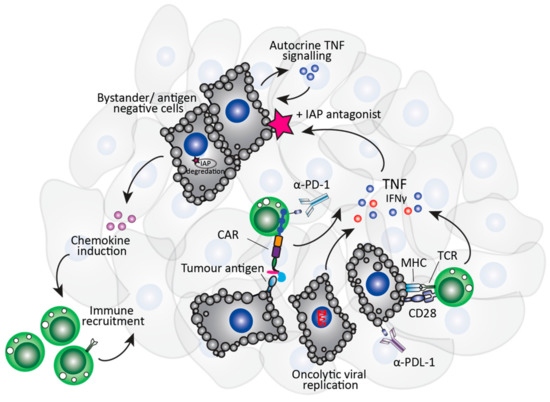 Figure 2. Bystander killing mediated by tumour cell IAP antagonism. TNF released following checkpoint blockade, CAR T cells, or from tumour cells following oncolytic virus-induced death can cause death of surrounding "bystander" tumour cells, due to IAP degradation.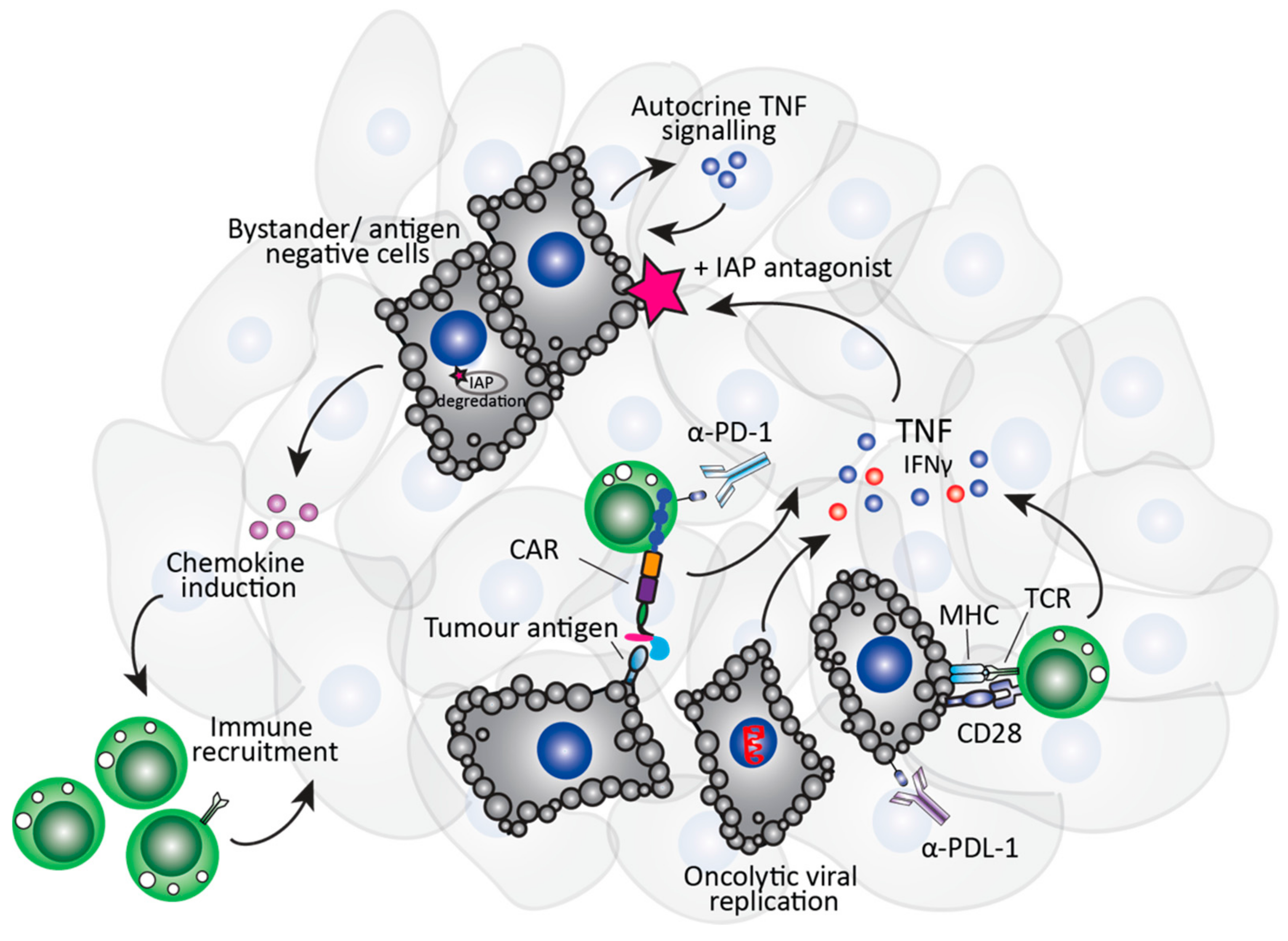 Identifier
Smac- mimetic
Combination
Therapy
Malignancy
Phase
NCT03270176
Debio 1143 (AT- 406)
Avelumab (α-PDL-1)
Advances solid tumours and advanced/metastatic non-small cell lung carcinoma
1
NCT02587962
Birinapant (TL32711)
Pembrolizumab (α-PD-1)
Various solid tumours
1/2
NCT03111992
LCL161
PDR001 (α-PD-1)
CJM112 (anti-IL-17a)
Multiple myeloma
1
NCT02890069
LCL161
PDR001 (α-PD-1)
Everolimus (mToR inhibitor)
Panobinostat (HDAC inhibitor)
Colorectal cancer, non-small cell lung carcinoma, triple negative breast cancer, renal cell carcinoma
1
NCT03166631
BI891065
B I754091 (α-PD-1)
Advanced and/or metastatic malignancies
1
NCT03697304
BI891065
BI 754111 (anti-LAG-3)
BI 754091 (α-PD-1)
Advanced and/or metastatic solid tumours (pre-treated)
2
NCT03871959
Debio 1143
Pembrolizumab (α-PD-1)
Non-MSI-high advanced or metastatic pancreatic ductal adenocarcinoma or colorectal cancer
1
NCT03386526
APG-1387
Pembrolizumab (α-PD-1)
Advanced solid tumours or haematological malignancies
1/2

© 2020 by the authors. Licensee MDPI, Basel, Switzerland. This article is an open access article distributed under the terms and conditions of the Creative Commons Attribution (CC BY) license (http://creativecommons.org/licenses/by/4.0/).