Open Access This article is
freely available
re-usable
Review
Role of microRNAs as Clinical Cancer Biomarkers for Ovarian Cancer: A Short Overview
1
Department of Anatomy, Animal Physiology and Biophysics, Faculty of Biology, University of Bucharest, 91–95 Splaiul Independenței, 050095 Bucharest, Romania
2
Center for Advanced Laser Technologies (CETAL), National Institute for Laser, Plasma and Radiation Physics, 409 Atomiștilor St., 77125 Măgurele, Romania
3
Department of General Surgery, Sf. Maria Clinical Hospital, 'Carol Davila' University of Medicine and Pharmacy, 37–39 Ion Mihalache Blvd., 011172 Bucharest, Romania
4
Department of Life and Environmental Sciences, 'Horia Hulubei' National Institute of Physics and Nuclear Engineering, 30 Reactorului, 077125 Măgurele, Romania
5
Life, Environmental and Earth Sciences Division, Research Institute of the University of Bucharest (ICUB), University of Bucharest, 91–95 Splaiul Independenţei, 050095 Bucharest, Romania
6
Department of Cell and Molecular Biology and Histology, Carol Davila University of Medicine and Pharmacy, 8 Eroii Sanitari Blvd., 050474 Bucharest, Romania
7
Fetal Medicine Excellence Research Center, 'Alessandrescu-Rusescu' National Institute of Mother and Child Health, 120 Lacul Tei Blvd., 020395 Bucharest, Romania
8
Department of Surgical Oncology, Alexandru Trestioreanu Oncology Institute, 'Carol Davila' University of Medicine and Pharmacy, 252 Fundeni Rd., 022328 Bucharest, Romania
†
Authors have contributed equally.

Received: 24 November 2019 / Accepted: 6 January 2020 / Published: 9 January 2020
Abstract
:
Ovarian cancer has the highest mortality rate among gynecological cancers. Early clinical signs are missing and there is an urgent need to establish early diagnosis biomarkers. MicroRNAs are promising biomarkers in this respect. In this paper, we review the most recent advances regarding the alterations of microRNAs in ovarian cancer. We have briefly described the contribution of miRNAs in the mechanisms of ovarian cancer invasion, metastasis, and chemotherapy sensitivity. We have also summarized the alterations underwent by microRNAs in solid ovarian tumors, in animal models for ovarian cancer, and in various ovarian cancer cell lines as compared to previous reviews that were only focused the circulating microRNAs as biomarkers. In this context, we consider that the biomarker screening should not be limited to circulating microRNAs
per se
, but rather to the simultaneous detection of the same microRNA alteration in solid tumors, in order to understand the differences between the detection of nucleic acids in early vs. late stages of cancer. Moreover, in vitro and in vivo models should also validate these microRNAs, which could be very helpful as preclinical testing platforms for pharmacological and/or molecular genetic approaches targeting microRNAs. The enormous quantity of data produced by preclinical and clinical studies regarding the role of microRNAs that act synergistically in tumorigenesis mechanisms that are associated with ovarian cancer subtypes, should be gathered, integrated, and compared by adequate methods, including molecular clustering. In this respect, molecular clustering analysis should contribute to the discovery of best biomarkers-based microRNAs assays that will enable rapid, efficient, and cost-effective detection of ovarian cancer in early stages. In conclusion, identifying the appropriate microRNAs as clinical biomarkers in ovarian cancer might improve the life quality of patients.
Keywords:
ovarian cancer; microRNA; biomarker; early diagnosis; molecular clustering analysis
2. Types of miRNAs in Ovarian Cancer (Circulating Cell-Free and Exosomal miRNAs)
3. Ovarian Cancer and miRNA Expression Profiles
4. miRNAs in Ovarian Cancer Invasion and Metastasis
In general, in ovarian cancer, metastasis is promoted by the epithelial-to-mesenchymal transition (EMT), and miRNAs are related to the regulation of signaling proteins that are involved in the control of EMT [
68
]. Different miRNAs modulate EMT-associated signaling genes. miR-7 is critical in the reversion of EMT due to AKT and ERK1/2 pathways inactivation, by reducing the epidermal growth factor receptor (EGFR) expression and thus inhibiting tumor metastasis [
69
]. It was suggested by Zhou et al. to be a future therapeutic target for ovarian cancer metastasis intervention [
70
]. miR-150 is usually downregulated in epithelial ovarian cancer and it is considered as an independent prognostic biomarker that is unique to metastases [
71
]. miR-150 inhibits cell invasion and metastasis by targeting transcriptional repressor Zinc Finger E-Box Binding Homeobox 1 (ZEB1) and suppressing it [
72
]. Although miR-146a was suggested to act as a tumor suppressor through the down-regulation of the NFkB activators IRAK1 and TRAF6 [
73
], another mechanism seems to be responsible for increased survival [
71
]. The low expression of miR-146a is considered to be of poor prognosis and suggestive of an unfavorable outcome in patients with epithelial ovarian cancer [
74
]. Some other miRNAs, miR-22, miR-183, and miR-31, have a negative effect on Tiam1 expression and they are responsible for the suppression of cell migration and invasion of serous ovarian carcinoma [
75
].
miR-17-5p influences ovarian cancer progression, which also influences EMT by targeting PTEN signaling. Experimental studies that were performed on OVCAR-3 and SKOV-3 cell lines showed that miR-17-5p increased migration, while the administration of an anti-miR-17-5p inhibitor decreased the migration and invasion of ovarian cancer cells [
76
].
Recent studies have demonstrated that exosomes-contained miRNAs have an important contribution to the cell-to-cell communication [
13
,
77
]. In particular, this type of intercellular communication that is based on exosomes-contained miRNAs is involved in the metastasis process that is associated with multiple subtypes of cancer [
78
], including ovarian cancer [
79
].
5. miRNAs and Chemotherapy Sensitivity
6. miRNAs and Their Therapeutic Potential
In conventional chemotherapy treatment, drugs, such as topoisomerase inhibitors, inhibitors of microtubule polymerization, alkylating agents, antimetabolites, platinum agents, and hormonal agents, which have the role of disrupting the cell cycle and inhibiting cell division, are frequently used [
97
]. Another approach in cancer therapy is the use of miRNAs as a strategy for obtaining safe treatments that are based on small molecules in different types of cancer [
98
].
The therapeutic potential of miRNAs can be exploited through the overexpression of miRNAs as tumor suppressors, while using synthetic miRNAs mimics [
99
,
100
] or molecules that inhibit the activity of oncogenic miRNAs [
101
]. Some examples of the effects that are induced by miRNAs can be summarized:
The inhibition of tumor proliferation, by the downregulation of genes and pathways involved in this process. In detail, miR-218 is targeting Runt-related transcription factor 2 (RUNX2) [

102

], miR-199a overexpression produces a downregulation of CD44 [

103

], miR-532-5p functions as a tumor suppressor by downregulation of casein kinase II subunit alpha 2 (CSNK2A2), SH3 and PX domain-containing protein 2A (SH3PXD2A), and Chromodomain-helicase-DNA-binding protein 4 (CHD4) [

104

], miR-222-3p and miR-221 reduce tumor cell proliferation by inhibiting AKT phosphorylation [

105

] and miR-135a-3p mediates the expression of Baculoviral IAP repeat-containing protein 3 (BIRC3), GAGRA3, and Sperm protein associated with the nucleus, X chromosome (SPANX) B1/SPANX B2 [

106

];

Apoptosis of cancer cells, which occurs by miR-29b inducing PTEN hypomethylation (tumor suppressor), and, in turn, increases the expression of PTEN in cancer cells by directly binding to the 3′-UTR of PTEN [

107

]. miR-491-5p induces tumor cell apoptosis by inhibiting BCL-XL and EGFR signaling [

108

], and miR-744-5p induces tumor cell apoptosis in ovarian cancer by targeting Heterogeneous nuclear ribonucleoproteins C1/C2 (HNRNPC) and Nuclear factor 1 X-type (NFIX) [

109

];

Reduction in the rate of migration and formation of tumor metastases: miR-200 regulates IL-8 and CXCL1 activity [

110

], miR-199a is targeting Hypoxia-inducible factor (HIF)-1α and HIF-2α [

111

], miR-92α mediates the suppression of peritoneal metastasis by inhibiting α5 integrin [

112

] and miR-143-3p while using TGF-beta activated kinase 1 (TAK1) signaling [

113

];

It affects tumorigenesis and chemosensitivity by modulating oxidative stress through the miR-141 and miR-200a regulation at the level of p38α protein [

114

];

The use of therapeutic approaches based on miRNAs in cancer therapy can have multiple benefits. Among these benefits, the most important is the ease of miRNA administration and delivery. In comparison with other molecules used in gene therapy (e.g., large viral vectors or plasmids), miRNAs can be manipulated easier and delivered due to their low molecular weight and small size [

94

].
7. Molecular Clustering Analysis in Ovarian Cancer
The study of miRNAs facilitates the early clinical prognosis of ovarian cancer due to the recent advances in molecular clustering analysis methods. Advanced statistical analysis allows for the unbiased evaluation of patient cohorts, by pre-processing and analyzing relevant genes expressions.
8. Conclusions and Future Perspectives
Ovarian cancer is characterized by a very high mortality rate being diagnosed at a late stage, which is mainly due to the lack of early detection tools. This review summarized the role of microRNAs as clinical cancer biomarkers for ovarian cancer. Screening serum/plasma miRNAs might contribute to improved prognosis of ovarian cancer, but first, there is a need to understand whether, how, and when miRNAs might be used as biomarkers. An important distinction should be made between miRNA as clinical biomarkers in the histological exam that is based on the analysis of surgically excised specimens from ovarian cancer patients and miRNAs as clinical biomarkers in serum/plasma of ovarian cancer patients. The miRNA expression profiles in patients' serum/plasma are more relevant for early diagnosis of ovarian cancer, while the miRNA expression profiles in histological specimens are only useful for intraoperative diagnosis confirmation. The most robust miRNA expression profiles are those that are tested in a variety of samples (e.g., ovarian cancer tissue obtained from surgical resections, plasma/serum from ovarian cancer patients, ovarian cancer cells, xenograft mice, etc.). However, many studies so far have focused on alterations of single microRNA or of a reduced number of selected microRNAs in ovarian cancer. Few studies have considered the validation of miRNA expression profiles by molecular clustering analysis.
In perspective, the choice of the best microRNAs-based assays, which were validated in both extensive clinical screenings and bioinformatics approaches, will enable rapid, efficient, and cost-effective detection of ovarian cancer in early stages. Furthermore, miRNA expression profiles may be affected by pharmacological treatments and, therefore, we can assume that they have the potential to serve as therapeutic targets/agents for the treatment of ovarian cancer.
Author Contributions
C.E.S. wrote
Section 3
and organized the sections of the manuscript, D.-V.P. wrote
Section 2
and edited the manuscript, C.M.R. wrote
Section 7
, B.M.R. wrote
Section 4
, D.C. wrote
Section 5
and revised the final form of the manuscript, N.S. wrote
Section 6
, S.M.C. wrote
Section 1
and drew
Figure 1
and
Figure 2
, S.-C.V. wrote
Section 8
. B.M.R. and S.-C.V. structured the information in
Table 1
,
Table 2
and
Table 3
, C.E.S. and D.-V.P. structured the information in
Table 4
and
Table 5
. S.M.C., N.S., D.-V.P. and B.M.R. are responsible for the conceptualization of the manuscript. All authors have read and agreed to the published version of the manuscript.
Funding
This work was supported by a grant of the Romanian Ministry of Research and Innovation, PCCDI-UEFISCDI, project number PN-III-P1-1.2-PCCDI-2017-0833/68/2018, within PNCDI III.
Conflicts of Interest
The authors declare no conflict of interest.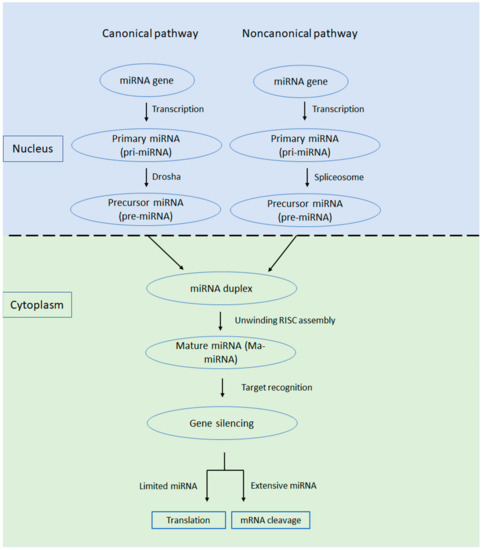 Figure 1.
miRNA biogenesis involves five steps:
1. Transcription
. Most miRNAs genes are transcribed by RNA polymerase II. However, a few miRNAs genes use RNA polymerase III. The initial long primary transcript is named primary microRNA (pri-miRNA) and is a hairpin containing transcript with imperfect double-stranded regions.
2. First Cleavage
. The Microprocessor complex formed by DROSHA nuclease and RNA-binding protein DGCR8 removes the 5′ and 3′ ends of the pri-miRNA. The result is a pre-microRNA (pre-miRNA), a short hairpin of about 60 to 70 nt. 3.
Nuclear export
. pre-miRNA is translocated through nuclear pore into the cytoplasm, and after that, it is bound up and form a complex with Exportin-5, Ran, and GTP.
4. Second cleavage
. In the cytoplasm, the pre-miRNA interacts with RNA-Induced Silencing Complex (RISC) loading complex (DICER1, plus an Argonaute protein and either TARBP2 or PRKRA) and is cleaved by DICER1 to a double-stranded miRNA (21 to 23 nucleotides) with a two-nucleotide 3′ overhang of 2-3 nt.
5. Incorporation into RNA-RISC and strand selection
. The double-stranded miRNA is passed to the Argonaute protein where the passenger strand, will be removed and degraded, while the guide strand (the less Table 5′ end), will be selected. RISC can now regulate the gene expression of the mRNA transcript.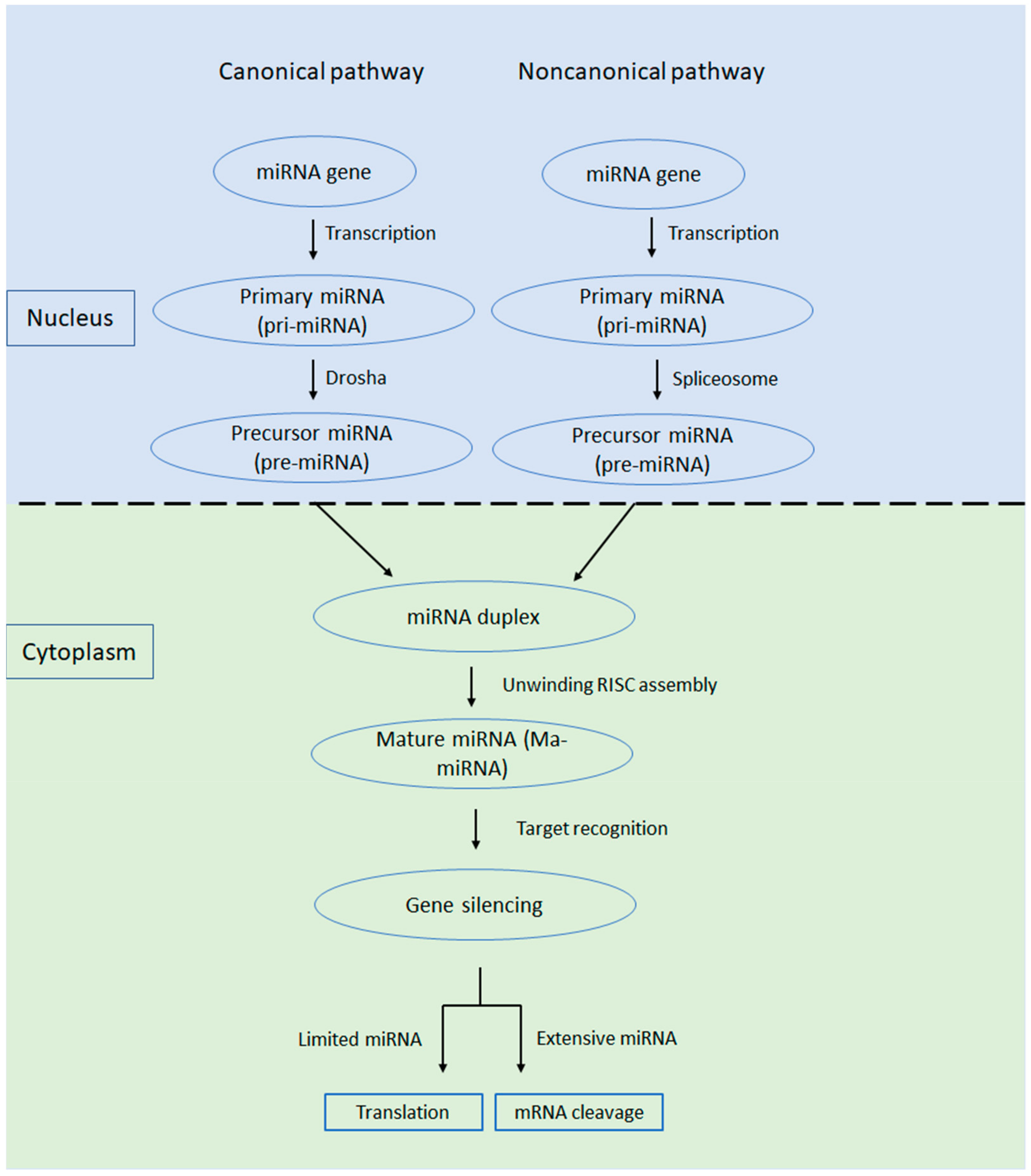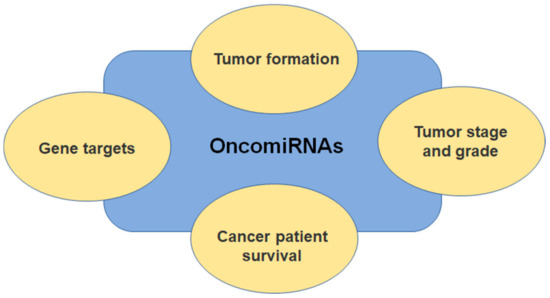 Figure 2. OncomiRNAs shown promise in cancer studies due to their stability and specificity to cells and tumors. Observe their association with gene targeting, tumor formation, cancer patient survival, and tumor stage and grade. OncomiRNAs associations raise the possibility of anticancer therapeutics by using miRNA inhibitors.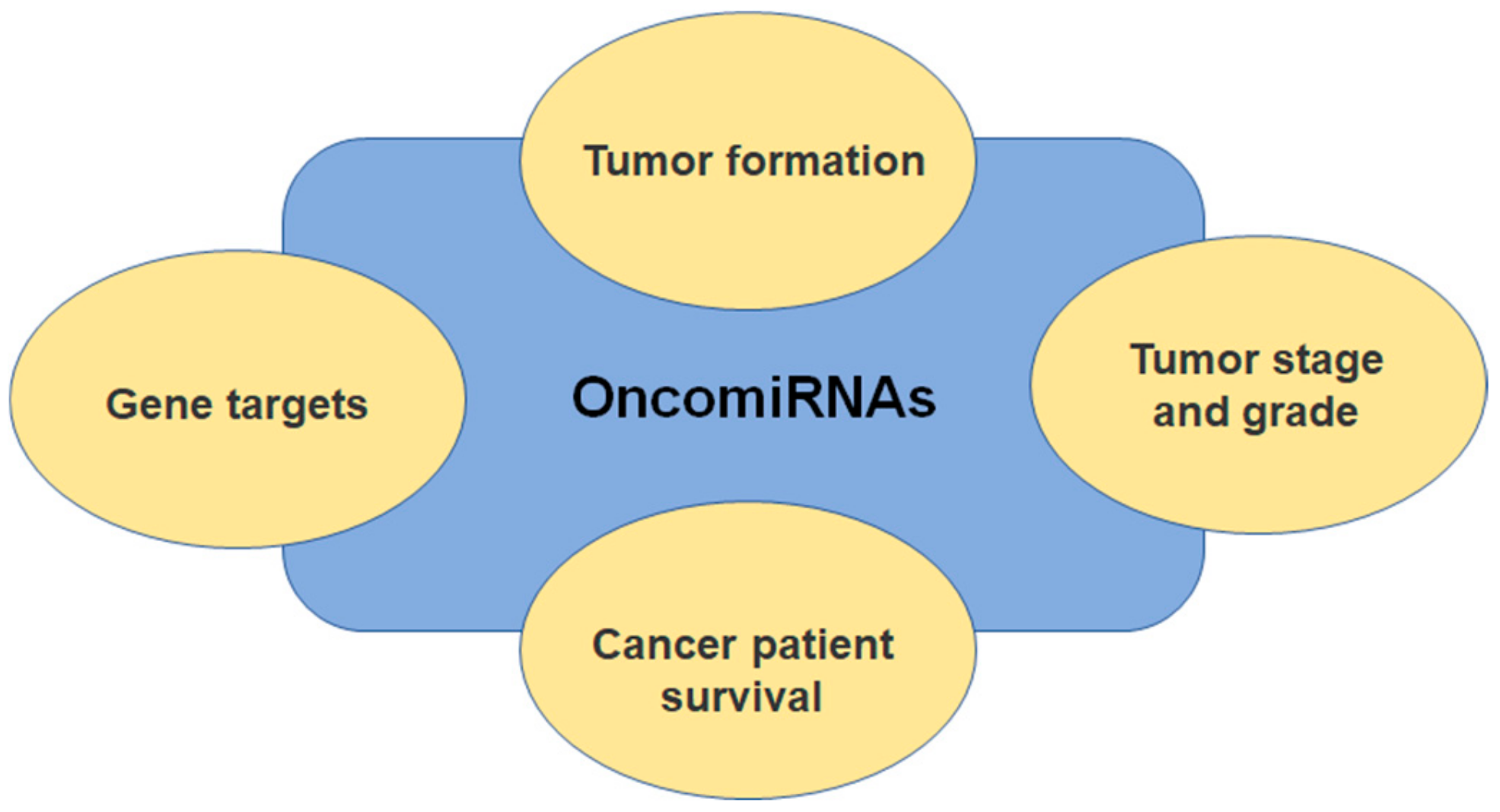 miRNA
Type of Ovarian Cells
Changes in Ovarian Cancer
miR-23b
OVCAR3, HO8910-PM, SKOV3/DDP cells
miR-23b transfection slows down cell growth, blocks cell cycle in G1, increases the number of apoptotic cells, and reduces the rate of cell migration [46]
miR-26a
SKOV-3, ES2 cells
Overexpression of miR-26b in ovarian cancer cells [47]
miR26-b is involved in tumor progression by targeting estrogen receptor alpha (ERα) [47]
miR-125b
SKOV3 cells
Overexpression or downregulation of miR-125b did not affect the in vivo cancer cells proliferation and apoptosis [48]
miR-125b
SKOV3, ES2 cells
Low expression of miR-125b in ovarian tumor cells
Through overexpression of miR-125b, tumor proliferation is prevented by controlling the G2 phase of the cell cycle and by targeting the BCL3 gene [49]
miR-141
Ovarian cancer cells (SKOV3, OVCA433, and A2780cp)
Cervical cancer cells (OV2008 and C13*)
miR-141 increases anchorage-independent growth and survival of ovarian cancer cells in vitro [50]
miR-141 enhances anoikis resistance in metastatic tumor progression by targeting the Kruppel-related zinc finger protein AP-2rep (KLF12)/specificity protein 1 (Sp1)/survivin axis
miR-145 miR-133b
Ovarian cancer cells (3AO, SKOV3)
miR-145 promotes miR-133b expression through c-myc and DNMT3A-mediated methylation in ovarian cancer cells [51]
miR-133b upregulation mediates the inhibitory activity of miR-145, in aerobic glycolysis conditions (i.e., Warburg effect), by targeting hexokinase-2 (HK2) in ovarian cancer cells [51]
miR-146a
Epithelial ovarian cancer cells (OVCAR3, CAOV3, HEY)
Normal ovarian cells (HOSE)
Through overexpression, it acts as a tumor suppressor, but through its downregulation, it inhibits apoptosis, increases proliferation and chemoresistance [52]
miR-146b
Epithelial ovarian cancer cells (SKOV3, OVCAR3, HO8910, A2780)
miR-146b overexpression upregulates VIM and ZO-1 and consequently inhibits tumor dissemination [53]
miR-148a
Ovarian cancer cells (SKOV3, OVCAR, and A2780)
Normal ovarian epithelial cells (HUM-CELL-0088)
Downregulation of miR-148a in ovarian cancer cells [54]
miR-148a inhibits migration and invasion of ovarian cancer cells via targeting sphingosine-1-phosphate receptor 1 (S1PR1) [54]
miR-200a-3p
Ovarian cancer cells (ES2, HO8919PM, SKOV3, HO8910)
Ovarian surface epithelial cells (HOSEpiC)
Overexpression of miR-200a-3p strongly promotes the proliferation, colony formation and invasion of ovarian cancer cells [55]
Binds the 3′-UTR of PCDH9 and decreased the expression of PCDH9 [55]
miR-337-3p
Ovarian cancer cells (ES2, A2780, SKOV-3, OVCAR-3)
miR-337-3p inhibits cell proliferation and decreases the PI3K/AKT signaling pathway activation (its targets are PIK3CA and PIK3C) [56]
Its ectopic expression inhibits proliferation and induces apoptosis and cell cycle arrest in G0/G1 phase [56]
miR-433
Ovarian cancer cells (SKOV3 and OVCAR3)
miR-433 inhibits migration and invasion of ovarian cancer cells via targeting Notch1 [57]
miR-630
Ovarian cancer cells (SKOV3)
miR-630 overexpression stimulates in vitro cell proliferation and migration [58]
miR-630 targets directly Krüppel-like factor 6 (KLF6) in ovarian cancer cells [58]
miR-802
Epithelial ovarian cancer cells (OVCAR3, SKOV3, A2780, and CAOV3)
Normal ovarian surface epithelial cells (HOSEpiC)
miR-802 is downregulated in epithelial ovarian cancer cell lines [59]
Overexpression of miR-802 suppresses migration, proliferation, invasion and induces apoptosis in epithelial ovarian cancer cell lines [59]
miR-802 directly targets Monooxygenase/Tryptophan 5-Monooxygenase Activation Protein Zeta (YWHAZ) gene in epithelial ovarian cancer cells [59]
miR-1271
Ovarian cancer cells (SKOV3 and CAOV3)
Normal ovarian cells (IOSE80)
Suppresses cell viability and invasion in ovarian cancer cells [60]
Directly binds the 3ʹ-UTR of ZEB1 mRNA and regulates the expression of ZEB1 [60]
miRNA
Type of Ovarian Tissue
Changes in Ovarian Cancer
miR-23b
Nude mice injected subcutaneously with mock or hsa-miR-23b–transfected OVCAR3 cells
miR-23b induces downregulation of cyclin G1 (CCNG1) in tumor xenografts and reduction of tumor size in mice [46]
miR-26a
Nude mice injected subcutaneously with SKOV3 cells transfected with miR-26a or anti-miR-26a
miR-26a is involved in cell proliferation and tumor development in epithelial ovarian cancer induced in animal models [47]
miR-125b
Nude mice inoculated with SKOV3 cells that were transfected with the vector control, miR-125b mimic or inhibitor
miR-125b inhibits the in vivo cancer cell migration and invasion [48]
miR-125b
Nude mice injected subcutaneously with SKOV3 cells transfected with miR-125b or anti-miR-125b
miR-125b suppresses the development of ovarian cancer [49]
miR-141
BALB/cAnN nude mice injected intraperitoneal with stable SKOV3 miR-141-expressing clones, or A2780cp shSu

knockdown

clone and the scrambled controls
miR-141 increases tumor growth in vivo and induces the appearance of a great number of macroscopic tumor nodules, especially in the omentum and the peritoneal cavity [50]
miR-146b
Nude mice injected with control cells or cells overexpressing miR-146b
Overexpression of miR-146b reduces cell migration and decreases the level of F-box and leucine-rich repeat protein 10 (FBXL10) protein [53]
miR-337-3p
Xenograft models of ovarian cancer induced by inoculation of A2780 and OVCAR-3 cells in female BALB/c athymic nude mice
miR-337-3p is a tumor suppressor that controls the expression of p110α and p110β (i.e., PIK3CA and PIK3CB encoded proteins) [56]
Tumors injected with miR-337–3p agomiR grew more slowly than those injected with agomiR-NC for both xenograft models [56]
miR-630
Balb/c mice injected subcutaneously with SKOV3 cells transfected with inhibitors, mimics or negative control of miR-630
miR-630 overexpression stimulates in vivo ovarian cancer proliferation [58]
miRNA
Type of Ovarian Tissue
Changes in Ovarian Cancer
miR-125b
Surgical resection of tumor tissues and the corresponding adjacent normal tissues in epithelial ovarian cancer patients
miR-125b is downregulated in ovarian cancer [48]
miR-125b suppresses ovarian cancer progression via suppression of the epithelial-mesenchymal transition pathway by targeting the SET protein (binds directly to the SET 3′-UTR) [48]
miR-141
Surgical specimens of ovarian cancer and normal ovarian tissues
miR-141 is upregulated in clinical ovarian cancer samples having a ~10-fold higher expression than in normal ovary tissues [50]
miR-133b
miR-145
Human normal ovarian tissue samples and ovarian carcinomas (e.g., serous cancer, mucinous, endometrioid cancer, clear cell cancer)
miR-145 and miR-133b were downregulated in endothelial ovarian cancer, their expression being positively correlated [51]
miR-148a
Surgical resection of ovarian cancer tissue and their matched normal adjacent tissues
Downregulation of miR-148a in ovarian cancer tissue [54]
miR-200a-3p
Surgically excised tissue from ovarian cancer patients
miR-200a-3p expression was negatively correlated with the PCDH9 expression in ovarian cancer [55]
miR-337-3p
Surgically excised epithelial ovarian cancer specimens
Downregulation of miR-337-3p in epithelial ovarian cancer tissues and correlated with the pathological grade of patients [56]
miR-433
Surgical resections of ovarian cancer tissues and matched normal ovary tissues
Downregulation of miR-433 expression and upregulation of Notch1 expression in ovarian cancer tissues compared with normal ovarian tissues [57]
miR-630
Surgically excised ovarian cancer and normal ovarian tissue samples
miR-630 is upregulated in ovarian cancer [58]
miRNA-802
Surgical specimens of epithelial ovarian cancer and adjacent normal tissues
Down-regulation in epithelial ovarian cancer specimens [59]
miR-1271
Surgical specimens of ovarian cancer tissues and peritumoral normal tissues
Inverse correlation between miR-1271 expression and ZEB1 in ovarian cancer tissues [60]
miRNA
Serum/Plasma
Changes in Ovarian Cancer
miR-26a
Plasma
Upregulation of miR-26a in human epithelial ovarian cancer [47]
miRNA-21
miRNA-29a
miRNA-92
miRNA-93
miRNA-99b
miRNA-126
miRNA-127
miRNA-155
Serum
Upregulation of miRNA-21, miRNA-29a, miRNA-92, miRNA-93, miRNA-126 in ovarian cancer [62]
Downregulation of miRNA-99, miRNA-127, miRNA-155 in ovarian cancer [62]
miR-145 miR-133b
Serum
Expression of miR-145 and miR-133b is significantly decreased in the serum of patients with ovarian cancer [51]
miR-193a-5p
Serum
Combined detection of miR-193-5p, HE4 and CA125 improves the diagnostic efficacy of epithelium ovarian cancer [66]
miR-19a-3p
miR-30a-5p
miR-645
miR-150-5p
miR-191-5p
miR-206
miR-34c-5p
miR-548a-3p miR-320a
miR-574-3p
miR-590-5p
miR-106b-5p
Plasma
Downregulation of miR-19a-3p, miR-30a-5p, miR-645, miR-150-5p in ovarian cancer [67]
Upregulation of miR-191-5p, miR-206, miR-34c-5p, miR-548a-3p, miR-320a, miR-574-3p, miR-590-5p, miR-106b-5p in ovarian cancer [67]

Table 5. Hierarchical clustering vs. k-Means clustering in miRNA data analysis with relevance in ovarian cancer.
| Hierarchical Clustering | k-Means Clustering |
| --- | --- |
| Can't handle large miRNA expression data—quadratic complexity | Can handle large miRNA expression datasets—linear complexity |
| Reproducible as every miRNA expressed is assigned a cluster, and the clustering occurs based on the closeness of previously generated clusters. | Unreproducible clustering due to the prerequisite of a random number of clusters. |
| Produces more intuitive results in the form of a dendrogram. | Produces less intuitive results if data does not group into hyper spherical clusters. |
| Poor performance and higher time of execution as the number of generated clusters increases. | Higher time of execution associated with large miRNA expression datasets. |

© 2020 by the authors. Licensee MDPI, Basel, Switzerland. This article is an open access article distributed under the terms and conditions of the Creative Commons Attribution (CC BY) license (http://creativecommons.org/licenses/by/4.0/).