iPla2β Deficiency Suppresses Hepatic ER UPR, Fxr, and Phospholipids in Mice Fed with MCD Diet, Resulting in Exacerbated Hepatic Bile Acids and Biliary Cell Proliferation
1
Department of Internal Medicine IV, University of Heidelberg Hospital, Im Neuenheimer Feld 410, 69120 Heidelberg, Germany
2
Institute of Clinical Chemistry and Laboratory Medicine, University of Regensburg, Franz-Josef-Strauss-Allee 11, 93053 Regensburg, Germany
*
Author to whom correspondence should be addressed.
Received: 5 July 2019 / Revised: 26 July 2019 / Accepted: 8 August 2019 / Published: 12 August 2019
Abstract
Background:
Group VIA calcium-independent phospholipase A2 (iPla2β) regulates homeostasis and remodeling of phospholipids (PL). We previously showed that iPla2β
−/−
mice fed with a methionine-choline-deficient diet (MCD) exhibited exaggerated liver fibrosis. As iPla2β is located in the endoplasmic reticulum (ER), we investigated the mechanisms for this by focusing on hepatic ER unfolded protein response (UPR), ER PL, and enterohepatic bile acids (BA).
Methods:
Female WT (wild-type) and iPla2β
−/−
mice were fed with chow or MCD for 5 weeks. PL and BA profiles were measured by liquid chromatography-mass spectrometry. Gene expression analyses were performed.
Results:
MCD feeding of WT mice caused a decrease of ER PL subclasses, which were further decreased by iPla2β deficiency. This deficiency alone or combined with MCD downregulated the expression of liver ER UPR proteins and farnesoid X-activated receptor. The downregulation under MCD was concomitant with an elevation of BA in the liver and peripheral blood and an increase of biliary epithelial cell proliferation measured by cytokeratin 19.
Conclusion:
iPla2β deficiency combined with MCD severely disturbed ER PL composition and caused inactivation of UPR, leading to downregulated Fxr, exacerbated BA, and ductular proliferation. Our study provides insights into iPla2β inactivation for injury susceptibility under normal conditions and liver fibrosis and cholangiopathies during MCD feeding.
View Full-Text
►

▼

Figures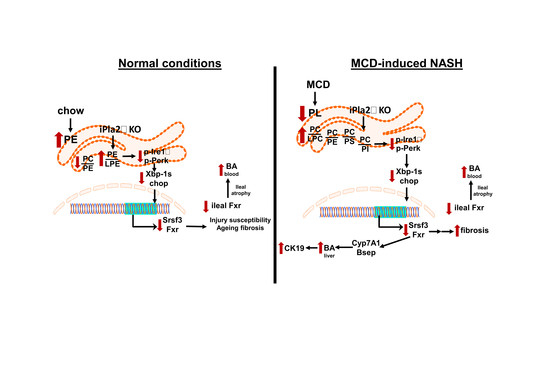 Graphical abstract
This is an open access article distributed under the
Creative Commons Attribution License
which permits unrestricted use, distribution, and reproduction in any medium, provided the original work is properly cited (CC BY 4.0).

Share & Cite This Article
MDPI and ACS Style
Ming, Y.; Zhu, X.; Tuma-Kellner, S.; Ganzha, A.; Liebisch, G.; Gan-Schreier, H.; Chamulitrat, W. iPla2β Deficiency Suppresses Hepatic ER UPR, Fxr, and Phospholipids in Mice Fed with MCD Diet, Resulting in Exacerbated Hepatic Bile Acids and Biliary Cell Proliferation. Cells 2019, 8, 879.
Note that from the first issue of 2016, MDPI journals use article numbers instead of page numbers. See further details here.
Related Articles
Comments
[Return to top]