Analysis of Catecholamines and Pterins in Inborn Errors of Monoamine Neurotransmitter Metabolism—From Past to Future
Department of General Pediatrics, Division of Neuropediatrics and Metabolic Medicine, University Hospital Heidelberg, 69120 Heidelberg, Germany
*
Author to whom correspondence should be addressed.
Cells 2019, 8(8), 867; https://doi.org/10.3390/cells8080867 (registering DOI)
Received: 30 June 2019 / Revised: 2 August 2019 / Accepted: 4 August 2019 / Published: 9 August 2019
Abstract
Inborn errors of monoamine neurotransmitter biosynthesis and degradation belong to the rare inborn errors of metabolism. They are caused by monogenic variants in the genes encoding the proteins involved in (1) neurotransmitter biosynthesis (like tyrosine hydroxylase (TH) and aromatic amino acid decarboxylase (AADC)), (2) in tetrahydrobiopterin (BH
4
) cofactor biosynthesis (GTP cyclohydrolase 1 (GTPCH), 6-pyruvoyl-tetrahydropterin synthase (PTPS), sepiapterin reductase (SPR)) and recycling (pterin-4a-carbinolamine dehydratase (PCD), dihydropteridine reductase (DHPR)), or (3) in co-chaperones (DNAJC12). Clinically, they present early during childhood with a lack of monoamine neurotransmitters, especially dopamine and its products norepinephrine and epinephrine. Classical symptoms include autonomous dysregulations, hypotonia, movement disorders, and developmental delay. Therapy is predominantly based on supplementation of missing cofactors or neurotransmitter precursors. However, diagnosis is difficult and is predominantly based on quantitative detection of neurotransmitters, cofactors, and precursors in cerebrospinal fluid (CSF), urine, and blood. This review aims at summarizing the diverse analytical tools routinely used for diagnosis to determine quantitatively the amounts of neurotransmitters and cofactors in the different types of samples used to identify patients suffering from these rare diseases.
View Full-Text
►

▼

Figures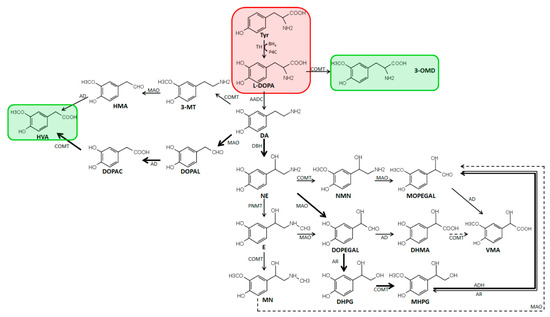 Figure 1
This is an open access article distributed under the
Creative Commons Attribution License
which permits unrestricted use, distribution, and reproduction in any medium, provided the original work is properly cited (CC BY 4.0).
Share & Cite This Article
MDPI and ACS Style
Jung-Klawitter, S.; Kuseyri Hübschmann, O. Analysis of Catecholamines and Pterins in Inborn Errors of Monoamine Neurotransmitter Metabolism—From Past to Future. Cells 2019, 8, 867.
Note that from the first issue of 2016, MDPI journals use article numbers instead of page numbers. See further details here.
Related Articles
Comments
[Return to top]