Mitochondrial Involvement in the Adaptive Response to Chronic Exposure to Environmental Pollutants and High-Fat Feeding in a Rat Liver and Testis
1
Department of Chemistry and Biology "Adolfo Zambelli", University of Salerno, 84084 Fisciano, Italy
2
Department of Biology, University of Naples, Federico II, 80126 Naples, Italy
*
Authors to whom correspondence should be addressed.
Received: 11 June 2019 / Revised: 28 July 2019 / Accepted: 3 August 2019 / Published: 5 August 2019
Abstract
In our modern society, exposure to stressful environmental stimuli, such as pollutants and/or chronic high-fat feeding, continuously induce tissular/organ metabolic adaptation to promote cellular survival. In extreme conditions, cellular death and tissular/organ damage occur. Mitochondria, as a cellular energy source, seem to play an important role in facing cellular stress induced by these environmental stimuli. On the other hand, mitochondrial dysfunction and oxidative stress play a key role in environmental stress-induced metabolic diseases. However, little is known about the combined effect of simultaneous exposure to chronic high-fat feeding and environmental pollutants on metabolic alterations at a tissular and cellular level, including mitochondrial dysfunction and oxidative stress induction. Our research group recently addressed this topic by analysing the effect of chronic exposure to a non-toxic dose of the environmental pollutant dichlorodiphenyldichloroethylene (DDE) associated with high-fat feeding in male Wistar rats. In this review, we mainly summarize our recent findings on mitochondrial adaptive response and oxidative stress induction in the liver, the main tissue involved in fat metabolism and pollutant detoxification, and in male gonads, the main targets of endocrine disruption induced by both high-fat feeding and environmental pollutants.
View Full-Text
►

▼

Figures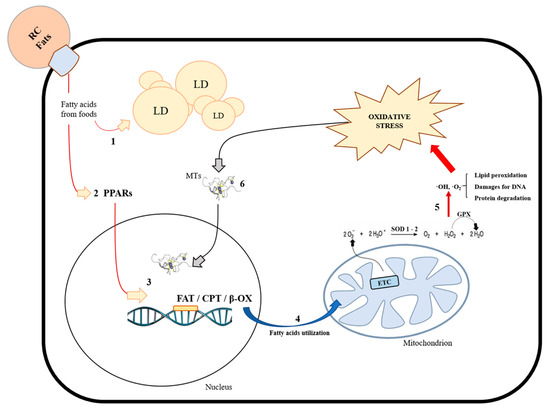 Figure 1
This is an open access article distributed under the
Creative Commons Attribution License
which permits unrestricted use, distribution, and reproduction in any medium, provided the original work is properly cited (CC BY 4.0).

Share & Cite This Article
MDPI and ACS Style
Migliaccio, V.; Di Gregorio, I.; Putti, R.; Lionetti, L. Mitochondrial Involvement in the Adaptive Response to Chronic Exposure to Environmental Pollutants and High-Fat Feeding in a Rat Liver and Testis. Cells 2019, 8, 834.
Note that from the first issue of 2016, MDPI journals use article numbers instead of page numbers. See further details here.
Related Articles
Comments
[Return to top]