Clues to Non-Invasive Implantation Window Monitoring: Isolation and Characterisation of Endometrial Exosomes
1
Department of Molecular and Developmental Medicine, University of Siena, 53100 Siena, Italy
2
Exosomics; SpA, 53100 Siena, Italy
3
IMER. Instituto de Medicina Reproductiva, 46009 Valencia, Spain
4
Department of Life Sciences, University of Siena, 53100 Siena, Italy
*
Author to whom correspondence should be addressed.
†
The authors consider that the first two authors should be regarded as joint first authors.
Received: 10 July 2019 / Revised: 29 July 2019 / Accepted: 31 July 2019 / Published: 1 August 2019
Abstract
Despite the significant advances in the last decades, low implantation rate per transferred embryo still remains a major concern in assisted reproductive techniques, highlighting a need to better characterize endometrial receptivity also by mean of specific biomarkers. Based on physiology and on the intimate contact with endometrium as the tissue of interest, in this study we developed and validated an optimized protocol that uses extracellular vesicles (EVs) recovered from uterine flushings and from a cervical brush, the latter never used until now as an EVs source, as surrogates for endometrial biopsies. This method combines the safety of sampling with the ability to study the expression profile across the uterine cycle. We have compared the yield and composition of EVs recovered from different biofluids samples and fractions thereof, opting for chemical precipitation as the EV isolation procedure, assuring the highest yield without introducing any bias in specific EV recovery. Moreover, collected EVs, in particular exosome-like vesicles, express putative endometrial markers, such as glycodelin A and receptors for estrogen and progesterone, thus confirming their endometrial origin. We also identified uterine flushing EVs, in particular those recovered from its mucous fraction, as the richest source of endometrial transcripts, likely correlated to cellular (epithelial) origin of these vesicles. Finally, our pilot quantitative assessment of three endometrial gene profiles, in samples collected at different time points along the luteal phase, revealed the fluctuations apparently recapitulating gene expression variability prior reported during the menstrual cycle. Unlike tissue biopsy that is subjected to inter- and intra-sample differences, our data suggest that EVs from liquid biopsies (from uterine flushings and a cervical brush) obtained through less-invasive procedures, can be substrate to detect and track the tissue representative expression profiles, better depicting the total endometrium complexity.
View Full-Text
►

▼

Figures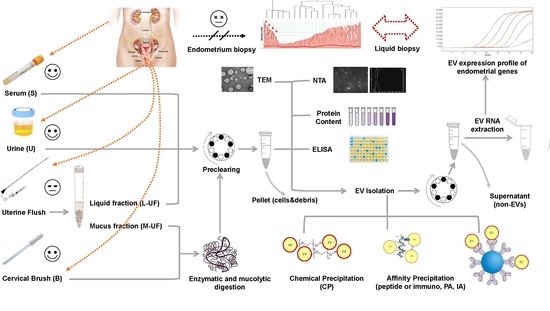 Graphical abstract
This is an open access article distributed under the
Creative Commons Attribution License
which permits unrestricted use, distribution, and reproduction in any medium, provided the original work is properly cited (CC BY 4.0).

Share & Cite This Article
MDPI and ACS Style
Luddi, A.; Zarovni, N.; Maltinti, E.; Governini, L.; De Leo, V.; Cappelli, V.; Quintero, L.; Paccagnini, E.; Loria, F.; Piomboni, P. Clues to Non-Invasive Implantation Window Monitoring: Isolation and Characterisation of Endometrial Exosomes. Cells 2019, 8, 811.
Note that from the first issue of 2016, MDPI journals use article numbers instead of page numbers. See further details here.
Related Articles
Comments
[Return to top]