NDRG2 Sensitizes Myeloid Leukemia to Arsenic Trioxide via GSK3β–NDRG2–PP2A Complex Formation
1
Division of Applied Life Science (BK21 Plus), Gyeongsang National University, Jinju 52828, Korea
2
Gene & Cell Therapy Team, Division of Drug Development & Optimization, New Drug Development Center, Osong Medical Innovation Foundation, Osongsaengmyung-ro 123, Osong-eup, Heungdeok-gu, Cheongju-si 28160, Chungbuk, Korea
3
Division of bacterial diseases, Korea Centers for Disease and Control, Prevention, Osong-eup 28159, Korea
4
Freshwater Bioresources Utilization Bureau, Nakdonggang National Institute of Biological Resources, Sangju 37242, Korea
5
Department of Biological Sciences and the Research Center for Women's Disease, Sookmyung Women's University, Seoul 04310, Korea
6
Integrated Research Institute of Pharmaceutical Sciences, BK21 PLUS Team & BRL, College of Pharmacy, The Catholic University of Korea, Wonmi-gu, Bucheon-si, 14662, Korea
7
Division of Life Science, Gyeongsang National University, Jinju 52828, Korea
8
Plant Molecular Biology and Biotechnology Research Center (PMBBRC), Gyeongsang National University, Jinju 52828, Korea
*
Author to whom correspondence should be addressed.
†
These authors contributed equally to this work.
Received: 29 April 2019 / Revised: 14 May 2019 / Accepted: 21 May 2019 / Published: 22 May 2019
Abstract
N-Myc downstream-regulated gene 2 (NDRG2) was characterized as a tumor suppressor, inducing anti-metastatic and anti-proliferative effects in several tumor cells. However, NDRG2 functions on anticancer drug sensitivity, and its molecular mechanisms are yet to be fully investigated. In this study, we investigated the mechanism of NDRG2-induced sensitization to As
2
O
3
in the U937 cell line, which is one of the most frequently used cells in the field of resistance to As
2
O
3
. NDRG2-overexpressing U937 cells (U937-NDRG2) showed a higher sensitivity to As
2
O
3
than mock control U937 cell (U937-Mock). The higher sensitivity to As
2
O
3
in U937-NDRG2 was associated with Mcl-1 degradation through glycogen synthase kinase 3β (GSK3β) activation. Inhibitory phosphorylation of GSK3β was significantly reduced in U937-NDRG2, and the reduction was diminished by okadaic acid, a protein phosphatase inhibitor. NDRG2 mediated the interaction between GSK3β and protein phosphatase 2A (PP2A), inducing dephosphorylation of GSK3β at S9 by PP2A. Although the C-terminal deletion mutant of NDRG2 (ΔC NDRG2), which could not interact with PP2A, interacted with GSK3β, the mutant failed to dephosphorylate GSK3β at S9 and increased sensitivity to As
2
O
3
. Our findings suggest that NDRG2 is a kind of adaptor protein mediating the interaction between GSK3β and PP2A, inducing GSK3β activation through dephosphorylation at S9 by PP2A, which increases sensitivity to As
2
O
3
in U937 cells.
View Full-Text
►

▼

Figures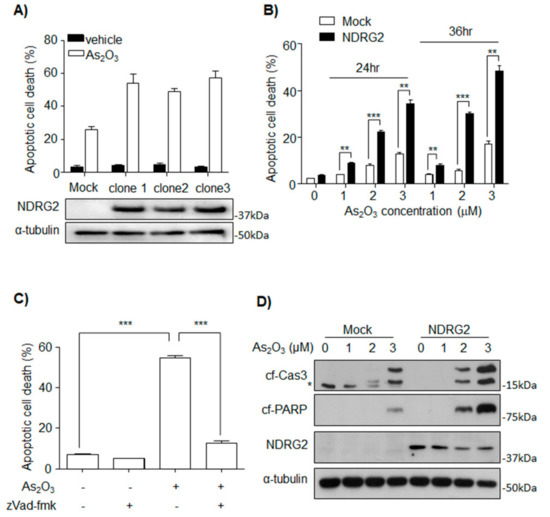 Figure 1
This is an open access article distributed under the
Creative Commons Attribution License
which permits unrestricted use, distribution, and reproduction in any medium, provided the original work is properly cited (CC BY 4.0).

Share & Cite This Article
MDPI and ACS Style
Park, S.; Han, H.-T.; Oh, S.-S.; Kim, D.H.; Jeong, J.-W.; Lee, K.W.; Kim, M.; Lim, J.S.; Cho, Y.Y.; Hwangbo, C.; Yoo, J.; Kim, K.D. NDRG2 Sensitizes Myeloid Leukemia to Arsenic Trioxide via GSK3β–NDRG2–PP2A Complex Formation. Cells 2019, 8, 495.
Note that from the first issue of 2016, MDPI journals use article numbers instead of page numbers. See further details here.
Related Articles
Comments
[Return to top]