Oncogenic Role of ZFAS1 lncRNA in Head and Neck Squamous Cell Carcinomas
1
Department of Cancer Immunology, Chair of Medical Biotechnology, Poznan University of Medical Sciences, 8 Rokietnicka Street, 60-806 Poznan, Poland
2
Laboratory of Cancer Genetics, Greater Poland Cancer Centre, 15 Garbary Street, Room 5025, 61-866 Poznan, Poland
3
Postgraduate School of Molecular Medicine, Medical University of Warsaw, 61 Zwirki i Wigury Street, 02-091 Warszawa, Poland
4
Department of Diagnostics and Cancer Immunology, Greater Poland Cancer Centre, 15 Garbary Street, 61-866 Poznan, Poland
5
Department of Medical and Experimental Oncology, Heliodor Swiecicki Clinical Hospital, Poznan University of Medical Sciences, 16/18 Grunwaldzka Street, 60-786 Poznan, Poland
6
Department of Biology and Environmental Sciences, Poznan University of Medical Sciences, 8 Rokietnicka Street, 60-806 Poznan, Poland
*
Authors to whom correspondence should be addressed.
Received: 19 February 2019 / Revised: 17 April 2019 / Accepted: 18 April 2019 / Published: 21 April 2019
Abstract
Background: Head and neck squamous cell carcinoma (HNSCC) is a heterogeneous disease with high mortality. The identification of specific HNSCC biomarkers will increase treatment efficacy and limit the toxicity of current therapeutic strategies. Long non-coding RNAs (lncRNAs) are promising biomarkers. Accordingly, here we investigate the biological role of
ZFAS1
and its potential as a biomarker in HNSCC. Methods: The expression level of
ZFAS1
in HNSCC cell lines was analyzed using qRT-PCR. Based on the HNSCC TCGA data, the
ZFAS1
expression profile, clinicopathological features, and expression of correlated genes were analyzed in patient tissue samples. The selected genes were classified according to their biological function using the PANTHER tool. The interaction between lncRNA:miRNA and miRNA:mRNA was tested using available online tools. All statistical analyses were accomplished using GraphPad Prism 5. Results: The expression of
ZFAS1
was up-regulated in the metastatic FaDu cell line relative to the less aggressive SCC-25 and SCC-040 and dysplastic DOK cell lines. The TCGA data indicated an up-regulation of
ZFAS1
in HNSCCs compared to normal tissue samples. The
ZFAS1
levels typically differed depending on the cancer stage and T-stage. Patients with a lower expression of
ZFAS1
presented a slightly longer disease-free survival and overall survival. The analysis of genes associated with
ZFAS1
, as well its targets, indicate that they are linked with crucial cellular processes. In the group of patients with low expression of
ZFAS1
, we detected the up-regulation of suppressors and down-regulation of genes associated with epithelial-to-mesenchymal transition (EMT) process, metastases, and cancer-initiating cells. Moreover, the negative correlation between
ZFAS1
and its host gene,
ZNFX1
, was observed. The analysis of interactions indicated that
ZFAS1
has a binding sequence for
miR-150-5p
. The expression of
ZFAS1
and
miR-150-5p
is negatively correlated in HNSCC patients.
miR-150-5p
can regulate the 3′UTR of
EIF4E
mRNA. In the group of patients with high expression of
ZFAS1
and low expression of
miR-150-5p
, we detected an up-regulation of
EIF4E
. Conclusions: In HNSCC,
ZFAS1
displays oncogenic properties, regulates important processes associated with EMT, cancer-initiating cells, and metastases, and might affect patients' clinical outcomes.
ZFAS1
likely regulates the cell phenotype through
miR-150-5p
and its downstream targets. Following further validation,
ZFAS1
might prove a new and valuable biomarker.
View Full-Text
►

▼

Figures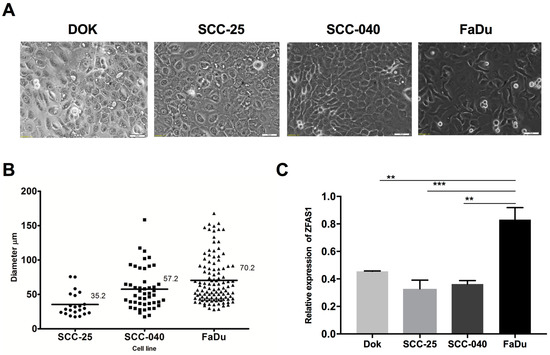 Figure 1
This is an open access article distributed under the
Creative Commons Attribution License
which permits unrestricted use, distribution, and reproduction in any medium, provided the original work is properly cited (CC BY 4.0).

Share & Cite This Article
MDPI and ACS Style
Kolenda, T.; Guglas, K.; Kopczyńska, M.; Teresiak, A.; Bliźniak, R.; Mackiewicz, A.; Lamperska, K.; Mackiewicz, J. Oncogenic Role of ZFAS1 lncRNA in Head and Neck Squamous Cell Carcinomas. Cells 2019, 8, 366.
Note that from the first issue of 2016, MDPI journals use article numbers instead of page numbers. See further details here.
Related Articles
Comments
[Return to top]