Open Access This article is
freely available
re-usable
Review
Everything You Always Wanted to Know about β3-AR * (* But Were Afraid to Ask)
Department of Cellular and Molecular Physiology, Yale University School of Medicine, New Haven, CT 06510, USA
*
Author to whom correspondence should be addressed.
Received: 19 February 2019 / Accepted: 12 April 2019 / Published: 16 April 2019
Abstract
:
The beta-3 adrenergic receptor (β3-AR) is by far the least studied isotype of the beta-adrenergic sub-family. Despite its study being long hampered by the lack of suitable animal and cellular models and inter-species differences, a substantial body of literature on the subject has built up in the last three decades and the physiology of β3-AR is unraveling quickly. As will become evident in this work, β3-AR is emerging as an appealing target for novel pharmacological approaches in several clinical areas involving metabolic, cardiovascular, urinary, and ocular disease. In this review, we will discuss the most recent advances regarding β3-AR signaling and function and summarize how these findings translate, or may do so, into current clinical practice highlighting β3-AR's great potential as a novel therapeutic target in a wide range of human conditions.
Keywords:
beta-3 adrenergic receptor; therapeutic target; G-protein coupled receptors
Funding
This work was supported by NIH grants NIH RO1 DK072612 and NIH PO1 DK-17433 both to MJC.
Acknowledgments
The authors would like to acknowledge Dwight Leone for his support with figure design. Monica Carmosino for discussion and suggestions on the topic. Aria Nouri for constant support and advice.
Conflicts of Interest
The authors declare no conflict of interest. The funders had no role in the design of the study; in the collection, analyses, or interpretation of data; in the writing of the manuscript, or in the decision to publish the results.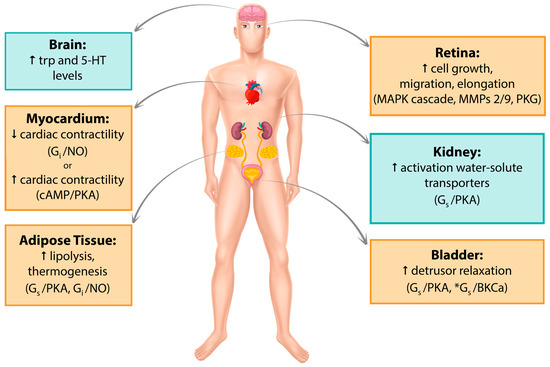 Figure 1. Graphic summary of β3-AR localization. Pathways that have been studied and reported in human tissue/cell lines are in yellow boxes. Pathways studied in mouse but not yet found in humans are in blue boxes. *Alternative cAMP-independent pathway. Trp, tryptophan; 5-HT, 5-hydroxytryptamine; MAPK, mitogen-activated protein kinase; MMPs, metalloproteinases, PKG, protein kinase G; NO, nitric oxide; PKA, protein kinase A.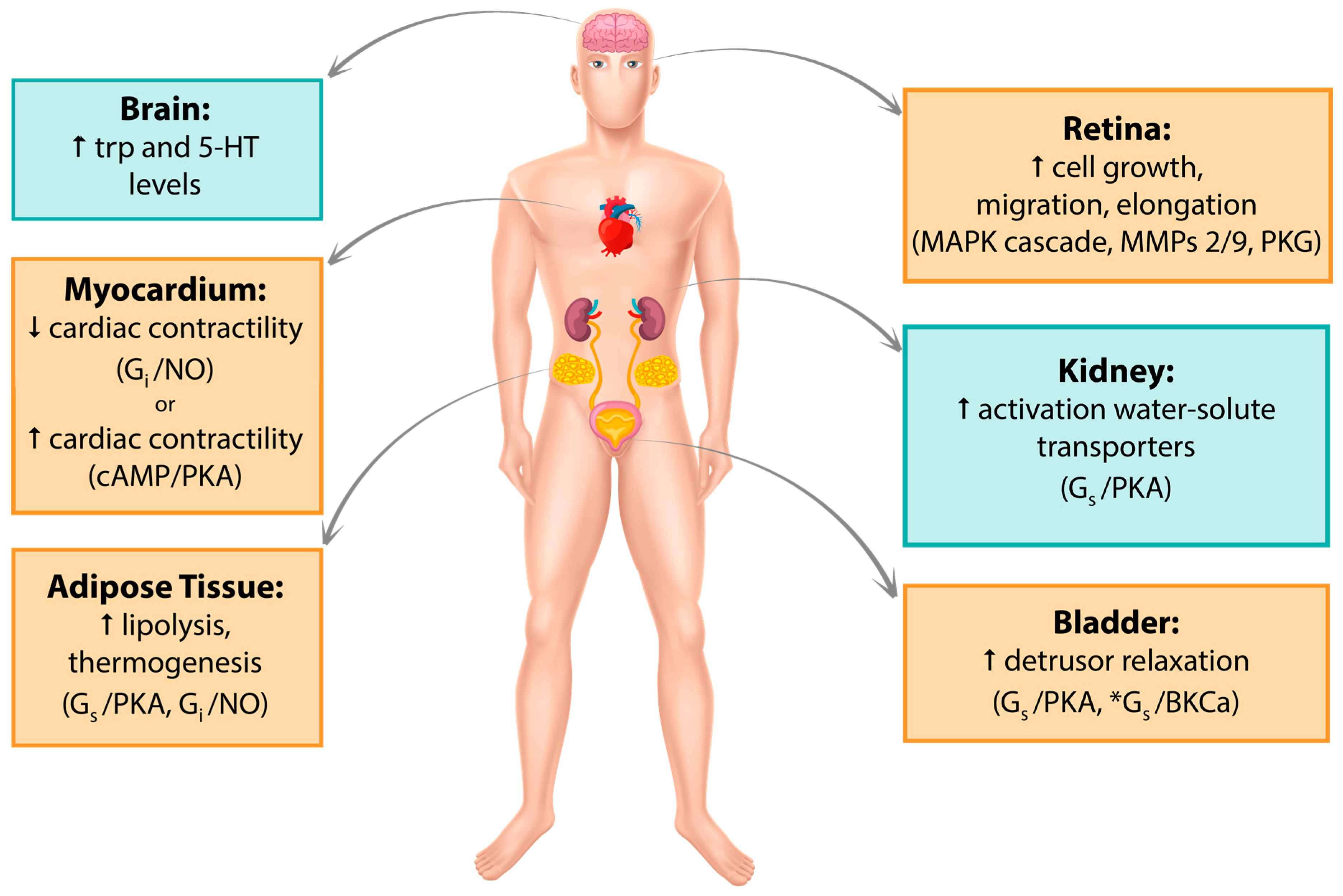 Compound
Manufacturer/Sponsor
Therapeutic Indications
Status
References
Mirabegron
(YM178)
Astellas Pharma
Overactive bladder syndrome
FDA-approved
[38]
Amibegron
(SR58611A)
Sanofi
Antidepressant, antianxiolytic
Phase II and III
(2005–2008) then discontinued 1
[39,40,41]; Clinicaltrials.gov
NCT00252330
Solabegron
(GW427353)
Glaxosmithkline
Overactive bladder syndrome
Phase II (ongoing)
[42,43];
Clinicaltrials.gov NCT03475706
Ritobegron
(KUC-7483)
Kissei Pharmaceuticals Co. Ltd.
Overactive bladder syndrome
Phase III
Discontinued 1
[42,43,44,45];
Clinicaltrials.gov NCT01003405
Vibegron 2
Kyorin Pharmaceutical Co., Ltd. and Kissei Pharmaceutical Co., Ltd.
Overactive bladder syndrome
Approved
(Japan)
[46,47]
1 Lack of efficiency in patients. 2 For further reference, see Section 4.1.

Table 2. Main tissues of β3-AR expression with relative downstream signaling and current uses in clinical therapy.
Tissue
Protein
mRNA
Function
Downstream Signaling (Mediators)
Potential Therapeutic Indications
Agonists Currently Developing
Status
Urinary
System
Bladder
Yes
Yes
Bladder relaxation
Gs (cAMP/PKA)
Treatment of Overactive bladder syndrome
Mirabegron
Solabegron
Vibegron
Approved
Phase II
Phase III
Kidney
Yes
Yes
Water and solute reabsorption
Gs (cAMP/PKA)
-
-
-
Central Nervous System
Brain
No
Yes
Increase of trp and 5-HT levels
-
Antidepressants
Amibegron
(SR58611A)
Discontinued
Retina
Yes
Yes
Endothelial cell growth, migration, and elongation
MAPK cascade, metalloproteinases 2/9, PKG
-
-
-
Adipose tissue
Yes
Yes
Lipolysis, thermogenesis
Gs (cAMP/PKA) and Gi (NO)
Anti-obesity, anti-diabetic
Beta-phenylethylamine
Pre-clinical
Myocardium
Yes
Yes
Lowering/Increasing of cardiac contractility
Gi (NO)/
Gs (cAMP/PKA)
Treatment of heart failure
Mirabegron (repurposing study)
Phase II
Myometrium
Yes
Yes
Relaxation of myometrial contractions
cAMP
Management of preterm labor
-
-

© 2019 by the authors. Licensee MDPI, Basel, Switzerland. This article is an open access article distributed under the terms and conditions of the Creative Commons Attribution (CC BY) license (http://creativecommons.org/licenses/by/4.0/).