The Role of ZNF143 in Breast Cancer Cell Survival Through the NAD(P)H Quinone Dehydrogenase 1–p53–Beclin1 Axis Under Metabolic Stress
1
Division of Translational Science, Research Institute, National Cancer Center, 323 Ilsan-ro, Ilsandong-gu, Goyang, Gyeonggi 10408, Korea
2
Department of Structure and Function of Neural Network, Korea Brain Research Institute, Daegu 41068, Korea
3
BK21 Plus Program, Department of Senior Healthcare, Graduate School, Eulji University, Daejeon 34824, Korea
4
Department of Cancer Biomedical Science, National Cancer Center Graduate School of Cancer Science and Policy, National Cancer Center, 323 Ilsan-ro, Ilsandong-gu, Goyang, Gyeonggi 10408, Korea
5
Division of Cancer Biology, Research Institute, National Cancer Center, 323 Ilsan-ro, Ilsandong-gu, Goyang, Gyeonggi 10408, Korea
6
Bioinformatics Analysis Team, Research Institute, National Cancer Center, 323 Ilsan-ro, Ilsandong-gu, Goyang, Gyeonggi 10408, Korea
7
Proteogenomic Analysis Team, Research Institute, National Cancer Center, 323 Ilsan-ro, Ilsandong-gu, Goyang, Gyeonggi 10408, Korea
*
Author to whom correspondence should be addressed.
Received: 6 March 2019 / Revised: 26 March 2019 / Accepted: 29 March 2019 / Published: 30 March 2019
Abstract
Autophagy is a cellular process that disrupts and uses unnecessary or malfunctioning components for cellular homeostasis. Evidence has shown a role for autophagy in tumor cell survival, but the molecular determinants that define sensitivity against autophagic regulation in cancers are not clear. Importantly, we found that breast cancer cells with low expression levels of a zinc-finger protein, ZNF143 (MCF7 sh-ZNF143), showed better survival than control cells (MCF7 sh-Control) under starvation, which was compromised with chloroquine, an autophagy inhibitor. In addition, there were more autophagic vesicles in MCF7 sh-ZNF143 cells than in MCF7 sh-Control cells, and proteins related with the autophagic process, such as Beclin1, p62, and ATGs, were altered in cells with less ZNF143. ZNF143 knockdown affected the stability of p53, which showed a dependence on MG132, a proteasome inhibitor. Data from proteome profiling in breast cancer cells with less ZNF143 suggest a role of NAD(P)H quinone dehydrogenase 1(NQO1) for p53 stability. Taken together, we showed that a subset of breast cancer cells with low expression of ZNF143 might exhibit better survival via an autophagic process by regulating the p53–Beclin1 axis, corroborating the necessity of blocking autophagy for the best therapy.
View Full-Text
►

▼

Figures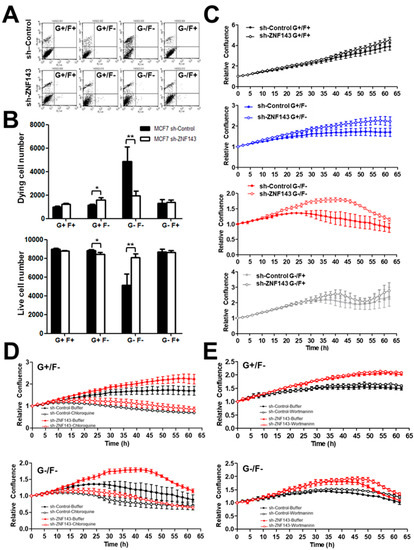 Figure 1
This is an open access article distributed under the
Creative Commons Attribution License
which permits unrestricted use, distribution, and reproduction in any medium, provided the original work is properly cited (CC BY 4.0).

Share & Cite This Article
MDPI and ACS Style
Paek, A.R.; Mun, J.Y.; Jo, M.J.; Choi, H.; Lee, Y.J.; Cheong, H.; Myung, J.K.; Hong, D.W.; Park, J.; Kim, K.-H.; You, H.J. The Role of ZNF143 in Breast Cancer Cell Survival Through the NAD(P)H Quinone Dehydrogenase 1–p53–Beclin1 Axis Under Metabolic Stress. Cells 2019, 8, 296.
Note that from the first issue of 2016, MDPI journals use article numbers instead of page numbers. See further details here.
Related Articles
Comments
[Return to top]