Epithelial-To-Mesenchymal Transition Markers and CD44 Isoforms Are Differently Expressed in 2D and 3D Cell Cultures of Prostate Cancer Cells
1
Department of Excellence: Department of Pharmacological and Biomolecular Sciences, Università degli Studi di Milano, via Balzaretti 9, 20133 Milan, Italy
2
Department of Biomedical Sciences for Health, Università degli Studi di Milano, via Mangiagalli 31, 20133 Milan, Italy
*
Author to whom correspondence should be addressed.
†
These authors contributed equally to this work.
‡
These authors contributed equally to this work.
Received: 17 December 2018 / Revised: 4 February 2019 / Accepted: 8 February 2019 / Published: 11 February 2019
Abstract
Three-dimensional (3D) cell cultures allow the mimic of functions of living tissues and provide key information encoded in tissue architecture. Considered the pivotal role of epithelial-to-mesenchymal transition (EMT) in carcinoma progression, including prostate cancer (PCa), we aimed at investigating the effect of the 3D arrangement on the expression of some key markers of EMT in cultured human prostate cancer (PCa) cells, to better understand PCa cell behavior. PC3 and DU145 PCa cells were cultured in RPMI cell culture medium either in 2D-monolayers or in 3D-spheroids. The main EMT markers E-cadherin, N-cadherin, α-smooth muscle actin (αSMA), vimentin, Snail, Slug, Twist and Zeb1 were evaluated by confocal microscopy, real-time PCR and Western blot. Confocal microscopy revealed that E-cadherin was similarly expressed at the cell boundaries on the plasma membrane of PCa cells grown in 2D-monolayers, as well as in 3D-spheroids, but resulted up-regulated in 3D-spheroids, compared to 2D-monolayers, at the mRNA and protein level. Moreover, markers of the mesenchymal phenotype were expressed at very low levels in 3D-spheroids, suggesting important differences in the phenotype of PCa cells grown in 3D-spheroids or in 2D-monolayers. Considered as a whole, our findings contribute to a clarification of the role of EMT in PCa and confirm that a 3D cell culture model could provide deeper insight into the understanding of the biology of PCa.
View Full-Text
►

▼

Figures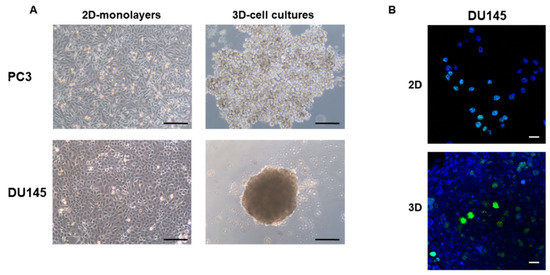 Figure 1
This is an open access article distributed under the
Creative Commons Attribution License
which permits unrestricted use, distribution, and reproduction in any medium, provided the original work is properly cited (CC BY 4.0).

Share & Cite This Article
MDPI and ACS Style
Fontana, F.; Raimondi, M.; Marzagalli, M.; Sommariva, M.; Limonta, P.; Gagliano, N. Epithelial-To-Mesenchymal Transition Markers and CD44 Isoforms Are Differently Expressed in 2D and 3D Cell Cultures of Prostate Cancer Cells. Cells 2019, 8, 143.
Note that from the first issue of 2016, MDPI journals use article numbers instead of page numbers. See further details here.
Related Articles
Comments
[Return to top]