Very Long-Chain C24:1 Ceramide Is Increased in Serum Extracellular Vesicles with Aging and Can Induce Senescence in Bone-Derived Mesenchymal Stem Cells
1
Medical College of Georgia, Augusta University, CB1116 Laney Walker Blvd, Augusta, GA 30912, USA
2
School of Medicine, Universidad Central Del Caribe, Bayamon, PR 00960, USA
3
National Institute on Aging, National Institutes of Health, Bethesda, MD 20892, USA
*
Author to whom correspondence should be addressed.
Received: 5 November 2018 / Revised: 17 December 2018 / Accepted: 9 January 2019 / Published: 10 January 2019
Abstract
Extracellular vesicles (EVs), including exosomes and microvesicles, function in cell-to-cell communication through delivery of proteins, lipids and microRNAs to target cells via endocytosis and membrane fusion. These vesicles are enriched in ceramide, a sphingolipid associated with the promotion of cell senescence and apoptosis. We investigated the ceramide profile of serum exosomes from young (24–40 yrs.) and older (75–90 yrs.) women and young (6–10 yrs.) and older (25–30 yrs.) rhesus macaques to define the role of circulating ceramides in the aging process. EVs were isolated using size-exclusion chromatography. Proteomic analysis was used to validate known exosome markers from Exocarta and nanoparticle tracking analysis used to characterize particle size and concentration. Specific ceramide species were identified with lipidomic analysis. Results show a significant increase in the average amount of C24:1 ceramide in EVs from older women (15.4 pmol/sample) compared to those from younger women (3.8 pmol/sample). Results were similar in non-human primate serum samples with increased amounts of C24:1 ceramide (9.3 pmol/sample) in older monkeys compared to the younger monkeys (1.8 pmol/sample). In vitro studies showed that primary bone-derived mesenchymal stem cells (BMSCs) readily endocytose serum EVs, and serum EVs loaded with C24:1 ceramide can induce BMSC senescence. Elevated ceramide levels have been associated with poor cardiovascular health and memory impairment in older adults. Our data suggest that circulating EVs carrying C24:1 ceramide may contribute directly to cell non-autonomous aging.
View Full-Text
►

▼

Figures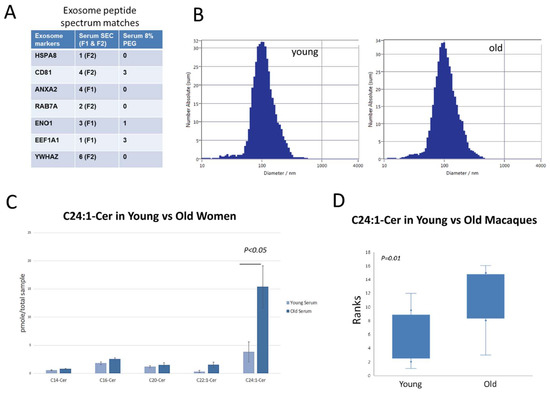 Figure 1
This is an open access article distributed under the
Creative Commons Attribution License
which permits unrestricted use, distribution, and reproduction in any medium, provided the original work is properly cited (CC BY 4.0).

Share & Cite This Article
MDPI and ACS Style
Khayrullin, A.; Krishnan, P.; Martinez-Nater, L.; Mendhe, B.; Fulzele, S.; Liu, Y.; Mattison, J.A.; Hamrick, M.W. Very Long-Chain C24:1 Ceramide Is Increased in Serum Extracellular Vesicles with Aging and Can Induce Senescence in Bone-Derived Mesenchymal Stem Cells. Cells 2019, 8, 37.
Note that from the first issue of 2016, MDPI journals use article numbers instead of page numbers. See further details here.
Related Articles
Comments
[Return to top]