Open Access This article is
freely available
re-usable
Review
The Role of Extracellular Vesicles in Cancer: Cargo, Function, and Therapeutic Implications
1
Department of Integrative Oncology, British Columbia Cancer Research Center, Vancouver V5Z 1L3, BC, Canada
2
Division of Otolaryngology, Department of Surgery, University of British Columbia, Vancouver V6T 1Z4, BC, Canada
*
Author to whom correspondence should be addressed.
Received: 9 July 2018 / Accepted: 29 July 2018 / Published: 1 August 2018
Abstract
:
Extracellular vesicles (EVs) are a heterogeneous collection of membrane-bound structures that play key roles in intercellular communication. EVs are potent regulators of tumorigenesis and function largely via the shuttling of cargo molecules (RNA, DNA, protein, etc.) among cancer cells and the cells of the tumor stroma. EV-based crosstalk can promote proliferation, shape the tumor microenvironment, enhance metastasis, and allow tumor cells to evade immune destruction. In many cases these functions have been linked to the presence of specific cargo molecules. Herein we will review various types of EV cargo molecule and their functional impacts in the context of oncology.
Keywords:
extracellular vesicles; cancer; therapeutics
1. Introduction
Extracellular vesicles (EVs) are a collection of lipid-bilayer enclosed vesicles secreted by virtually all cell types including cancer cells. EVs can be divided into subtypes based on their biogenesis, size and morphology, and collection method [
1
]. While other subtypes certainly exist, we use the term "EVs" to refer primarily to exosomes, ectosomes, and apoptotic bodies. Exosomes, the most heavily studied subtype, are ≈50–150 nm EVs formed by invagination of the multivesicular body (MVB) membrane. Once formed, exosomes are released into the extracellular space via fusion of the MVB with the plasma membrane. Ectosomes (sometimes called microvesicles or shedding microvesicles) are more heterogeneous, ranging in size from ≈100–1000 nm, and are formed through an outward blebbing of the plasma membrane. Apoptotic bodies are vesicles secreted by cells undergoing apoptotic cell death and range in size from ≈1000–5000 nm. Much of the work referenced herein is done on populations of EVs isolated via differential ultracentrifugation, which are likely enriched for exosomes compared to other subtypes. However, we use the term EVs to reflect the heterogeneous nature of these vesicles and the imperfect methods used to isolate them (which can lead to a mixture of EV subtypes). We occasionally use the term "exosomes" to refer to EVs pelleted by centrifugation at ≈100,000×
g
, "ectosomes" for EVs pelleted at ≈10,000
g
, and apoptotic bodies for EVs pelleted at ≈2000
g
.
Although initially thought to function exclusively in the removal of unwanted molecules from cells, EVs are now recognized as important mediators of cell–cell communication. EVs play key roles in both normal and disease processes and are important regulators of cancer progression. EVs are known to contain cell-type specific cargo, including RNA, DNA, and protein, which are selectively sorted into EVs [
2
]. Once released, EVs can interact with cells in the immediate vicinity or at distant locations via transfer through the circulation. EVs interact with recipient cells in a number of ways, including ligand–receptor interaction [
3
], release of vesicle contents in the extracellular space by bursting [
4
], direct fusion with the plasma membrane [
5
], and endocytosis into the cell [
6
]. The latter mechanisms are of specific interest here as they result in a transfer of molecular cargo from EVs to the recipient cells [
2
,
7
]. In cancer, tumor cells both release and receive EVs. This crosstalk between tumor and stromal cells regulates numerous aspects of tumorigenesis, including growth of tumor vasculature [
8
], recruitment of cancer-associated fibroblasts [
9
], metastatic potential [
8
], and evasion of immune destruction [
10
]. Herein we describe each of the major cargo types associated with EVs, assess the functional impact of EVs on cancer biology, and address the potential clinical uses of EVs relating to their roles as biomarkers and therapeutics.
2. EV Cargo
2.1. EV Isolation and Cargo Profiling
The identification and accurate functional characterization of EV cargo requires appropriate isolation and purification methods. Currently, the most popular method of EV isolation remains differential ultracentrifugation (DU) [
11
]. DU involves removal of contaminating material through a series of low-speed centrifugations followed by pelleting of EVs at higher speeds. DU is a low-cost, high-throughput method, making it an ideal means of EV isolation in many labs. However, co-purification of non-vesicular proteins and other contaminants is an issue [
12
]. Combination of DU with other purification methods, such as ultrafiltration or density gradient centrifugation, can improve the purity of the collected vesicles at the expense of particle yield [
12
]. Furthermore, density gradient centrifugation can be laborious and is unable to separate EVs from contaminants of similar density. The use of alternative techniques, such as size-exclusion chromatography, immunoaffinity capture, microfluidics, and precipitation-based methods are on the rise, each with their own advantages and disadvantages that have been thoroughly examined elsewhere [
13
]. Briefly, size-exclusion chromatography results in excellent purity, but dilutes samples and therefore requires EVs be re-concentrated following isolation. In contrast, precipitation methods tend to result in high yield but relatively low purity. Immunoaffinity capture and microfluidics can be used to isolate EVs sharing a specific characteristic; for example, all EVs expressing CD63 on their surface [
14
]. However, markers capable of distinguishing between exosomes, ectosomes, apoptotic bodies, and other EVs have not yet been identified, and markers such as CD63 can be found on various EV subtypes [
13
]. It is worth noting that because these techniques isolate EVs according to different characteristics (e.g., size, density, presence of specific surface markers, etc.), they may enrich different vesicle subpopulations, potentially generating misleading results [
15
].
Once EVs have been isolated and purified, consideration must be given to how the cargo of interest (i.e., RNA, protein, DNA, etc.) is to be extracted and profiled. Highlighting the importance of extraction technique, EV RNA yield and size distribution were found to differ greatly depending on the method used, with column-based methods resulting in both the highest yield and broadest size range [
16
]. In some cases, additional treatment may be required to remove protein and nucleic acids from the outside surface of EVs. Indeed, the International Society of Extracellular Vesicles recommends investigators quantify EV RNA before and after vesicles are treated with proteinase/RNase to determine the contribution of surface-bound RNAs to the total RNA content collected [
15
]. For additional detail, we refer the reader to excellent recent reviews [
13
,
15
]. These studies serve to highlight the need for consistent and detailed reporting of experimental methods for the accurate interpretation of EV studies.
2.3. mRNA and Other RNA Types
Like miRNA, mRNA appears to make up a minority of EV RNA. In EVs derived from glioma stem-like cultures, mRNA accounted for <10% of the total RNA reads as assayed by NGS, and it is unclear what proportion of mRNA reads can be attributed to full-length mRNAs as opposed to mRNA fragments [
18
,
69
]. This may reflect a difference among EV subtypes, since mRNA appears to be more enriched in ectosomes compared to exosomes [
69
]. Despite uncertainty regarding mRNA abundance, numerous studies have shown that functional mRNAs can be transferred via EVs to recipient cells where they are translated and alter recipient cell phenotype [
70
,
71
,
72
,
73
]. For example, hTERT mRNA, which encodes the catalytic subunit of the telomerase enzyme, is transferred via EVs into nearby fibroblasts, thus increasing their proliferation, extending their life span, postponing senescence, and protecting from DNA damage [
72
]. Furthermore, hTERT mRNA was found in serum-derived EVs from 67.5% of 133 individuals with various cancers, but none of the 45 healthy controls [
74
], suggesting its use as a biomarker for detection of multiple cancer types.
Recent studies suggest that the presence of specific sequence motifs play a key role in mRNA sorting into EVs. Interestingly, the YB-1 protein, which has also been linked to miRNA sorting [
22
,
30
], has been found to interact specifically with mRNAs whose 3′ untranslated region (UTR) contains any of three motifs, while the methyltransferase NSUN interacts with one motif [
75
,
76
]. YB-1 is overexpressed in numerous cancer types and drives cell proliferation [
77
], thus providing a link between cancer progression and EV packaging. Similarly, a 25-nucleotide motif was found to be enriched in the 3′ UTR of exosomal mRNAs from glioblastoma cells [
78
], whereas mRNAs harboring the signal peptide sequence were excluded from EVs [
79
].
Additional classes of RNA found in EVs include ribosomal RNA, transfer RNA, mitochondrial RNA, long non-coding RNA, piwi-interacting RNA, small nucleolar RNAs, and circular RNA [
20
,
22
,
80
,
81
,
82
]. Recent results have linked EV long non-coding RNAs to chemosensitivity [
83
] and cancer progression [
84
]. While outside the scope of the current manuscript, we refer the reader to an excellent recent review on this topic [
85
].
2.5. Protein
In addition to being transferred to recipient cells and influencing cell phenotype, proteins also regulate the sorting of other EV components, determine which cell types are able to receive EVs (i.e., determine tropism), provide markers for the separation of EV subtypes, bind to and activate receptors on recipient cells, and carry out cell-independent reactions inside of EVs after their release. Here we will discuss the sorting of specific proteins followed by a brief discussion of a few of their various other functions in relation to cancer biology.
3. Extracellular Vesicle Function in Cancer
3.1. Impact of EVs on Fibroblasts
Release of EVs by tumor cells is believed to play a major role in intercellular communication, facilitating signaling to surrounding tumor cells and to distant sites via blood or other biological fluid transportation (
Figure 1
). A primary focus of inquiry has been the impact of EVs on the tumor stroma, including fibroblasts, endothelial cells, and immune cells.
Fibroblasts comprise a major component of the tumor stroma. Under tumorigenic conditions, fibroblasts can undergo morphological changes that confer a phenotype similar to myofibroblasts, which are activated, mobile fibroblasts. Interestingly, tumor-derived EVs are able to induce the transformation of normal stromal fibroblasts into activated cancer-associated fibroblasts (CAFs) [
121
,
122
,
123
,
124
,
125
]. For instance, TGFβ-containing prostate cancer-derived EVs are sufficient to induce fibroblast transformation to a CAF-like phenotype [
123
]. Further, the resultant increases in wound healing and endothelial cell growth were more pronounced in EV-exposed fibroblasts as compared to fibroblasts transformed by soluble TGFβ alone [
123
]. The ability of EVs to promote CAF activation was found to correlate with the aggressiveness of the tumor cells, with EVs from a more aggressive cell line prompting higher CAF marker expression, proliferation rate, and enzyme release by treated fibroblasts than EVs from a less aggressive cell line [
126
].
Once activated, CAFs secrete EVs that promote tumorigenesis by increasing proliferation, motility, epithelial-mesenchymal transition, migration, and metabolic changes in tumor, endothelial cells, and other fibroblasts [
126
,
127
,
128
,
129
]. Especially intriguing is the role of EVs in mediating resistance to chemotherapy [
127
,
130
]. For instance, exposing pancreatic ductal carcinoma cells to conditioned pancreatic fibroblast media was sufficient to confer resistance to gemcitabine, potentially due to up-regulation of snail family transcriptional repressor 1 (SNAIL) and miR-146a in the recipient cells [
127
]. Gemcitabine treatment also led to an increase in CAF EV secretion, indicating a potential mechanism of drug resistance in pancreatic cancer [
127
].
3.2. EVs Induce Angiogenesis in Endothelial Cells
The ability to induce angiogenesis is a hallmark of cancer, and recent evidence suggests that EVs are key regulators of tumor vascularization via transfer of pro-angiogenic molecules from tumor to endothelial cells. Indeed, EVs have been shown to increase tube formation, migration, cell–cell adhesion, and proliferation in endothelial cells in a variety of cancer types [
8
,
122
,
131
,
132
,
133
,
134
,
135
,
136
,
137
,
138
]. For example, activated EGFR found in EVs is sufficient to induce EGFR and VEGFR signaling in recipient endothelial cells, and blocking EV-mediated EGFR transfer decreased tumor growth and angiogenesis [
131
,
139
]. Furthermore, EVs produced by hypoxic tumor cells have been shown to have a more pronounced effect on endothelial cells in promoting angiogenesis than those derived from normoxic cells [
134
,
137
]. Hypoxia increases the production of tumor and stromal cell-derived EVs and alters their cargo [
42
,
137
,
140
,
141
,
142
]. For example, miR-23a is found in the EVs of hypoxic, but not normoxic, lung cancer cells and promotes angiogenesis through the inhibition of prolyl hydroxylase in recipient endothelial cells [
141
]. Increased EV production by hypoxic endothelial cells was abrogated by siRNA targeting hypoxia inducible factor 1α, thus providing a clear link between cell response to hypoxia and EV production [
142
]. Other EV-derived molecules that have been shown to play a role in promoting angiogenesis include miR-9, miR-105, miR-142-3p, miR-210, and H19 lncRNA [
132
,
133
,
135
,
138
,
141
,
143
,
144
].
Several groups have looked at the impact of sub-populations with cell markers indicative of tumor initiating cells. In renal cell carcinoma cell lines, CD105-positive cells were found to release EVs that increase proliferation, vessel formation, and invasion in HUVEC endothelial cells, whereas CD105-negative cells did not [
134
]. Similarly, in liver cancer cells, CD90-positive cells were found to secrete EVs that promote tube formation and cell–cell adhesion via transfer of H19 lncRNA [
132
]. These results highlight the heterogeneity found within tumors and suggest that subsets of tumor cells secrete EVs carrying a unique set of cargo capable of altering stromal cell phenotypes in specific ways.
3.3. Extracellular Vesicles in Immunomodulation
3.4. Tumor Promoting Effects of Other Extracellular Vesicles
As noted above, the majority of studies have focused on the functional impact of EV populations collected via ultracentrifugation at 100,000×
g
, which are assumed to be enriched for exosomes. Several papers, however, have also assessed larger EV species, including ectosomes and large oncosomes, which arise from non-apoptotic blebbing of the plasma membrane [
124
,
158
,
159
]. This subset of EVs is obtained by collecting pellets from cell culture media supernatant centrifuged at 10,000×
g
and further purified by density gradient centrifugation. Minciacchi and colleagues found that large oncosomes were able to reprogram prostate fibroblasts via alterations in MYC/AKT1 pathways, rather than via TGFβ as was observed by exosomes [
123
,
158
]. Thus, different subtypes of EV reprogram fibroblasts using different mechanisms. Interestingly, by comparing the tumorigenic capabilities of the 10,000
g
and 100,000
g
EV fractions from the same cell line, Lindoso and colleagues found that EVs collected after centrifugation at 10,000×
g
were more effective at stimulating angiogenesis, whereas EVs collected after centrifugation at 100,000×
g
were more effective at increasing migration of endothelial cells [
124
]. These results strengthen the conclusion that different EV subtypes perform unique functions within the tumor niche.
4. Therapeutic Implications of Extracellular Vesicles
5. Summary
In the past few years we have learned a great deal regarding the myriad of cargo molecules contained within EVs and the complex roles EVs play in the tumor microenvironment. The pace of research on this topic has vastly increased in the past couple of years, and we will no doubt make great strides in the years ahead in understanding the complexities underlying the role of EVs in cancer. Though much of this research is still in its infancy, there no doubt there lies many exciting therapeutic and biomarker opportunities ahead.
Author Contributions
Conceptualization, J.J., R.T., and C.G.; Writing-Original Draft Preparation, J.J. and R.T.; Writing-Review & Editing, J.J., R.T., and C.G.
Funding
This research received no external funding.
Acknowledgments
We thank Timon Buys for helpful discussion.
Conflicts of Interest
The authors declare no conflict of interest.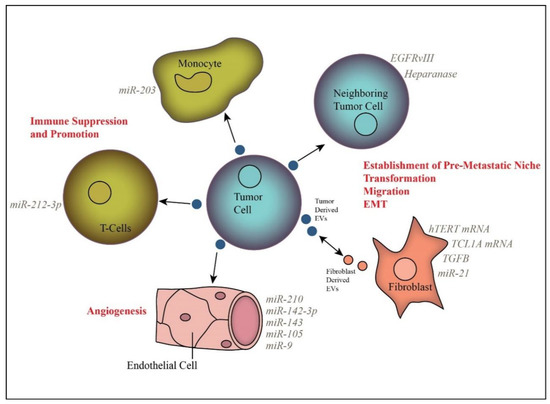 Figure 1. Extracellular vesicle-mediated transfer of specific cargo molecules alters the phenotype of recipient cells, including neighboring tumor cells, fibroblasts, endothelial cells, and immune cells.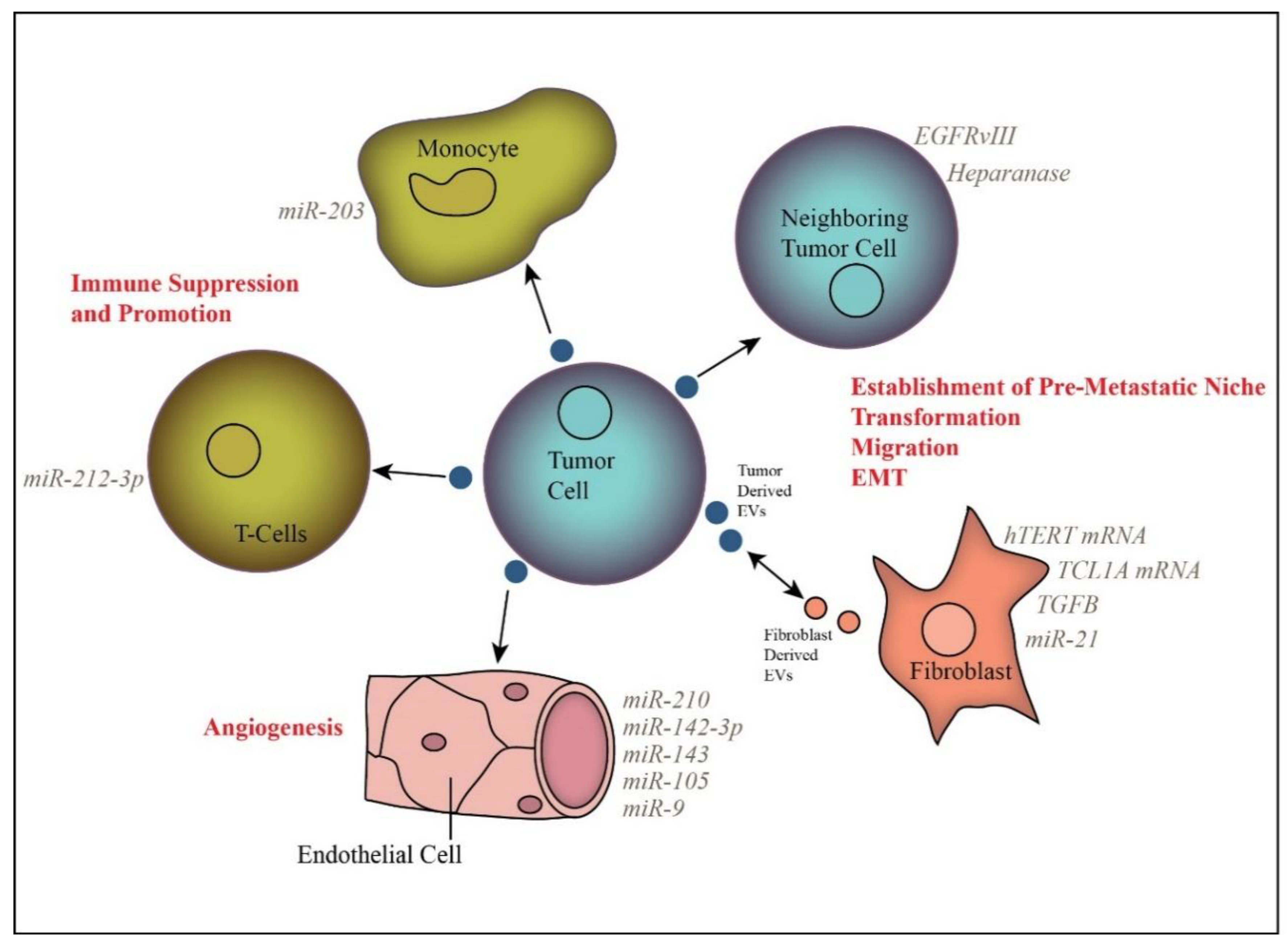 Table 1. Summary of recent publications using EV DNA for detection of specific mutations in cancer-related genes.
| Study | Fluid | Cancer Type | Patients | Technique | Genes Analyzed | Results |
| --- | --- | --- | --- | --- | --- | --- |
| Kahlert et al., 2014 [93] | Blood (serum) | Pancreatic ductal adenocarcinoma | Human; 2 cancer (no stage given), 2 healthy | PCR, Sequencing (BigDye terminator kit) | KRAS, TP53 | Detected two different KRAS mutations and one TP53 mutation. |
| Lázaro-Ibáñez et al., 2014 [86] | Blood (plasma) | Prostate | Human; 4 cancer (T stages 1–3), 4 healthy | PCR, sequencing (BigDye terminator kit) | MLH1, PTEN, TP53 | Unable to detect specific mutations. |
| Thakur et al., 2014 [95] | Blood (plasma) | Melanoma | SK-MEL-28 cells xenografted into NOD/SCID mice; EVs collected when tumors reached max allowable size | Allele-specific PCR | BRAF (V600E) | Mutation detected. |
| San Lucas et al., 2016 [97] | Blood and pleural fluid | Pancreatic ductal adenocarcinoma (PDAC) and ampullary adenocarcinoma | Human; 2 PDAC and 1 ampullary adenocarcinoma | Next-generation sequencing | Whole genome | At least 10 potentially clinically actionable mutations identified in each patient. |
| Allenson et al., 2017 [99] | Blood (plasma) | Pancreatic ductal adenocarcinoma (PDAC) | Human; 68 PDAC (all stages), 20 PDAC patients whose blood was drawn after resection with curative intent, and 54 healthy controls | Droplet digital PCR | KRAS | Mutations detected in 7.4%, 66.7%, 80%, and 85% of controls, localized, locally advanced, and metastatic PDAC patients. |
| Möhrmann et al., 2017 [100] | Blood (plasma) | 46.5% colorectal, 18.6% melanoma, 14.0% non-small cell lung cancer, 20.9% other | Human; 43 progressing advanced cancers | Next-generation sequencing | BRAFV600, KRASG12/G13, EGFRexon19delL858R | Mutations in EV DNA which correspond to those in tissue found in 95% of cases. EV DNA did not contain mutations not present in the parental tumor cells. |
| Yang et al., 2017 [101] | Blood (serum) | Pancreatic ductal adenocarcinoma (PDAC), chronic pancreatitis (CP), intraductal papillary mucinous neoplasm (IPMN) | Human; 48 PDAC, 9 CP, 7 IPMN, 114 healthy controls | Digital PCR | KRASG12D, TP53R273H | KRAS mutation detected in 39.6% PDAC, 28.6% IPMN, 55.6% CP, 2.6% healthy controls. TP53 mutation detected in 4.2% PDAC, 14.2% IPMN, 0% CP, 0% healthy controls. |
| Castellanos-Rizaldos et al., 2018 [102] | Blood (serum) | Non-small cell lung cancer | Human; Training and test cohorts each with 51 mutation positive and 54 mutation negative samples | Allele-specific PCR | EGFRT790M | Training: 81% sensitivity, 95% specificity. Test: 92% sensitivity, 89% specificity |

© 2018 by the authors. Licensee MDPI, Basel, Switzerland. This article is an open access article distributed under the terms and conditions of the Creative Commons Attribution (CC BY) license (http://creativecommons.org/licenses/by/4.0/).