The Unfolded Protein Response Pathway in the Yeast
Kluyveromyces lactis

. A Comparative View among Yeast Species

1

Departamento de Genética Molecular, Instituto de Fisiología Celular, Universidad Nacional Autónoma de México, 04510 Mexico City, Mexico

2

Departamento de Bioquímica y Biología Estructural, Instituto de Fisiología Celular, Universidad Nacional Autónoma de México, 04510 Mexico City, Mexico

3

Laboratory for Membrane Trafficking, VIB-KU Leuven Center for Brain & Disease Research and Department of Neurosciences, KU Leuven, 3000 Leuven, Belgium

4

Instituto de Investigaciones Biomédicas "Alberto Sols" (CSIC-UAM), Arturo Duperier 4, 28029 Madrid, Spain

5

Unidad de Biología Molecular, Instituto de Fisiología Celular, Universidad Nacional Autónoma de México, 04510 Mexico City, Mexico

*

Author to whom correspondence should be addressed.

Received: 30 June 2018 / Revised: 4 August 2018 / Accepted: 8 August 2018 / Published: 14 August 2018
Abstract
Eukaryotic cells have evolved signalling pathways that allow adaptation to harmful conditions that disrupt endoplasmic reticulum (ER) homeostasis. When the function of the ER is compromised in a condition known as ER stress, the cell triggers the unfolded protein response (UPR) in order to restore ER homeostasis. Accumulation of misfolded proteins due to stress conditions activates the UPR pathway. In mammalian cells, the UPR is composed of three branches, each containing an ER sensor (PERK, ATF6 and IRE1). However, in yeast species, the only sensor present is the inositol-requiring enzyme Ire1. To cope with unfolded protein accumulation, Ire1 triggers either a transcriptional response mediated by a transcriptional factor that belongs to the bZIP transcription factor family or an mRNA degradation process. In this review, we address the current knowledge of the UPR pathway in several yeast species:
Saccharomyces cerevisiae
,
Schizosaccharomyces pombe
,
Candida glabrata
,
Cryptococcus neoformans,
and
Candida albicans
. We also include unpublished data on the UPR pathway of the budding yeast
Kluyveromyces lactis
. We describe the basic components of the UPR pathway along with similarities and differences in the UPR mechanism that are present in these yeast species.
View Full-Text
►

▼

Figures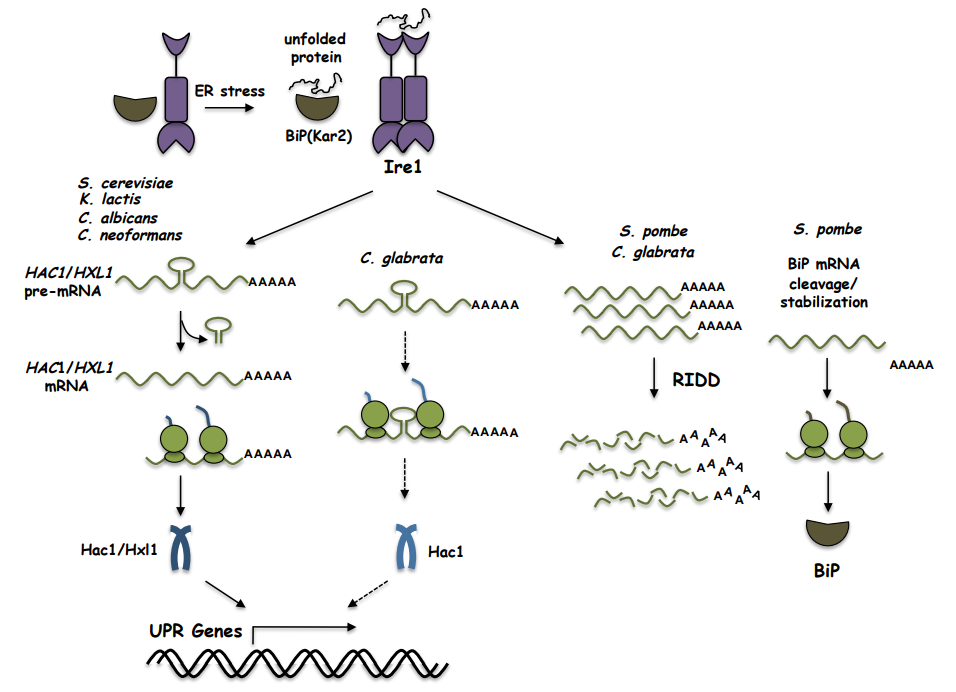 Graphical abstract
This is an open access article distributed under the
Creative Commons Attribution License
which permits unrestricted use, distribution, and reproduction in any medium, provided the original work is properly cited (CC BY 4.0).

Share & Cite This Article
MDPI and ACS Style
Hernández-Elvira, M.; Torres-Quiroz, F.; Escamilla-Ayala, A.; Domínguez-Martin, E.; Escalante, R.; Kawasaki, L.; Ongay-Larios, L.; Coria, R. The Unfolded Protein Response Pathway in the Yeast Kluyveromyces lactis. A Comparative View among Yeast Species. Cells 2018, 7, 106.
Note that from the first issue of 2016, MDPI journals use article numbers instead of page numbers. See further details here.
Related Articles
Comments
[Return to top]