Shape-Shifted Red Blood Cells: A Novel Red Blood Cell Stage?
1
Instituto de Biología Molecular y Celular, Universidad Miguel Hernández, 03202 Elche, Spain
2
Unidad de Proteómica, Centro Nacional de Biotecnología (CNB-CSIC), 28049 Madrid, Spain
3
Área de Biología Celular, Departamento de Biología Molecular, Universidad de León, 24071 León, Spain
4
Instituto de Biología, Pontificia Universidad Católica de Valparaíso, 2373223 Valparaíso, Chile
5
INIA-SIGT–Biotecnología, 28040 Madrid, Spain
*
Author to whom correspondence should be addressed.
Received: 15 March 2018 / Revised: 11 April 2018 / Accepted: 14 April 2018 / Published: 19 April 2018
Abstract
Primitive nucleated erythroid cells in the bloodstream have long been suggested to be more similar to nucleated red cells of fish, amphibians, and birds than the red cells of fetal and adult mammals. Rainbow trout Ficoll-purified red blood cells (RBCs) cultured in vitro undergo morphological changes, especially when exposed to stress, and enter a new cell stage that we have coined shape-shifted RBCs (shRBCs). We have characterized these shRBCs using transmission electron microscopy (TEM) micrographs, Wright–Giemsa staining, cell marker immunostaining, and transcriptomic and proteomic evaluation. shRBCs showed reduced density of the cytoplasm, hemoglobin loss, decondensed chromatin in the nucleus, and striking expression of the B lymphocyte molecular marker IgM. In addition, shRBCs shared some features of mammalian primitive pyrenocytes (extruded nucleus surrounded by a thin rim of cytoplasm and phosphatidylserine (PS) exposure on cell surface). These shRBCs were transiently observed in heat-stressed rainbow trout bloodstream for three days. Functional network analysis of combined transcriptomic and proteomic studies resulted in the identification of proteins involved in pathways related to the regulation of cell morphogenesis involved in differentiation, cellular response to stress, and immune system process. In addition, shRBCs increased interleukin 8 (IL8), interleukin 1 β (IL1β), interferon ɣ (IFNɣ), and natural killer enhancing factor (NKEF) protein production in response to viral hemorrhagic septicemia virus (VHSV). In conclusion, shRBCs may represent a novel cell stage that participates in roles related to immune response mediation, homeostasis, and the differentiation and development of blood cells.
View Full-Text
►

▼

Figures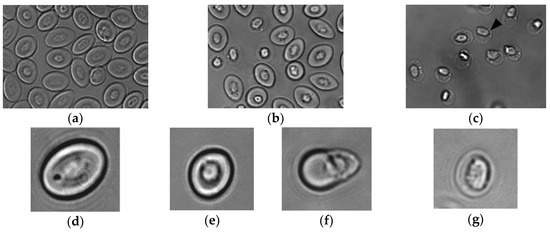 Figure 1
This is an open access article distributed under the
Creative Commons Attribution License
which permits unrestricted use, distribution, and reproduction in any medium, provided the original work is properly cited (CC BY 4.0).

Share & Cite This Article
MDPI and ACS Style
Chico, V.; Puente-Marin, S.; Nombela, I.; Ciordia, S.; Mena, M.C.; Carracedo, B.; Villena, A.; Mercado, L.; Coll, J.; Ortega-Villaizan, M.D.M. Shape-Shifted Red Blood Cells: A Novel Red Blood Cell Stage? Cells 2018, 7, 31.
Note that from the first issue of 2016, MDPI journals use article numbers instead of page numbers. See further details here.
Related Articles
Comments
[Return to top]