Open Access This article is
freely available
re-usable
Review
Approaches for Studying Autophagy in
Caenorhabditis elegans
Institute for Integrative Biology of the Cell (I2BC), CEA, CNRS, Univ. Paris-Sud, Université Paris-Saclay, 91198 Gif-sur-Yvette CEDEX, France
†
These authors contributed equally to this work.
*
Author to whom correspondence should be addressed.
Received: 25 July 2017 / Accepted: 26 August 2017 / Published: 30 August 2017
Abstract
:
Macroautophagy (hereafter referred to as autophagy) is an intracellular degradative process, well conserved among eukaryotes. By engulfing cytoplasmic constituents into the autophagosome for degradation, this process is involved in the maintenance of cellular homeostasis. Autophagy induction triggers the formation of a cup-shaped double membrane structure, the phagophore, which progressively elongates and encloses materials to be removed. This double membrane vesicle, which is called an autophagosome, fuses with lysosome and forms the autolysosome. The inner membrane of the autophagosome, along with engulfed compounds, are degraded by lysosomal enzymes, which enables the recycling of carbohydrates, amino acids, nucleotides, and lipids. In response to various factors, autophagy can be induced for non-selective degradation of bulk cytoplasm. Autophagy is also able to selectively target cargoes and organelles such as mitochondria or peroxisome, functioning as a quality control system. The modification of autophagy flux is involved in developmental processes such as resistance to stress conditions, aging, cell death, and multiple pathologies. So, the use of animal models is essential for understanding these processes in the context of different cell types throughout the entire lifespan. For almost 15 years, the nematode
Caenorhabditis elegans
has emerged as a powerful model to analyze autophagy in physiological or pathological contexts. This review presents a rapid overview of physiological processes involving autophagy in
Caenorhabditis elegans
, the different assays used to monitor autophagy, their drawbacks, and specific tools for the analyses of selective autophagy.
Keywords:
C. elegans
; genetics; in vivo imaging; electron microscopy; mitophagy; aggrephagy; LGG-1; LGG-2
Acknowledgments
The authors would like to thank their colleagues for helpful discussion and particularly Céline Jenzer and Céline Largeau for providing pictures. We are grateful to Nektarios Tavernarakis for sending the mitoRosella and the DsRed::LGG-1; mtGFP strains. We are also grateful to the
C. elegans
autophagy community for sharing informations and reagents and apologize if some data could not be mentioned in this review due to size limitations. The Legouis' group is supported by the Agence National de la Recherche (project EAT, ANR-12-BSV2-018) and the Association pour la Recherche contre le Cancer (SFI20111203826). Y.C. is a recipient of a fellowship from the China Scholarship Council and VS received a fellowship from of the Ligue Nationale contre le Cancer.
Conflicts of Interest
The authors declare no conflict of interest.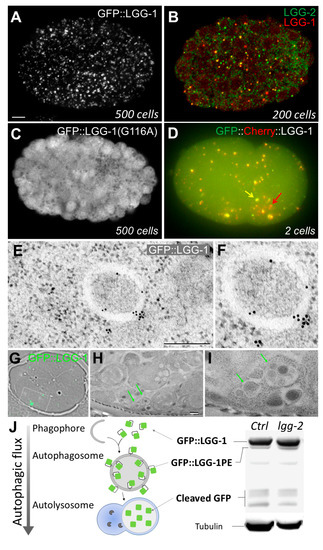 Figure 1.
Use of LGG-1 and LGG-2 to monitor autophagy in
C. elegans
. (
A
) In vivo confocal picture of GFP::LGG-1 in a 500-cell embryo. GFP::LGG-1 puncta correspond to autophagosomes; (
B
) Merge confocal picture of a co-immunostaining of LGG-1 and LGG-2 in 200-cell embryo. Three types of puncta can be distinguished: LGG-1 positive (red), LGG-2 positive (green), and double positive (yellow); (
C
) In vivo confocal picture of GFP::LGG-1(G116A) form in a 500-cell embryo. This non-lipidated form presents a diffuse localization pattern with no puncta; (
D
) Epifluorescence merge picture of the tandem GFP::mCherry::LGG-1 in a two-cell embryo. The yellow arrow indicates an autophagosome (yellow resulting from GFP and mCherry fluorescences), whereas the red arrow shows an autolysosome (only mCherry fluorescence in acidic compartment); (
E
,
F
) Electron micrographs of GFP::LGG-1 embryos incubated with antibodies coupled to gold beads, revealing autophagosomal structures; (
G
–
I
) Correlative light and electron microscopy (CLEM) analysis of GFP::LGG-1; (
G
) Merge between bright field and fluorescence images of an ultrathin section of an embryo; (
H
,
I
) Electron micrographs of the boxed region in G. Green arrows indicate GFP::LGG-1 positive autophagosomes; (
J
) Schematic representation of autophagic flux and Western blot analysis of GFP::LGG-1 using GFP antibodies. The cleaved GFP correspond to a product of degradation in autolysosomes. The relative quantity of GFP::LGG-1 and the phosphatidylethanolamine (PE) conjugated form allows the measurement of the autophagic flux. Tubulin is used for normalization. Scale bar: 5 µm (
A
); 2 µm (
E
); 1 µm (
H
).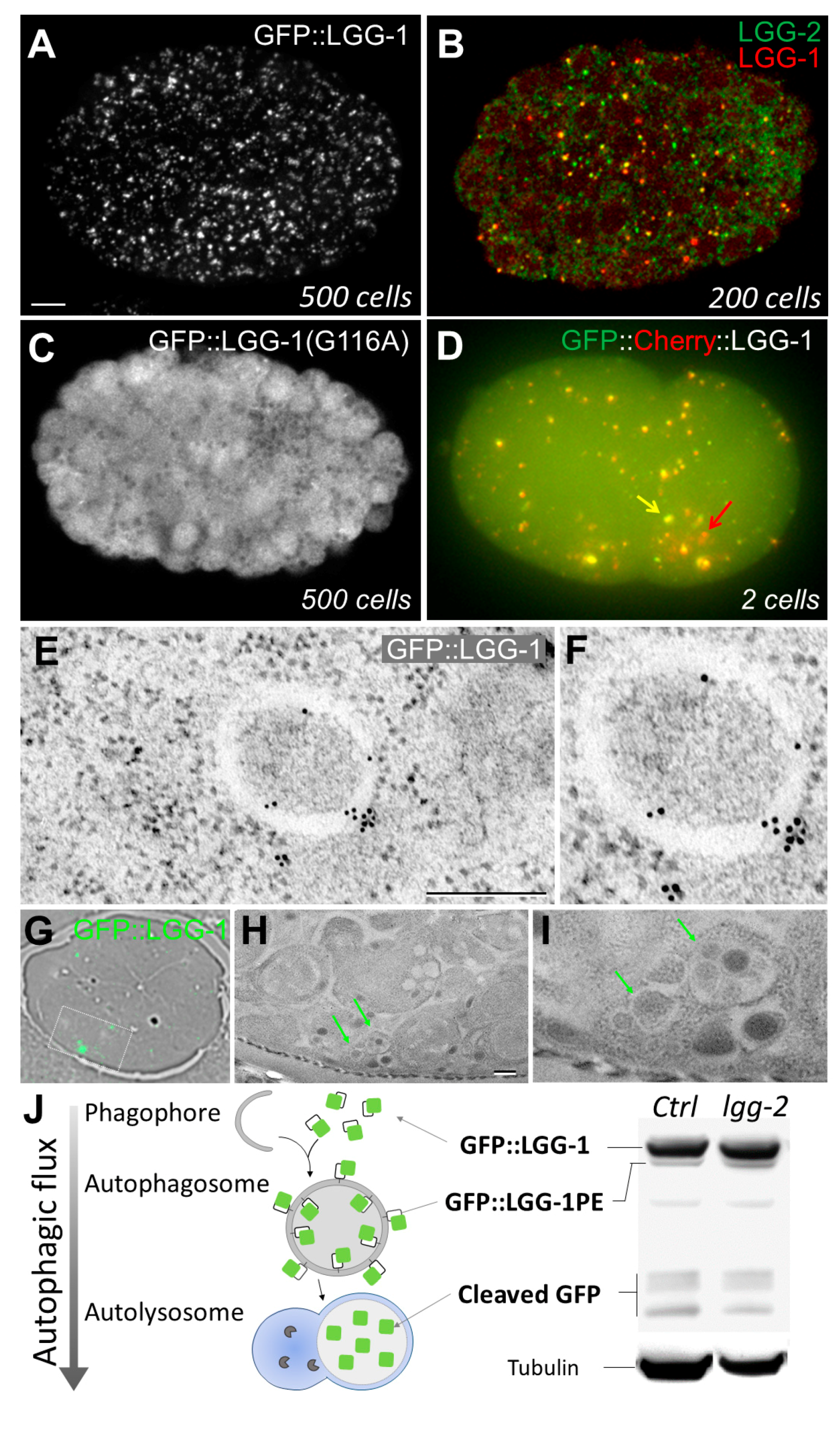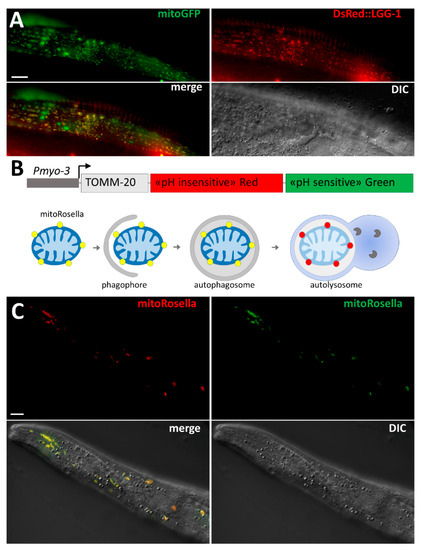 Figure 2.
Tools for the study of mitophagy in
C. elegans
. (
A
) In vivo confocal images of mitophagy in the body wall muscle cells of an adult worm. After heat stress (37 °C for 2 h), mitophagy is visualized by co-localization between fragmented mitochondria (mitoGFP in green) and autophagic structures (DsRed::LGG-1); (
B
) Schematic diagram of mitoRosella fluorescent protein biosensor under the control of the muscle-specific promoter
myo-3
. MitoRosella is a chimeric protein-containing fragment of TOMM20, which leads to mitochondrial localization, the pH-stable DsRed fluorescent protein, and the pH-sensitive GFP. During mitophagic flux, mitochondria turn from yellow (DsRed and GFP) to red in autolysosome, due to the quenching of the GFP signal; (
C
) Confocal images of mitoRosella in body wall muscle cells of an adult worm in standard condition (20 °C). All mitochondria are fluorescent for GFP and DsRed, indicating that the basal level of mitophagy in muscle is very low. Scale bar = 10 μm.
Table 1. Autophagy genes in

C. elegans

, and homologs.

C. elegans

Genes
Mutant Alleles or RNAi
Mammalian Homologs
Yeast Genes
References

atg-2

bp576

ATG2

ATG2

[6]

atg-3

bp412/RNAi

ATG3

ATG3

[7]

atg-4.1

bp410

ATG4A, ATG4B

ATG4

[2]

atg-4.2

tm3948

ATG4C, ATG4D

ATG4

[2]

atg-5

bp546/RNAi

ATG5

ATG5

[8]

atg-7

bp422/RNAi

ATG7

ATG7

[7]

atg-9

bp564/RNAi

ATG9

ATG9

[6]

atg-10

bp421, bp588/RNAi

ATG10

ATG10

[7]

atg-16.1

gk668615d

ATG16L1

ATG16

[8]

atg-16.2

bp636, ok3224

ATG16L2

[8]

atg-18

gk378/RNAi

WIPI1, WIPI2

ATG18

[9,10]

bec-1

ok691, bp613, ok700/RNAi

BECN1

VPS30/ATG6

[10,11]

epg-1

bp414

KIAA0652

ATG13

[12]

epg-2

bp444/RNAi

?

VPS34

[9]

epg-3

bp405/RNAi

VPM1

VPS34

[9]

epg-4

bp425/RNAi

EI24

VPS34

[9]

epg-5

tm3425/RNAi

EPG5

VPS34

[9]

epg-6

bp242

WIPI3, WIPI4

[6]

epg-7

tm2508

FIP200

VPS34

[13]

epg-8

bp251

ATG14

ATG14

[14]

epg-9

bp320

ATG101

VPS34

[15]

let-363

h98/RNAi

TOR

[16,17,18]

lgg-1

tm348/RNAi

GABARAP

ATG8

[7,9,18,19,20,21,22,23,24,25]

lgg-2

tm5755/RNAi

LC3

ATG8

[22,24,26]

lgg-3

RNAi

ATG12

ATG12

[7,22]

pgl-3

bp439

?

[12]

rab-7

ok511/RNAi

RAB7

[19,23,24,25]

sepa-1

bp456

?

[9,12]

sqst-1

ok2892

SQSTM1/p62

[13]

unc-51

e369/RNAi

ULK1

ATG1

[18,27,28]

vps-34

h741

VPS34

VPS34

[29]

vps-39

tm2253

VPS39

[25]

vps-41

ep402

VPS4

[25]
Table 2. List of autophagic reporters and targets of antibodies in

C. elegans

.

C. elegans

Protein
Tools
Localization Pattern
References
LGG-1
GFP, DsRed, GFP::Cherry, Cherry, mRFP; antibody
Puncta
[9,25,28,31,40,48]
GFP::LGG-1(G116A)
Diffuse
[25]
LGG-2
GFP; antibody
Puncta
[24]
GFP::LGG-2(G130A)
Diffuse
[23]
BEC-1
GFP, mRFP
Puncta/Patch
[28,38]
ATG-4.1
GFP
Diffuse
[2]
ATG-9
GFP
Diffuse
[6]
ATG-18
GFP
Puncta
[47]
EPG-1
GFP
Diffuse
[12]
EPG-2
Antibody
Puncta
[9]
EPG-3
GFP
Diffuse
[9]
EPG-4
GFP
Diffuse
[9]
EPG-5
GFP
Diffuse
[9]
EPG-6
GFP
Diffuse
[6]
EPG-7
GFP
Puncta
[13]
EPG-8
GFP
Diffuse
[14]
LMP-1
GFP
Puncta
[11]
SEPA-1
GFP, RFP; antibody
Puncta/Patch
[7,12]
SQST-1
GFP
Puncta/Patch
[9]
PGL-1
GFP; antibody
Puncta/Patch
[7]
PGL-3
Antibody
Puncta/Patch
[7]
© 2017 by the authors. Licensee MDPI, Basel, Switzerland. This article is an open access article distributed under the terms and conditions of the Creative Commons Attribution (CC BY) license (http://creativecommons.org/licenses/by/4.0/).