Rab GTPases and the Autophagy Pathway: Bacterial Targets for a Suitable Biogenesis and Trafficking of Their Own Vacuoles
Laboratorio de Biología Celular y Molecular, Instituto de Histología y Embriología (IHEM)-CONICET, Facultad de Ciencias Médicas, Universidad Nacional de Cuyo, Casilla de Correo 56, Centro Universitario, Parque General San Martín, 5500 Mendoza, Argentina
*
Author to whom correspondence should be addressed.
†
These authors contributed equally to this review.
Academic Editor: Bor Luen Tang
Received: 26 January 2016 / Revised: 2 March 2016 / Accepted: 3 March 2016 / Published: 8 March 2016
Abstract
Autophagy is an intracellular process that comprises degradation of damaged organelles, protein aggregates and intracellular pathogens, having an important role in controlling the fate of invading microorganisms. Intracellular pathogens are internalized by professional and non-professional phagocytes, localizing in compartments called phagosomes. To degrade the internalized microorganism, the microbial phagosome matures by fusion events with early and late endosomal compartments and lysosomes, a process that is regulated by Rab GTPases. Interestingly, in order to survive and replicate in the phagosome, some pathogens employ different strategies to manipulate vesicular traffic, inhibiting phagolysosomal biogenesis (e.g.,
Staphylococcus aureus
and
Mycobacterium tuberculosis
) or surviving in acidic compartments and forming replicative vacuoles (e.g.,
Coxiella
burnetti
and
Legionella pneumophila
). The bacteria described in this review often use secretion systems to control the host's response and thus disseminate. To date, eight types of secretion systems (Type I to Type VIII) are known. Some of these systems are used by bacteria to translocate pathogenic proteins into the host cell and regulate replicative vacuole formation, apoptosis, cytokine responses, and autophagy. Herein, we have focused on how bacteria manipulate small Rab GTPases to control many of these processes. The growing knowledge in this field may facilitate the development of new treatments or contribute to the prevention of these types of bacterial infections.
View Full-Text
►

▼

Figures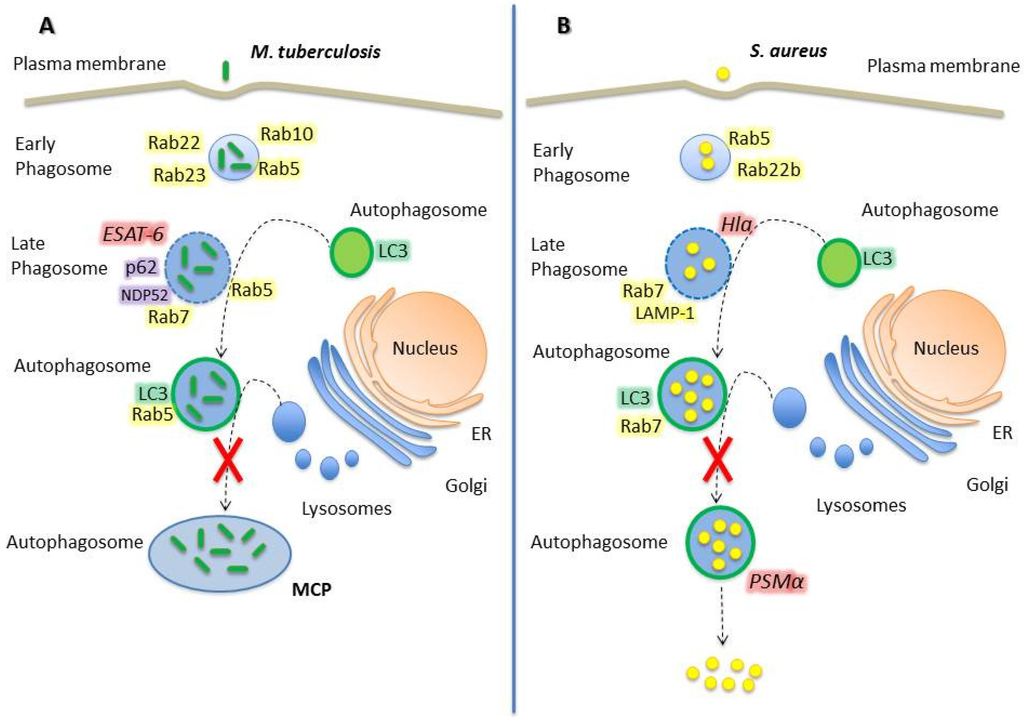 Figure 1
This is an open access article distributed under the
Creative Commons Attribution License
which permits unrestricted use, distribution, and reproduction in any medium, provided the original work is properly cited (CC BY 4.0).

Share & Cite This Article
MDPI and ACS Style
López de Armentia, M.M.; Amaya, C.; Colombo, M.I. Rab GTPases and the Autophagy Pathway: Bacterial Targets for a Suitable Biogenesis and Trafficking of Their Own Vacuoles. Cells 2016, 5, 11.
Note that from the first issue of 2016, MDPI journals use article numbers instead of page numbers. See further details here.
Related Articles
Comments
[Return to top]