Versatile Roles of K63-Linked Ubiquitin Chains in Trafficking
1
Institut Jacques Monod-CNRS, UMR 7592, Université-Paris Diderot, Sorbonne Paris Cité, F-75205 Paris, France
2
Current address: Brain and Spine Institute, CNRS UMR 7225, Inserm, U 1127, UPMC-P6 UMR S 1127, 75013 Paris, France
3
Institut des Sciences Analytiques, UMR5280, Université de Lyon/Université Lyon 1, 69100 Villeurbanne, France
*
Author to whom correspondence should be addressed.
Received: 14 July 2014 / Revised: 14 October 2014 / Accepted: 21 October 2014 / Published: 12 November 2014
Abstract
Modification by Lys63-linked ubiquitin (UbK63) chains is the second most abundant form of ubiquitylation. In addition to their role in DNA repair or kinase activation, UbK63 chains interfere with multiple steps of intracellular trafficking. UbK63 chains decorate many plasma membrane proteins, providing a signal that is often, but not always, required for their internalization. In yeast, plants, worms and mammals, this same modification appears to be critical for efficient sorting to multivesicular bodies and subsequent lysosomal degradation. UbK63 chains are also one of the modifications involved in various forms of autophagy (mitophagy, xenophagy, or aggrephagy). Here, in the context of trafficking, we report recent structural studies investigating UbK63 chains assembly by various E2/E3 pairs, disassembly by deubiquitylases, and specifically recognition as sorting signals by receptors carrying Ub-binding domains, often acting in tandem. In addition, we address emerging and unanticipated roles of UbK63 chains in various recycling pathways that function by activating nucleators required for actin polymerization, as well as in the transient recruitment of signaling molecules at the plasma or ER membrane. In this review, we describe recent advances that converge to elucidate the mechanisms underlying the wealth of trafficking functions of UbK63 chains.
View Full-Text
►

▼

Figures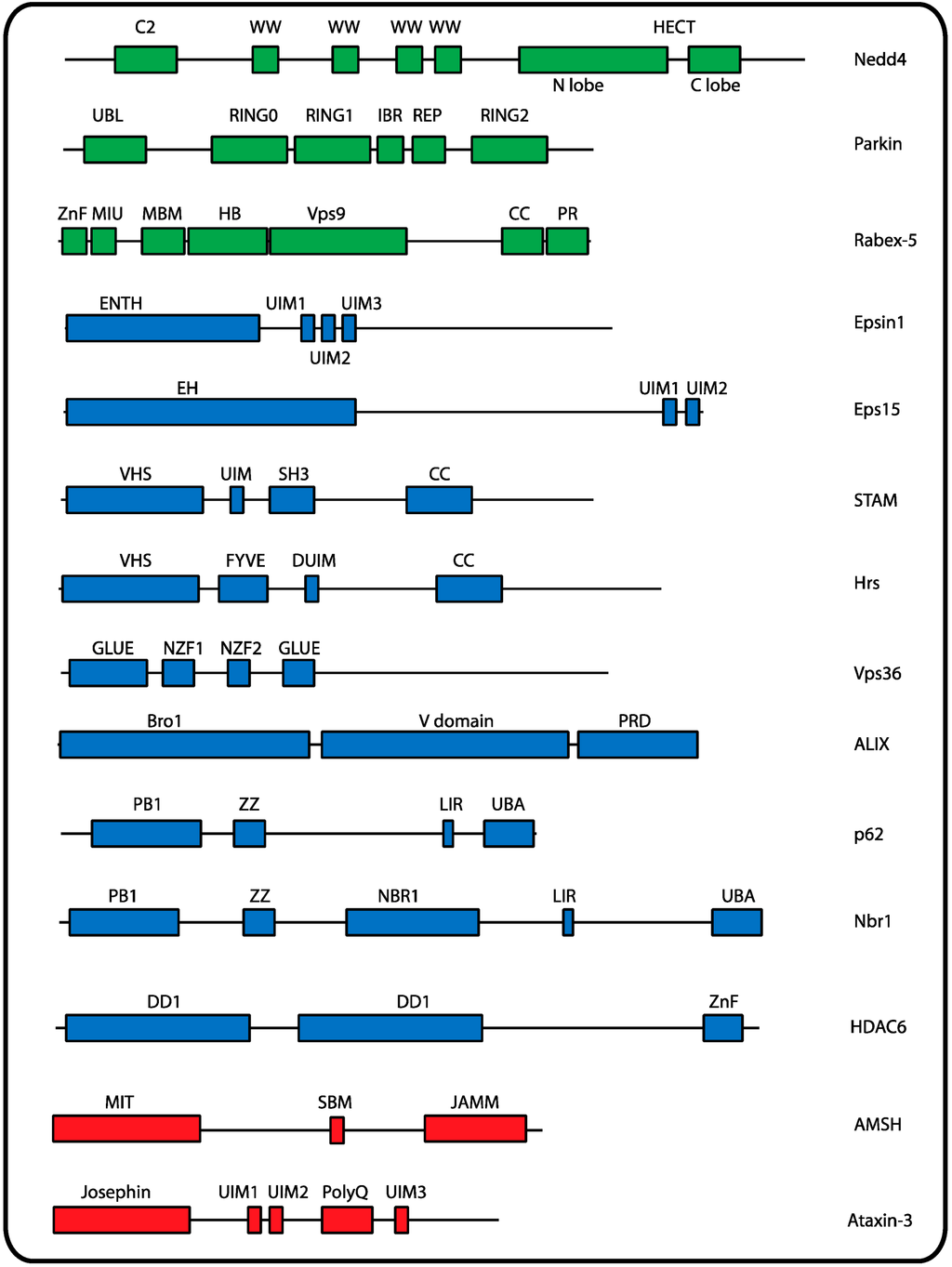 Figure 1
This is an open access article distributed under the
Creative Commons Attribution License
which permits unrestricted use, distribution, and reproduction in any medium, provided the original work is properly cited (CC BY 4.0).

Share & Cite This Article
MDPI and ACS Style
Erpapazoglou, Z.; Walker, O.; Haguenauer-Tsapis, R. Versatile Roles of K63-Linked Ubiquitin Chains in Trafficking. Cells 2014, 3, 1027-1088.
Related Articles
Comments
[Return to top]