Mcl-1 Ubiquitination: Unique Regulation of an Essential Survival Protein
1
Institut de Génétique Moléculaire de Montpellier UMR 5535 CNRS, 1919 route de Mende, 34293 Montpellier cedex 5, France
2
Université Montpellier 2, Place Eugène Bataillon, 34095 Montpellier cedex 5, France
3
Université Montpellier 1, 5 boulevard Henri IV, 34967 Montpellier cedex 2, France
*
Author to whom correspondence should be addressed.
Received: 13 March 2014 / Revised: 16 April 2014 / Accepted: 29 April 2014 / Published: 8 May 2014
Abstract
Mcl-1 is an anti-apoptotic protein of the Bcl-2 family that is essential for the survival of multiple cell lineages and that is highly amplified in human cancer. Under physiological conditions, Mcl-1 expression is tightly regulated at multiple levels, involving transcriptional, post-transcriptional and post-translational processes. Ubiquitination of Mcl-1, that targets it for proteasomal degradation, allows for rapid elimination of the protein and triggering of cell death, in response to various cellular events. In the last decade, a number of studies have elucidated different pathways controlling Mcl-1 ubiquitination and degradation. Four different E3 ubiquitin-ligases (e.g., Mule, SCF
β-TrCP
, SCF
Fbw7
and Trim17) and one deubiquitinase (e.g., USP9X), that respectively mediate and oppose Mcl-1 ubiquitination, have been formerly identified. The interaction between Mule and Mcl-1 can be modulated by other Bcl-2 family proteins, while recognition of Mcl-1 by the other E3 ubiquitin-ligases and deubiquitinase is influenced by phosphorylation of specific residues in Mcl-1. The protein kinases and E3 ubiquitin-ligases that are involved in the regulation of Mcl-1 stability vary depending on the cellular context, highlighting the complexity and pivotal role of Mcl-1 regulation. In this review, we attempt to recapitulate progress in understanding Mcl-1 regulation by the ubiquitin-proteasome system.
View Full-Text
►

▼

Figures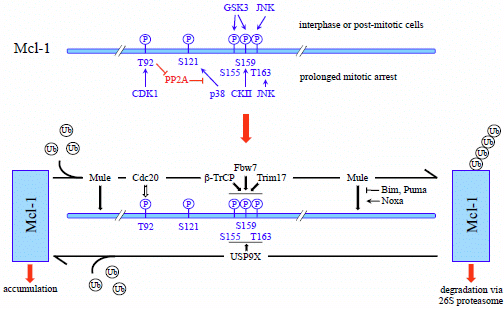 Graphical abstract

Share & Cite This Article
MDPI and ACS Style
Mojsa, B.; Lassot, I.; Desagher, S. Mcl-1 Ubiquitination: Unique Regulation of an Essential Survival Protein. Cells 2014, 3, 418-437.
Related Articles
Comments
[Return to top]