Shaping Plant Adaptability, Genome Structure and Gene Expression through Transposable Element Epigenetic Control: Focus on Methylation
1
Department of Agricultural, Food & Nutritional Science, University of Alberta, Edmonton, AB T6G 2P5, Canada
2
Departmento de Biología, Universidad Nacional de Colombia, Bogotá, Cundinamarca 111321, Colombia
3
Departmento de Ciencias Naturales y Matemáticas, Pontificia Universidad Javeriana Cali, Cali, Valle del Cauca 76631, Colombia
*
Author to whom correspondence should be addressed.
Received: 6 July 2018 / Revised: 5 September 2018 / Accepted: 7 September 2018 / Published: 11 September 2018
Abstract
In plants, transposable elements (TEs) represent a large fraction of the genome, with potential to alter gene expression and produce genomic rearrangements. Epigenetic control of TEs is often used to stop unrestricted movement of TEs that would result in detrimental effects due to insertion in essential genes. The current review focuses on the effects of methylation on TEs and their genomic context, and how this type of epigenetic control affects plant adaptability when plants are faced with different stresses and changes. TEs mobilize in response to stress elicitors, including biotic and abiotic cues, but also developmental transitions and 'genome shock' events like polyploidization. These events transitionally lift TE repression, allowing TEs to move to new genomic locations. When TEs fall close to genes, silencing through methylation can spread to nearby genes, resulting in lower gene expression. The presence of TEs in gene promoter regions can also confer stress inducibility modulated through alternative methylation and demethylation of the TE. Bursts of transposition triggered by events of genomic shock can increase genome size and account for differences seen during polyploidization or species divergence. Finally, TEs have evolved several mechanisms to suppress their own repression, including the use of microRNAs to control genes that promote methylation. The interplay between silencing, transient TE activation, and purifying selection allows the genome to use TEs as a reservoir of potential beneficial modifications but also keeps TEs under control to stop uncontrolled detrimental transposition.
View Full-Text
►

▼

Figures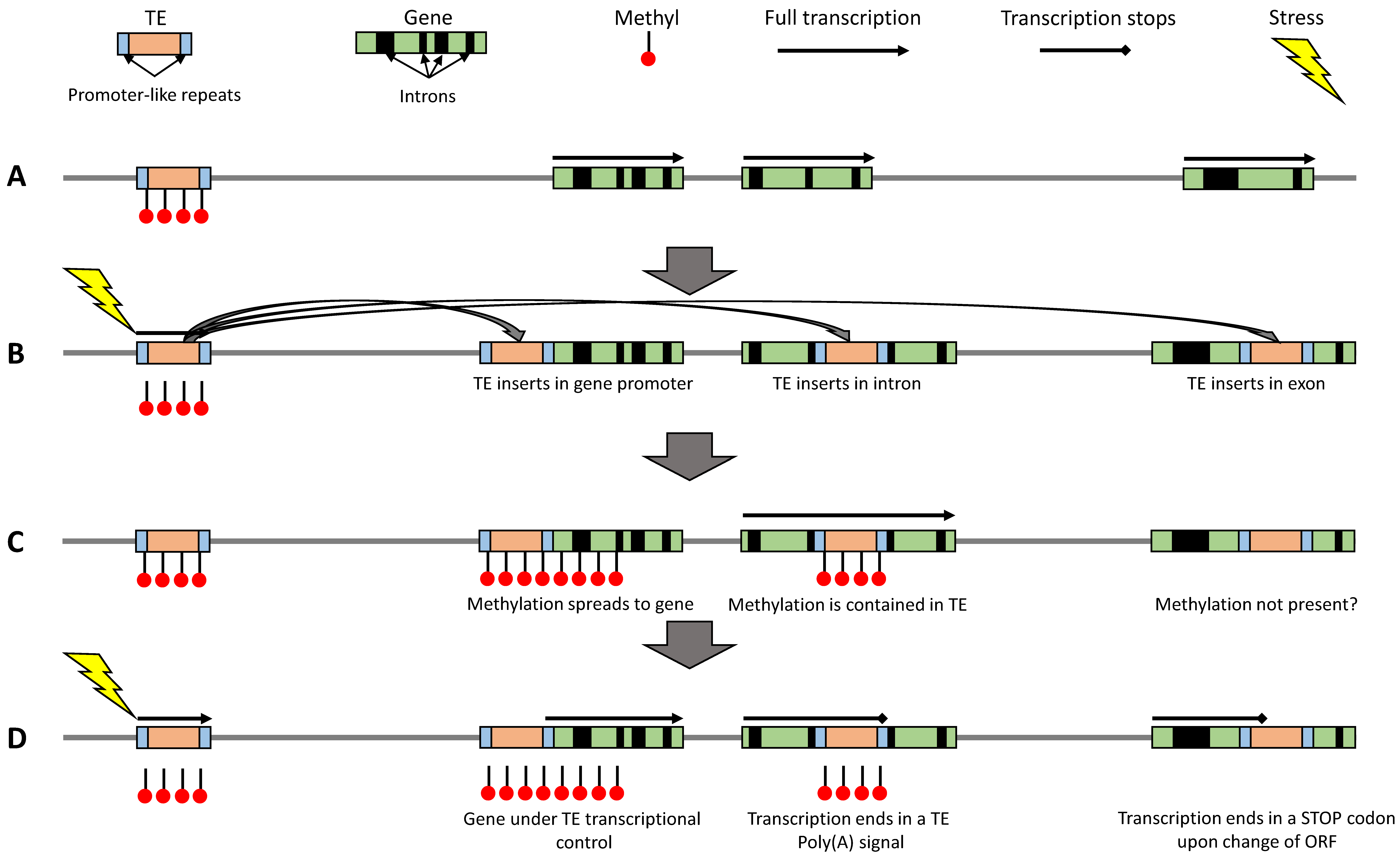 Figure 1
This is an open access article distributed under the
Creative Commons Attribution License
which permits unrestricted use, distribution, and reproduction in any medium, provided the original work is properly cited (CC BY 4.0).

Share & Cite This Article
MDPI and ACS Style
Galindo-González, L.; Sarmiento, F.; Quimbaya, M.A. Shaping Plant Adaptability, Genome Structure and Gene Expression through Transposable Element Epigenetic Control: Focus on Methylation. Agronomy 2018, 8, 180.
Note that from the first issue of 2016, MDPI journals use article numbers instead of page numbers. See further details here.
Related Articles
Comments
[Return to top]