Biomass Production and Composition of Temperate and Tropical Maize in Central Iowa
1
Horticulture Group of Department of Agronomy Science, University Nacional de Colombia, Bogotá DC 111321, Colombia
2
Syngenta, Panamá City, P.O. Box 832-0036 WTC, Panama
3
Department of Agronomy, Iowa State University, Ames, IA 50010, USA
4
Department of Agricultural and Biosystems Engineering, Iowa State University, Ames, IA 50010, USA
5
USDA Agricultural Research Service, 819 Wallace Road, Ames, IA 50010, USA
6
Department of Horticulture, Iowa State University, Ames, IA 50010, USA
*
Author to whom correspondence should be addressed.
Received: 18 April 2018 / Revised: 23 May 2018 / Accepted: 28 May 2018 / Published: 1 June 2018
Abstract
Bioethanol production in the midwestern U.S. has largely focused on maize (
Zea mays
L.) grain for starch-based ethanol production. There has been growing interest in lignocellulosic biomass as a feedstock for biofuels. Because maize adapted to the tropics does not initiate senescence as early as temperate-adapted maize, using a tropical germplasm could improve biomass yield. This study compares the suitability of temperate and tropical maize with differing relative maturities as feedstocks for bioethanol production. Field trials were established in central Iowa during the 2014 and 2015 growing seasons. Six hybrids of different relative maturities were grown at two levels of N fertilization and two row spacings to evaluate total biomass production and feedstock quality under midwestern U.S. conditions. Total biomass, height at the final leaf collar, stem diameter at one meter above ground, and lignocellulose concentration were measured at harvest. Tropical maize was taller and had greater non-grain and total biomass production (15% more than temperate maize), while temperate maize had greater grain yield and grain starch, as well as earlier maturation. Narrower row spacing had greater biomass and grain yield. Nitrogen fertilization rate affected grain and feedstock composition. Tropical maize had lower cellulose, lignin, and ash concentrations and higher nitrogen at harvest than that of temperate maize. Conversely, temperate maize had greater ash, cellulose, and lignin concentrations. Tropical maize planted at high densities has high potential as a feedstock for bioethanol production in the U.S. Midwest.
View Full-Text
►

▼

Figures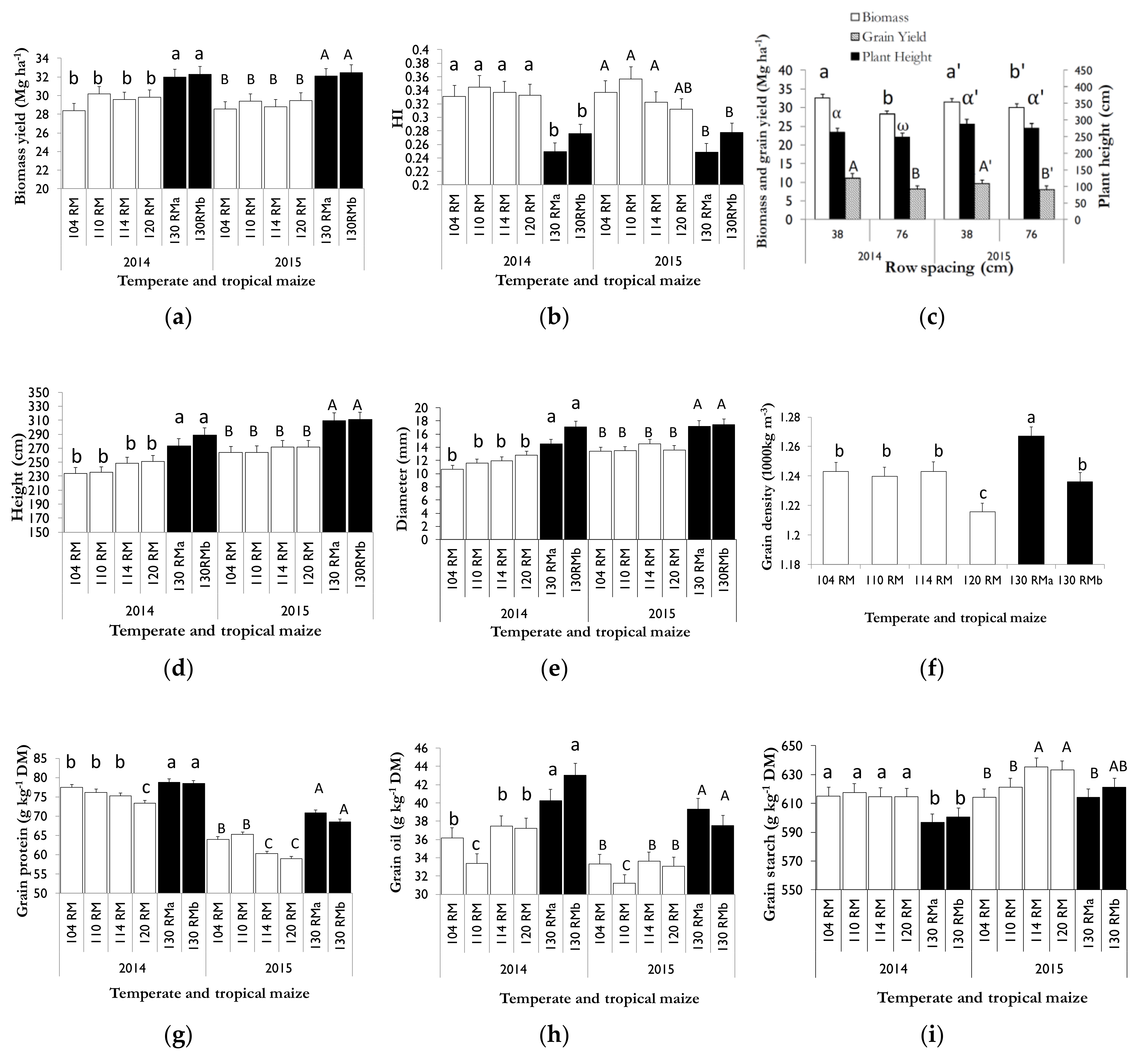 Figure 1
This is an open access article distributed under the
Creative Commons Attribution License
which permits unrestricted use, distribution, and reproduction in any medium, provided the original work is properly cited (CC BY 4.0).

Share & Cite This Article
MDPI and ACS Style
Infante, P.A.; Moore, K.; Hurburgh, C.; Scott, P.; Archontoulis, S.; Lenssen, A.; Fei, S.-Z. Biomass Production and Composition of Temperate and Tropical Maize in Central Iowa. Agronomy 2018, 8, 88.
Note that from the first issue of 2016, MDPI journals use article numbers instead of page numbers. See further details here.
Related Articles
Comments
[Return to top]